Artists
Jean-Honoré Fragonard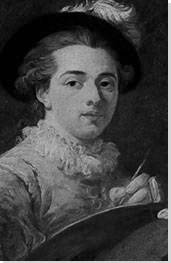 Jean-Honoré Fragonard
French Painter
Movement: The Rococo
Born: April 4, 1732 - Grasse, France
Died: August 22, 1806 - Paris, France

"I paint with my backside."
Summary of Jean-Honoré Fragonard
Fragonard's work is at once emblematic of the 18th century and singular, elevating popular genre scenes to meditations on French society through careful use of symbols and lavish brushwork. The painter's reputation rests on his love scenes, which hold great density of meaning, and for his use of light and color to transform both subjects and surrounding environments into showcases of virtuosity that capture emotions and reward extended examination. Fragonard's expressive brushstrokes, which lead figures and landscapes to dissolve into individual strokes when seen closely, had a strong influence on the Impressionists, while his themes have been picked up by 21st-century artists interested in gender, race and sexuality.
Key Ideas
Fragonard's work elevates erotic symbolism that would have been easily comprehended by his contemporaries, finessing this in such a way that his images provided multiple intellectual layers. He regularly used settings, activities and small details to heighten tension and encourage the viewer to consider relationships between men and women, humanity and nature, and the concept of time itself. Fragonard's use of such symbolism was unprecedented in its complexity and subtlety, providing intellectual weight that set his scenes apart from others working in similar modes.
Fragonard's use of setting was unique in the degree to which it heightened narrative drama. His compositions are often framed as if stages, with light used to direct the viewer's eye in such a way that the sequence of events becomes clear. Statuary and trees serve to convey mood, with stormy skies and windswept branches indicating unease or tension while placid backdrops suggest resolution.
Across Fragonard's work, the physicality of art making is itself on display; visual pleasure is an end in itself rather than a means of representation. Fragonard's application of paint is clearly visible on canvases, with long, fluid strokes indicating folds of clothing or rushing water alongside short, abrupt dashes conveying leaves and flowers. This is complemented by Fragonard's use of color and tone, with dramatic contrasts between light and shade. Examined at close range, the paintings abstract their subjects; in this way, Fragonard's work anticipates the attitude to painting that would dominate the late-19th and 20th centuries.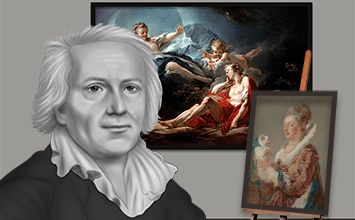 Jean-Honoré Fragonard was born into a family of artisans and merchants in Grasse; his father was a glove maker. The family moved to Paris in 1738, when Fragonard was six, but little else is known about the artist's upbringing. He began to study art as a teenager after a failed apprenticeship to a notary.
Important Art by Jean-Honoré Fragonard

The below artworks are the most important by Jean-Honoré Fragonard - that both overview the major creative periods, and highlight the greatest achievements by the artist.

The Seesaw (1750-52)

Artwork description & Analysis: The See-Saw is one of a pair of paintings intended to be seen together, both of which show popular games with sexual undertones; the pendant is Blind Man's Bluff, in which a girl peeks out from under her blindfold while a man approaches from behind. Blind Man's Bluff suggests courtship while The See-Saw, intended to be seen immediately afterward, suggests the consummation of the relationship. The See-Saw shows a young man and woman balanced on a plank of wood; the man's end of the plank is at the ground, flanked by two small children, while the woman is raised in the air, her hand catching hold of a branch above. The scene is largely framed by trees, with hints of blue sky and an architectural element visible in the background. At the base of the seesaw are the remnants of a picnic, including a wine bottle that has toppled over.

The garden was often used as a site for fantasy in 18th century painting and games such as these were familiar to contemporary audiences as sexual allegories. This painting was completed while Fragonard was a student of Boucher, who was known for his own paintings of such scenes. Fragonard's treatment of the scene is considerably subtler than those of Boucher, though audiences at the time would have recognized the double meaning in the ripe fruit and blossoming flowers alongside the see-saw itself and the posture of the young girl, who leans backward, her limbs outstretched; it is unclear, however, if the two children are intended as cupid figures or if they are included so as to imply the seduction of a governess. The painting showcases Fragonard's early mastery of many of the elements that would come to distinguish his work, including his use of bright colors, strong tonal contrasts and foliage as a framing element.

Oil on canvas - Collection of Museo Nacional Thyssen-Bornemisza, Madrid, Spain

The Bathers (1765)

Artwork description & Analysis: The Bathers is dominated by a group of women, numbering roughly eight, framed by foliage in green and yellow and white clouds against a blue sky. The women are nude and shown bathing in a stream, with ripples of white water that are distinct in the lower left but create an indistinct boundary between bodies and foliage toward the center of the canvas. The bodies are shown in a range of different positions; some figures appear at rest in the ripples while others turn toward the figure at the canvas's centre, who raises her arms and appears to leap above the water, a pink cloth falling from her right hand.

In the 18th century, bathing scenes were often a pretext to show the nude in a variety of positions and from a range of angles, showcasing the painter's skill whilst also providing the viewer with a visual pleasure that verged toward the titillating. The painting showcases Fragonard's lightness in both theme and palette; the colors, in their gentleness, are suited toward their subject, imbuing the women with an innocence that heightens their appeal. The brushstrokes are loose and palpable, providing a sensuousness, physicality, and fluidity that contributes to the painting's liveliness. Fragonard stopped exhibiting his paintings in 1767, preferring to focus on work for private clients, and this is among the last to be displayed in an academic setting.

Oil on canvas - Collection of Musée du Louvre, Paris, France

The Swing (1767)

Artwork description & Analysis: The Swing is one of Fragonard's best-known works, a somewhat risqué composition depicting the mistress of the Baron de Saint-Julien. This young girl, positioned at the composition's centre, appears on a swing, wearing a pink dress. She is pushed by a smiling man, who does not realise another man is amongst the shrubs, looking up her skirt. She, however, appears to have engineered the scene, looking down at him as she moves through the air. The scene is set against an unruly forest crowded with statuary alongside people and plants. The girl's outstretched foot, from which a slipper flies, points at the most prominent sculpture, recognisable to viewers as Etienne-Maurice Falconet's Menacing Cupid.

The subject, a girl on a swing pushed by a husband while a lover looked from the bushes and a shoe flew from the foot, was dictated to the painter by the Baron de Saint-Julien; Fragonard transforms the scene from a licentious allegory into a commentary on the transience of pleasure through the specifics of his composition. The swing, in the 18th century, was generally read as a sexual metaphor, due to the rhythm of movement and the positioning of the body, with extended legs, at the moment when the swing's arc reached its climax; the loss of a shoe often symbolized the loss of innocence. The Swing is composed to direct the eye in such a way that the narrative is revealed gradually, following the motion of the swing from husband to lover, and framed as if a scene in a play, encouraging viewers to take pleasure in their intrusion into a private moment, approaching it as if it is performed for them.

Menacing Cupid, a sculpture that carried its own complicated history and set of associations, adds a serious note to the composition, with the permanence of marble serving as a reminder that time can be cruel with regard to love; the sensual pleasure celebrated in the painting is, like the climax of a moving swing, momentary and unsustainable. The young woman on the swing appears as if a flower, her skirts like petals, echoing in color and texture those in the shrubbery below, suggesting that she, like a bloom, will fade after being plucked. Her beauty is made more valuable by its imminent loss; she is momentarily illuminated but will fall away from the light as her arc reverses. The garden, a space outside the artificial rules of society, was associated with freedom and the natural, heightening this thematic depth whilst allowing Fragonard to create drama through contrasts in light and shade.

Oil on canvas - Collection of the Wallace Collection, London, United Kingdom
More Jean-Honoré Fragonard Artwork and Analysis:
Influences and Connections
Influences on Artist
Artists, Friends, Movements
Influenced by Artist
Artists, Friends, Movements
Interactive chart with Jean-Honoré Fragonard's main influences, and the people and ideas that the artist influenced in turn.
View Influences Chart


Influences on Artist
Jean-Honoré Fragonard
Years Worked: 1748 - 1794
Influenced by Artist

Artists

Personal Contacts

| | |
| --- | --- |
| | Bergeret de Grancourt |
| | Baron de Saint-Julien |
| | Claude-Richard de Saint-Non |
| | Marquis de Veri |

Movements
If you see an error or typo, please:
tell us
Cite this page

Content compiled and written by The Art Story Contributors
Edited and revised, with Synopsis and Key Ideas added by Anna Blair
" Artist Overview and Analysis". [Internet]. . TheArtStory.org
Content compiled and written by The Art Story Contributors
Edited and revised, with Synopsis and Key Ideas added by Anna Blair
Available from:
First published on 14 Mar 2018. Updated and modified regularly.


[Accessed ]