Artists
Honoré Daumier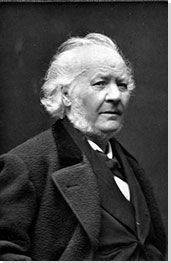 Honoré Daumier
French Painter, Sculptor, Printmaker, Caricaturist
Movements and Styles: Romanticism, Realism
Born: February 26, 1808 - Marseille, France
Died: February 10, 1879 - Valmondois, France

"One must be of one's own time."

Summary of Honoré Daumier
The witty caricatures of Honoré Daumier made him one of the most widely recognized social and political commentators of his day and even landed him in jail for insulting the reigning monarch. Daumier's caricatures stand out as his most successful works, yet he remains unrecognized for the impressive diversity of his art as he produced not only the lithographs for which he is famous but also drawings, oil and watercolor paintings, and sculpture. Daumier pioneered a style of Realism that focused on people of all echelons of society and spared few, with the exception of the working class and the poor, from his sharp wit and scrutinizing eye. He lived in Paris during a period of political and social unrest, which included two revolutions as well as frequent regime changes, a war, and a siege. Many of his works confronted the complex social, political, and economic consequences of the turmoil. Perhaps his greatest contribution to modern art was his ability to capture even the simplest moments in life and infuse them with emotion.
Key Ideas
Daumier's painting style echoes that of
Francisco Goya
,
Eugène Delacroix
, and Théodore Géricault with its loose, expressive brushwork. Eschewing the controlled and polished surfaces of
Neoclassical
painting, he and other
Romantic
artists imbued their work with emotion - in many cases, high drama. Unlike most Romantic painters, however, his work is devoid of sentimentality but neither did he convey the kind of emotional distance of
Realists
like
Courbet
. Thus, recent day critics and art historians tend to regard his painting style as a sort of precursor to
Expressionism
.
While Daumier produced hundreds of small sculptures in unbaked clay, often painting them with oil pigments, very few reached what might be regarded as a finished state. Those works that were cast in plaster, typically with the help of more experienced sculptor friends (even after his death), have been far easier to preserve and provide insight into his sculptural process.
For an artist so revered and influential, Daumier's life was characterized by struggle - with his increasing blindness, illness, and poverty. He received a small pension from the government starting in 1877 so he was able to survive. Thanks to the intervention of and patronage of another esteemed friend, Victor Hugo, an exhibition of Daumier's work was held at the Galerie Durand-Ruel and he received proceeds from the sales.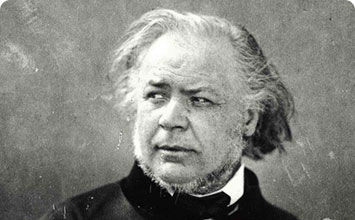 Although born in the South of France in the port city of Marseille, Honoré-Victorin Daumier spent his life primarily in Paris. His parents, Jean-Baptiste Louis Daumier and Cecile Catherine Philippe relocated their family to Paris in 1814 when young Daumier was only six. Jean-Baptiste, who was a glazier by profession, aspired to be published as a poet and thus was drawn to the French capital where he stood a far greater chance of being recognized for his literary skills.
Important Art by Honoré Daumier

The below artworks are the most important by Honoré Daumier - that both overview the major creative periods, and highlight the greatest achievements by the artist.

Gargantua (1831)

Artwork description & Analysis: In this controversial lithograph, which was to be published in Charles Philipon's newspaper La Caricature on December 16, 1831, Daumier depicted the corpulent monarch Louis-Philippe seated on a throne, gobbling bags of coins being hauled up a ramp by tiny laborers, the coins having been wrung from the poor of France by his ministers. On the lower right, a crowd of his poverty-stricken subjects stand waiting miserably to turn over what little money they have. Milling around the throne are Louis-Philippe's favorites, also extravagantly fat; they are collecting commissions, decorations, and so forth that are the result of the compulsory offerings of the poor.

The title, Gargantua, explains Brandeis University, "was actually referring to the incredible amounts of money the French government spent on itself. Louis-Philippe allowed himself a 'salary' of more than 18 million francs, which was 37 times more than Napoleon Bonaparte or almost 150 times the amount the American President received." Further, that outrageous salary was paid him on top of the regular income he was given to maintain the castles he owned. All the while, the majority of the population was living in dire poverty.

While the scathing image was meant to run in the December 16, 1831 publication of La Caricature, the police along with government's censor halted the printing. An article appeared instead, criticizing the Court's decision to censor the cartoon. The publisher and artist were both tried in Court in February 1832; each man fined 500 francs plus legal fees and pleaded guilty. All three were sentenced to six months in Sainte-Pélagie prison. Shortly afterwards, La Caricature newspaper ceased to exist but Maison Aubert began publishing the equally controversial satirical newspaper, Le Charivari.

Lithograph - Brandeis Institutional Repository, Brandeis University

Rue Transnonain 15 April 1834 (1834)

Artwork description & Analysis: In order to help pay his censorship fines, Philipon established L'Association mensuelle lithographie (Monthly Lithography Association), a kind of monthly print club. Subscribers to the club were entitled to a large lithographic print each month. A total of 24 prints were produced for the club, five of which were created by Daumier. This work was the last print from the series.

This deeply disturbing image was made to commemorate the murder by the National Guard of innocent civilians during widespread unrest in Paris during the month of April 1834. The strife had come after the French army repressed a revolt staged by silk workers in Lyon in the South of France. According to accounts of the tragedy, gunshots had rung out from an upper floor window at 12 rue Transnonain and French troops responded by storming the building, opening fire, and wounding and killing residents of the working class abode.

Daumier's mastery of lithography provides this work with its gut-wrenching impact. The raking light - so often emblematic of his cynicism, of satire - now represents a kind of unflinching and courageous honesty as the government is exposed for its murderous tyranny. Whereas typically the artist relies on exaggeration, for instance, distorting physical characteristics of a human subject to expose an underlying character trait or even flaw, here no exaggeration is needed. In fact, if anything, understatement is at play: a bloody scene depicted in stark black and white is perhaps less openly gruesome. However, this image of the haunting aftermath is made more disturbing by the elimination of color and of any extraneous details. What you see is the ghastly result of indiscriminate violence.

The print was released six months after the event and was accompanied by a commentary written by Philipon: "This lithograph is horrible to behold, as horrible as the dreadful event it recounts. It shows a murdered old man, a dead woman, the corpse of a terribly wounded man lying upon the body of a poor little baby whose head is split open. It is not a satire, it is a bloody page in the history of our modern era, a page sketched by a powerful hand and inspired by a lofty imagination..." Police discovered this print displayed in the window at Galerie Vero-Dodat, a covered arcade in the center of Paris. Subsequently, officials from the government confiscated the lithographic stone and tracked down and destroyed impressions of Rue Transnonain. A year later, Louis-Philippe's censor made political caricatures illegal.

Lithograph - The Metropolitan Museum of Art, New York City

Une Rencontre Terrible (A Terrible Meeting) (1845)

Artwork description & Analysis: When he began creating lithographs for Philipon's Le Charivari, Daumier turned his cynical gaze toward the Parisian bourgeoisie. Here, a well-dressed bourgeois family is on an outing in nature - the trio quite out of their element in the mud of the open countryside. Surprised by the large frog in their path, these city dwellers in their finery recoil. The father, whose rotund physique echoes that of the frog, shields the body of his wife from the creature while the young son, a miniature version of the overfed patriarch, throws up one hand in alarm.

As Guardian art critic, Laura Cumming, points out: "Nobody can take you into the heart of Paris as Daumier does..." - or the hearts of Parisians. "What is extraordinary, however," she points out, "is that tough these Parisians may be directly observed they are not directly drawn from life. They have been passed through Daumier's sympathetic imagination and become in some sense monuments themselves." Indeed, the artist did develop some archetypal figures that appear and reappear in his cartoons, caricatures of real people with certain traits exaggerated for symbolic impact. That is certainly the case in this image, where the pear-shaped bodies of these affluent males are seen repeatedly in representations of the excess of capitalism, a system within which Daumier struggled for survival his entire career.

Lithograph - The National Gallery of Art, Washington DC
More Honoré Daumier Artwork and Analysis:
Influences and Connections
Influences on Artist
Artists, Friends, Movements
Influenced by Artist
Artists, Friends, Movements

Interactive chart with Honoré Daumier's main influences, and the people and ideas that the artist influenced in turn.
View Influences Chart

| | | | | |
| --- | --- | --- | --- | --- |
| Artists | | Personal Contacts | | Movements |

Influences on Artist

Honoré Daumier
Years Worked: 1829 - 1879
Influenced by Artist

| | | | | |
| --- | --- | --- | --- | --- |
| Artists | | Personal Contacts | | Movements |
If you see an error or typo, please:
tell us
Cite this page

Content compiled and written by The Art Story Contributors
Edited and published by The Art Story Contributors
" Artist Overview and Analysis". [Internet]. . TheArtStory.org
Content compiled and written by The Art Story Contributors
Edited and published by The Art Story Contributors
Available from:
First published on 17 Jun 2017. Updated and modified regularly.


[Accessed ]