Artists
Nadar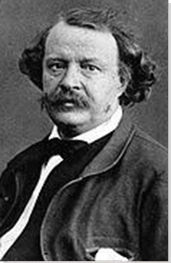 Born: April 8, 1820 - Paris, France
Died: March 21, 1910 - Paris, France

"There is no such a thing as artistic photography. In photography, like in all things, there are people who can see and others who cannot even look."
Summary of Nadar
Nadar was a flamboyant personality and a man of infatigable spirit. A writer, caricaturist, inventor and adventurer, yet still best known perhaps as a celebrity portrait photographer, he placed himself at the very epicenter of nineteenth century French modernism. In addition to his satirical caricatures, Nadar produced (and sold) informal "inner-life" portraits of the new literati from his landmark studio-cum-gallery, a site from which, the Impressionist also launched their inaugural public exhibition. Restricted by the studio, Nadar took to the under and above ground to expand his photographic repertoire, patenting aerial photographs for mapmaking and surveying, and taking his handmade electric light underground to illuminate his unique photographs of the famous Paris catacombs. Though his entrepreneurial spirit led to several setbacks, Nadar nonetheless set commercial (in addition to aesthetic) precedents for the reproduction and hawking of his superior celebrity portraits.
Key Ideas
Nadar made his name initially as a satirical writer, critic and caricaturist. Like his esteemed circle of friends, he viewed the development of modernity through analytical eyes and delivered his stinging verdicts on the political classes through the satirical press.
Once established as a portrait photographer, Nadar set about creating a celebrity culture for nineteenth-century Paris. Through his connections with the pioneers of French modernism, and with an affable manner that earned their complete trust, he was able to produce informal and engaging portraits of his famous sitters that he sold on to the public in unprecedented numbers.
In his desire to move photography out of the studio, Nadar invented a portable electric lighting system. His ingenuity allowed him to take his camera down into the famous Paris catacombs. Off limits to the general public, Nadar was able to evidence something of the scale of the sprawling underground crypt for the first time.
Having revealed something of subterranean Paris, Nadar took next to skies in hot air balloons to offer a bird's-eye view of his great city. Though his aerial adventures were fraught with complications and dashed dreams, he can still be credited with producing the world's first successful aerial photography.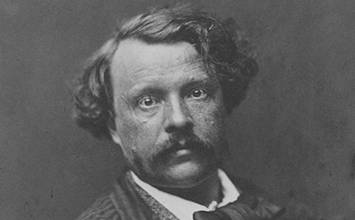 The first child of Thérèse Maillet and Victor Tournachon, Nadar was born with the name Gaspard-Félix Tournachon in Paris in 1820. Nadar's father was a printer and publisher from a prominent Lyonnais family of merchants and printers. An intelligent and liberal-minded man, Victor ran a moderately successful publishing company in Paris' Latin Quarter, publishing a range of titles in French, English, Italian, Spanish, Latin, and Greek. Due to the political nature of certain volumes, Victor's firm was often watched by government censors.
Important Art by Nadar

The below artworks are the most important by Nadar - that both overview the major creative periods, and highlight the greatest achievements by the artist.

Drawings from "Lanterne magique des auteurs et journalistes," Le Journal pour rire (1852)

Artwork description & Analysis: In this early caricature, a succession of men and a dancing harlequin march toward the mythical Mount Parnassuss (Montparnasse is also the name the Parisian arrondissement). With small bodies and large exaggerated heads, the group moves across the page from right to left. The figure leading the way, his followers quite literally "hanging on to his coattails", is the Romantic writer Victor Hugo (author of The Hunchback of Notre-Dame). The text below the caricatures includes witty commentary and anecdotes about the figures (some even provided by the subjects themselves). Published in Charles Philipon's satirical Parisian newspaper, Le Journal pour rire, this caricature is part of a series entitled Lanterne magique commenced just two months after the ban on political caricature was instituted by Louis-Napoléon (Napoléon III) in late 1851. With political satire no longer an option, Nadar looked to contemporary society and its fascination with the new crop of writers, poets, artists, and intellectuals. Each installment of the series included a strip with five or six caricatures arranged one after another as if on a slide to be projected in a magic lantern (Lanterne magique).

A common form of entertainment in the 19th century, the magic lantern projector was also used as a tool for educating the public. Like the magic lantern show to which it refers, Nadar's Lanterne magique illuminated the cultural milieu of Second Empire Paris. As scholar Adam Begley put it, "implicit in the conceit [...] is the parallel between the way a magic lantern enlarges an image on a slide and the publicity generated when a newspaper prints a successful caricature of a public figure. In short, Nadar was operating a machine for magnifying the exposure of celebrities." Although early installments included writers and journalists, later iterations featured artists, musicians, and other prominent men. Published over the course of a year, the procession of important cultural figures, always in the same oblong, sequential format, included some three hundred figures.

Nadar's Pantheon (Panthéon Nadar) (1854)

Artwork description & Analysis: Led by Victor Hugo, a group of 250 writers, including Nadar himself (seated behind a sign in the second row from the top), are pictured marching downward where they come to stop in front of the busts of storied Parisian writers, François-René de Chateaubriand, Honoré de Balzac, Frédéric Soulié, and George Sand. Building on his previous work, Nadar's Pantheon was a large-scale group portrait that would include nearly one thousand prominent Parisians. According to writer Maria Morris-Hambourg, it was intended to "mirror the contemporary scene more completely than all the existing galleries, museums, and biographical collections of illustrious contemporaries." Morris Hambourg added that "At this moment, when the press had promulgated the fame of the individual far beyond his immediate circle, when romantic notions of the heroic artist had become the heritage of a newly mass public, and when Paris reigned as the capital of the cult of personality, the project of a grand and clever portrait gallery of the great was exactly apropos."

Bringing together original and existing caricatures, and a compilation of biographic and anecdotal materials, the completed work was presented on a single sheet measuring approximately 32 x 45 inches. The enormity of the task was more than Nadar could manage or afford on his own. In fact, it took nearly two years to complete what was the first of two enormous lithographs (he in fact had planner for four). At a subscription price of 7.50 francs (or 12 francs after publication), the Pantheon appeared in shops with much fanfare in March of 1854. It was a huge success, selling in vast numbers in the first six months, and Nadar became an instant celebrity. If his Pantheon was intended to capitalize on Paris's cult of personality, he had indeed joined their ranks. Despite the success of the first installment, however, the project produced only a modest financial windfall. By the time he paid the small army of people involved in the Pantheon's production, and due to copyright complications that saw the work withdrawn from sale, the Pantheon was not the financial success it should have been. It was clear that Nadar would not be able to raise the necessary finance for the remaining three installments though he did produce a second Pantheon made of existing and new photographic portraits including those of Gustave Doré, Charles Baudelaire, Théophile Gautier and Eugène Delacroix.

Lithograph - The Metropolitan Museum of Art

Nadar and Adrien Tournachon, Pierrot Running (1854-55)

Artwork description & Analysis: In this image, Pierrot, a well-known mime, dressed in his iconic flowing white costume and white face makeup, appears still, as if caught in mid-stride. A play on the exaggerated poses typical of a mime's performance, but also the extended stillness required for the long exposure, Pierrot Running is one of a series of photographs of the famous mime that feature a range of dramatic poses and facial expressions. Taken with a large format camera Nadar purchased for Adrien's studio, many of the photographs from the series are remarkable for the size of their scale (8 ¾ x 8 ½ inches). The full-length portraits were intended to take full advantage of the large paper. Pierrot, Charles Debureau, son of Baptiste Debureau, the famous mime who performed at Théâtre des Funambules, would have been familiar to Parisian visitors. French editor and critic Ernest Lacan, in his famous passage on Nadar, spoke of their presence at world's fair (the 1865 Exposition Universelle) : "But amidst all these examples, those that have most aroused the interest of the public, those that few viewers have passed without stopping, are the Pierrots [. . .] Each of these prints is an admirably rendered study of expression [. . .] There are, under the comical exterior of these specimens, great difficulties overcome and beneficial results for art."

There is some question regarding whether or not this particular series of photographs can be attributed solely to Nadar or to his younger brother, Adrien. Having set his brother up in a photography studio in 1854, the two collaborated for period between 1854 and early 1855 and the photographs of Pierrot were part of a publicity campaign intended to spur interest in the new studio. The photographs of Pierrot were exhibited at the world's fair held in Paris in 1855. Although the photographs of Pierrot were a collaborative effort between Nadar and his brother, when they won a gold medal at the Exposition the credit was given to Adrien who went under the name "Nadar jeune" ("Young Nadar").

Albumen silver print from glass negative - The Metropolitan Museum of Art
More Nadar Artwork and Analysis:
Influences and Connections
Influences on Artist
Artists, Friends, Movements
Influenced by Artist
Artists, Friends, Movements

Interactive chart with Nadar's main influences, and the people and ideas that the artist influenced in turn.
View Influences Chart

Artists

Personal Contacts

| | |
| --- | --- |
| | Charles Baudelaire |
| | Victor Hugo |
| | Constantin Guys |

Movements

Influences on Artist

Nadar
Years Worked: 1846 - 1873
Influenced by Artist

| | | | | |
| --- | --- | --- | --- | --- |
| Artists | | Personal Contacts | | Movements |
If you see an error or typo, please:
tell us
Cite this page

Content compiled and written by Karen Barber
Edited and published by The Art Story Contributors
" Artist Overview and Analysis". [Internet]. . TheArtStory.org
Content compiled and written by Karen Barber
Edited and published by The Art Story Contributors
Available from:
First published on 11 Apr 2019. Updated and modified regularly.


[Accessed ]