Artists
Irving Penn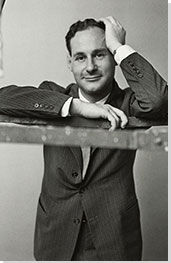 Born: June 16, 1917 - Plainfield, New Jersey
Died: October 7, 2009 - New York City, New York

"A good photograph is one that communicates a fact, touches the heart, and leaves the viewer a changed person for having seen it; it is in one word, effective."

Summary of Irving Penn
Simple, sophisticated, and potent as a dry martini, Irving Penn's iconic covers for Vogue Magazine showcased the clean lines and tapered waists of Postwar Paris and New York, and transformed the aesthetic of the fashion industry. Penn removed everything from the shot but the clothing and the model. His dramatically lit figures are essentially living, breathing sculptures. Inspired by Surrealism, Modern dance, and film noir, his images register as provocative visual statements, not just commercial photographs. With a firm grasp on the geometry of the body, the psychology of consumerism, and an encyclopedic knowledge of the history of art, Penn lifted fashion photography into the realm of high art.
Key Ideas
What Penn's camera leaves out is always as important as what it includes. From omitting the fashion model from an early shoot (see his first Vogue cover, 1943) to eliminating the environment for the figure, his photographs use absence to stimulate appetite.
Penn invented the exotic fashion shoot. The lone model on a desert island, or in a faraway city, sprang directly from his daydreams as an overworked editor in a windowless office in Manhattan; "I would often daydream," he recalled, "of being mysteriously deposed ... among the disappearing aborigines ... in remote parts of the earth."
Like his slightly younger contemporary
Richard Avedon
, who worked alongside him at Vogue in the 1960s and '70s, Penn stands on the shoulders of two great mentors who transformed fashion photography.
Alexey Brodovich
, Penn's art school teacher and subsequent employer at Harper's Bazaar, and Alexei Liberman, editor in chief at Vogue, were both Russian
emigres
steeped in avant-garde culture. Penn internalized their ideas and executed them in radical compositions. They in turn gave Penn and a handful of other great photographers unprecedented license to explore unorthodox concepts in fashion photography, developing a unique style akin to those of Modern artists.
Penn was also a superb portraitist. His so-called "corner portraits" put celebrities into tight corners in awkward poses that revealed unfamiliar elements of their personalities to the camera.
In the 1970s, the world still viewed commercial photography and art as two separate fields. By making high quality prints from some of his earliest photographs, Penn helped audiences see that the tonal richness and variation of his photographs could be just as subtle as a
Goya
or a
Rembrandt
etching. His revival of the Platinum-Palladium process from the 19
th
century helped late-20
th
-century observers accept photography as an art form.
Penn was the first artist to fully recognize the potential for blending elements of fashion photography with portraiture. More than just live mannequins for the clothes, Penn's models became psychologically complex, if still otherworldly, individuals.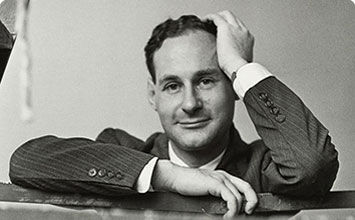 Irving Penn was born in Plainfield, New Jersey in 1917 to a Russian Jewish family. His father, Harry, was a watchmaker and his mother, Sonia, a nurse. He and his younger brother, Arthur, both attended public school. Arthur later became a movie director, directing hit films such as The Chase (1966) and Bonnie and Clyde (1967). Penn never took a formal course in photography, which was not yet considered a fine art, focusing instead on painting, drawing, and industrial design as a student at the Philadelphia Museum School of Industrial Art (now known as the University of the Arts), where he studied from 1934 to 1938. During these years, he viewed himself as an aspiring painter.
Important Art by Irving Penn

The below artworks are the most important by Irving Penn - that both overview the major creative periods, and highlight the greatest achievements by the artist.


Artwork Images

American South (1941)

Artwork description & Analysis: Penn's earliest series of photographs chronicles an early cross-country voyage through the American South. Penn was not yet thinking of himself as an art photographer. He had fled the fashion industry and planned to settle in the South as a folk artist. In retrospect, however, these documentary images in the spirit of the great Walker Evans foreshadow Penn's ultimate destiny as an equally great American photographer, but in a vein fundamentally at odds with photojournalism. This photograph is also known by the title Sign with Child's Head Missing, Louisiana. It is an odd photograph, one almost certainly deliberately and carefully staged. On the hood of a beat-up car sits a framed image that once hung in a diner or a hardware store, advertising a product. The original advertisement has been damaged, so that the central subject - a baby - is missing its head. A couple gazes adoringly at their decapitated child, and the whole scene is positioned so as to appear as if it is taking place inside the car. On the horizon are the columns and roofs of a traditional southern home. An American Dream turned nightmare, the image foretells Penn's subversive approach to image-making. It also expresses some of the anxiety Penn may have been feeling as an outsider (the child of Russian Jewish immigrants) traveling through the Deep South.

Gelatin silver print sheet - Smithsonian Museum of American Art


Artwork Images

Fall Fashion Still Life, for Vogue Cover (1943)

Artwork description & Analysis: "The photographic process for me, is primarily simplification and elimination" Penn once said. Evidence of this appears in his very first Vogue cover, the first of more than 150 over the course of his career. Women's fashion magazine covers, then as now, generally depicted a model decked out in the latest style of the season. Penn's cover leaves out the model. Artfully arranged objects on a table tell the story of a fashionable lady that readers of Vogue implicitly aspire to be. Her chic urban accessories (satchel, grey scarf, white gloves, and the oversized cocktail ring - placed tantalizingly close to the edge of the table) are things one might wear while out and about on an errand in Manhattan. What is not here is just as important as what is, allowing the viewer to fill in with his or her own fantasy. This anticipates even more radical developments in Penn's style down the road.

Photomechanical Print - The Art Institute of Chicago


Artwork Images

Truman Capote (1948)

Artwork description & Analysis: Few, if any, precedents for this pose exist in the history of portraiture. This masterful, claustrophobic portrait of Truman Capote is one of the so-called "corner portraits" that formed the basis for Penn's emerging reputation as a fine art photographer. Two slanted walls surround the American writer who is scrunched down into a chair with his hands shoved into the pockets of his trench coat. Though the chopped-up space and pose do not seem natural or comfortable, they feel immediate, even intimate, in ways a conventional pose might not be. Penn understood that cornering his subjects heightened the psychological intensity, stating, "A niche closed people in. Some people felt secure in the tight spot, some felt trapped. It was a kind of truth serum. The way they looked made them quickly available to the camera." Among Penn's other subjects were Spencer Tracy, Georgia O'Keeffe, Salvador Dalí, Marcel Duchamp, Arthur Rubenstein, Gypsy Rose Lee, and countless other luminaries from a broad array of disciplines, from artists to film stars. He used a similar framing of the corner, but allowed sitters to pose with a few different items such as a chair or a dark carpet.

Gelatin Silver Print - The Irving Penn Foundation
More Irving Penn Artwork and Analysis:
Influences and Connections
Influences on Artist
Artists, Friends, Movements
Influenced by Artist
Artists, Friends, Movements

Interactive chart with Irving Penn's main influences, and the people and ideas that the artist influenced in turn.
View Influences Chart


Influences on Artist

Irving Penn
Years Worked: 1934 - 2007
Influenced by Artist

Artists

Personal Contacts

| | |
| --- | --- |
| | Issey Miyake |

Movements
If you see an error or typo, please:
tell us
Cite this page

Content compiled and written by The Art Story Contributors
Edited and revised, with Synopsis and Key Ideas added by Ruth Epstein
" Artist Overview and Analysis". [Internet]. . TheArtStory.org
Content compiled and written by The Art Story Contributors
Edited and revised, with Synopsis and Key Ideas added by Ruth Epstein
Available from:
First published on 07 Feb 2017. Updated and modified regularly.


[Accessed ]