Artists
Georgia O'Keeffe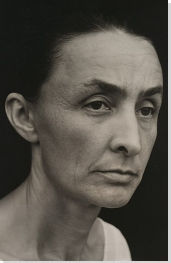 Born: November 15, 1887 - near Sun Prairie, Wisconsin
Died: March 6, 1986 - Santa Fe, New Mexico

"When you take a flower in your hand and really look at it, it's your world for the moment. I want to give that world to someone else."
Summary of Georgia O'Keeffe
Georgia O'Keeffe played a pivotal role in the development of American modernism and its relationship to European avante garde movements of the early-20th century. Producing a substantial body of work over seven decades, she sought to capture the emotion and power of objects through abstracting the natural world. Alfred Stieglitz identified her as the first female American modernist, whose paintings of flowers, barren landscapes, and close-up still lifes have become a part of the mythology and iconography of the American artistic landscape.
Key Ideas
O'Keeffe incorporated the techniques of other artists and was especially influenced by
Paul Strand's
use of cropping in his photographs; she was one of the first artists to adapt the method to painting by rendering close-ups of uniquely American objects that were highly detailed yet abstract.
O'Keeffe did not follow any specific artistic movement, but like
Arthur Dove
she experimented with abstracting motifs from nature. She worked in series, synthesizing abstraction and realism to produce works that emphasized the primary forms of nature. While some of these works are highly detailed, in others, she stripped away what she considered the inessential to focus on shape and color.
Through intense observation of nature, experimentation with scale, and nuanced use of line and color, O'Keeffe's art remained grounded in representation even while pushing at its limits. From the 1940s through the 1960s in particular, O'Keeffe's art was outside the mainstream as she was one of the few artists to adhere to representation in a period when others were exploring non-representation or had abandoned painting altogether.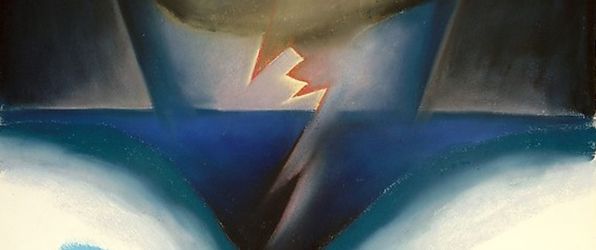 Detail of A Storm (1922) by Georgia O'Keeffe
Defining the early New York avant-grade with Alfred Stieglitz, and meditations in vast and desolate New Mexico are some of the sites of O'Keeffe's artistic inspirations and explorations.
Important Art by Georgia O'Keeffe

The below artworks are the most important by Georgia O'Keeffe - that both overview the major creative periods, and highlight the greatest achievements by the artist.

Blue #2 (1916)

Artwork description & Analysis: Blue II is indicative of O'Keeffe's early monochromatic drawings and watercolors, which evoke the movement of nature through abstract forms. While the curvilinear form in Blue II is reminiscent of a plant form, O'Keeffe was playing the violin during this period, and the shape likely captures the scroll-shaped end of the neck of the violin that would have been in O'Keeffe's line of sight as she played. The intense blue color suggests that she may have been familiar with Wassily Kandinsky's notion that visual art, like music, should convey emotion through the use of color and line. The intense blue perhaps suggests the sound of the music and the mood it evokes or expresses.

Watercolor on paper - Georgia O'Keeffe Museum


Artwork Images

Petunia No. 2 (1924)

Artwork description & Analysis: Petunia No. 2, one of O'Keeffe's first large-scale renderings of a flower, represents the beginning of her exploration of a theme that would mark her career. In this painting, she magnifies the flower's form to emphasize its shape and color. She stated that "nobody really sees a flower - really - it is so small - we haven't time - and to see takes time... So I said to myself - I'll paint what I see - what the flower is to me but I'll paint it big and they will be surprised into taking time to look at it." Her flower images often received interpretations that O'Keeffe disagreed with, particularly from feminist critics who saw these paintings as veiled illusions to female genitalia. For O'Keeffe, there was no hidden symbolism, just the essence of the flower. In fact, the anatomy of the petunia is incredibly detailed, and O'Keeffe may have been emphasizing the androgyny of the reproductive parts in order to counter the idea that her subject matter was connected to her gender. Though American and European artists had experimented with abstraction for at least a decade, O'Keeffe, like Dove, focused on images from nature and O'Keeffe was the only artist to consistently use flowers as a motif.

Oil on canvas - Georgia O'Keeffe Museum, Santa Fe


Artwork Images

Radiator Building - Night, New York (1927)

Artwork description & Analysis: This painting illustrates O'Keeffe's skill in articulating architectural structures as well as her use of the highly realistic, yet simplified style of Precisionism. She uses the night backdrop to incorporate a play between structure and light, and between the straight lines of the architectural forms and the ethereal smoke, which is reminiscent of the folds of flowers. O'Keeffe's portrait of the Radiator Building, an Art Deco skyscraper that was completed just three years prior to the painting, presents an iconic image that captures the changing skyline of New York City that O'Keeffe often found claustrophobic. She depicts the building from a low vantage point to convey a sense of oppression with the building's towering presence over the viewer. The painting can also be read as a double portrait of Steiglitz and O'Keeffe; Stieglitz is represented by the Scientific American Building, as indicated by his name in red, and O'Keeffe by the Radiator Building. Object portraits of this type, influenced by the poetry of Gertrude Stein, were an important theme for artists of the Stieglitz Circle.

Oil on canvas - Fisk University, Nashville
More Georgia O'Keeffe Artwork and Analysis:
Influences and Connections
Influences on Artist
Artists, Friends, Movements
Influenced by Artist
Artists, Friends, Movements

Interactive chart with Georgia O'Keeffe's main influences, and the people and ideas that the artist influenced in turn.
View Influences Chart


Influences on Artist

Georgia O'Keeffe
Years Worked: 1907 - 1984
Influenced by Artist

| | | | | |
| --- | --- | --- | --- | --- |
| Artists | | Personal Contacts | | Movements |
If you see an error or typo, please:
tell us
Cite this page

Content compiled and written by The Art Story Contributors
Edited and published by The Art Story Contributors
" Artist Overview and Analysis". [Internet]. . TheArtStory.org
Content compiled and written by The Art Story Contributors
Edited and published by The Art Story Contributors
Available from:
First published on 05 Dec 2014. Updated and modified regularly.


[Accessed ]