Artists
Alfred Stieglitz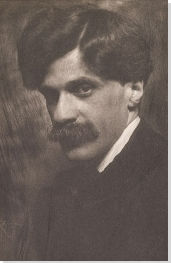 Born: January 1, 1864 - Hoboken, New Jersey
Died: July 13, 1946 - New York, New York

"In photography there is a reality so subtle that it becomes more real than reality."

Summary of Alfred Stieglitz
A vital force in the development of modern art in America, Alfred Stieglitz's significance lies as much in his work as an art dealer, exhibition organizer, publisher, and editor as it does in his career as a photographer. He is credited with spearheading the rise of modern photography in America in the early years of the 20th century, publishing the periodical Camera Work (1903-17) and forming the exhibition society, the Photo-Secession. He also ran a series of influential galleries, starting with 291, which he used not only to exhibit photography, but also to introduce European modernist painters and sculptors to America and to foster America's own modernist figures - including his later wife, Georgia O'Keeffe. Insistent that photography warranted a place among the fine arts, Stieglitz's own work showed great technical mastery of tone and texture and reveled in exploring atmospherics. In later years, influenced in part by Cubism and other trends, he became interested in straight photography, favoring more clarity and less lush effects.
Key Ideas
Emerging first in the milieu of Pictorial photography, Stieglitz sought to gain recognition for his medium by producing effects that paralleled those found in other fine arts such as painting. Many of his peers resorted to elaborate re-touching to create an impression of the handmade, but Stieglitz relied more on compositional effects and mastery of tone, often concentrating on natural effects such as snow and steam to create qualities similar to those of the
Impressionists
.
Stieglitz's early work often balances depictions of soft, ephemeral, natural processes with motifs drawn from American industry. Romantic in spirit, he was troubled yet fascinated by the rise of American power and sought to soften its apparent brutality by cloaking it in nature.
His later work reflects the decline of Pictorial photography and the rise of a new approach that claimed a value for photography as a revealer of truths about the modern world. Turning to more geometric motifs, effects of sharp focus, and high contrast, it celebrates a more mechanized phase of modern life in America.
Alfred Stieglitz was born in Hoboken, New Jersey, just before the end of the American Civil War. Born to German-Jewish immigrants, Edward Stieglitz and Hedwig Ann Werner, Alfred was the eldest of six children. In 1881, the Stieglitz family fled the East Coast and moved back to Germany, hopeful that the German school system would challenge young Alfred in the way America's had not. The following year, while enrolled at the Technische Hochschule in Berlin, Stieglitz was exposed to photography for the first time.
Important Art by Alfred Stieglitz

The below artworks are the most important by Alfred Stieglitz - that both overview the major creative periods, and highlight the greatest achievements by the artist.

Winter, Fifth Avenue (1892)

Artwork description & Analysis: Winter, Fifth Avenue shows the busy New York street in the midst of a snowstorm. Stieglitz stalked Fifth Avenue for three frigid hours waiting for the perfect moment. He had to wait for the ideal composition - unlike a painter, who could manufacture it. Trails in the snow lead the eye up this vertical composition to its focal point - a dark horse and carriage that is swallowed by the snowy atmosphere. The snow blurs the details of the urban surroundings, lending the photo an Impressionistic appearance. This depiction of man - crudely mechanized - and pitted against the violence of the natural world, shows Stieglitz's inheritance from 19th century Romanticism.

Photogravure - The Minneapolis Institute of Arts

The Terminal (1893)

Artwork description & Analysis: Taken with a handheld Folmer and Schwing 4x5 plate film camera, this photo captures hot stream rising from horses in the dead of winter. A smaller camera meant greater mobility; it also ensured that he could more easily capture short-lived moments in time. The steam makes the photo appear more like a painting than a point-and-shoot image. Atmospheric effects such as this were important to Stieglitz in both providing a means to bind the image together and to show the kind of technical mastery and lush effects that audiences approved of in painting.

Photogravure - Museum of Modern Art, New York

The Steerage (1907)

Artwork description & Analysis: The Steerage depicts travelers boarding a crowded steamer going from New York to Bremen, Germany. They have attempted to immigrate to America, and have been forced to return home. While several of Stieglitz's early pictures suggest an interest in working class motifs - or, at least, scenes of labor and industrial work - he looked at these people with the somewhat distant sympathy of the patrician. For Stieglitz, the picture was far more important as a study in line and form. He regarded it as his first "modernist" picture, the image that marked his move away from the rich tonality of his earlier Pictorial phase, and it has since come to be seen as a benchmark for the beginnings of modernist photography. In part, this was due to Stieglitz's own promotion of it. He included it in a special issue of his journal Camera Work, in 1911, that was devoted to his new work. The images were accompanied by a Cubist drawing by Picasso, and Stieglitz loved to recount how Picasso had praised The Steerage for the way it transformed its conventional subject into a striking, collage-like depiction of different spaces.

Photogravure - Museum of Modern Art, New York
More Alfred Stieglitz Artwork and Analysis:
Influences and Connections
Influences on Artist
Artists, Friends, Movements
Influenced by Artist
Artists, Friends, Movements

Interactive chart with Alfred Stieglitz's main influences, and the people and ideas that the artist influenced in turn.
View Influences Chart


Influences on Artist

Alfred Stieglitz
Years Worked: 1883 - 1934
Influenced by Artist

If you see an error or typo, please:
tell us
Cite this page

Content compiled and written by The Art Story Contributors
Edited and published by The Art Story Contributors
" Artist Overview and Analysis". [Internet]. . TheArtStory.org
Content compiled and written by The Art Story Contributors
Edited and published by The Art Story Contributors
Available from:
First published on 01 Aug 2012. Updated and modified regularly.


[Accessed ]