Movements, Styles, and Tendencies
Group f/64
Group f/64
Started: 1932
Ended: 1935

Summary of Group f/64
Formed in the San Francisco Bay Area, the 11 members of Group f/64 (sometimes referred to as the West Coast Photographic Movement) owed their assiduous aesthetic precision in fact to the East Coast of America and to the endeavors of Paul Strand. It was Strand who can claim to have developed and finessed Straight Photography and it was indeed the pursuit of a "pure" (or Straight) image that became Group f/64's unifying quest.

One of the most famous photographic collectives in history, Group f/64 mounted a revolt against the dominant fashion within the art of photography which was to ape the painterly and graphic techniques associated with Bay Area Pictorialism. The members' preference was for a style of art photography that would fully promote the camera's unique mechanical qualities. As the Group declared in its 1932 manifesto: "Pure photography is defined as possessing no qualities of technique, composition or idea, derivative of any other art form [and] The Group will show no work at any time that does not conform to its standards." Indeed, the diaphragm number f/64 from which the Group took its name, is the smallest camera lens aperture possible and thereby lends the image a sharpness and detail in depth that simply could not be replicated by the hand or in real time. The Group used large format view cameras to achieve their effect and they produced images ranging in theme through landscapes, still lifes, nudes, and architectural features.
Key Ideas
Typically, Straight Photography used large format cameras to create high contrast semi-abstractions and/or geometric repetitions. The images were often reliant on size and context for their full aesthetic affect and these imagess were thus intended to be exhibited in dedicated galleries before they passed into print publication.
Group f/64 as a whole was committed to photographing ignored or mundane objects to which they brought new perspectives and meaning through their pursuit of the purest image. In short, the spectator was often invited to "take a second look" at what they might have otherwise taken for granted. It was the goal of elevating the world around them to something more "spiritual" that saw them ranked as high-modernists.
During its short existence, the members of Group f/64 remained faithful to the ontology of the photographic image. In other words, their images existed on their own terms and were thus devoid of any social or political reference. Though this approach invited criticism from some quarters, the Group was committed to the principle that photography - or rather pure photography - must be left to stand alone if it was to affect supreme mental attainment in the spectator.
While it was not uncommon for modernists to strive for activity and movement in their photographic images, Group f/64's approach to its subjects was studied and measured. There is then a stillness and serenity to be found in the Group's compositions. This tranquillity gave the images - especially so when viewed in the surroundings of the gallery - an aura that was unique to pure photography.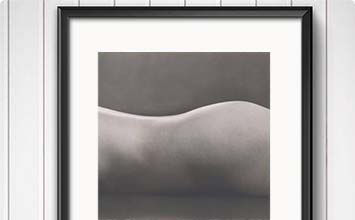 Beginnings:
Before Straight Photography, the idea of a photographic art was associated with Pictorialism, a movement that began in 1885 and dominated international photography for roughly 20 years. Pictorialism emphasized artistic effects by staging subjects, using soft and blurred focus, extensive darkroom manipulations and composite, or merged, photography. However, as early as 1904 the art and photography critic Sadakichi Hartmann was calling on photographers to produce "photographs that look like photographs" (rather than copy pictorial painterly traditions). Hartmann's ideas resonated with the likes of Alfred Stieglitz who was simultaneously an advocate of American Pictorialism and European modern painting. Indeed, Stieglitz's magazine Camera Work, and his famous 291 Gallery in New York, often placed Pictorial and experimental works side by side. By 1915, however, Stieglitz had started to campaign solely on behalf of a pure photography: "Not a trace of hand work on either negative or prints. No diffused focus. Just the straight goods" he declared. That same year, Stieglitz, acting as something of a mentor, dismissed the soft-focus inclinations in Paul Strand's photography. Strand took Stieglitz's rebuke to heart and began working towards what he initially called "objective photographs."
Important Art and Artists of Group f/64

The below artworks are the most important in Group f/64 - that both overview the major ideas of the movement, and highlight the greatest achievements by each artist in Group f/64. Don't forget to visit the artist overview pages of the artists that interest you.


Artwork Images

Mills College Amphitheater (1920)

Artist: Imogen Cunningham

Artwork description & Analysis: In 1920 after moving to San Francisco, Cunningham's photography turned away from Pictorialism toward sharply focused images of her subjects that included nudes, portraits, botanical still lifes, architecture, and industrial buildings. Already well known, particularly due to her pioneering images of the male nude (which created some controversy and scandal) Cunningham was an early innovator of the aesthetic approach that later became synonymous with Group f/64.

This photograph's partial view of the empty amphitheater emphasizes the pattern of the rows that, beginning at the lower right, curve through the pictorial plane to the upper right. A dynamic energy is created by the intersecting diagonals of three stone stairways, descending to the half circle of the stage, as their smaller rectangular forms interplay with the sharply contrasted light and shadow of the curving rows. The arcs of black shadow accentuate the repetition while the sharp focus makes the rough surface of the sunlit stone palpable. The elemental pattern of geometric form makes the space itself the subject, its aesthetic evoking a gathering of energy and attention.

Gelatin silver print - International Center of Photography, New York City


Artwork Images

Magnolia Blossom (1925)

Artist: Imogen Cunningham

Artwork description & Analysis: This photograph is a sharply focused close-up image of a magnolia blossom, as the curving forms of its white petals create a sensuous contrast with the erect pistil and stamen at the center of the image. As art critic Alison Meier noted, such photographs "are like proto-Georgia O'Keeffe flower canvases: clinical yet loving, often surreptitiously sexy - and sometimes not so surreptitious." The play of light and shadow accentuates the softly flaring curvilinear form, while also creating a sense of enveloping depth, as the curving shapes extend beyond the pictorial frame, and draw the viewer into the image. The use of sharp focus lends the "masterwork," as New York Times art critic Margaret Loke put it, a "crystalline eroticism."

Cunningham became interested in botany and photography while she was studying chemistry at the University of Washington, when she doubled as a photographer in the botany department. Her thesis "Modern Processes in Photography" (submitted in 1907) combined the two interests. While her early works were influenced by the Pictorialist Gertrude Käsebier, by the early 1920s Cunningham had turned to sharp focus close-ups that exemplified Straight Photography's leanings towards abstraction. Edward Weston, who curated the American contribution to the 1929 Film and Foto exhibition in Germany, included ten of Cunningham's plant photographs. The detail in her images is so precise that many botanists and horticulturists have used them in their studies, and her botanical interest led her to create the California Horticultural Society in 1933. Throughout her long career, Cunningham was noted as a radical thinker and gained renown as an innovator in experimenting photographic techniques and styles.

Gelatin silver print - M.H. de Young Memorial Museum, San Francisco


Artwork Images

[Nude] (1925)

Artist: Edward Weston

Artwork description & Analysis: This close-up of a nude woman, lying on her stomach, is cropped above the shoulders and just below the hips. It is an anonymous figure study designed to emphasize aesthetic form over eroticism. The eloquent curves of the model's back radiate a kind of light, accentuated against the dark neutral background. Art historian Nancy Newhall noted that much "like a chisel" the "luminous flesh rounds out of the shadow, and the shadow itself [...] is as active and potent as the light." The image can be viewed as an abstraction, though the work remains figurative because it is rendered by the objective medium of photography itself.

Weston first began photographing nudes of his various lovers in the early 1920s, and his approach to other subjects, whether landscape or small objects like sea shells, peppers (and even a head of cabbage) are informed by a similar preoccupation with sensuous form. Here the radiant light on the model's back resembles the glow of light along the horizon, with the result that the body evokes what New York Times critic Hilton Kramer called "a landscape of the body."

Weston's work, be it landscape, still lifes or the nude, exemplified the Group f/64 aesthetic. Art historian Lisa Hostetler noted that "While at first glance, these subjects seem to have nothing in common [...] The photographers' meticulous concern for transcribing the exact features of what was before the camera bound them together and rendered the emotional experience of form the primary feature of their photographic art."

Gelatin silver print - Metropolitan Museum of Art, New York City
More Group f/64 Artwork and Analysis:
If you see an error or typo, please:
tell us
Cite this page

Content compiled and written by Rebecca Seiferle
Edited and published by The Art Story Contributors
" Movement Overview and Analysis". [Internet]. . TheArtStory.org
Content compiled and written by Rebecca Seiferle
Edited and published by The Art Story Contributors
Available from:
First published on 15 Jan 2019. Updated and modified regularly.


[Accessed ]