"We look at the world and see what we have learned to believe is there. We have been conditioned to expect.. but, as photographers, we must learn to relax our beliefs."
"As the language or vocabulary of photography has been extended, the emphasis of meaning has shifted, shifted from what the world looks like to what we feel about the world and what we want the world to mean."
"The business of making a photograph may be said in simple terms to consist of three elements: the objective world (whose permanent condition is change and disorder), the sheet of paper on which the picture will be realized, and the experience that brings them together."
"Photography is a way of feeling, of touching, of loving. What you have caught on film is captured forever... it remembers little things, long after you have forgotten everything."
"In any art, you don't know in advance what you want to say - it's revealed to you as you say it. That's the difference between art and illustration."
"Almost inevitably there are tensions in the picture, tensions between the outside world and the inside world. For me, a successful picture resolves these tensions without eliminating them."
"As photographers, we must learn to relax our beliefs. Move on objects with your eye straight on, to the left, around on the right. Watch them grow large as they approach, group and regroup as you shift your position. Relationships gradually emerge and sometimes assert themselves with finality. And that's your picture."
"The only nature I am interested in is my own nature."
"To me documentary photography means making a picture so that the viewer doesn't think about the man who made the picture. At its esthetic core is very old tradition in art: naturalism. And its purpose is to document all facets of social relationships"
Summary of Aaron Siskind
Aaron Siskind's early work as a social documentary photographer is best seen in his contributions to the Harlem Document (1932-40), a survey of life in Harlem. Siskind also identified with the ideas and styles of the Abstract Expressionist artists in New York in the 1940s. In these later photographs he continued to emphasize the modernist concern with the flatness of the picture plane, but intensified his approach to picture making - with close-up framing, as well as emphasis on texture, line, and visual rhymes - creating abstract images of the real world.
Accomplishments
Siskind turned the medium of photography on its head, taking pictures of found objects that were simultaneously true-to-life and abstract; he was one of the first photographers to combine what was known as "straight" photography (recording the real world as the lens "sees" it) with abstraction.
Siskind found emotional joy and tension in the process of discovering subjects and photographing them in such a way as to emphasize his reading of the world as essentially abstract, a series of echoing forms, lines, and textures.
Like the Abstract Expressionists, with whom he was friends, Siskind turned away from the social/political world post-World War II, and instead looked inward to seek meaning in the mostly inanimate forms he observed around him.
The Life of Aaron Siskind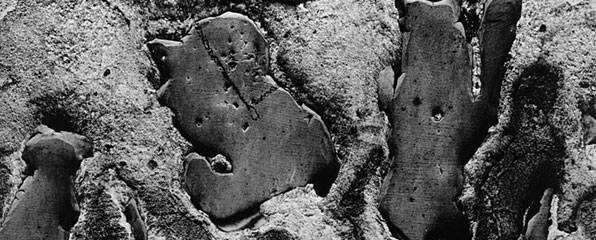 Wondering: "What is the subject matter of this apparently very personal world?" Aaron Siskind began photographing close-ups of weathered walls with peeling paint, stacked boulders, and cracked asphalt, pioneering abstract photographs that conveyed, the "qualities of expression that came out of my experience of music and literature."
Important Art by Aaron Siskind
Progression of Art
Biography of Aaron Siskind
Childhood
Aaron Siskind was born the fifth of six children in a Russian-Jewish immigrant family in New York City. The first art forms to catch his interest were poetry and music, which led him to believe he would become a writer. After graduating from DeWitt Clinton High School, Siskind earned his Bachelor of Social Science degree in Literature from the College of the City of New York in 1926 and went on to teach English in the New York City public school system for 21 years. A camera given as a gift for his wedding to Sidonie Glaller in 1930 galvanized his interest in photography. He was said to have spent much of his honeymoon taking pictures in Bermuda.
Early Training
With his newfound love for photography, Siskind became an enthusiastic member of the New York Photo League. This organization of amateur and professional photographers and filmmakers specialized in social documentation. By the time the Photo League became official in 1936, it was the only noncommercial photography school in the United States. It trained a generation of photographers and involved some of the most notable of the era, including Margaret Bourke-White and Berenice Abbott. Siskind became director of the Photo League's Feature Group in 1936, leading a unit of photographers who produced photo essays of working-class, urban life, with titles such as The Most Crowded Block in the World (1939). His photographs of Harlem exemplify the spirit of his first encounters with the camera, which he used to gain access to and frame the empirical world of Depression-era New York City. Even in these referential, representational photographs, Siskind's eye for form remains salient. These early photographs form the backdrop to the later work that came to define his artistic vision: his drive to obscure his subject by focusing on form at the expense of content and context.
Siskind's work continued in this direction in the early 1940s, when he left the Photo League and cultivated connections with members of the New York School of Abstract Expressionism. During a trip to Martha's Vineyard, Siskind began approaching still objects from a very intimate range, framing them up-close so as to underscore the formal qualities of their lines, colors, and textures. This new, more overtly abstracted work impressed the art elite of New York, and Siskind began to show his work at the Charles Egan Gallery, where he was in the company of many Abstract Expressionist painters. During this time, Siskind was personally acquainted with Franz Kline, Robert Motherwell, Adolph Gottlieb, Barnett Newman, Mark Rothko, and Willem de Kooning.
Late Years and Death
At the invitation of the photographer Harry Callahan, Siskind moved to Chicago in 1951 to teach photography at the Institute of Design. When Callahan left the Institute ten years later, Siskind took over as head of the photography department. His interest in the flatness of the picture plane, already evident in his pictures of the 1940s, became literalized in his fascination with architectural facades. In 1952 and 1953, Siskind led his students in a project to document the buildings of Louis Sullivan and Dankmar Adler.
Again at the bidding of his close friend and colleague Callahan, Siskind left the Institute to join the staff of the Rhode Island School of Design in 1971, where he remained until retiring from teaching five years later. In 1984, the Aaron Siskind Foundation became dedicated to raising money to support contemporary photography. He died in Providence, Rhode Island, on February 8, 1991, at the age of 87.
The Legacy of Aaron Siskind
Aaron Siskind is the most compelling example of the shift in photography from social documentation to abstraction. Through his involvement with, and keen interest in, the painters of Abstract Expressionism, Siskind came to turn the very medium of photography on its head; in his hands, the camera, which from its inception had been defined by its power to translate the three-dimensional world directly and mechanically, could be used to produce essentially two-dimensional, and abstract, images. One thinks of his influence on the work of Frederick Sommer, for example, who also emphasized flatness and abstraction. Siskind also exerted his influence on the work of other photographers in his capacity as a founding member of the Society for Photographic Education and as coeditor of the literary and photography magazine Choice. Perhaps to even a greater extent, his influence grew out of his teaching posts at the Institute of Design in Chicago from 1951 through 1971, and the Rhode Island School of Design in Providence, Rhode Island.
Influences and Connections
Influences on Artist

Influenced by Artist
Friends & Personal Connections
Artists
Frederick Sommer
Friends & Personal Connections
Useful Resources on Aaron Siskind
Books
The books and articles below constitute a bibliography of the sources used in the writing of this page. These also suggest some accessible resources for further research, especially ones that can be found and purchased via the internet.
biography
photographs
Similar Art