Movements, Styles, and Tendencies
Straight Photography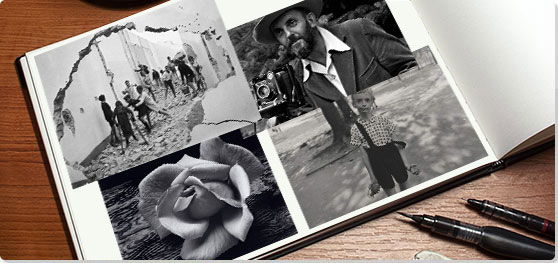 Straight Photography
Started: 1910

Summary of Straight Photography
Straight photography emphasizes and engages with the camera's own technical capability to produce images sharp in focus and rich in detail. The term generally refers to photographs that are not manipulated, either in the taking of the image or by darkroom or digital processes, but sharply depict the scene or subject as the camera sees it. Paul Strand and Alfred Stieglitz pioneered Straight photography in New York while the Hungarian-born László Moholy Nagy exploited pure photography to maximize the graphic structure of the camera-image. These straight or pure approaches to photography continue to define contemporary photographs, while being the foundation for many related movements, such as Documentary, Street photography, Photojournalism, and even later Abstract photography.
Key Ideas
Straight photography for the first time, since the invention of photography, respects the medium's own technical visual language. The camera's distinctive vocabulary includes form, sharp focus, rich detail, high contrast, and rich tonalities. Straight photography is also synonymous with pure photography, since both terms describe the camera's ability to faithfully reproduce an image of reality.
Straight photographers visualized the image before taking the photo.
Edward Weston
defined this term in 1921 and stated: "Get your lighting and exposure correct at the start and both the developing and printing can be practically automatic." Ansel Adams could not agree more when he asserted "the photographer visualizes his conception of the subject as presented in the final print. He achieves the expression of his visualization through his technique - aesthetic, intellectual, and mechanical." This visualization of the image was complemented by format cameras - a camera that used large film sizes either 4x5 in. or 8x10 in. - that enabled the photographer to preview the scene on the ground glass.
László Moholy-Nagy's notion of New Vision (
Neues Sehen
) of photography has close ties to the ideas of the
Bauhaus
school. His technique looked at the world through the camera lens, using it both as a framing device for documenting and as a means of experimentation. Moholy-Nagy, intent on creating a graphic structure in the image, championed unconventional viewpoints and playful printing techniques to develop a fresh rapport with the visible, industrial world.
Straight photography is a process- and time-based approach. It represents immediacy, the passing of time as in history, or the freezing of time as in a snapshot. In a photograph, time is described by the movements of the subject. As
Henri Cartier-Bresson
stated "we work in unison with movement as though it were a presentiment on the way in which life itself unfolds. But inside movement there is one moment in which the elements in motion are in balance." This notion of the "decisive moment" defined much of the Straight photography of the mid-20
th
century.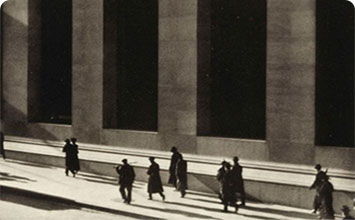 Beginnings:
From the time of the camera's invention in 1839, it was used as a tool to document everyday objects, daily scenes, nature, and cultural artifacts. The basis for photography as it is practiced today stems from Henry Fox Talbot's invention of the calotype: a paper negative produced by exposing a sheet of paper coated with silver chloride to light. Talbot, a British scientist, mathematician, author, and inventor of photography, shortened exposure times and allowed multiple prints to be made from a single negative. He would have us believe that the photograph was created by the action of light, by nature herself, on sensitive paper, and depicted by optical and chemical means alone. His French counterpart Louis-Jacques Mandé Daguerre, a painter, printmaker, and inventor of the Daguerreotype, shared Talbot's belief that photography "gives nature the ability to reproduce itself .. not with their colors but instead with a very fine gradation of tones."
Important Art and Artists of Straight Photography

The below artworks are the most important in Straight Photography - that both overview the major ideas of the movement, and highlight the greatest achievements by each artist in Straight Photography. Don't forget to visit the artist overview pages of the artists that interest you.

'A Sea of Steps', Wells Cathedral, Steps to Chapter House (1903)

Artist: Frederick Henry Evans

Artwork description & Analysis: This image depicts steps ascending to the Chapter House in Wells Cathedral in Somerset, England. Remarkable for its composition and sense of light and space, the photograph conveys the climbing up the stairs, as if analogous to ascending toward the divine serenity symbolized by the illuminated archway. The vertical lines of the columns rise out of the curve of the steps that seem to flow and swell like ocean waves; what Evans' called "a sea of steps." As a result, Evans introduced a new departure in photography. He drew on the Symbolist manner of using objects to directly express esoteric ideas. Evans framed the interior view of the flight of stairs (an architectural space) to suggest the ascent up the sancta scala (holy stair), giving the image an emotional and spiritual resonance.

Evans was a bookseller who began experimenting with photography and in 1898 became a professional photographer, focusing on architectural subjects, in particular noted cathedrals in France and England. A member of the Pictorialist Linked Ring Society in London, he represented the extreme Purist approach within the Society. Evans practiced and advocated for a purely photographic image - thus he was a patriarch of Straight photography. A perfectionist, he would sometimes spend weeks in a cathedral studying the effects of light at different times of the day to capture the perfect image. Light, he felt, was the equivalent of spiritual enlightenment.

Platinum Print - Philadelphia Museum of Art, Philadelphia

Bowls (1917)

Artist: Paul Strand

Artwork description & Analysis: This photograph depicts a close-up view of regular kitchen bowls that are used to study the effects of light and shadow. The round, concave objects are reduced to geometric circular shapes, defined by the highlighted linear top edge of the bowls and the depth of the shadows. The composition of overlapping circular shapes dismantles the structure of the object, making it almost abstract, and not easily recognizable. Paul Strand said that his "abstract" studies were a matter of clarifying "for me what I now refer to as the abstract method, which was first revealed in the paintings of Picasso, Braque, Léger and others... ." These close-up shots parallel his close-up portraits of ordinary people taken in the street at the end of 1916, which border on social documentary.

Strand's work, published in the last issue of Camera Work in June 1917, went as far as possible in defining a photographic point of view. Significant here is the creative freedom found in the photographic act. Alfred Stieglitz added a short essay in support of this new aesthetic: "The work is brutally direct; devoid of all flim-flam; devoid of trickery and of any 'ism'; devoid of any attempt to mystify an ignorant public, including the photographers themselves." Strand's close-up photo of bowls introduced a new photography that objectively analyzes the features of ordinary people and objects.

Photogravure - Musée d'Orsay, Paris

Monolith, the Face of Half Dome (1927)

Artist: Ansel Adams

Artwork description & Analysis: Adam's photograph of Half Dome, a landmark of Yosemite Park in California, launched his career. This shaped granite rock formation is captured as a dark imposing monolith rising up to a distant peak against a dark sky and snowy landscape at its lower left and lower right. Throughout his life Adams returned to this subject and commented, "it is never the same Half Dome, never the same light or the same mood." This image was met with critical acclaim, and Adams himself felt it was "one of the most exciting moments of my photographic career," because he had his first instance of what he called "visualization," being able to see and frame the picture in his mind's eye.

To take the photograph, he climbed 4000 feet through snow, carrying his large Korona view camera, a wooden tripod, and a dozen glass plates that he set up on a rocky outcropping. When the light began to fall on the monolith, he took one photograph with a yellow filter, and then realized that using a dark red filter would make the image, as he said, "a brooding form, with deep shadows and a distant sharp white peak against a dark sky."

Adams was one of the leading members of Group f/64, along with Cunningham and Weston, and an ardent advocate for what he called "pure or straight photography." His landscapes were enormously popular with the general public, but critically influential to many photographs, like Harry Callahan who felt that Adam's focus on "just the straight photograph" set him free to pursue his own photographic practice.

1927 - Metropolitan Museum of Art, New York New York
More Straight Photography Artwork and Analysis:
If you see an error or typo, please:
tell us
Cite this page

Content compiled and written by Rebecca Seiferle
Edited and published by The Art Story Contributors
" Movement Overview and Analysis". [Internet]. . TheArtStory.org
Content compiled and written by Rebecca Seiferle
Edited and published by The Art Story Contributors
Available from:
First published on 30 Oct 2017. Updated and modified regularly.


[Accessed ]