Artists
Marius de Zayas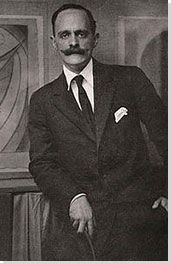 Marius de Zayas
Mexican-American Caricaturist, Publisher, and Gallery Owner
Movements and Styles: Dada, Early American Modernism
Born: March 13, 1880 - Veracruz, Mexico
Died: January 10, 1961 - Stamford, CT, USA

"The more we consider photography, the more convinced we are that it has come to draw away the veil of mystery with which Art enveloped the represented Form."

Summary of Marius de Zayas
Celebrated for his caricatures and cartoons, Marius de Zayas is best remembered today for his prescient introduction of modern art to America. Born in Mexico to a prosperous and politically progressive family, de Zayas began his career as an illustrator before political pressures forced his family to emigrate to the US. Working for several newspapers and magazines in New York, de Zayas caricatured socialites, celebrities, and the stars of theater and vaudeville. After meeting Alfred Stieglitz and showing at Stieglitz's "291" gallery, de Zayas became a scout for new artistic talent. He traveled to Paris in 1910, and although he first considered Cubism to be the "tower of Babel of painting," he grew to understand the movement and became friends with Pablo Picasso.

De Zayas was deeply influenced by Cubism's break with optical reality and expanded his own caricatures to include more abstract ways of representing his subjects. He was also impacted by Cubism's incorporation of non-Western influences, bringing the first artistic exhibition of African sculpture to New York in 1914. His Modern Gallery was an important outlet for European modernists during WWI; after closing the gallery in 1921, he relocated to Europe where he continued to collect and support modern artists.
Key Ideas
Meeting Picasso in 1910, de Zayas was the first scholar to publish an interview with the Cubist; both Spanish-speakers, they formed a fast friendship and de Zayas promoted Picasso's work in New York through his writing, his association with Stieglitz's "291" gallery, and his own Modern Gallery.
Showing his "absolute caricatures" in 1913, de Zayas broke with the representational expectations of portraiture to present his subjects through abstract arrangements of line and shape, coupled with mathematical equations. This directly influenced
Francis Picabia
in the development of his machine portraits, which are considered a foundational Dadaist series. Through the 1910s and 1920s, other artists, including
Charles Demuth
,
Arthur Dove
, and
Marsden Hartley
, would turn to abstract compositions or inanimate object to create portraits.
De Zayas wrote some of the most provocative and theoretical essays to appear in Stieglitz's
Camera Work
, chief among them his 1911 "The Sun Has Set," which began by proclaiming "Art is dead." He continued to lament the current state of modern art, floundering in a society that valued industrialism and capitalism. Forced to look back to earlier examples, artists could produce only hollow interpretations of old ideas. His praise of children's art and "primitive" work as an inspiration to return to a more intuitive and unconscious state of production would be influential to the development of
Dada
and further explorations of abstraction.
Through his exposure to Cubism and his own experiences of working from non-Western objects displayed in ethnographic museums, de Zayas promoted African art as an important influence in the development of modern art. Following the 1913 Armory Show, de Zayas organized a 1914 exhibition for Stieglitz's "291" gallery that combined African art with contemporary work for the first time in America. When he opened his own Modern Gallery the following year, he became the most prominent dealer of African art in New York and his text, African Negro Art: Its Influence on Modern Art (1916) was one of the first books to study the aesthetics of this field.
Marius de Zayas Artist Overview Page: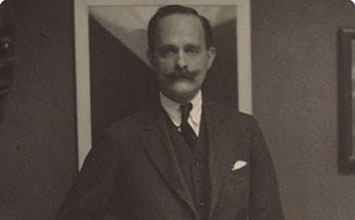 This is a mini-page that we designed for artists that are harder (or maybe impossible) to find detailed information on. If you would like us to put in a significant effort to build more information into this page, please comment. Thank you
Important Art by Marius de Zayas

The below artworks are the most important by Marius de Zayas - that both overview the major creative periods, and highlight the greatest achievements by the artist.

Alfred Stieglitz, L'Accoucheur d'Idées (The Midwife to Ideas) (1908-9)

Artwork description & Analysis: This depiction of his friend and collaborator is part of a series recording the artists of Alfred Stieglitz's circle. Stylistically more mysterious and suggestive than his commercial caricatures, this drawing suggests de Zayas's Symbolist inspirations as he adapts his style to depict his artistic colleagues. Stieglitz is shown as a solitary figure, emerging from a dark background. Recognizable by his bristly moustache and glasses, de Zayas subtly differentiates between Stieglitz's black outfit and the black field, to create a spectral vision. The elongated figure furthers this immaterial representation of the body. The darkness is punctuated only by a glowing full moon that circles Stieglitz's head like a halo and suggests a quasi-religious role for the gallerist. The drawing evokes an otherworldly spirit.

This caricature was most likely part of de Zayas's first exhibition at 291 gallery, iin January 1909. It marks his arrival as part of the Stieglitz group, as the exhibition signaled his ascension from a commercial illustrator to a fine artist. The work was reproduced in Stieglitz's Camera Work in 1912, where it was subtitled as "The Midwife to Ideas." - making clear Stieglitz's role as a facilitator for modern art in New York.

Charcoal and graphite on paper - Metropolitan Museum of Art


Artwork Images

All In It (1912)

Artwork description & Analysis: The politically progressive de Zayas family was forced into exile when Marius was a young man. In New York, de Zayas drew political cartoons for a variety of newspapers and magazines, often criticizing America's actions towards Mexico and other less powerful countries. He was particularly distrustful of Theodore Roosevelt and William H. Taft, believing they only represented the interests of American industrialists such as John D. Rockefeller and his Standard Oil Co. In this cartoon from the Evening World Daily Magazine, both men, along with the Republican elephant, are immersed in dark waters - or crude oil - labeled "corporation campaign corruption."

- De Zayas Papers, Seville


Artwork Images

Portrait of Alfred Stieglitz (1912-13)

Artwork description & Analysis: In his April-May 1913 exhibition at Alfred Stieglitz's "291" gallery, de Zayas showed a series of caricatures; some were in his conventional style that played with a recognizable and popular subject, but others, such as this portrait of Stieglitz, represented a new level of abstraction.

This depiction of Stieglitz aims to express his complicated personality, along with his intelligence and spirit, through the use of complex mathematical equations. There are some physical traces of Stieglitz, most notably his bristly mustache (represented by a series of parallel lines in a triangular form on the lower left) and his glasses, which are repeated in a vertical series of circles to suggest the intensity of his focus and artistic vision. These circular elements, however, were also abstractions based on an object - a "soul catcher" - that de Zayas had seen in an ethnographic museum. Bringing together the abstract and the representational, de Zayas creates a portrait that suggests both the physicality and the spirituality of his subject.

De Zayas's abstract caricatures directly inspired the machine portraits of Francis Picabia, which became an important part of Dada in America. Replacing the portrait subject with an assemblage of objects and formal components of line and color became a new genre of painting among the New York avant-garde. Other modernists would adopt this technique to portray friends and lovers without resorting to traditional representation. Indeed, these object portraits created coded meanings that were comprehensible only to a small circle of associates, tracing a network of experimental artists in the 1910s and 1920s.

Charcoal on paper - Metropolitan Museum of Art
More Marius de Zayas Artwork and Analysis:
If you see an error or typo, please:
tell us
Cite this page

Content compiled and written by Sarah Archino
Edited and published by The Art Story Contributors
" Artist Overview and Analysis". [Internet]. . TheArtStory.org
Content compiled and written by Sarah Archino
Edited and published by The Art Story Contributors
Available from:
First published on 11 Apr 2017. Updated and modified regularly.


[Accessed ]