Artists
Charles Demuth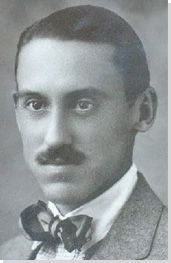 Charles Demuth
American Painter
Movements and Styles: Early American Modernism, Precisionism, Impressionism, Queer Art
Born: November 8, 1883 - Lancaster, Pennsylvania
Died: October 23, 1935 - Lancaster, Pennsylvania

"Paintings must be looked at and looked at and looked at. No writing, no talking, no singing, no dancing will explain them."
Summary of Charles Demuth
A larger-than-life figure who is remembered nearly as often for his wit as he is for his paintings, the bold and insatiably curious Charles Demuth wasn't just a product of America's transformative early-20th century; he was one of its archetypes. Demuth was a principal member of the Precisionist movement that emphasized sharp lines and clear geometric shapes. Challenging the boundaries of race, class, sexuality, and artistic tradition, he digested the shifting social landscape around him and left behind a memorable body of work that defies categorization.
Key Ideas
Demuth's brilliance is in the way he emphasized distinct colors and shapes out of elements that are more often relegated to the background, such as the factory smoke in Incense of a New Church (1921), or that may be considered too dull or commonplace to paint at all, such as typography in I Saw the Figure 5 in Gold (1928). Some of these would go on to influence the design of movie and theater posters, book dust jackets, and other visual media for decades to come.
Like his friend and contemporary
Georgia O'Keeffe
, Demuth focused with intensity and precision on flowers and other vegetation. Unlike O'Keeffe, he stripped them down to precise geometric shapes and bold colors, imposing form and specificity on the chaos of the organic.
Demuth's cheeky and evocative (and private) paintings of early-20th-century American gay subculture are among its few surviving visual records, and his jazz portraits celebrate the power and dynamism of the Harlem Renaissance.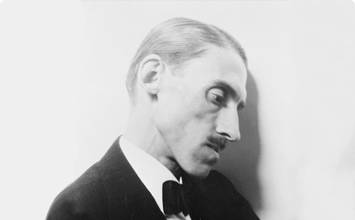 Charles Demuth was the only child of Ferdinand and Augusta Demuth, long-term residents of Lancaster. He grew up in a house next door to the family tobacco shop on East King Street, which his father's family had owned since 1770. When he was four years old Demuth injured his hip and was bedridden for several weeks. His mother gave him crayons and watercolors to keep him entertained, and this marked the beginning of his love for art. As art would become a major feature of his life, so too, unfortunately, would illness. His injury made it necessary for him to use a cane and he walked with a pronounced limp. Though he was close to both his parents, his physical frailty meant that he was particularly dependent on his mother. He became socially withdrawn at school, preferring to play with girls over boys, as his mother and aunt had warned him that rough play with other boys could cause his injury to worsen. Both his parents supported his interest in painting and drawing from an early age - his father was an amateur photographer himself.
Important Art by Charles Demuth

The below artworks are the most important by Charles Demuth - that both overview the major creative periods, and highlight the greatest achievements by the artist.

Self Portrait (1907)

Artwork description & Analysis: Demuth painted this self-portrait while he was studying at the Pennsylvania Academy of the Fine Arts (PAFA). 23 years old, he depicts himself as a pensive, thoughtful young man. While the details of his face and hair are captured in painstaking detail and nuance, his clothing is less distinctive, and gives way to a looser, unfinished rendering of his jacket toward the bottom of the canvas. His eyes do not directly meet the gaze of the viewer, and instead look slightly downward and to the right. The style of the portrait demonstrates how the instructors at PAFA - among them Thomas Anshutz, William Merritt Chase, and Hugh Breckenridge - instilled within Demuth an early reverence for a traditional, European approach to art. This early self-portrait is somewhat reminiscent of the work of John Singer Sargent, though Demuth would go on to develop his own distinct style. This painting was the only work ever exhibited in his hometown of Lancaster, Pennsylvania, during his lifetime.

Oil on Canvas - Demuth Museum, Lancaster, Pennsylvania

At Marshalls (1915)

Artwork description & Analysis: During his regular visits to New York, Demuth would meet with friends at jazz clubs, basement bars, and hotel cafés. This sketchy, impressionistic watercolor depicts an evening he spent listening to jazz in the bar of the Marshall Hotel in the company of fellow artists Marcel Duchamp, Edward Fisk, and Marsden Hartley. It captures the energy of a night on the town: the men are smartly dressed, the room is smoky, and their faces are flushed with drink.

The Marshall Hotel, a black-owned hotel on West 53rd Street, was an important gathering place for New York's black elite, and among the first establishments where white, bohemian New Yorkers could come to experience the culture, music, and performances that would come to be known as the Harlem Renaissance. Demuth and his friends witnessed jazz in its infancy on nights like the one depicted here, and his images of these Manhattan hotspots were among the first to capture this pivotal period in America's cultural development. Jazz played a critical role in the development of American modernism, inspiring many of the nation's artists and writers to experiment and develop new forms of creative expression outside long-established European traditions.

Watercolor and Graphite on Paper - Demuth Museum, Lancaster, Pennsylvania

Turkish Bath with Self Portrait (1918)

Artwork description & Analysis: This watercolor sketch offers an illuminating depiction of the gay subculture in postwar New York. The setting is likely the Lafayette Baths, a Turkish bathhouse in the East Village. The artist, with dark hair and mustache, appears nude in the center of the frame. He talks with two other men: a blonde man swaddled in a towel, who faces away from the camera, and a fully undressed red-headed man who strikes a confident pose. Behind the trio, a man with indistinct features stands in a pool, water waist high, while a duo in the upper right corner of the canvas seem to be caught up in an intimate moment.

Demuth was likely open about his sexuality with his friends, and frankly depicted the evolving, underground gay scenes in New York and Paris. This image is striking in its open, candid depiction of desire and attraction between men. It was not intended for public exhibition during Demuth's lifetime and historically it has great significance, visualizing the emergence of a sexual subculture organized along very different lines than male/female courtship. Since his death, Demuth's watercolors of early-20th-century gay life have proven to be sources of inspiration and fellowship to later generations of American artists, including Andy Warhol, another Pennsylvania native.

Graphite and Watercolor on Paper - Private Collection
More Charles Demuth Artwork and Analysis:
Influences and Connections
Influences on Artist
Artists, Friends, Movements
Influenced by Artist
Artists, Friends, Movements

Interactive chart with Charles Demuth's main influences, and the people and ideas that the artist influenced in turn.
View Influences Chart


Influences on Artist

Charles Demuth
Years Worked: 1905 - 1935
Influenced by Artist

If you see an error or typo, please:
tell us
Cite this page

Content compiled and written by Jen Glennon
Edited and published by The Art Story Contributors
" Artist Overview and Analysis". [Internet]. . TheArtStory.org
Content compiled and written by Jen Glennon
Edited and published by The Art Story Contributors
Available from:
First published on 02 Mar 2016. Updated and modified regularly.


[Accessed ]