Artists
Robert Indiana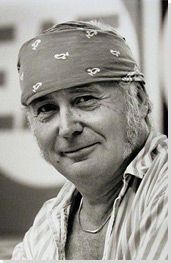 Born: Born: September 13, 1928 - New Castle, Indiana
Died: May 19, 2018 - Vinalhaven Island, Maine

"I have always thought of my work as being celebratory. Let's say it's the three C's - commemorative, celebratory, and colorful."

Summary of Robert Indiana
Best known for his iconic LOVE series, which has been reproduced in formats ranging from large public sculptures to postage stamps, Robert Indiana explores the American experience using everyday objects and language. With his hard-edge painting, bold colors, and popular imagery, he is often associated with Pop art, but Indiana rejects this label; indeed, beyond the visual lightheartedness are levels of personal and political meaning which are often dark or critical. His work integrates non-art materials, ordinary language, and commercially-inspired graphic designs with more traditional elements of fine art, elevating the viewer's daily experience and folding it into a history of art and American identity.
Key Ideas
An admirer of early-20
th
-century American modernism, Indiana reflected on the questions of national identity posed by artists such as
Marsden Hartley
,
Charles Demuth
, and
Edward Hopper
; in particular, he builds upon their use of the familiar, the ordinary, or the industrial, to transform popular sources into fine art. The American dream is often cast as an elusive and somewhat tragic quest, filled with eye-catching slogans and advertising graphics.
Common language appears throughout Indiana's work, which is often layered with coded meanings, coming from Indiana's biography or classical and literary sources. These texts closely resemble advertisements; yet while they act like ads or billboards, they often subtly critique popular culture and consumerism.
Deceptively simple, Indiana's ordinary images and commercial style appear similar to Pop art, yet his work is layered with references from art history and a deeply personal iconography that complicates their generic execution. Overtly political and socially engaged, Indiana interrogated consumerism and mass culture, explicitly criticizing ideals treated more ambiguously by most Pop artists.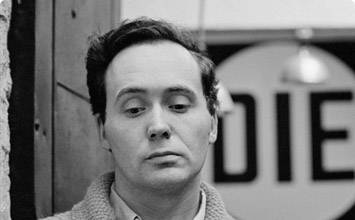 Robert Indiana was adopted as an infant by Earl Clark and Carmen Watters Clark and named Robert Earl Clark. He grew up in a financially unstable environment, as his father held a wide range of jobs, from an oil executive to pumping gas. When Indiana was nine, his parents divorced and his mother went to work; her time as a diner waitress would be influential to Indiana's artistic career. A free spirit, his mother frequently moved; by age seventeen, Indiana had lived in twenty-one different locations.
Important Art by Robert Indiana

The below artworks are the most important by Robert Indiana - that both overview the major creative periods, and highlight the greatest achievements by the artist.


Artwork Images

Hole (1960)

Artwork description & Analysis: Hole (1960) is a free-standing sculpture composed of a wooden rectangular column measuring almost four feet tall; near the base protrudes a wooden rod, while iron wheels are attached on both the right and left face of the column, at the same height. Two arrows, one in red and one in yellow, draw the viewer's eye to a small indented hole found near the top of the work, below which the word "HOLE" appears in black letters on a yellow stripe.

The work is one of a series of wooden sculptures Indiana made shortly after his move to Coenties Slip in lower Manhattan. Located along the East River, the area was home to shipyards and abandoned warehouses, which provided a wealth of discarded objects such as the scraps of wood and metal that the artist assembled to create work such as this. Indiana called these sculptures "herms," having drawn inspiration from ancient Greek pillars used to mark intersections and roads that featured the head of the mythological god Hermes. Although we often consider Indiana's work in relation to Pop art because of its use of commercial and readymade materials, the herms are most akin to the combines of his neighbor and contemporary Robert Rauschenberg, a Neo-Dada artist; both used similar refuse materials to create hybrid sculptures.

Importantly, the "herms" mark Indiana's first use of words in his art; as this would become an important theme in his oeuvre. While some Pop artists used words to mimic commercial products or popular culture, as an amateur poet, Indiana's interest in literature often makes literary references in his use of language. In this work, "Hole" is the name of a town, a destination for a father and son bicycle ride in Samuel Beckett's Molloy. Many of Indiana's herms weave together layers of potential meaning, bringing together classical, modern, and humorous references; in doing so, he creates a dialogue between popular, contemporary culture and the high culture of traditional, even classical, art. Commonplace materials and language are transformed to be new vehicles for the continuation of art history. In this piece, the wheels (which he included in many of the herms) suggest not just the bicycle wheels of Beckett's story, but also serve as metaphorical representations of the god's winged sandals, while the protruding wooden peg makes an almost comical reference to male genitalia.

Gesso, oil, wood, and iron wheels on wood - Private Collection


Artwork Images

The American Dream I (1961)

Artwork description & Analysis: The American Dream I (1961) features four circles depicted in two rows of two. Each circle contains stars, along with text, numbers, or a combination of the two, all common elements in Indiana's paintings. Also characteristic is his use of stencils to create text and numbers in bold, vivid colors. Like Jasper Johns's target paintings, Indiana uses repeated simple and familiar geometric shapes to build a striking composition that reads as quickly and easily as a billboard, yet contains layers of symbolism and meaning.

The first in a series of "American Dream" paintings, Indiana uses words that simultaneously reference both American life and his own biography. The recurring circle and star shapes are drawn from street and advertising signs, which Indiana used to make visual references to his childhood experiences of life on the road and also a larger commentary on the transitory nature of a life spent in search of the elusive "American dream." Indiana's references are both deeply personal and universal, merging his life experiences with common stereotypes of American culture to create a network of meanings. The numbers in the top left circle refer to United States Routes he had personally traveled, including the infamous Route 66. Yet this is no simple celebration of the American road, but a darker exploration of ambition and potential failure. The word "TILT" in the bottom left circle suggests the pinball machines commonly found in bars and diners which he considered to be alternate homes for many Americans, but were also places where he spent much of his childhood (especially after his mother worked in a diner to support her family). Yet "TILT" has an air of injustice, the signal lighting up when the game suspects the player of taking an unfair advantage; whether the game is right or wrong, the player's turn is disqualified. "TAKE ALL," featured in the top right circle, could refer to the typically American notion of trying to have everything, but also suggests a one-sidedness; only one person can take all, leaving others depleted. The simplicity can sound like a boast or ring out like a childish refrain. The "American Dream" is a complicated and often tragic ideal.

While this series was begun early in Indiana's career, he returned to it and created the most recent, the ninth, in 2001. The American Dream I, however, is perhaps the most significant of the series as it helped to launch the artist's career: when Alfred Barr, then director of the Museum of Modern Art in New York, saw the work on display at the David Anderson Gallery in 1961, he immediately purchased it for the museum's collection.

Oil on canvas - Museum of Modern Art, New York


Artwork Images

The Green Diamond Eat/The Red Diamond Die (1962)

Artwork description & Analysis: As reflected in the title, The Green Diamond Eat/The Red Diamond Die is a 1962 work consisting of two painted diamond-shaped panels intended to be hung side-by-side. In the first, a red circle containing the word "EAT" in green lettering is placed on a green background. The second panel depicts a black circle with the word "DIE" in yellow letters placed on a red background.

Words factor heavily in Indiana's work; beginning early in his career, he used individual three and four letter words to make powerful statements. His imperatives here are direct commands to the viewer, although they instruct us to execute natural and necessary actions. The choices of circle and diamond shapes were partially a matter of practicality, since a circle fits nicely within a square or diamond. The circle also provides a visually pleasing shape on which to place text, either simple words of a few letters as seen here, or longer words positioned around the curve of the circle as found in other works. The simplicity of these forms borrows from principles of graphic design to create easily-deciphered icons that the viewer can understand at a glance.

This simplicity, however, is complicated in a fuller reading of the work; as is often the case, the painting's components are derived from autobiographical elements of Indiana's life. The red and green on the first canvas refer to his father, who worked for the Phillips 66 gas company and whose sign used those two colors for many years. When his father left the family, his mother worked in Diners, suggested by the word "EAT." Furthermore, "DIE" is linked to "EAT" for Indiana, since the last thing his mother told him before her death was to be sure to eat. The two panels create a representation of his parents, labeled with words that were linked to their absence from his life. He takes the language and visual iconography of mass media and marketing and transforms it into something meaningful and mournful, creating a connection between his individual experience and the anonymous everyman.

Oil on canvas, two panels - Collection Walker Art Center, Minneapolis, Minnesota
More Robert Indiana Artwork and Analysis:
Influences and Connections
Influences on Artist
Artists, Friends, Movements
Influenced by Artist
Artists, Friends, Movements

Interactive chart with Robert Indiana's main influences, and the people and ideas that the artist influenced in turn.
View Influences Chart


Influences on Artist

Robert Indiana
Years Worked: 1953 - Present
Influenced by Artist

If you see an error or typo, please:
tell us
Cite this page

Content compiled and written by The Art Story Contributors
Edited and revised, with Synopsis and Key Ideas added by Sarah Archino
" Artist Overview and Analysis". [Internet]. . TheArtStory.org
Content compiled and written by The Art Story Contributors
Edited and revised, with Synopsis and Key Ideas added by Sarah Archino
Available from:
First published on 22 Jun 2016. Updated and modified regularly.


[Accessed ]