Artists
Edward Hopper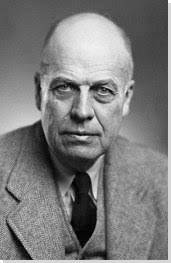 Edward Hopper
American Painter
Movement: Realism
Born: July 22, 1882 - Nyack, NY
Died: May 15, 1967 - New York City

"Great art is the outward expression of an inner life in the artist."
Summary of Edward Hopper
No one captured the isolation of the individual within the modern city like Edward Hopper. His imagery of figures within urban settings go well beyond their role as modern cityscapes, exposing the underbelly of the human experience. So while his oeuvre officially falls within the rubric of Realism, it offers a far more evocative look at life between the World Wars. Indeed, by providing a minimum of action, stripping away almost any sign of life or mobility, and adding dramatic means of representation with striking lighting schemes in claustrophobic spaces, Hopper suggests something of the psychological inner life of his subjects, leading the way towards Abstract Expressionism. He injected significance, and the weight of the individual's existential being in the modern metropolis or in country life, into what otherwise might appear to be straight-forward images of everyday life.
Key Ideas
Hopper's imagery is consistently restrained, presenting part of a story or one suggestive aspect. By leaving many clues but no specific answers, he forces the viewer to complete the narrative. This element of his art would have major repercussions for the development of postmodernism wherein the viewer has a major role in the understanding of the artwork.
Hopper's individuals, usually depicted isolated and disconnected from their environments either literally by glass windows or metaphorically through formal means, are manifestations of the artist's focus on the solitude of modern life. The starkness of detail and unmodulated revelatory light in many works builds a tension, drawing the viewer's attention away from the given subject, and suggesting much about his emotional experience. In this way, the artist's work acts as a bridge between the interest in everyday life exhibited by the contemporary Ashcan School and the exploration of mood by later existential artists.
Many of the houses depicted by Hopper, animated through artistic means, set apart from their environs, lit with a blanching light which dramatically highlights and casts into shadow, viewed from evocative angles, have provided inspiration to the film making industry.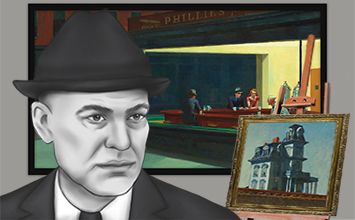 Edward Hopper was born into a comfortable, middle-class family in Nyack, New York, in 1882. His parents introduced Edward, and his older sister Marion, to the arts early in life; they attended the theatre, concerts and other cultural events, and visited museums. His father owned a dry goods store where Hopper sometimes worked as a teen. Hopper described him as "an incipient intellectual... less at home with his books of accounts than with Montaigne's essays." Both his parents were supportive of his artistic inclinations.
Important Art by Edward Hopper

The below artworks are the most important by Edward Hopper - that both overview the major creative periods, and highlight the greatest achievements by the artist.


Artwork Images

House by the Railroad (1925)

Artwork description & Analysis: House by the Railroad is, like other Hopper works, about a lot more than its simple title indicates. This three-story Victorian house with its distinctive Mansard roof sits alone on an elevated plane cut off from the viewer by the harsh horizontal denotation of a railroad track. Hopper further alienates the viewer by drawing the shades in the house, closing off all opportunity for contact between those who reside inside and the threatening march forward of modern life signified by the railroad tracks. The interplay between the world depicted and that of the viewer no doubt provoked the dialogue explored later in the postmodern art period. One couldn't begin to appreciate the work of the Abstract Expressionists, for example, without it.

The house itself resembles many found in the New England towns Hopper frequented as well as his native Rockland County. And although Jo suggested that it was imagined, "He did it out of his head," it is widely understood to be based on a house on Rte. 9W in Haverstraw, New York. A member of the family who lived there at the time distinctly recalled seeing Hopper sitting across the road working on a painting of the house.

In 1930, this became the first painting to be acquired by the newly established Museum of Modern Art for its permanent collection. Hopper was delighted later on to learn that Alfred Hitchcock used it as inspiration for the house in his 1960 film, "Psycho."

- Museum of Modern Art


Artwork Images

Automat (1927)

Artwork description & Analysis: Hopper's Automat captures a woman who has stepped out of the busy urban scene incumbent with necessary human interaction, taking refuge in the respite provided by a local diner. This image perfectly captures Hopper's brilliant depictions of the isolation of the individual within the modern urban city. The main figure is depicted sitting alone at a table, staring pensively down at her coffee. The fact that she still wears one glove, having removed the other, indicates this will be a brief stop and that she'll soon hurry on to another destination. By definition, automats (self-service restaurants where the food and drinks were dispensed through vending machines) suggest isolated experiences, the opportunity to pick up a meal without exchanging pleasantries. This subject probably had great appeal to the reticent, slightly antisocial Hopper. Of additional interest is her delineation from an adjacent table, suggesting the presence of an unidentified viewer. The idea of a voyeur's gaze on a lonely, dejected single woman was exhibited in Impressionistic masterpieces such as Édouard Manet's The Plum (c. 1877) and Edgar Degas's L'Absinthe (1876). Hopper surpasses these images by elevating the significance of the setting to a level on par with that of the figure, emphasizing the automat's function as a busy venue where, despite the autonomous act of retrieving food from a machine, crowds are the norm. Psychological nuance is added by focusing on a woman sunk in loneliness despite being in a place consistently flooded with people.

- Des Moines Art Center


Artwork Images

Ground Swell (1939)

Artwork description & Analysis: In Ground Swell, Hopper depicts a catboat occupied by four young men and a woman facing a growing swell. The artist made numerous studies of boats as a child growing up in Nyack, and his passion for seascapes and nautical subjects is noted throughout his oeuvre. Nevertheless, as with many of his works, this painting goes well beyond its role as seascape. Despite what looks to be a clear day, the dark shape of the bell buoy symbolizes impending doom as does the boat's dramatic dip to a nearly 45-degree angle. This painting was produced in Hopper's Cape Cod studio between August and September of 1939, as war was breaking out in Europe. There is some suggestion that it symbolically represents the loss of innocence in the face of an uncertain, ominous future.

- The Corcoran Gallery of Art
More Edward Hopper Artwork and Analysis:
Influences and Connections
Influences on Artist
Artists, Friends, Movements
Influenced by Artist
Artists, Friends, Movements

Interactive chart with Edward Hopper's main influences, and the people and ideas that the artist influenced in turn.
View Influences Chart

| | | | | |
| --- | --- | --- | --- | --- |
| Artists | | Personal Contacts | | Movements |

Influences on Artist

Edward Hopper
Years Worked: 1905 - 1967
Influenced by Artist

Artists

Personal Contacts

| | |
| --- | --- |
| | Brian O'Doherty |
| | Lloyd Goodrich |

Movements
If you see an error or typo, please:
tell us
Cite this page

Content compiled and written by Carole Perry
Edited and revised, with Synopsis and Key Ideas added by Caroline Igra
" Artist Overview and Analysis". [Internet]. . TheArtStory.org
Content compiled and written by Carole Perry
Edited and revised, with Synopsis and Key Ideas added by Caroline Igra
Available from:
First published on 07 Jun 2016. Updated and modified regularly.


[Accessed ]