"I paint self-portraits because I am so often alone, because I am the person I know best."
"They thought I was a Surrealist, but I wasn't. I never paint dreams or nightmares. I paint my own reality."
"I can't work completely out of my imagination. I must put my foot in a bit of truth; and then I can fly free."
"A painting should be a piece of philosophy-or why do it?"
"Loneliness is not a fault but a condition of existence."
"Great art is the outward expression of an inner life in the artist, and this inner life will result in his personal vision of the world."
"My aim in painting has always been the most exact transcription possible of my most intimate impression of nature."
"I think it's what you take out of a picture that counts. There's a residue. An invisible shadow."
"Life is very mysterious and there are many things we don't know. And there are elements of magic realism in every culture, everywhere. It's just accepting that we don't know everything and everything is possible."
Summary of Magic Realism
The merging of present and past, the invention of strange objects, the juxtaposition of unlike things, and the depiction of alienation are just a few of the ways in which Magic Realist painters evoke the mysteriousness and uncanniness of everyday reality. The original movement emerged in the 1920s in Germany to counter the emphasis placed on individual subjectivity by earlier avant-garde artists. Initially synonymous with Neue Sachlichkeit, Magic Realism focused less on biting social critique and more on explorations of the strangeness and incongruousness of existence. Often using exquisite detail and unusual perspective, the artists conveyed the wonder of observable reality.

Magic Realism's influence spread across media, especially in literature, to become a diffuse practice in several areas around the globe. Never a unified movement, artists in various countries developed the ideas and styles, creating unique versions, which still resonate with contemporary innovators of many media to this day.
Key Ideas & Accomplishments
Magic Realism was part of the trend toward classicism in the interwar years that aimed to move away from more expressive styles. Relying on the undistorted figure, the artists emphasized observable reality. To reinforce their classical tendencies many of used materials like egg tempera, which was popular in the early Italian Renaissance.
While Magic Realism is often described as "surreal," the artists themselves were careful to distinguish themselves from the avant-garde group of Surrealist painters and poets. Unlike the Surrealists, the Magic Realists did not wish to probe the unconscious, dreams, or interior states, but rather they emphasized the often-times strangeness of outward experiences.
While some Magic Realists use symbols and allegory, many relied on odd juxtapositions of objects, distortions of space, or hyperrealism to convey the mysteriousness of everyday life. By focusing on such devices, instead of fantastical or made-up elements, the artists create spaces that are more universally understood and that do not rely on specialized knowledge.
While most Magic Realists avoided stinging satire and social critique of the most strident Neue Sachlichkeit artists, many explored the state of society and culture in a more nuanced way, often making commentaries about the feelings of alienation and isolation felt in the modern era.
Artworks and Artists of Magic Realism
Progression of Art
Beginnings of Magic Realism
The Emergence of Magic: New Objectivity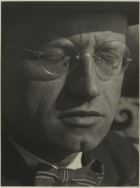 The origins of Magic Realism are contemporaneous with Neue Sachlichkeit, the Post-Expressionist movement in Weimar Germany that emerged at the end of World War I. The term Neue Sachlichkeit, German for New Objectivity, was officially coined with an exhibition of the same name in 1924. The movement proposed a new focus on reality, portraying an objective understanding of life and art, often using political themes with satirical connotations to bring awareness to ongoing issues of society.
In the following year, art critic Franz Roh introduced the term Magic Realism to describe some of the artworks of the time. His book After Expressionism: Magical Realism: Problems of the Newest European Painting explored the new genre emerging throughout Europe, but his term "magic" did not necessarily refer to a fantastic realm but rather the wonder inherent in the objective world.
Magic Realism Within the New Objectivity Movement
Although the term Magic Realism initially competed with the term New Objectivity, it came to describe a particular approach within the larger movement. Whereas New Objectivity in general focused on social and political issues, Magic Realists tended to distance themselves from political themes, satire, and critique to portray an objective view of life imbued with intangible qualities. Moreover, these works of art seemed to possess a certain mystery, or secret, underlying their themes and subjects. The German artists Karl Hoffer, Franz Radziwill and the later works of Max Beckmann were typical of the artists Roh promoted. The Dutch painter Albert Carel Willink also profoundly shaped the early stages of Magic Realism, although he preferred the term "Imaginary Realism" to describe his own art, which was more influenced by the imagination.
Their language had more in common with New Objectivity's Classicist branch, drawing inspiration from the Italian metaphysical painters Carlo Carrà and Giorgio de Chirico. Eschewing the clear narrative and naturalistic subjects of 19th-century realism, Magic Realism also looked back to the painstaking details of the Northern Renaissance painters Hubert and Jan van Eyck as well as the surreal works of Hieronymus Bosch.
While they shared some stylistic qualities with the Surrealist painters who were also coming to prominence in the 1920s, the Magic Realists did not have the same interest in the unconscious and psychological dramas, and instead insisted on finding the "magic" in reality.
Magic Realism in Literature
Although other postwar realist trends were simultaneously emerging in Italy and France, Magic Realism began influencing both artists and writers alike across Europe. The Italian writer Massimo Bontempelli was an early adopter of Magic Realism and was the first to transpose the genre into literature, and like the painters aimed to define the mysterious and magical aspects of reality.
In 1926 he founded the 900 (Novecento) magazine, the goal of which was to define and disseminate Magic Realism in Italy and beyond, and with this broader audience, the term became more commonly accepted in both Germany and Italy. Bontempelli's influenced the Belgian magic realist writers Johan Daisne and Hubert Lampo.
As Magic Realism spread across the globe, it found a particularly welcoming environment among many writers in Latin America, where they fused the European version with their own local culture that often highlighted the fantastical and magical elements. They focused on making random events that occur in the day-to-day context seem extraordinary and often used overlapping time or time experienced simultaneously in one single moment to create strangeness. Franz Roh's writing was translated into Spanish and published in 1927 by Revista de Occidente, a journal edited by José Ortega y Gasset. Venezuelan writer Arturo Uslar-Pietri was well acquainted with Bottempelli and created short stories during the 1930s and the 1940s. The literary scholar Erik Camayd-Freixas argues that the movement was "resurrected in Latin American literature, again with varying meanings, starting in 1940." Writers, including Jorge Luis Borges and Alejo Carpentier began adopting Magic Realism in the 1940s. Carpentier, a Cuban novelist, recognized characteristic in various Latin American literary works, his own works included, and applied the term lo real maravilloso (the marvelous real) to describe them. Other influential authors that emerged in the following decades include Miguel Angel Asturias and Gabriel García Márquez. The term 'Magic Realism' has come to be widely associated with literature due to these writers.
Also, during this time in Japan, the authors Kobo Abe, Yasunari Kawabata, and especially Haruki Murakami, used similar Magic Realism techniques, qualities, and attributes. All these authors maintained the attention on the broader movement, influencing later generations of writers and plastic artists alike.
Magic Realism: Concepts, Styles, and Trends
Magic Realism in the United States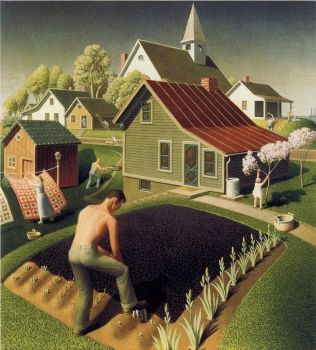 Realism has a long tradition within the United States going back to the 18th century and moving into the 20th century with the Ashcan artists in New York. Beginning in the 1930s and into the 1940s, certain realist painters such as Grant Wood, Ivan Albright, and Paul Cadmus began exploring aspects of Magic Realism. Wood was personally acquainted with Neue Sachlichkeit and the German Magic Realists through his various travels to Germany. American Social Realism, which became prominent in the 1930s, proposed a naturalistic realism, focusing often times on various social issues and attacking the social power structure. In this way it echoed the larger aims of Neue Sachlichkeit, but without the overt satire, and some of the social realists' visual language had great affinities with Magic Realism.
In 1942, the Museum of Modern Art in New York showcased Magic Realism in the exhibition American Realists and Magic Realists. It featured works by a variety of artists, including Ivan Albright, Peter Blume, Edward Hopper, and Andrew Wyeth, who was at the beginning of his career. The museum issued a press release explaining that "Magic Realists try to convince us that extraordinary things are possible simply by painting them as if they existed." The American artists refrained from depicting fantastic or magical content, and instead portrayed the mysterious, or uncanny. While never a unified group, the American Magic Realists, including George Tooker and Honoré Sharrer, continued to develop during the 1940s and 1950s, often in obscurity and overshadowed by the Abstract Expressionists.
Magic Realist Painting in Latin America
While Magic Realism gained ground among many writers in Latin America, many of the painters also became associated with the movement, with the works of Frida Kahlo being the most famous. During the 1950s, the paintings of Leonor Fini, an Argentinian Surrealist painter, and the Surrealist works of Leonora Carrington also became associated with the movement. Later, the paintings of the Brazilian artist Reynaldo Fonseca from the 1970s were also described as Magic Realism. Unlike their American counterparts, the painters in Latin America tended to use more surrealistic qualities, oftentimes combining them with symbols to portray the magic they perceived within the world. These cultures, steeped in a profound sense of ritualistic spirituality that generally sustains the presence of spirits in the "real" world, were perhaps more inclined toward the Magic Realist style. As Gabriel García Marquez said, "In Mexico, surrealism runs through the streets. Surrealism comes from the reality of Latin America."
Later Developments - After Magic Realism
Contemporary Magic Realism
While gaining ground after World War I and evolving in innumerous ways after World War II, Magic Realism continues to captivate artists and audiences alike, as the inherent strangeness of existence seems to persevere. Most likely the most famous and honored contemporary artist that works very much in the ethos of Magic Realism is Peter Doig. Other artists working in this vein includes the works of the Canadian artist Alex Colville and the work of John Stuart Ingle, whose creations, critic Vivien Raynor claimed, "prove that Magic Realism lives." Ingle developed a profoundly realistic language, especially in his depiction of still lifes, that seems to possess an intangible aspect. Colville incorporates more symbols into his works, which often have a strong, if mysterious, narrative, such as Pacific (1967), in which a lone revolver rests on an otherwise empty table and a shirtless young man stares out of a wall of windows toward a crashing ocean wave.
The Portuguese artist Paula Rego creates an artistic language with a high level of narrative and symbolism, drawing from magical and often fairytale-like dialogues. Although often connected with Surrealism and Expressionism, her use of drawing, her complex narratives, and her metaphorical and critical way of depicting reality, also establish close links with Magic Realism.
The movement also extended into photography, using technological advancements to mix reality with imagination in order to reveal inner components of life. Contemporary photographer Karl Hammer, for example, is considered a Magic Realist. He claims to have been highly influenced by the movement, specially by Carel Willink's "Imaginary Realism." The digital photography of Latin American Pedro Mayer is also described as a new iteration of Magic Realism.
The possibilities of Magic Realism's inherent mysteriousness, its underlying narrative qualities, and its basis in everyday experience make it influential across a diverse range of contemporary artists, painters and photographers alike, who use the vocabulary and devices in unique ways.
Magic Realism and Film
The various characteristics of Magic Realism found in art and literature also found a place in various, recent movies. Wim Wenders's Wings of Desire (1987) features angels living amidst the real world, and Like Water for Chocolate (1992), an adaptation from Laura Esquivel's novel of the same title, is replete with symbolic imagery as well as ghosts and spirits. Other examples include Amélie (2001), featuring Audrey Tautou and directed by Jean-Pierre Jeunet, Midnight in Paris directed by Woody Allen featuring Owen Wilson, and Pan's Labyrinth (2006) directed by Guillermo del Toro.
Useful Resources on Magic Realism
Books
The books and articles below constitute a bibliography of the sources used in the writing of this page. These also suggest some accessible resources for further research, especially ones that can be found and purchased via the internet.
magic realism literary overviews
magic realism in literature
Similar Art