Artists
George Bellows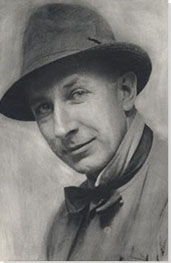 George Bellows
American Painter and Printmaker
Movements and Styles: American Realism, Ashcan School
Born: August 12, 1882 - Columbus, Ohio
Died: January 8, 1925 - New York City, New York

"I am always very amused with people who talk about lack of subjects for painting. The great difficulty is that you cannot stop to sort them out enough. Wherever you go, they are waiting for you. The men of the docks, the children at the river edge, polo crowds, prizefights, summer evenings and romance, village folk, young people, old people, the beautiful, the ugly."
Summary of George Bellows
At a time when high art was equated with high society, George Bellows found his inspiration in the lives of the working classes; his New York, rendered in broad brushstrokes and impressionistic daubs, was a city under construction and full of hidden sports bars and alleyways. Under direction of his mentor Robert Henri, Bellows was one of group painters who took the name The Ashcan School. The group found rich subject matter on the streets of the metropolis, treating their everyday urban subject matter with often dark and gestural paintwork. Having found further inspiration on summer visits to Maine, Bellows became known in the later part of his career for a number of striking, sometimes violent, land and seascapes. The second half of his career as a painter was supplemented with a series of lithographs that helped elevate his popularity amongst the American public.
Key Ideas
Bellows could be considered something of a revolutionary in the way he exploited the dynamism and energy of his urban surroundings to mount a challenge to the romantic idylls that had, thus far, characterized the country's art directions, such as in
American Impressionism
.
An accomplished athlete in his youth (he turned down a career in professional sport to become a painter), Bellows is perhaps best known for several sports-themed works, and especially, a series of boxing paintings. Though he claimed to know nothing about its rules and traditions, his signature work, Stag at Sharkey, involved an illegal bout which he was drawn to because of its raw brutality. Many have read his boxing paintings as the perfect analogy for the trials and tribulations of working-class urban survival.
While it is true that his city art was rooted in the themes of socio-realism, Bellows's oeuvre reveals a readiness to tackle a range of subject matter and to experiment with new color and compositional arrangements. His preference for broad brushstrokes indicated, moreover, his commitment to artistic freedom of expression and the belief that artists should be free to exhibit their works without pressure from academies and awards juries.
Though he remains best known for his sports paintings and his city and landscapes, Bellows produced numerous portraits throughout his career. Focusing mostly of family members and friends, Bellows's portraits are distinguished in style from his more impressionist works in the way he applied his paint with a much more delicate touch and attention to fine detail.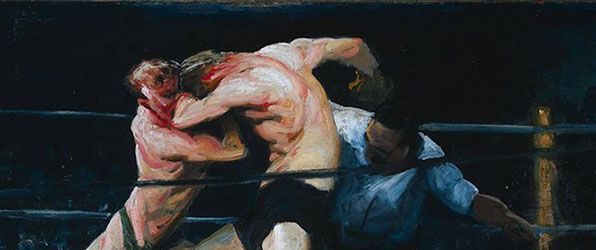 George Bellows was born into a devout Methodist family consisting of his architect father, George Bellows Senior, and his mother Anna Wilhelmina Smith who came from Long Island, New York where her father worked as a whaling captain. His only sibling, a significantly older half-sister Laura, from his father's first marriage, moved away when George was only two years old.
Important Art by George Bellows

The below artworks are the most important by George Bellows - that both overview the major creative periods, and highlight the greatest achievements by the artist.

River Rats (1906)

Artwork description & Analysis: The focus of George Bellows's painting River Rats is a group of boys in the foreground lounging and splashing at the insanitary East River. The boys are playing in the shadow of a construction site and behind them is a large mound of dirt that acts as a barrier between the boys and the buildings that make up the cityscaped horizon. Under the direction of his teachers Robert Henri and John Sloan, Bellows took inspiration from the everyday events such as these which he observed while wandering, flaneur-like, through the streets of New York City. Here Bellows creates a stark and grittily modern realism in which the urban poor find their moments of amusement and escape.

This work serves as a good example of how Bellows's approach to painting would secure him a place in the Ashcan School of art. While many of this group's paintings have been interpreted as statements about the social inequality, for Bellows it was more an act of using his canvas to document the world he as he observed it. According to Mary Sayre Haverstock, "if such subjects seemed sordid, and many critics found them so, Bellows saw them in terms of movement and color. [...] social reform was not on Bellows's artistic agenda because, yes, there was beauty in the way the other half lived".

Oil on canvas - Private collection

Pennsylvania Station Excavation (c. 1907-08)

Artwork description & Analysis: In the middle foreground of the canvas is a large area of snow-covered land on which excavation machines are at work. That the digging takes place below street level is clear from the walls around the site and the loosely rendered dark shapes intended to represent city buildings behind it. Steam billows from the machinery while the foreground is broken up by four silhouetted figures, looking down on the activity below.

Perhaps inspired by his father's work as an architect, Bellows took a great interest in the construction of New York City's Pennsylvania Railway Terminal (built between 1903 and 1910 and demolished in 1965). As an adopted son of the city, Bellows would have had many opportunities to stop and observe the ongoing construction in various stages over the years which he then memorialized. Bellows rendered this scene in a modern style consisting of broad swatches of color yet lacking detail to a point that hints at semi-abstraction. The dynamic, unbalanced composition signifies the rapid transformation of New York City in the early part of the century. The frozen winter atmosphere and the onset of dusk, meanwhile, bring an added sense of drama the scene; workmen are humbled both by the sheer scale of the manmade pit and by the unstoppable forces of nature.

When included in a New York School of Art exhibition (under the direction of Robert Henri) this painting, like those produced by his colleagues, was met with mixed reviews. According to Mary Sayre Haverstock however, John Sloan, another teacher at the school, foresaw the importance of these early works and described the exhibition as, "a great show" and suggested that "If these men keep on with this work (they don't need to 'improve') it means that art in America should wake. Henri is as proud as a hen with a brood of ducks". Sloan's prediction proved insightful as the exhibition led to the formation of The Eight, and the Ashcan School.

Oil on canvas - Collection of Brooklyn Museum, Brooklyn, New York

Stag at Sharkey's (1909)

Artwork description & Analysis: One of his many sports/boxing-themed paintings, and one of the most iconic paintings of twentieth-century American art, the work depicts two boxers locked in a hold as they compete in the center of a ring. The rivals are presented through pyramidal composition that hints at classical sculpture. Looking for potential rule infringements, meanwhile, a referee is hunched closely the right of the fighters. A cigar-chewing ringside spectator turns towards the painter, imploring him (or maybe us), through his pointing finger, to give our full attention to the fight at hand. Indeed, Bellows separates the fighters from their surroundings, not only through the ringside ropes, but through the bold use of color and shading. Notwithstanding his ability to intensify the drama of the picture in this way, the quality of the painting is evident in Bellows's skill at rendering the intense physicality - in the interlocked, sinewy bodies of the boxers - and energy - the rumbustious crowd and the urgent (futile?) intervention of the referee - by means of fluent impressionistic brushstrokes.

A sports lover since his childhood, the series of boxing paintings reflected Bellows's growing interest in the sport which developed only after he moved to the city. Amateur boxing bouts were illegal in New York and so contests such as this had to take place in privately run clubs. Tom "Sailor" Sharkey, a US Navy veteran, and former boxer himself, founded his eponymous club as a venue for men seeking to watch and/or participate in amateur boxing bouts. When an outsider came to compete, they were given temporary membership and were known as "stags". Bellows, whose studio was located across the street from the venue, was able to watch fights and produce several preparatory sketches. Yet he once claimed that he didn't know anything about the sport itself - he was "just painting two men trying to kill each other". At the time of the painting, boxing was beginning to shake off its status as a "barbaric" spectacle and was in fact becoming a more gentrified sport. In Bellows's picture, however, the tendency amongst observers is to read it as being analogous to the idea that only the strongest will survive this brutal encounter.

It is interesting to note that in 1917 (by which time prize-fighting had been made legal) Bellows produced a lithograph of the same image (and under the same title). In fact, Bellows produced a total of sixteen boxing lithographs at this time but A Stag at Sharkey's was the most ambitious and monumental of these, indicating, perhaps, the artist's own pride in his most famous painting. In the latter, however, Bellows, who used fine lithographic crayons to delineate his fighters from their more impressionistic surroundings, elected to remove the boundary of the ringside ropes, thereby placing the viewer more fully in the midst of the action.

Oil on canvas - Collection of The Cleveland Museum of Art, Cleveland, Ohio
More George Bellows Artwork and Analysis:
Influences and Connections
Influences on Artist
Artists, Friends, Movements
Influenced by Artist
Artists, Friends, Movements

Interactive chart with George Bellows's main influences, and the people and ideas that the artist influenced in turn.
View Influences Chart

Artists

| | |
| --- | --- |
| | Robert Henri |
| | Edward Hopper |
| | Edward Keefe |
| | Rockwell Kent |
| | Kenneth Hayes Miller |

Personal Contacts

| | |
| --- | --- |
| | George C. Miller |
| | Joseph Russell Taylor |
| | Joseph B. Thomas |

Movements

Influences on Artist

George Bellows
Years Worked: 1904 - 1925
Influenced by Artist

Artists

| | |
| --- | --- |
| | Robert Henri |
| | Edward Hopper |
| | Edward Keefe |
| | Rockwell Kent |
| | Kenneth Hayes Miller |

Personal Contacts

| | |
| --- | --- |
| | George C. Miller |
| | Joseph Russell Taylor |
| | Joseph B. Thomas |

Movements
If you see an error or typo, please:
tell us
Cite this page

Content compiled and written by Jessica DiPalma
Edited and published by The Art Story Contributors
" Artist Overview and Analysis". [Internet]. . TheArtStory.org
Content compiled and written by Jessica DiPalma
Edited and published by The Art Story Contributors
Available from:
First published on 24 Nov 2019. Updated and modified regularly.


[Accessed ]