Artists
John Sloan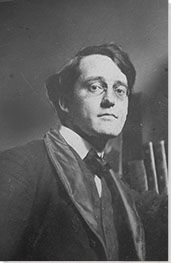 Born: August 2, 1871 - Lock Haven, Pennsylvania
Died: September 7, 1951 - Hanover, New Hampshire
"Though a living cannot be made at art, art makes life worth living. It makes living, living. It makes starving, living. It makes worry, it makes trouble, it makes a life that would be barren of everything - living. It brings life to life."
Summary of John Sloan
Documenting city life with an unflinching eye, John Sloan's realism was part of an early 20th-century revolution in American art. Turning their backs on the refined subjects and styles of traditional art, the members of The Eight, commonly known as the Ashcan School, captured the everyday experiences of modern life. Sloan was central to the group's formation, and as an agitator for free artistic expression and new exhibition spaces, he was critical in bringing this new style to the public's attention. Along with Robert Henri, Sloan brought American art to both national and international acclaim.
Key Ideas
Part of a circle of artists who studied under Robert Henri, John Sloan was a founding member of the Eight. Often referred to as the Ashcan School, for their straightforward depiction of gritty urban life, they were among the first American artists to challenge the traditional subjects and styles of high art.
John Sloan captured a range of people, including prostitutes and working women, but unlike many of his contemporaries, Sloan did not paint critical or moralizing versions of his subjects. Instead, he presented them to the viewer in an unidealized, but ambiguous fashion, preserving all the details of their unconventional lives without passing judgment.
Inspired by his personal commitment to radical politics, John Sloan was a fierce advocate for artistic freedom. His organizational skills were essential to the foundation of independent venues that exhibited art without the approval of a jury. The largest of these groups, the Society of Independent Artists, would run from 1917-1944 (with Sloan serving as president for all but the first year).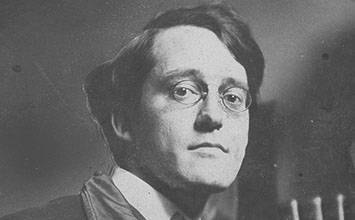 John French Sloan was the oldest child and only son of James Dixon Sloan and Henrietta Ireland Sloan. While his mother's family were wealthy paper and stationery merchants, his father struggled in business. Yet, as an amateur artist, his father encouraged the artistic interests of young Sloan, along with those of of his sister, Marianna, who would also grow up to be an artist. At the age of 16, he left school and began working full-time to support his family.
Important Art by John Sloan

The below artworks are the most important by John Sloan - that both overview the major creative periods, and highlight the greatest achievements by the artist.

Snake Charmer Puzzle (1901)

Artwork description & Analysis: Sloan's foray into the art world began as an illustrator for newspapers and a designer of book covers and posters. His ability to succinctly yet artistically render eye-catching subjects and craft sophisticated questions made him a highly popular puzzle designer. This work on paper was created during his employment at the Philadelphia Press, where he created puzzles for the newspaper's Sunday edition from 1899. In this particular puzzle, readers are asked to find hidden flute player within the drawing of a snake charmer, submitting their answers to the paper who would award prizes.

While these puzzle drawings provided a much-needed income for Sloan, they were also an important opportunity for the largely self-taught artist to hone his skills. While he would become best known for his realist Ashcan School paintings, these early works show Sloan's earlier versatility in the Art Nouveau poster style. According to David Scott, in describing these paintings, "Sloan thoroughly enjoyed the work, and he poured ingenuity and imagination into the games he played with words, shapes, and colors.

Characteristic of Art Nouveau, Sloan's line ran into spirited fantasy when it had the freedom to take off on rhythmic excursions depicting plant forms, flowing hair, billowing or patterned drapery, or swirling water. Decorative passages were carried exuberantly to the verge of independent abstractions." Here, Sloan's colorful illustration features a woman, gracefully captured in motion with an "s" shape curve to her body. Her left arm is bent at a ninety-degree angle with her hand pointing towards the snake which she watches as it curls its way around her arm.

Ink and watercolor, color linecut reproduction - Collection of Delaware Art Museum, Wilmington, Delaware

Hairdresser's Window (1907)

Artwork description & Analysis: For both the viewer and the figures in this street scene, the focal point of Sloan's painting is a female hairdresser, visible through the second story window of a building. Positioned in side profile, with gloved hands she is coloring the long red hair of a woman whose back is turned to us. It is a slice of everyday life, complete with the overwhelming visual display that characterized the urban experience in the early 20th century.

This work is an important early example of the Ashcan School, a group in which Sloan played a key role. Artists associated with this style featured day-to-day moments of life in New York City, preserving their mundane but gritty realism. At the same time, the painting becomes a statement about looking - both at the painting itself and at the world. According to John Loughery, "the theme of the window frame and the very act of looking inevitably became almost a preoccupation for Sloan...."

Sloan spent hours walking the city streets and sketching scenes like the one found here. He also worked from his window and rooftop, watching people go about their lives. At the same time that he documented this urban community, he often captured loneliness, the lack of connection, and the sense of isolation that can exist among a crowd. The private act of grooming is performed for an audience (unknown to the client), but all of these people remain strangers to each other. It is an accidental community, bound together for a fleeting instant.

Oil on canvas - Collection of The Wadsworth Atheneum, Hartford, Connecticut

The Haymarket, Sixth Avenue (1907)

Artwork description & Analysis: A contrast in colors, John Sloan's painting features a group of women, elegantly dressed in white, entering a building in the darkness of evening. The sign above the open, illuminated doorway reads "Haymarket."

The painting, one of many New York City-themed works Sloan created as part of The Eight, depicts a dance hall. This was a scandalous subject, particularly as the women were shown entering the building (a dance hall of ill repute) without male escorts. This characterized them as independent modern women, in search of pleasure and not bound by the expectations of proper genteel society. This was radical for American art.

Despite its provocative subject, however, Sloan refrained from overt social commentary or critique. Even though he was personally involved with radical politics, Sloan's paintings generally lacked the social criticism that was the main goal for some of The Eight. Rather than showing city life through a single lens, Sloan's works are often morally ambiguous. According to John Loughery, for Sloan "...the city encompassed squalor and exuberance at one and the same time, and that moments of anguish and exhilaration were not antithetical but necessarily linked, or not so much overlapping as entwined."

Perhaps influenced by the unconventional background of his wife, Dolly, who had worked in a brothel, Sloan is often sympathetic to working women. Specifically in this work, the historian Thomas J. Gilfoyle claims that Sloan's representations of these prostitutes are more human, and that, "instead of depicting the prostitute in a brothel or as an offering for the supporting male, Sloan presented her as she presented herself and her neighborhood. The prostitute was, in essence, an ordinary woman."

Oil on canvas - Collection of Brooklyn Museum, Brooklyn, New York
More John Sloan Artwork and Analysis:
Influences and Connections
Influences on Artist
Artists, Friends, Movements
Influenced by Artist
Artists, Friends, Movements

Interactive chart with John Sloan's main influences, and the people and ideas that the artist influenced in turn.
View Influences Chart


Influences on Artist

John Sloan
Years Worked: 1891 - 1951
Influenced by Artist

Artists

| | |
| --- | --- |
| | Arthur Dove |
| | William Glackens |
| | Robert Henri |
| | George Luks |

Personal Contacts

| | |
| --- | --- |
| | Juliana Force |
| | George Otis Hamlin |
| | Charles Kraushaar |
| | John Kraushaar |
| | Gertrude Vanderbilt Whitney |

Movements
If you see an error or typo, please:
tell us
Cite this page

Content compiled and written by Jessica DiPalma
Edited and revised, with Synopsis and Key Ideas added by Sarah Archino
" Artist Overview and Analysis". [Internet]. . TheArtStory.org
Content compiled and written by Jessica DiPalma
Edited and revised, with Synopsis and Key Ideas added by Sarah Archino
Available from:
First published on 01 Apr 2019. Updated and modified regularly.


[Accessed ]