Artists
Albrecht Dürer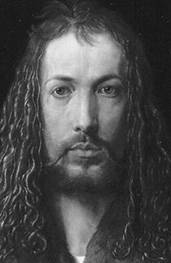 Albrecht Dürer
German Renaissance Draughtsman, Engraver, Woodcutter and Painter
Movement: Northern Renaissance
Born: March 21, 1471 - Part of the Holy Roman Empire (Modern Day Nuremberg, Germany)
Died: April 6, 1528 - Part of the Holy Roman Empire (Modern Day Nuremberg, Germany)

"If a man devotes himself to art, much evil is avoided that happens otherwise if one is idle."
Summary of Albrecht Dürer
It's fair to say that without Albrecht Dürer, printmaking as we know it within art history and contemporary art, would not exist. Despite living approximately 500 years ago, he remains one of the most famous and important printmakers in art history, in particular bringing woodcuts printed in large editions into the realm of fine art and the art history canon.

Even though Albrecht Dürer's fame was largely built on his prints and graphic style, his financial income was secured with commissions of paintings of religious subjects and portraits, and these works remain held in high esteem for their draughtsmanship and use of color. He was, and remains, the most famous artist of the Northern Renaissance who successfully integrated an elaborately-detailed Northern style with Italian Renaissance's ideals of balance, coherence, and monumentality.
Key Ideas
Until the 1500s, the art of Renaissance Italy (focused on proportion, perspective and representations of 'man' in his environment) had remained almost entirely independent from late medieval art in the north of Europe (focused on naturalistic studies). Dürer combined these two modes of art making, and was the first non-Italian artist to apply contemporary philosophy, medical, and theological ideas to his paintings.
Dürer felt it was important to produce artistic allegories for new conceptions of the human. For example, his famous series of prints, Knight, Death, and the Devil (1513), St. Jerome in His Study (1514), and Melencolia I (1514), represent the three spheres of human activity: the active, contemplative, and intellectual.
Later in his life Dürer became increasingly engaged in scientific topics, publishing treatises including his Four Books on Measurement (1525), Treatise on Fortification (1527) and Four Books on Human Proportion (1528), for which he created illustrations. He believed that geometry was essential for producing harmonic artworks, and thus that it should be taught to all young artists, alongside other mathematical rigors.
Despite his decidedly Renaissance interest in
Humanism
and mathematics, Dürer continued to produce extremely detailed studies of the natural world, particularly animals - be they newly discovered in Europe (such as the mythical rhinoceros and lion) or common native creatures (such as the hare, owl, or cat).
Dürer was well aware of his own artistic genius, which equally tortured and enlivened him. He painted a number of aggrandizing self-portraits, and would often appear as a character in his painted commissions. He was one of the first artist celebrities, with copycats, followers, and fans; in a model that continues to this day.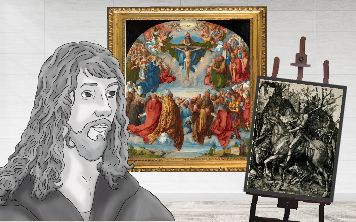 Dürer was born in the city of Nuremberg on March 21st 1471 to Albrecht and Barbara Dürer as the third child of the two, who would go on to have at least 14, and possibly as many as 18 children. His father, a successful goldsmith, had moved to Nuremberg from Ajtós near Gyula in Hungary in 1455. He changed his surname from the Hungarian Ajtósi to its German translation Türer, meaning doormaker. Due to the local pronunciation, the family name eventually became established as Dürer.
Important Art by Albrecht Dürer

The below artworks are the most important by Albrecht Dürer - that both overview the major creative periods, and highlight the greatest achievements by the artist.

The Four Horsemen of the Apocalypse (1498)

Artwork description & Analysis: This is the third woodcut in Dürer's terrifying Apocalypse series, which contains altogether fifteen scenes from the Book of Revelations. It depicts the four Apocalyptic Riders as they are described in the Old Testament. From left to right we see Death, Famine, War and Plague on their horses, trampling on a group of helpless people. An angel oversees the scene, with dramatic clouds and rays of light in the background.

In the Bible the three riders are mainly distinguished by their horses' colors. Dürer, having to make do with the black and white that the woodcut medium dictates, instead prominently depicts their weapons - bow, sword, a set of balances and a trident - as identifying attributes. Death is furthermore distinguishable as an old haggard man with a beard on an emaciated horse. The four figures are riding next to each other but are in slightly overlapping positions, denoting their order of appearance in the text. Death as the last to enter the scene brings with him Hell, depicted in the form of a wide-mouthed monster, who swallows a man wearing a bishop's miter and crown. The clergy and nobility are devastated by the Apocalypse just as the rest of society. Their contemporary clothing makes it easy for the 16th-century viewer to imagine their own suffering ahead.

Apocalyptic scenes became particularly popular in the years leading up to 1500, which was predicted by many to be the time of the Second Coming of Christ. Dürer's Apocalypse series was published in 1498 as a collection of 15 folios, each verso showing the illustration and the recto containing a descriptive text in German or Latin. In 1511 the woodcuts also became available to purchase as single-sheet works. Today the prints still survive in large numbers, which indicates that they were produced on a big scale, probably to meet their increasing demand and popularity, and circulated widely.

Dürer masterfully captures the panic and chaos of the end of times by filling almost the entire page with painstaking detail. The diagonal shape formed by the riders placed on top of the minutely thin horizontal lines that create the dark background gives the scene a sense of forward-thrusting dynamic. This work, as well as the accompanying illustrations of this series, shows the artist's unrivalled ability to achieve in the so often crude unwieldy woodcut medium the same kind of fine dynamism and depth of expression as in a drawing.

Woodcut - Metropolitan Museum of Art, New York

Self-Portrait with Fur-Trimmed Robe (1500)

Artwork description & Analysis: This painting of the artist as Christ could be considered an audacious, blasphemous statement, but is most likely an expression of faith alongside a confidence in the artist's competency as creator. It shows Albrecht Dürer the artist, his talents bestowed onto him by God. Set against a plain background, the artist is directly facing the viewer. His right hand is lifted to his chest with two fingers spread apart, reminiscent of a gesture of blessing. His curly hair falls to his shoulders and his monogram is emblazoned prominently to his right. To his left stands an inscription in Latin that translates as "Thus I, Albrecht Dürer from Nuremberg, painted myself with enduring colors at the age of 28 years."

During the Renaissance era the convention for portraits was to show the sitter in three-quarter view, mostly set within a realistic background. By choosing a frontal view and a dark non-descript backdrop, Dürer evokes religious images of the Middle Ages, especially devotional images of Christ Pantokrator. With his blessing gesture, long dark brown hair (Dürer was dark blond) and idealized features, the artist here clearly depicts himself as Christ. And given the Apocalyptic year of the work, the painting would therefore have been a strong expression of the artist's self-awareness as a devout Christian. Dürer was highly concerned with his public image, repeatedly inserting self-portraits into his works. The self-portrait from 1500 was sold or given by Dürer to the City Council of Nuremberg where it was on public display until the early 19th century.

Mixed media on panel - Alte Pinakothek, Munich

Young Hare (1502)

Artwork description & Analysis: The incredible detail and care in this study of a small wild animal is a predecessor to the detailed scientific illustrations it has influenced and endures as an extremely accurate and sensitive depiction of one of nature's common creatures. It shows a hare in three-quarter view, its hind legs folded underneath its body, with the front legs slightly extended forwards. Although the work usually bears the title Young Hare, the animal can be identified as a mature wild hare.

Dürer's nature pieces are famously detailed. Young Hare is, however, not simply a scientific study of an animal. The work contains an innate tension, created by the contrast between the subject and its depiction: a hare is a notoriously restless animal, fleeing when approached too closely. The artist has captured the hare in a fleeting moment of stillness. The slight turn of its ear and the eye that's fixing the viewer, however, indicate that the animal has noticed us. Its hind legs are bent, ready to jump.

Whether the artist sketched a hare in the wild and completed the final piece with a dead specimen, or he kept a live animal in his studio is a question yet to be solved. The left eye reflects what seems to be a window. This has been taken as a clue that Dürer kept and painted the hare indoors. Adding a crossbar to the pupil of an eye is a recurring feature of Dürer's work and could simply be a technical method to create vitality in the eye. It could also be another testament to Dürer's meticulous attention to detail, of him capturing the reflection of his workshop window in his subject's eye. The prominent monogram and date indicate that the artist perceived the drawing as a complete work in its own right rather than a sketch.

Watercolor and gouache on paper - Albertina, Vienna
More Albrecht Dürer Artwork and Analysis:
Influences and Connections
Influences on Artist
Artists, Friends, Movements
Influenced by Artist
Artists, Friends, Movements

Interactive chart with Albrecht Dürer's main influences, and the people and ideas that the artist influenced in turn.
View Influences Chart

Artists

| | |
| --- | --- |
| | Hans Pleydenwurff |
| | Michael Wolgemut |
| | Dieric Bouts |
| | Martin Schongauer |

Personal Contacts

Movements

Influences on Artist

Albrecht Dürer
Years Worked: 1484 - 1528
Influenced by Artist

Artists

| | |
| --- | --- |
| | Titian |
| | Raphael |
| | Hans Schäufelin |
| | Hans Baldung-Grien |
| | Hans Süß von Kulmbach |

Personal Contacts

Movements
If you see an error or typo, please:
tell us
Cite this page

Content compiled and written by Alexandra Rivett-Carnac
Edited and published by The Art Story Contributors
" Artist Overview and Analysis". [Internet]. . TheArtStory.org
Content compiled and written by Alexandra Rivett-Carnac
Edited and published by The Art Story Contributors
Available from:
First published on 03 Oct 2018. Updated and modified regularly.


[Accessed ]