Artists
Carel Fabritius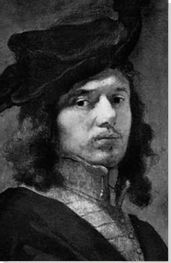 Born: February 27, 1622 - Middenbeemster, Dutch Republic
Died: October 12, 1654 - Delft, Dutch Republic

Summary of Carel Fabritius
Though less well known than his Dutch Golden Age contemporaries due to his tragic and untimely death, Fabritius was a bone-fide free spirit working within the Baroque tradition. He left only a small number of portraits and genre paintings - just 13 confirmed artworks - but these reveal him to be an artist of no little historical significance. Indeed, he is considered Rembrandt's most gifted and important student and, having left the great Dutch Master's charge, he went on to become a key figure within the mid-17th century School of Delft; a group known predominantly for its views of the city and its daily life, coupled with quieter, more considered, interior compositions. At Delft, his work typically employed delicate shading with dark figures set against a light background. His interest in the laws (and limits) of perspective and pictorial spatial relations, meanwhile, saw him share an affinity with his fellow Delft artist, Johannes Vermeer.
Key Ideas
The artist's two greatest masterpieces,
The Goldfinch
and
The Sentry
, each displays an extraordinary clear light and atmospheric tone which mark an emphatic break with Rembrandt's heavy
chiaroscuro
model. Off all his surviving works, these two paintings celebrate the artist's willingness to investigate subtleties in compositional illusionism and narrational ambiguity respectively.
The surviving paintings of Fabritius's show a highly refined technique. His early reputation was built on a series paintings through which he experimented with combinations of glazes and carefully chosen areas of impasto. Through the latter technique, passed down in history through the likes of
Titian
,
Tintoretto
and
Rubens
, he was able to create domestic narratives of tactile depth and texture.
Fabritius ignored the stress on iconography that characterized the
Renaissance
style focusing rather on the formal aspects of painting. His interest lay in the technical aspects of color harmony, lighting and perspective and his treatment of weather effects in particular have been singled out for their delicacy.
Fabritius's interest in pictorial space led him to experiment with a cylindrical perspective box (a device that was popular amongst Dutch artists during the seventeenth century). The perspective box enabled him to produce a convincing illusion of an interior or exterior space with the inside of the box painted in a way that, when viewed through a small opening or peep hole, gave a convincing illusion of a three-dimensional space.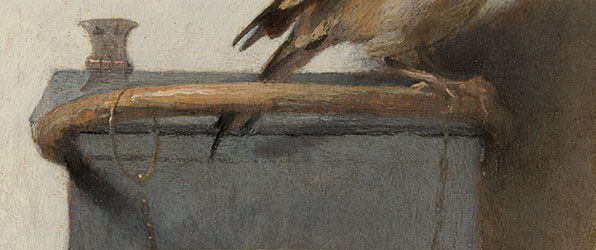 The eldest of three boys, Carel Pietersz was born to Pieter Carels and Berbertje van der Maes in Middenbeemster, a village in the Beemster polder, just north of Amsterdam, in 1622. His father was a sexton, painter and schoolteacher and Carel and his siblings, Barent and Johannes, would also go on to become painters. It seems highly likely that the three brothers would have received painting lessons from their father. However, it is known that Carel and Barent worked for a short time as carpenters and soon after adopted the surname "Fabritius" (carpenter in Latin). In early 1641 Carel joined the Dutch Reformed Church and later that same year he married Aeltge Velthuys whose brother was the local pastor Tobias Velthusius and with who she lived in the parsonage next to Carel's house.
Important Art by Carel Fabritius

The below artworks are the most important by Carel Fabritius - that both overview the major creative periods, and highlight the greatest achievements by the artist.

The Raising of Lazarus (1642)

Artwork description & Analysis: Though he would soon produce artworks very much in his own style, Rembrandt's influence is pronounced in the Raising of Lazarus, one of Fabritius's earliest known canvases. Indeed, Fabritius renders this well-known scene from the Bible, in which Lazarus rises from the dead, in his mentor's distinctive "dark and light" manner. Rembrandt was a master of shading which he used to create intricated reflections of light but Fabritius took his master's technique a step further giving the scene a realistic shadowy depth of field.

Here, Fabritius's palette uses black (predominantly) blended with other colors to convey an all-pervasive sense of dusk. The sparse application of light emanates from the resurrected Lazarus, seen seated in his tomb at the lower central portion of the image. Jesus stands above him with his right arm outstretched, his latest miracle providing evidence of his piety. Fabritius proves adept at conveying the majesty of the event in the faces of the astonished onlookers who have gathered to behold Christ's miracle.

Oil on canvas - Muzeum Narodowe w Warszawie

Mercury and Argus (1646)

Artwork description & Analysis: This painting, which at first appears to be a pastoral genre scene, with two relaxing male figures and a group of cows and sheep, in fact presents a mythical story. In the story, the God Jupiter falls in love with a woman named Io, and he turns her into a cow to hide her from his jealous wife, Juno. When Juno learns of this deceit, she asks the shepherd Argus to guard the cow from Jupiter. Jupiter finds out, and sends Mercury to steal back the cow. Following Juno's orders, Argus gives Mercury wine until he falls asleep (the moment depicted by Fabritius), and proceeds to cut off his head with a sword (seen here laying to the left of Argus).

This painting marks Fabritius's evolution in style, away from Rembrandt, towards greater picture illumination. For centuries the painting was however catalogued as a Rembrandt (in 1764, believing it to be a genuine Rembrandt, the work was copied by Fragonard). Sotheby's changed the attribution to Fabritius as late as 1985 after discovering Fabritius's signature. His moniker, which appeared to have been obscured by paint at some point, was likely to have been concealed by someone hoping to sell the painting as a Rembrandt thereby increasing the work's value. Philip Conisbee, senior curator of European painting and sculpture at the Los Angeles County Museum of Art, notes that "The rich texturing is [indeed] like Rembrandt, but Fabritius used a subtle coloring and blond tonalities that should never [have been] mistaken for Rembrandt's work".

Oil on canvas - Los Angeles County Museum of Art

Portrait of Abraham de Potter (1649)

Artwork description & Analysis: Fabritius was active as a portraitist from the late 1640s until his death. Portrait of Abraham de Potter was amongst his first. On first glance, his portrait of the silk merchant (Abraham de Potter) appears rather conventional. The sitter is dressed in sober black attire, and a stiff pleated ruff that was the height of fashion in mid-seventeenth century Holland. However, closer scrutiny of the painting reveals the artist's self-conscious departure from the stylistic preferences of his mentor.

While Rembrandt generally executed his portraits with bleak, opaque, backdrops and dramatically spot-lit subjects, Fabritius placed his sitter against a non-descript stained plaster wall, the goal being to bring heightened illumination to his subject who he captures with a deftness of delicately and touch. Indeed, Fabritius's most famous genre pieces, The Sentry and The Goldfinch, feature similarly weathered, light gray backgrounds. Fabritius's more animated approach would influence his Delft School colleagues Pieter de Hooch and Johannes Vermeer (the latter believed by some to have been a pupil of Fabritius's although this cannot be corroborated) both of whom employed blank backgrounds to the same effect.

However, a more remarkable feature of this painting is an astonishing trompe l'oeil which appears in the shape of a "protruding" nail, complete with shadow, that sits between the inscriptions of the sitter and painters' names. This feature attests to Fabritius's early interest in illusionist effects and his first professional attempts to use optical illusions to bring about a perception of three-dimensional realism. His was an interest shared by his friend (and fellow pupil under Rembrandt), Samuel van Hoogstraten. Both artists experimented with tromp l'oeil and intricate perspectives for paintings destined to be displayed in cylindrical perspective boxes. These served the duel function of shielding important paintings from dust damage and/or to surprise the viewer when the hinged portal or peephole was opened or exposed to reveal the three-dimensional picture housed within.

Oil on canvas - Rijksmuseum, Amsterdam
More Carel Fabritius Artwork and Analysis:
Influences and Connections
Influences on Artist
Artists, Friends, Movements
Influenced by Artist
Artists, Friends, Movements

Interactive chart with Carel Fabritius's main influences, and the people and ideas that the artist influenced in turn.
View Influences Chart

| | | | | |
| --- | --- | --- | --- | --- |
| Artists | | Personal Contacts | | Movements |

Influences on Artist

Carel Fabritius
Years Worked: 1641 - 1654
Influenced by Artist

| | | | | |
| --- | --- | --- | --- | --- |
| Artists | | Personal Contacts | | Movements |
If you see an error or typo, please:
tell us
Cite this page

Content compiled and written by Alexandra Duncan
Edited and published by The Art Story Contributors
" Artist Overview and Analysis". [Internet]. . TheArtStory.org
Content compiled and written by Alexandra Duncan
Edited and published by The Art Story Contributors
Available from:
First published on 03 Dec 2019. Updated and modified regularly.


[Accessed ]