"I look at nature, I see myself. Paintings are mirrors, so is nature."
"The forms should tell their own story."
"I would like to make something that is real in itself that does not remind anyone of any other things, and that does not have to be explained like the letter A, for instance."
"I can claim no background except perhaps the woods, running streams, hunting, fishing, camping, the sky."
"We cannot express the light in nature because we have not the sun. We can only express the light we have in ourselves."
"What constitutes American painting?... things may be in America, but it's what is in the artist that counts. What do we call 'American' outside of painting? Inventiveness, restlessness, speed, change.."
"How do you feel about a person when you're talking over the phone? If you know them, or if you don't know them, do you get something, do you put that into words of your own, from what they say, or from what you think? Or if it were music over the radio, have you ever tried to think how it would look?"
Summary of Arthur Dove
America in the 1910s and 1920s experienced rapid industrialization and urban growth. Arthur Dove sought refuge from the quickened pace of historical change by translating nature into an abstract and distinctly modern vocabulary of color, shape, and line. This retreat into the slow, sustained rhythms of the natural world, its annual renewal, and its visual, spiritual, and auditory sensations define his career. Dove, who was an ardent amateur musician, was also deeply inspired by the parallels between the visual arts and music, and created many works inspired by the popular songs he listened to on the radio. Dove can be seen, simultaneously, as an heir to 19th-century Transcendentalists such as Ralph Waldo Emerson and Henry David Thoreau, as well as an influence on such later Abstract Expressionists as Mark Rothko, Jackson Pollock, and Lee Krasner.
Accomplishments
In the age of machines and materialism, Dove's work instead concentrated on nature as an something to experience, rather than a commodity to own. He stressed the interconnection of humans and the environment, and painted emotionally charged and brilliantly colored scenes of natural wonder.
Dove was attracted to the timelessness of nature, which he interpreted into a modern abstract vocabulary of color, shape, line, and scale. Simultaneously, Dove was both the heir to 19th-century American landscape painting, and the practitioner of new forms of modern painting.
Despite the evident influence of French Modernism, Dove's artwork is firmly located within cultural and artistic traditions of reverence for the American land, considering nature as the nation's living past.
Dove was a central member of Alfred Stieglitz's group who were the first moderns in American art. The collective broke away from representational and narrative art, created works that were innovative and often abstract in terms of their style, color, composition, and forms.
Important Art by Arthur Dove
Progression of Art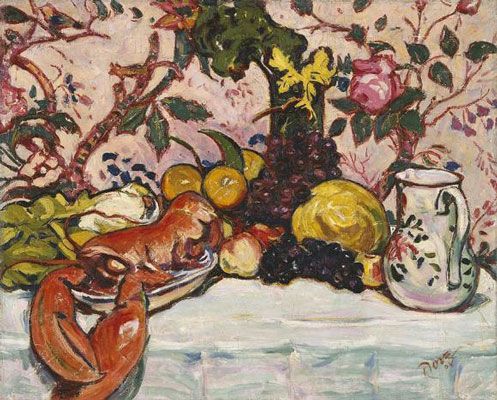 1908
Lobster
Painted while in Paris, Lobster shows the influence of the French modern masters upon Dove, in particular Paul Cézanne's spatial arrangements, and Henri Matisse's bold, signature color. Here, Dove reinterprets the traditional artistic subject of a still life in a modern style. Dove represents a splendid repast of ripe fruit and a lobster arranged on a cloth-covered table, against a vividly patterned wallpaper suggestive of a middle-class home. When he left Europe to return home to America the following year, Dove left the painting behind to be exhibited at the 1909 Salon d'Automne, the Parisian showcase for progressive, modern art. In 1910, Dove was introduced to Alfred Stieglitz and was included in his influential exhibition of the same year Younger American Painters. American critics, rather conventional in their tastes and unaccustomed to modernist works, denounced Lobster's "radical" French traits such as its high key colors, thickly applied paint (impasto), and the tilt of the table, which flattens the picture plane. Lobster was the last representational image Dove painted.
Oil on canvas - Amon Carter Museum, Fort Worth, TX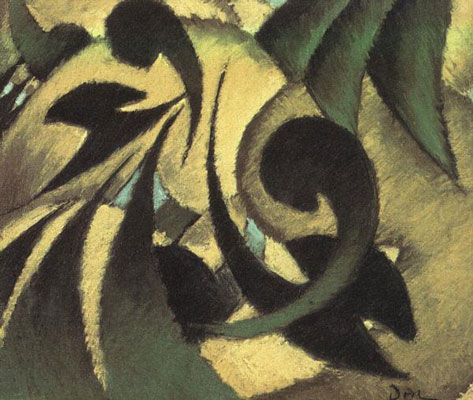 1911
Nature Symbolized No, 2
Rather than try faithfully reproducing elements of nature, Dove stove as a painter to capture its spiritual aspects, bringing attention to those movements and lifecycles beyond the human eye. The heart of Dove's artistic philosophy was the articulation of "essences" that would transmit this sense of the spiritual in nature. These "essences" were biomorphic shapes that represented different kinds of energy or organic evolution, suggesting an inner principle of inherent reality. In this work, curvilinear forms and shades of green relate a sense of growth and also, movements in nature, evoking the sensation of greenery being rustled by the wind. His early abstractions, especially the large pastel paintings on linen such as this work, are part of his effort to capture these transitory effects.
Large pastel paintings on linen - The Art Institute of Chicago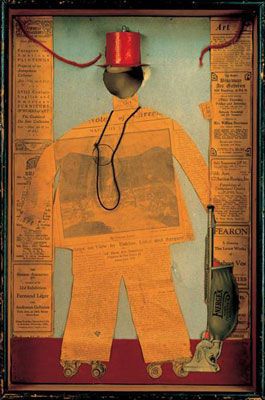 1925
The Critic
For this whimsical piece, Dove pasted together art auction advertisements, art reviews, and exhibition announcements. Few American artists prior to World War II made collages, and Dove was the most proficient artist to do so. In Europe, Braque and Picasso had explored the compositional interplay between painted and glued-on elements, while Dada artists introduced the political, the irrational, and the satirical in their collages. In addition to these European precedents, Dove could have also been inspired by 19th-century American folk art such as work by Victorian amateurs and the Shakers; folk art was then in vogue in America. Here, Dove has created a pointed commentary on the critic Forbes Watson of whom the artist was himself highly critical. Watson's empty head and idle monocle hanging from his neck provides telling clues about the uselessness of the critic's word and judgment. The vacuum cleaner that the critic holds and the roller skates that he wears, both cut from newspaper, diminish any sense of the man's authority. Dove's The Critic, through its light humor, reveals tensions between the old guard and modern artists in America.
Collaged paper, newspaper, fabric, cord, glass, pencil, and watercolor on board - Whitney Museum of American Art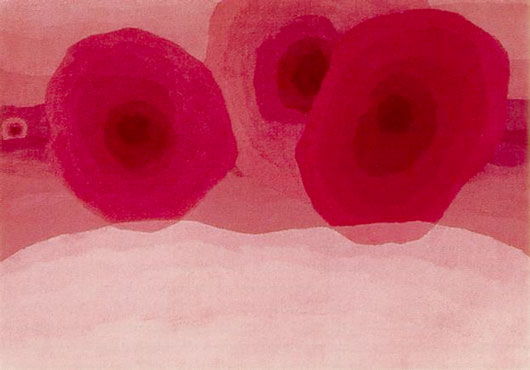 1929
Foghorns
There is a visceral, experiential aspect to viewing this work by Dove, which interprets the sound of foghorns in the mist. As the sounds echo, they become more diffuse in color and form, yet pulsate within the viewer's mind and body. Dove recasts an aural experience into one that is visual. Here, the haunting sound of a foghorn is evoked by three overlapping concentric rings of paint, growing in lightening tones of pink emanating outward from a dark center. Dove explored the psychological state of synesthesia, a condition in which sounds could be experienced and portrayed as colors or shapes, making the work descriptive, yet abstract. What he achieved was a lyrical distillation of form, color, and line that poetically celebrates a deep attunement with nature and its forces. Rather than the long and rich tradition of representational images of nature, Dove has eschewed the unessential to release its spiritual aspects and place the viewer in immediate contact with natural forms, removing himself as the intermediary.
Oil on canvas - Colorado Springs Fine Arts Center, Colorado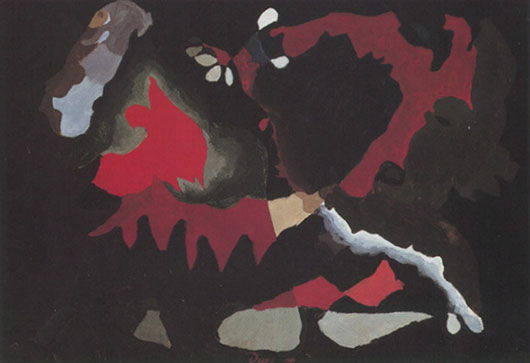 1938
Swing Music (Louis Armstrong)
Jazz in the 1920s and 1930s was considered red hot and modern. Created primarily by African Americans, such as renowned trumpeter Louis Armstrong, jazz and its performers represented a break from Euro-American culture and traditions, and thereby, were uniquely American. A dedicated music fan and amateur musician, Dove sought to connect his painting with sound and music, which he believed were able to convey pure emotion without referring to the material world. In the late 1920s, Dove started listening to the radio while painting, especially jazz and swing. To Dove and others, Armstrong's signature playing evoked the dynamism of modern life. Alfred Stieglitz exhibited Dove's paintings inspired by what he heard on the radio at his gallery, An American Place. Here, the pulsating red forms, irregular and improvisational, capture the raw exuberance of jazz and swing for the viewer to sense fully.
Emulsion, oil, and wax on canvas - The Art Institute of Chicago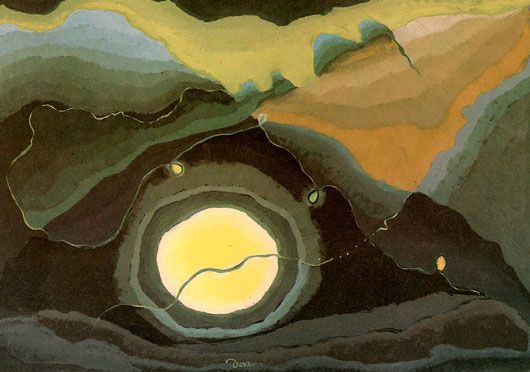 1937
Me and the Moon
While previously this work has been solely considered to be Dove's personal vision of his natural surroundings, recent examination of his diaries and correspondences from the late 1930s reveal a more complex tale. Dove painted this work while his beloved wife and creative inspiration, Reds, was absent for two months tending to her infirmed mother. Dove, who created approximately 17 canvases related to music, began listening daily to the radio for companionship and inspiration. Both he and Reds referred to the paintings of the late-1930s, such as Me and the Moon, as "From the Radio" works. He took the painting's title from a popular song of the day. In Reds's absence, Dove began tracking the moon for two months in his diaries, only stopping when his wife returned. Influenced by the writings of Henri Bergson, Dove saw the moon as his living companion. Me and the Moon has been called one of the culminating works of his career. It reveals Dove's deep and personal connection to the natural world, and also, how nature became a vehicle for Dove to express his inner, emotional world.
1937 - The Phillips Collection, Washington DC
Biography of Arthur Dove
Childhood
Arthur Dove was born on August 2, 1880, in Canandaigua, New York, to parents of English descent; his father, a successful businessman, was a building contractor and brick manufacturer. As a child, Dove became friends with a neighbor, naturalist Newton Weatherby, who took him along on hunting, fishing, and camping excursions and encouraged Dove's lifelong fascination with nature. Weatherby was also an amateur artist who gave assorted scraps of canvas to Dove to paint on.
Early Training
At his father's insistence, Dove matriculated at Cornell University as a prelaw student. He supplemented his tiresome law classes by enrolling in elective art classes. While at Cornell he was awarded the honor of illustrating the college's yearbook. Dove reached a compromise with his father by becoming a graphic illustrator, which was a lucrative profession. The artist relocated to New York City in 1903 and began his career as a freelance illustrator, which soon proved too conventional for his tastes. Within a few years, at the urging of fellow-illustrators John Sloan and George Luks, both founding members of the Ashcan School, Dove tried his hand at painting. In 1908, Dove and his first wife Florence sailed abroad for a 15-month sojourn, primarily painting in the south of France where he honed his craft. In Paris, Dove met American painters Alfred Maurer and Max Weber, also early modernists, and was exposed to the artistic innovations of Henri Matisse, Pablo Picasso, and Paul Cézanne. Dove's style at that time was Impressionistic, but he, as well as Maurer, strove to dilute Impressionism into larger areas of pure unsaturated color in the manner of the Fauvists.
In 1910, Dove was introduced to gallery-owner, photographer, and leading exponent of the avant-garde Alfred Stieglitz, and quickly became a member of Stieglitz's stable of modern American artists at his gallery known as "291". Of Stieglitz, Dove remarked he was "one who has done the most for art in America." From 1905 to 1917, the gallery was the center of New York modernists, a community of like-minded artists and critics looking to invigorate American art and culture. Subsequent galleries owned by Stieglitz followed after 291 and Dove exhibited at these as well. By 1910, Dove abandoned any suggestion of narrative and discarded any semblance of figure, setting, or even titles for his works. He did so because he thought "the forms should tell their own story." Dove sought to project the essence of objects by emphasizing structure and ridding the composition of all superfluous detail; he replaced bulk with pattern, heightened and modified color, and simplified contours. In 1912, he painted some of the initial non-representational works produced by an American with his Abstractions series. These ten pastels that he showed in his first one-man exhibition at 291 were simplified, stylized motifs, with signature circular and saw-tooth forms which interpenetrated and overlapped. Dove believed that objects including natural objects were not independent, isolated things, but rather, living forces. Georgia O'Keeffe once remarked that, "Dove is the only American painter who is of the earth.."
Mature Period
As the decades progressed, Dove was further influenced by Cubism, the expressionist work of Wassily Kandinsky, and importantly, the writings of French Philosopher Henri Bergson, who emphasized a mystical, rather than an analytic, approach to life and the world. In 1917, Dove ceased painting with oils and produced only pastels. He did not resume painting until 1921 after separating from his first wife, Florence, and moving to a houseboat with the painter Helen Torr (nicknamed Reds), whom he married in 1924 after the death of his first wife. Tragically, he was denied visitation to his son for many years.
During the 1920s, Dove also experimented with found materials, which he organized into innovative, humorous and, at times, almost representational collages and assemblages. Using these techniques and materials, he produced approximately 30 works between 1924 and 1930. Dove also experimented with new paint materials, such as hand-mixed pigment over a wax emulsion. He was interested in synesthesia, a psychological condition in which one type of stimulation evokes the sensation of another, as when the hearing of a sound produces the visualization of a color, a belief present in French Symbolist circles. Struggling financially, from 1930 onwards, he was supported by regular payments from Duncan Phillips - the founder of The Phillips Collection -- in return for a first selection of works at Dove's exhibitions. The two men -- artist and patron -- met only once. The Phillips Collection still holds the majority of Dove's work.
Late Years and Death
In his later works, Arthur Dove's tendency to observe his immediate surroundings and integrate their abstracted forms into his art prompted him to layer undulating forms and to work with a reduced palette, creating a sensuous, brushy surface. At this time, he and Reds lived on a houseboat bringing them in direct contact with power and beauty of nature. In some of his work of the 1940s, Dove drew upon the local landmarks and the turbulent coastline of his small town on Long Island, but then, came full circle to re-embrace nature and the abstract. Dove suffered a heart attack in 1939, which rendered him an invalid and compromised his ability to create. After his second heart attack and debilitating kidney disease, Reds - herself an artist - had to guide the brush for Dove when he was painting. The artist died in 1946. Reds never painted again after Dove's death; she died in 1967. In 1979, The Museum of Modern Art hung their work together for the first time. During the years between 1997 and 1998, the exhibition Arthur Dove: A Retrospective - the first comprehensive survey to consider his career since the 1970s - traveled nationally. In 2000, the Arthur Dove-HelenTorr Cottage, a tiny, one-room structure on Long Island, was added to the National Register of Historic Places.
The Legacy of Arthur Dove
Dove's death in 1946 and life's work were strongly overshadowed by the advent of Abstract Expressionism. Clement Greenberg, leading critic and fierce proponent of Jackson Pollock and the others, vehemently disliked the work of the Stieglitz Circle artists (with the exclusion of John Marin). In contrast to the post-1945 abstractionists, Dove was considered provincial and a minor talent. Regardless, the influence and fame of Dove, Georgia O'Keffee, John Marin, and others from the Stieglitz Circle continues to grow. Dove has been credited with indirectly influencing the first generation Abstract Expressionists, such as Jackson Pollock, Lee Krasner, and Mark Rothko, who placed similar emphasis on the artist's subjective experience of his surroundings and on the intrinsic emotional power of color and line. His attraction to the natural world remains a constant in American art.
Influences and Connections
Influences on Artist

Influenced by Artist
Friends & Personal Connections
Friends & Personal Connections
Useful Resources on Arthur Dove
Books
The books and articles below constitute a bibliography of the sources used in the writing of this page. These also suggest some accessible resources for further research, especially ones that can be found and purchased via the internet.
paintings
Similar Art