Important Art by Alfred Maurer
Progression of Art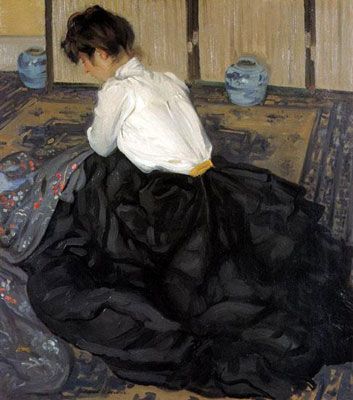 1901
An Arrangement
Painted in a style heavily influenced by Whistler, this work was a critical success for Maurer, winning the gold medal at the juried Carnegie International exhibition in 1901. Even the title reflects the influence of Whistler and the Aesthetic movement, as it suggests a musical composition and the close tonality of a subdued palette. The subject of the painting, a young woman set in a fashionable japoniste background, is less important than the abstract quality of the loose brushwork and harmonious shades of brown, gray, and black. The effect is a meditative mood that is created by the painterly qualities of line and color.
Oil on cardboard - Whitney Museum of American Art
c. 1911
Tulips in a Green Vase,
With bold compositions such as this, Maurer quickly became the most famous American Fauve artist, incorporating the bold colors, abstract forms, and flat space of that style. Rather than using color descriptively, he now embraced its suggestive and emotional potential, using unnatural tones to create a sense of energy or mood. He believed this mode of abstraction conveyed the true essence of his subject. Here, he skillfully balances the bold, gem-like, shades of blues, greens, reds, and yellows, to create flat planes of color that both describe the subject and create a flattened, decorative design. Sending his work back to America for exhibitions, he was an important influence, spreading the theories of Fauvism and the potential for abstract art to artists and audiences in the States.
Oil on canvas - The Barnes Foundation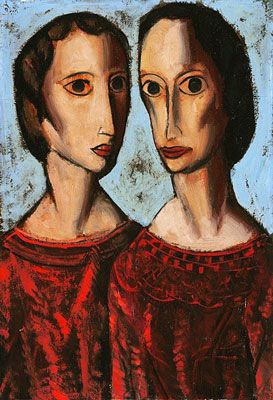 c. 1929
The Florentines
Around 1919, Maurer began two series, Girls and Heads, to which he would return until the end of his life. He adopted a relatively standard format, positioning his sitters alone or in small groups, most often in a simple frontal pose and three-quarter length. The series progresses from fairly representational and naturalistic depictions to more stylized and abstractions renderings. Although they tend to have generic features, they were based on models.

Influenced by a general return-to-order in the postwar years, these paintings convey classicism in both their traditional subject and their calm approach to figuration. They reconnect to the realist paintings that had originally established Maurer's reputation, but break from his earlier illusionism to incorporate a range of primitive, Renaissance, and modernist influences. Critics considered them as "modern madonnas" and noted their Byzantine elongations of the female body; their deliberate awkwardness was celebrated as a powerful interpretation of non-Western masks and carvings.
Oil on canvas - The Phillips Collection
Similar Art
Related Artists
Related Movements & Topics