Movements, Styles, and Tendencies
Harlem Renaissance Art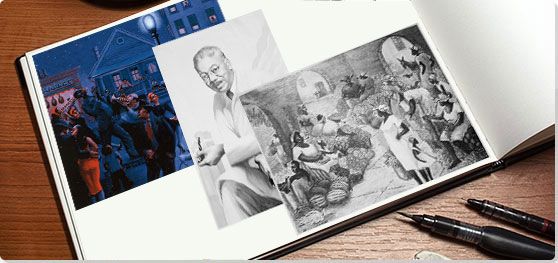 Harlem Renaissance Art
Started: 1920
Ended: Early 1940s

Summary of Harlem Renaissance Art
The term Harlem Renaissance refers to the prolific flowering of literary, visual, and musical arts within the African American community that emerged around 1920 in the Harlem neighborhood of New York City. The visual arts were one component of a rich cultural development, including many interdisciplinary collaborations, where artists worked closely with writers, publishers, playwrights, and musicians.

There was no single style that defined the Harlem Renaissance, rather artists found different ways to celebrate African American culture and identity. Often, they combined elements of African art with contemporary themes, creating a link that dignified and expanded the history of the African American experience, countering the derogatory caricatures that dominated popular culture.
Key Ideas
The movement was originally referred to as the "New Negro" movement, referring to Alain LeRoy Locke's The New Negro (1925), an anthology which sought to inspire an African-American culture based in pride and self-dependence.
Their careers hampered by racism in America, many first-generation members of the Harlem Renaissance worked abroad, many of them gathering in Paris before returning to New York to found and support opportunities for young African American artists. This created a second generation of locally-trained artists, who were rooted in Harlem and helped to shift the center of the art world to New York following WWII. Many of these second-generation artists became activists during the Civil Rights movement of the 1960s.
As the Harlem Renaissance overlapped the Great Depression, many of its artists were employed under the government's
Works Progress Administration
(WPA) program, providing unprecedented support for African-American artists with prominent, large-scale commissions. They created public murals in buildings throughout the neighborhood, including Harlem Hospital and the New York Public Library (now the Schomburg Center for Research in Black Culture).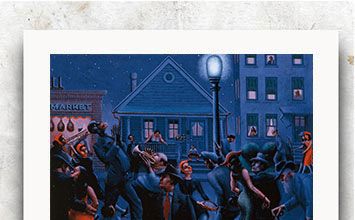 Beginnings:
For artists of the Harlem Renaissance looking for professional African-American role models, only Henry Ossawa Tanner and Mary Edmonia Lewis had gained international fame and success. Yet, faced with racial discrimination and career limitations in America, both artists spent most of their lives in Europe (Tanner in Paris and Lewis in Rome) where they found a more tolerant cultural and artistic environment in the decades following the American Civil War.
Important Art and Artists of Harlem Renaissance Art

The below artworks are the most important in Harlem Renaissance Art - that both overview the major ideas of the movement, and highlight the greatest achievements by each artist in Harlem Renaissance Art. Don't forget to visit the artist overview pages of the artists that interest you.

Ethiopia Awakening (1921)

Artist: Meta Vaux Warrick Fuller

Artwork description & Analysis: This statue depicts a young black woman, dressed as an ancient Egyptian with the lower half of her body wrapped in mummy-like bandages. The woman's right palm rests on her breast, as if against her heart, while her left arm, flush against her body, ending with her fingers that extend outward in an expressive gesture. Softly turned toward her left, her closed eyes convey a depth of inner feeling.

The work has a two-pronged message: the title referring to Ethiopia, the only African nation had that retained its independence from Western powers (it would only later be occupied by Italy between 1936-1941), evokes African American self-determination, while the Nemes headdress worn by the woman (a symbol of power traditionally worn by the Egyptian pharaoh) suggests the dignity of African American women. The sculpture's elegant and flowing lines that move from the patterned mummy wrap to the headdress framing her face to create an idealized, but distinctly modern, effect. The contrast between the rigidity of the lower part of the figure's body, tightly encased, and the expressive movement of her upper body conveys a sense of awakening; this was Fuller's intent, as she explained, "Here was a group who had once made history and now after a long sleep was awaking, gradually unwinding the bandage of its mummied past and looking out on life again, expectant but unafraid and with at least a graceful gesture."

In 1921 W.E.B. Du Bois commissioned the artist to create a work that would symbolize African American contributions to American arts and industry to be included in the "Americans of Negro Lineage" section of the America's Making Exposition in New York City. Pioneering an expression of African-American pride, she connected modern trends in Western art with an awareness of the African and Egyptian influence on Western civilization. As historian Paul Von Blum later noted, the work was, "a response to Western societies that had promoted a caricature of Africa as a continent of barbaric tribes...Fuller's work helped her audiences to imagine an African history and culture that Western society had denied, even stolen. It was a powerful, compelling vision of black heritage."

Bronze - National Museum of African American History and Culture, Washington, D.C.


Artwork Images

Gamin (c. 1929)

Artist: Augusta Savage

Artwork description & Analysis: This bust depicts an African American boy. Wearing a wrinkled shirt and bebop cap, he turns his head to his right with a thoughtful and reserved expression on his face. His somber gaze conveys an adult awareness of hardship and poverty, emphasized by the cropping away of his arms in a manner that suggests powerlessness and social constraint. It as if he wisely understands his situation but has little agency to remedy it, in the tradition of the titular gamin, or streetwise child. Some historians have suggested the bust depicts Ellis Ford, the artist's nephew, while others believe it was modeled on a street urchin, as the French title indicates.

The bust was met with acclaim, and, as a result, Savage was awarded a Julius Rosenwald Fellowship for study in Paris in 1929, where her work continued to be met with success. She exhibited both in the Salon d'Automne and at the Grand Palais in Paris. When she returned to Harlem in 1932, she founded the Savage Studio of Arts and Crafts where she became one of the most influential teachers of the subsequent generation of Harlem Renaissance artists, including Jacob Lawrence. Although she was considered a leading Harlem Renaissance artist, poverty and misfortune led to her obscurity in the 1940s and the destruction of many of her artworks, though there has been a contemporary revival and rediscovery of her work.

Painted plaster - Smithsonian American Art Museum, Washington, D.C.


Artwork Images

Couple in Raccoon Coats (1932)

Artist: James Van Der Zee

Artwork description & Analysis: This iconic photograph depicts a young African American couple, both wearing full-length raccoon coats. The man in the driver's seat of his Cadillac roadster looks out at the photographer through the open door, while the woman, standing beside him, also turns toward the photographer. The car gleams with reflected light, particularly its chrome wheel on the front bumper, the frame of the open door, its diagonal beam drawing attention toward the man, and the roof of the car and its trunk. These highlighted forms create a kind of private space around him, conveying a sense of dignity and privacy that is reinforced by his expression, although shadowed, that suggests a self-confident reserve. The woman also radiates a sense of relaxed confidence in her pose and facial expression.

Van Der Zee opened his Harlem studio in 1916, which became successful during the World War I era, and in the 1920s he primarily photographed the rising middle class of Harlem, as well as the notable people of the Harlem Renaissance, including the political leader Marcus Garvey, the musician and dancer, Bill "Bojangles" Robinson, and the writer Countee Cullen. Influenced by Pictorialism, Van Der Zee carefully arranged family portraits, community events, and funerals to create classical and idealized compositions, and perfected his images in the darkroom, using double exposures, composite images, and darkroom manipulations, "to make the camera take what I thought should be there" as he said.

Van Der Zee's contribution to the Harlem Renaissance was to create, as art historian Adrienne Child's wrote, "a virtual lexicon of New Negro identity as it developed during the Harlem Renaissance...The image with its hip and stylish African American couple personified the Jazz Age, and radically challenged popular culture's stereotypes and caricatures of African Americans." The raccoon coat was highly fashionable, associated with college-aged men; Van Der Zee deliberately connects his subjects with peers across racial barriers, countering derogatory stereotypes of urban blacks. The image was culturally influential, as the lifestyle it depicted became the aspiration of many young African Americans, and it launched a craze for raccoon coats among the denizens of Harlem's nightclub and music venues. His photographs fell into obscurity beginning in World War II, but were rediscovered when they were included in the Metropolitan Museum of Art's exhibition, "Harlem on My Mind" of 1969. Subsequently his photographs of Harlem funerals were published in The Harlem Book of the Dead (1978) with a foreword by the Nobel Prize-winning author Toni Morrison.

Gelatin silver print - Detroit Institute of Art, Detroit, Michigan
More Harlem Renaissance Art Artwork and Analysis:
If you see an error or typo, please:
tell us
Cite this page

Content compiled and written by Rebecca Seiferle
Edited and revised, with Synopsis and Key Ideas added by Sarah Archino
" Movement Overview and Analysis". [Internet]. . TheArtStory.org
Content compiled and written by Rebecca Seiferle
Edited and revised, with Synopsis and Key Ideas added by Sarah Archino
Available from:
First published on 23 Dec 2018. Updated and modified regularly.


[Accessed ]