Artists
Faith Ringgold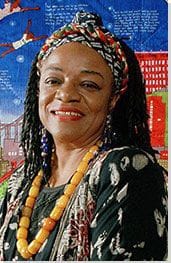 Faith Ringgold
American Multi-media Artist, Social Activist, Author, and Art Professor
Movements and Styles: Postmodernism, Activist Art
Born: October 8, 1930 - Harlem, New York City, USA

"My process is designed to give us 'colored folk' and women a taste of the American dream straight up. Since the facts don't do that too often, I decided to make it up."
Summary of Faith Ringgold
Faith Ringgold took the traditional craft of quilt making (which has its roots in the slave culture of the south - pre-civil war era) and re-interpreted its function to tell stories of her life and those of others in the black community. One of her most famous story quilts is Tar Beach, which depicts a family gathered on their rooftop on a hot summer night.

As a social activist, she has used art to start and grow such organizations as Where We At that support African American women artists. Her foundation Anyone Can Fly, is devoted to expanding the art canon to include artists of the African diaspora and to introduce the African American masters to children and adult audiences.
Key Ideas
Ringgold's early art and activism are inextricably intertwined. Her art confronted prejudice directly and made political statements, often using the shock value of racial slurs within her works to highlight the ethnic tension, political unrest, and the race riots of the 1960s. Her works provide crucial insight into perceptions of white culture by African Americans and vice versa.
She combines her African heritage and artistic traditions with her artistic training to create paintings, multi-media soft sculptures, and "story quilts" that elevate the sewn arts to the status of fine art.
In her story quilt Tar Beach the term 'Tar Beach' refers to the urban rooftop itself, commonly used as a place on which to escape the oppressive heat of an inner city without air conditioning. The adults visit with each other while the children play and sleep on their blankets. The daughter dreams of flying freely over all barriers, which is represented by the George Washington bridge in the background. Ringgold consciously chooses to lend a folk-art quality to techniques in her story quilts as a means of emphasizing their narrative importance over compositional style.
Her later works deal with prejudice in a different way. No longer using confrontational imagery to attack prejudice, she subverts it, instead by providing young African Americans with positive role models, re-imaging hurtful racial stereotypes as strong, successful, and heroic women.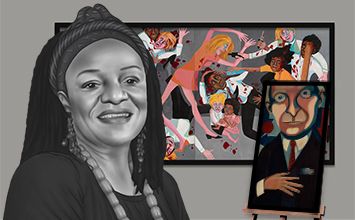 Faith Ringgold was born Faith Willi Jones and grew up in New York City. The artist has said of her own upbringing, "I grew up in Harlem during the Great Depression. This did not mean I was poor and oppressed. We were protected from oppression and surrounded by a loving family."
Important Art by Faith Ringgold

The below artworks are the most important by Faith Ringgold - that both overview the major creative periods, and highlight the greatest achievements by the artist.


Artwork Images

The American People Series #6: Mr. Charlie (1964)

Artwork description & Analysis: A mature, white American businessman is depicted in bold colors, hard edges, and flat, simplified shapes. He holds his hand over his heart and stares ahead with a blank, but condescending expression. The man's vacant expression suggests someone so fixated on his own point of view that he cannot truly see or hear anyone else's experience. The gesture of his hand pressed to his chest appears to protect and excuse him from any kind of response or responsibility. The figure, too large to be contained within the bounds of the canvas, possesses a sort of looming presence made all the more intimidating by Ringgold's placement of him in the extreme forefront of the picture plane. The two dimensionality of the image suggests that he represents a type of person, rather than a specific man, without human depth or feeling.

The title of the piece refers to the African-American expression "Mr. Charlie," which was used to describe a racist white man. By using primary colors for both his suit and the background, Ringgold suggests the man has a kind of assumed privilege; he and the world reflect one another.

Oil on canvas - Collection of the artist


Artwork Images

American People Series #16: Woman Looking in a Mirror (1966)

Artwork description & Analysis: The American People Series, which Ringgold described as "about the condition of black and white America and the paradoxes of integration felt by many black Americans," includes 20 works. Some of the images confront racism and racial violence while others draw upon the "black power" or "black is beautiful" message that came out of the Civil Rights movement of the 1960s.

Here, Ringgold depicts an African American woman seated before a window, perhaps at the moment before getting dressed, as she appears to be wearing undergarments. The woman looks into a handheld mirror, while in the background, the window overflows with blue and green geometric trees and bushes. The black branches and trunks of the plants frame the woman and echo the curves and angles of her form. The stylized rendering evokes the work of Henri Rousseau and Picasso's Girl Before a Mirror, with their broad expanses of color heavily outlined in black.

The window behind the woman shows a verdant, light-filled jungle, suggesting an African landscape, and creating the sense that the woman is at home in this setting. Its lushness complements and highlights the beauty of her image. Gazing at herself in her hand mirror demonstrates to the viewer the importance of her own self-regard over those of the male gaze or of white society. The feminist viewpoint combined with one of black power conveys the message that an African American woman is beautiful when regarded by herself.

Oil on canvas - ACA Galleries


Artwork Images

American People Series #20: Die (1967)

Artwork description & Analysis: Ringgold had hoped to participate in the first World Festival of Black Arts in 1966 but was rebuffed by Hale Woodruff, who curated the artwork for the festival. Of Woodruff's criticism, Ringgold wrote: "I thought it was insulting that he thought I didn't know anything about rhythm or movement... I decided I'm going to show him I know rhythm and movement because my teachers did teach me those aspects of paintings. They didn't teach me anything about being a black artist; no I learned that by myself. But they did teach me about movement and that sort of thing. And that's when I did DIE - the biggest painting I had done up until then. ...A tribute to these guys who want to try to tell me I don't know what I am doing."

In a style that Ringgold called "super realism," this work depicts the race riots of the 1960s in America as a melee of random violence. The repeating adult figures, African Americans and whites, are injured, and fighting or fleeing, while a white boy and an African American girl huddle together in the center of the canvas, framed by the falling limbs of an African American man and a white woman being shot. The violence contrasts with well-dressed appearances of the figures; the men in black pants and white shirts, the women in fashionable dresses and heels.

The black and white color of the men's clothing visually emphasizes that racism is the origins of the violence, and the well-dressed appearance conveys that no class of society is exempt. The painting is a kind of tour de force of Ringgold's knowledge of artistic style combined with her experience of the violence generated by racism and her fear that racial violence would become endemic.

Influenced by both Picasso's Guernica and the depiction of race riots in Jacob Lawrence's The Migration Series, Ringgold intended to depict the racial turmoil following the Civil Rights movement. As an African American woman, she also wanted to respond to the societal expectations of the art world which, as she said, viewed art as "a conceptual or material process, a commodity, and not a political platform...To be emotionally involved in art was considered to be primitive."

Michele Wallace, the art critic, has said of DIE, "the painting illustrates Ringgold's mastery of the Western canonical strategy of expressing narrative and figurative movement by placing the same group of figures across the picture plane in various stages of the scene. In contrast to act of reading left to right, the artist situates the stampede-like wrestling of forms in the right side of the canvas, almost spilling over to the left portion of the composition. "

Oil on canvas - Museum of Modern Art, New York
More Faith Ringgold Artwork and Analysis:
Influences and Connections
Influences on Artist
Artists, Friends, Movements
Influenced by Artist
Artists, Friends, Movements

Interactive chart with Faith Ringgold's main influences, and the people and ideas that the artist influenced in turn.
View Influences Chart


Influences on Artist

Faith Ringgold
Years Worked: 1950 - current
Influenced by Artist

Artists

Personal Contacts

| | |
| --- | --- |
| | Robert Blackburn |
| | Moira Roth |

Movements
If you see an error or typo, please:
tell us
Cite this page

Content compiled and written by Rebecca Seiferle
Edited and revised, with Synopsis and Key Ideas added by Laurentia McIntosh, PhD
" Artist Overview and Analysis". [Internet]. . TheArtStory.org
Content compiled and written by Rebecca Seiferle
Edited and revised, with Synopsis and Key Ideas added by Laurentia McIntosh, PhD
Available from:
First published on 07 May 2017. Updated and modified regularly.


[Accessed ]