"My process is designed to give us 'colored folk' and women a taste of the American dream straight up. Since the facts don't do that too often, I decided to make it up."
"If One Can Anyone Can All You Gotta Do Is Try"
"My women are actually flying; they are just free, totally. They take their liberation by confronting this huge masculine icon - the bridge."
"Like all artists and writers, I am both enriched and limited by what I know and have experienced. In other words my books and my art are based on my life's experience. I am, as you know, a black woman in America."
"My ideas come from reflecting on my life and the lives of people I have known and have been in some way inspired by."
"I had something I was trying to say and sometimes the message is an easy transmission and sometimes it's a difficult one but I love the power of saying it so I'm gonna do it whether it's hard or easy. Because I just love the idea that I can, I can say it!"
"Being an artist is a way of life"
"You can't sit around waiting for somebody else to say who you are. You need to write it and paint it and do it. That's the power of being an artist."
"Freedom of speech is absolutely imperative. You can't have art of any kind without freedom of speech."
"I wanted to tell my story. Who am I and why? - why, who, what, where, when."
"When I was in elementary school I used to see reproductions of Horace Pippin's 1942 painting called John Brown Going to His Hanging in my textbooks. I didn't know Pippin was a black person. No one ever told me that. I was much, much older before I found out that there was at least one black artist in my history books. Only one. Now that didn't help me. That wasn't good enough for me. How come I didn't have that source of power? It is important. That's why I am a black artist. It is exactly why I say who I am."
"I had been to the African source of my own "classical" art forms and now I was set free."
"I am inspired by people who rise above adversity. Like most people, I am also inspired by people who are the best they can be. Although I love a beautiful vase of flowers, a sumptuous landscape or a sunset, I will not be moved to paint one of these without a meaningful personal reference that is also political."
"I have a responsibility to myself and to coming generations of artists. I would like to be the one that helps them do what they want to do. That's the point of being an artist. You can communicate things that you feel and see. You are a voice. You have a power to do that. You don't have to ask anyone's permission. You don't need anyone's help. Once art is made, it an be seen. That is a very powerful thing."
"Your job is to tell your story. Your story has to come out of your life, your environment, who you are, where you come from."
"All over this country and the world people were listening to these black men. I felt called upon to create my own vision of the black experience we were witnessing. I read feverishly, especially everything that James Baldwin had written on relationships between blacks and whites in America. Baldwin understood, I felt, the disparity between black and white people as well as anyone; but I had something to add - the visual depiction of the way we are and look. I wanted my paintings to express this moment I knew was history. I wanted to give my woman's point of view to this period."
Summary of Faith Ringgold
Faith Ringgold took the traditional craft of quilt making (which has its roots in the slave culture of the south - pre-civil war era) and re-interpreted its function to tell stories of her life and those of others in the black community. One of her most famous story quilts is Tar Beach, which depicts a family gathered on their rooftop on a hot summer night.

As a social activist, she has used art to start and grow such organizations as Where We At that support African American women artists. Her foundation Anyone Can Fly, is devoted to expanding the art canon to include artists of the African diaspora and to introduce the African American masters to children and adult audiences.
Accomplishments
Ringgold's early art and activism are inextricably intertwined. Her art confronted prejudice directly and made political statements, often using the shock value of racial slurs within her works to highlight the ethnic tension, political unrest, and the race riots of the 1960s. Her works provide crucial insight into perceptions of white culture by African Americans and vice versa.
She combines her African heritage and artistic traditions with her artistic training to create paintings, multi-media soft sculptures, and "story quilts" that elevate the sewn arts to the status of fine art.
In her story quilt Tar Beach the term 'Tar Beach' refers to the urban rooftop itself, commonly used as a place on which to escape the oppressive heat of an inner city without air conditioning. The adults visit with each other while the children play and sleep on their blankets. The daughter dreams of flying freely over all barriers, which is represented by the George Washington bridge in the background. Ringgold consciously chooses to lend a folk-art quality to techniques in her story quilts as a means of emphasizing their narrative importance over compositional style.
Her later works deal with prejudice in a different way. No longer using confrontational imagery to attack prejudice, she subverts it, instead by providing young African Americans with positive role models, re-imaging hurtful racial stereotypes as strong, successful, and heroic women.
Important Art by Faith Ringgold
Progression of Art
Biography of Faith Ringgold
Childhood
Faith Ringgold was born Faith Willi Jones and grew up in New York City. The artist has said of her own upbringing, "I grew up in Harlem during the Great Depression. This did not mean I was poor and oppressed. We were protected from oppression and surrounded by a loving family."
Her father, Andrew Louis Jones, had been a minster, among a variety of jobs he held, and was a powerful storyteller. Her mother, Willie Posey Jones, was a fashion designer who had studied at the Fashion Institute of Technology. Both of her parents came from families that had experienced the Great Migration, the relocation of millions of African American from the rural south to the urban north during the first half of the 20th century.
Often unable to attend school due to asthma, Ringgold was encouraged in her artistic pursuits by her mother who also taught her how to sew and use patterns. Ringgold helped with her mother's fashion shows, and said that, "She taught me how to stand up there and have a little joke and just feel comfortable with myself and to self-promote one's work." Her grandmother taught Ringgold quilting and the importance of the African-American tradition in telling stories, conveying messages, and creating community. Quilt making was a family tradition as Ringgold's grandmother had learned the art from her mother, Susie Shannon who had been a slave.
During the period known as the Harlem Renaissance, Ringgold's neighborhood was home to many African-American artists, writers, and musicians. She described her experience as "a wonderful childhood growing up in Harlem with many wonderful role models as neighbors. Among them were Thurgood Marshall, Dinah Washington, Mary McLeod Bethune, Aaron Douglass and Duke Ellington." She grew up with a sense of vibrant creative possibilities, a strong sense of family and community, of artistic practice connecting generations and diverse histories, but also an awareness of segregation, racism, and economic inequities.
Early Training
In 1950, intending to study art, Ringgold enrolled at New York's City College but, because art was then believed to be an exclusively male profession, she was required to enroll in art education in order to study art. Characteristically, she took this obstacle as a kind of challenge to be overcome, as she herself said, "I have always known that the way to get what you want is don't settle for less... I always knew I would be an artist." Ringgold also married classical and jazz musician Robert Earl Wallace that year, though the marriage ended in divorce after four years due to Wallace's drug addiction. The couple had two daughters, Michele Faith Wallace, and Barbara Faith Wallace. Ringgold graduated in 1955 with a bachelor's degree in Fine Art and Education.
At City College Ringgold studied with the artists Yasuo Koniyoshi and Robert Gwathmey, and met Robert Blackburn, with whom she later collaborated. After graduation Ringgold began teaching in the public school system in New York and began working toward a Master of Fine Arts degree at City College. Earning her degree in 1959, Ringgold said, "I got a fabulous education in art - wonderful teachers who taught me everything except anything about African art or African American art, but I traveled and took care of that part myself."
Exploring what it meant to be an African American artist, Ringgold said, "I found my artistic identity and my personal vision in the 60s by looking at African masks; and my art form through the serial paintings (Migration of the Negro series) of Jacob Lawrence. The powerful geometry of African masks and sculpture that informed Modern art is what I like best about Picasso, Matisse and the other Modern European masters I was taught to copy. It is their exquisite compositions of shape, form, color and texture that make Picasso, Matisse and Jacob Lawrence's work so wonderful."
Mature Period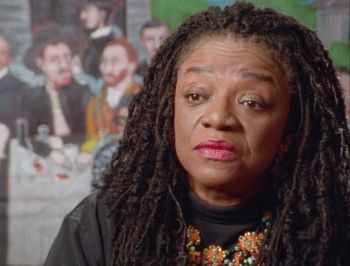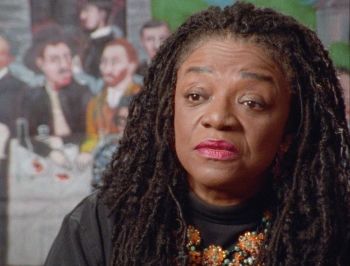 Finding it difficult as an African American woman artist to find gallery representation for her work, Ringgold had a meeting with Ruth White who ran a gallery in NY in 1963 that proved life changing. White, examining Ringgold's paintings of still lifes and landscapes, told her she could not show her works. Discussing the meeting afterwards with her husband, Burdette Ringgold, whom she had married in 1962, Ringgold said, "You know something? I think what she's saying is - it's the 1960s, all hell is breaking loose all over, and you're painting flowers and leaves. You can't do that. Your job is to tell your story. Your story has to come out of your life, your environment, who you are, where you come from."
In the early 1960s, she began painting the American People Series. In 1967 an invitation from Robert Newman for a solo show at his co-op gallery Spectrum gave new impetus to the work. Painting over the summer in the then-closed gallery that Newman allowed her to use as a studio, she had time and space free of familial obligations to create major works. She followed with the Black Light Series. These two series, according to Neuberger Museum of Art's Tracy Fitzpatrick, "inform everything else she did, and you really cannot fundamentally understand the rest of her body of work without seeing it in the context of that first work."
Ringgold's work met with an indifferent response from the art world, as she described, "Some of it has been shown now and then. Like Die has been shown here and there but they were ignored primarily by the black and white art world. Amazingly ignored...During the '60s, it was not appropriate to do political art. Everything was political in the sixties, except the visual arts." Again, Ringgold responded to an obstacle as a challenge, as she put it "they did me a favor by ignoring me...And I knew that. Why should I try to please an audience I don't have? But what I thought and what I did and have done and continue to do is please myself. I wanted to tell my story. Who am I and why? "
At the same time, Ringgold became an activist for feminist and anti-racism causes. She cofounded the Ad Hoc Women's Art Committee with art critic and historian Lucy Lippard and artist Poppy Johnson to protest an exhibition at the Whitney Museum of American Art in 1968. No women, and no African American artists were included in the show. To protest, the group left eggs in the Whitney, and Ringgold came up with the idea of each member blowing a whistle to disrupt the show. Subsequently, Ringgold cofounded Women Students and Artists for Black Art Liberation, the National Black Feminist Organization, and "Where We At" Black Women Artists. In the early 1970s, she painted a mural For the Women's House as a permanent installation at the Women's House of Detention on Riker's Island. As a result, Art Without Walls, an organization that brings art to prison populations, was founded.
In the early 1970s Ringgold's work moved away from traditional painting as she began using fabric and experimenting with soft sculpture. Influenced by the traditional Western African use of masks, she created costumes by painting linen canvas to which she added beads, raffia hair, and painted gourds for breasts. Each work represented a character, as she said that she wanted each mask to represent a "spiritual and sculptural identity." As she intended the pieces in her Witch Mask Series to be worn, not displayed merely as art objects, she developed her first performance piece, The Wake and Resurrection of the Bicentennial Negro, a narrative that dealt with the affects of slavery and drug addiction in the African American community. Ringgold's Family of Woman Mask Series continued her work in mask costumes, while also including her life size portrait soft sculpture of NBA basketball legend Wilt Chamberlain, who had made negative comments about African American women.
Continuing Practice
In 1972 on a visit to Amsterdam's Rijksmuseum, Ringgold saw an exhibit of thangkas, Buddhist paintings on cloth scrolls, and was inspired to add fabric borders to her paintings as in her Slave Rape Series of 1983, which focused on the slave trade viewed from the experience of an African woman taken into slavery. Ringgold also drew upon the African American tradition of quilt making, and in 1980, working with her mother, created Echoes of Harlem, which depicted 30 local residents. Quilts allowed Ringgold to tell stories by combining images with handwritten texts. The narratives focused on a character, sometimes drawn from cultural history as in Who's Afraid of Aunt Jemima? (1983) and sometimes autobiographical as in Tar Beach or Change: Faith Ringgold's Over 100 Pounds Weight Loss Performance Story Quilt, both from 1986.
The 1980's offered Ringgold wider opportunities. She began teaching art at the University of California, San Diego in 1987, a position she held until she retired as professor emeritus in 2002. A publisher, after seeing Tar Beach, her story quilt, expressed interest in Ringgold turning the story quilt into a children's book. Tar Beach appeared in 1991 and launched Ringgold's career as an author of award winning children's books, based upon the stories and images of her art projects.
All the while Ringgold continued to develop images that questioned European art and culture from an African American perspective. In her series, The French Collection, Ringgold depicts European modernism and its seminal figures from the viewpoint of a fictitious character, a remarkable young African American woman who wants to be an artist. Her quilt story on Henri Matisse tells that artist's story from the viewpoint of his African American model.
Ringgold's style continued to evolve as she incorporated elements from contemporary art movements while simultaneously adopting new techniques into her fabric work. In the 1990's Ringgold's style was influenced by the colors and repetitive imagery of Abstract Expressionism and Pop art, and she began using applique, with fabric sewn onto the canvas, and photo-etching. In 2000 she began to use silkscreen printing on pieces that use text and borders of fabric.
Later years have offered Ringgold more opportunities to reach a larger audience. In 2010 her People Portraits, a series of 52 mosaics, was installed in the Civic center subway station in Los Angeles. In 2014 she created the billboard Groovin High as an installation piece for the High Line's train stop at 18th Street and 10th Avenue. Many of her later works are based upon her earlier story quilts. Her work, so intimately connected to her own experience as an individual in a community, has often traveled full circle to become an integral part of the community.
The Legacy of Faith Ringgold
Ringgold's work as an artist, an activist, and an educator has influenced both the art world and communities beyond the art world. Her founding or co-founding of many arts organizations focused on issues faced by women of color has created many opportunities for those artists. From 1988 to 1996, the Coast-to-Coast National Women Artists of Color Projects, which Ringgold co-founded, held exhibits featuring the work of women artists of color. The works of Beverly Buchanan, Elizabeth Catlett, Howardena Pindell, Adrian Piper, Deborah Willis, and Joyce Scott, among others, were featured in major exhibitions and also received critical attention in catalogues. Her foundation Anyone Can Fly has increased community awareness of African American art and artists for adults and children, and created community-based venues for artistic education and expression, as well.
As an artist, a noted children's book author, and as an educator, Ringgold has conducted workshops, talks, and collaborations that have influenced and inspired many young people. She has conducted Quilt Making Workshops for educators, and given talks on Quilts and Quilts and Story for adults and children, at the University of California, San Diego. Her 9/11 Peace Story Quilt was created in collaboration with Broadway Housing Communities youth. In 2016 she gave an Educator Studio Workshop at Crystal Bridges Museum of American Art.
Ringgold's work as an artist has gradually received more attention from the art world. 'American People, Black Light: Faith Ringgold's Paintings of the 1960s' was the first comprehensive showing of her work at the Neuberger Museum of Art in 2010. The exhibit was also shown at the National Museum of Women in the Arts in 2013, and prompted art museums, such as the Harvard Art Museum, to add her work to their permanent collections.
Influences and Connections
Influences on Artist

Influenced by Artist
Artists
Robert Gwathmey

Harriet Powers

Poppy Johnson
Friends & Personal Connections
Robert Blackburn
Movements & Ideas
African American Art
Artists
Michele Wallace
Friends & Personal Connections
Robert Blackburn

Moira Roth
Movements & Ideas
African American Art
Useful Resources on Faith Ringgold
Books
The books and articles below constitute a bibliography of the sources used in the writing of this page. These also suggest some accessible resources for further research, especially ones that can be found and purchased via the internet.
biography
written by artist
artworks
Similar Art