"Conceptual art, for me, means work in which the idea is paramount and the material form is secondary, lightweight, ephemeral, cheap, unpretentious, and/or 'dematerialized.'"
"I always say art can't change the world, but it can be a very strong ally for unconventional ways of looking at the world. Effectiveness is usually consciousness raising. It's not like, 'Now we're going to go out and have affordable housing right now.' It raises people's consciousness about the issues, and about what capitalism is doing to all of us."
"Writing about conceptual, feminist and political art, I've concluded that the ultimate escape attempt would be to free ourselves from the limitations of preconceived notions of art, and in doing so, help to save the planet."
"I'm not an academic, and I always say my methodology is 'one thing leads to another' - that's really the way I write, and the way I do everything. People are always saying, 'So what's the thesis of this book?' and I go, 'Thesis? It hasn't got one.' It's just one thing leading to another. I love weaving things together, and finding strange juxtapositions - a sort of collage aesthetic."
Summary of Lucy R. Lippard
Lucy Lippard played a key role in the development of Conceptual Art in New York in the 1960s and 1970s and has also been active in the Feminist Art movement. Over the course of her wide-ranging career, she has published over twenty books, curated some fifty exhibitions, written numerous essays and articles, and co-founded Heresies: A Journal of Art and Politics, as well as the art bookstore Printed Matter. She is also a political and cultural activist, helping to form groups including the Ad Hoc Women's Art Committee and the Art Workers Coalition and participating in many others. In more recent years she has focused her work on the landscape, culture, and art of the American Southwest, where she moved in the 1990s. Her writing and activism have earned her numerous honors and awards.
Accomplishments
Lippard's 1968 essay "The Dematerialization of Art" and her 1973 book Six Years: The Dematerialization of the Art Object from 1966 to 1972 were among the first works to describe and define the practice of Conceptual Art of the time. In them she explored the art of the period as evolving toward ideas and actions rather than aesthetic objects, and becoming more openly engaged in contemporary issues; the book itself can be considered a conceptual work. Her highly influential curatorial and critical approach inspired a 2012 exhibition at the Brooklyn Museum that revisited her publications.
Lippard's engagement with feminism emerged from her growing appreciation of the intersection of art with politics and social practice. Her active approach in protesting the underrepresentation of women artists as well as her critical voice in numerous essays and books exploring feminist issues and championing individual female artists earned her a significant place among critics and art historians in the feminist movement.
Lippard's writing has remained focused on art and artistic concepts that exist beyond ownership, commodification, and the reach of traditional art institutions. Her definition of art is wide-ranging, and her progression from conceptualism to feminism and finally to Land Art and the American landscape demonstrates the ways in which her personal politics have informed her approach to writing.
Ideas and Analysis by Lucy R. Lippard of Important Artists and Artworks
Biography of Lucy R. Lippard
Childhood
Lucy Lippard was born on April 14, 1937 in New York City. An only child, Lippard spent much of her adolescence moving from city to city after her father, a doctor, returned from serving in World War II in 1946. The family moved to New Orleans and Charlottesville, Virginia, and finally settled in New Haven, Connecticut when Lippard was about sixteen years old. As well as these frequent moves, however, her family's summer visits to Maine remained a constant in Lippard's life from childhood throughout adulthood. These summers in Maine, in a house owned by her maternal grandparents, fostered Lippard's appreciation for nature and the outdoors.
When she was young, Lippard "read voraciously and unselectively." Lippard's mother, an avid reader, encouraged her daughter's interests by having books readily available at home. By the time she was in eighth grade, Lippard had already developed an interest in writing and was awarded a prize for one of her short stories. Her love for writing continued while in high school at the Abbot Academy in Andover, Massachusetts, where her talents were nurtured by an English teacher who recognized Lippard's abilities.
After graduating from the Abbot Academy, Lippard enrolled at Smith College in Northampton, Massachusetts as a studio art and art history major. She never formally studied writing during college, and she briefly considered becoming a painter, but her parents' encouragement and guidance ultimately led her to pursue her long-time passion for writing.
Early Training and Work
Lippard spent her junior year in Paris, and after graduating in 1958, she immediately moved to New York City, taking an apartment on Avenue D on the Lower East Side. Thinking she was "hot shit" for winning a prize for a story she had written, Lippard was convinced that she was going to write the next Great American Novel. She woke up early to write short love stories that were intended for The New Yorker or Cosmopolitan.
Lippard's day job was at the Museum of Modern Art's library, where she was hired in 1958. In her view, working in the library was the best art education she had ever received because of the access she was granted to the most influential publications on contemporary art. Moreover, her time at MoMA introduced her to other artists such as Sol LeWitt, who worked the museum's night desk, and Robert Ryman, who worked as a guard and whom Lippard married in 1961 (they divorced in 1967). Lippard also befriended many artists living on the Lower East Side, which prompted her to start writing about art. She attributed much of what she has learned about art to practicing artists. She also continued her formal education, earning a master's degree from New York University in 1962.
Lippard's initial writings were short reviews she sent to Arts Magazine. In response, editor Hilton Kramer told Lippard, "You're a good writer, but come back when you've been in the art world a little while." Crestfallen, she didn't publish anything until 1962, three years after Kramer's response to her exhibition reviews. Lippard's first publication, an essay on artist Max Ernst, whose work was the subject of her master's thesis, appeared in Art Journal after she had left her post at MoMA's library.
By 1964, Lippard was writing regularly for Art International and Artforum and visiting twenty to thirty exhibitions a week throughout New York City. She continued to freelance for MoMA and other museums and worked on major exhibitions such as Primary Structures: Younger American and British Sculptors at the Jewish Museum.
Mature Period
By the mid- to late 1960s, Lippard's work became more experimental and political thanks to the artists she knew and to current events. She also incorporated ideas inspired by Ernst and his Dadaist and Surrealist techniques - introduced to her by MoMA's chief librarian Bernard Karpel - into her writing, developing an approach she called a "collage aesthetic."
In 1968, "the dematerialization of art" was published in Art International, an essay co-written by Lippard and art critic John Chandler. A seminal work, the essay makes a case for a future without objects. The focus is on "ultra-conceptual" art, an art in which the idea is more important than the production or product itself - thus freeing the work of art from commodification and from the literal walls of the institution.
Lippard continued to explore conceptualism into the 1970s. In 1973 she published Six Years: The Dematerialization of the Art Object from 1966 to 1972... - a groundbreaking book that described and helped to define the practice of Conceptual art. The chronologically organized book recorded an experimental, long-term curatorial project and included texts, documents, interviews, examples of work from leading conceptual artists, and from her own exhibitions such as Eccentric Abstraction and Numbers.
Six Years resulted from years of work which directly responded to the turbulent political landscape in the U.S., including the Vietnam War, the Watergate scandal, the protests of 1968, and art world elitism. As one artist cited in the book commented, "we have realized that you cannot successfully isolate art from social or cultural or historical processes, that there is a constant feedback."
While Lippard was working on Six Years, she traveled to Argentina to jury a show with fellow art critic Jean Clay at the Museum of Fine Arts in Buenos Aires in 1968. There, she experienced Tucumán arde (Tucumán is burning), a series of events by a collective of artists, intellectuals, and workers that condemned the harsh living and working conditions under the military dictator Juan Carlos Onganía. She was deeply moved by seeing the work produced by the collective and had an epiphany about how the power of art can increase the visibility of issues that affect society. Lippard would later refer to this type of social practice art, and her own writings, as "consciousness raising." This idea became a core belief in Lippard's writing and curatorial practice throughout the 1970s as she moved from working within the realm of conceptualism to feminism.
Although she was sympathetic to the feminist cause, Lippard did not initially identify as a feminist. In 1969, however, she wrote I See/You Mean, a highly experimental work of fiction. According to Lippard, writing this book awakened her process of consciousness and helped her to see her own womanhood and her place within feminism. By 1970, she had become a committed feminist.
The first of Lippard's numerous contributions to feminism and feminist artfeminist art was her involvement with the Ad Hoc Women's Art Committee. Lippard, along with artists Poppy Johnson, Brenda Miller, and Faith Ringgold protested the predominance of white male artists in the Whitney Museum of American Art's 1970 Annual. They demanded that 50% of the Annual include women, with half of that percentage being dedicated to Black female artists.
The Ad Hoc Women's Art Committee's protests at the Whitney also initiated the Women's Artist Registry, now named the Lucy Lippard Women's Art Registry at Rutgers University. Its intent was to combat the neglect of women artists demonstrated by the leading art institutions. Women artists mailed catalogues, exhibition announcements, and other ephemera directly to Lippard, and the Committee compiled further information on these artists.
This is the first of a series of postcards in Antin's 100 Boots project in which she photographed the boots as if engaged in various activities in different locations and mailed the cards to hundreds of people. The project is cited on page 222 of Lippard's Six Years and points to her increasing attention to women artists.
Lippard spent much of the 1970s on feminist projects. In 1971 she curated the exhibition Contemporary Women Artists at the Aldrich Museum in Ridgefield, Connecticut, which featured artists such as Howardena Pindell, Alice Aycock, Jackie Windsor, Mary Miss, Adrian Piper, and Suzanne Lacy. In 1976, she published a posthumous monograph on her friend Eva Hesse in collaboration with Hesse's family, LeWitt, and Pat Steir, which combined formal analysis with a feminist perspective. Also in 1976, Lippard published From the Center: Feminist Essays on Women's Art, a book that described her own journey towards feminism and compiled essays on individual women artists with work that had appeared in Artforum, Art in America, and Ms.
In addition to her writing, travel, and curatorial work, two of Lippard's longest-lasting efforts have been Printed Matter and Heresies: A Journal of Politics and Art. She and LeWitt co-founded Printed Matter, a storefront that sold artists' books. The books were works of art in their own right, a concept LeWitt himself had been exploring as he considered the structure and format of the book to be a new medium for experimentation. Printed Matter encouraged, supported, sold, and gave away books produced by artists that traditional bookstores and dealers could not or would not sell. The bookstore reinforced the idea that art could circulate outside of galleries and institutions, thus making it more accessible and less commodified. It carried a wide range of artists' books and provided an outlet for marginalized artists, women in particular.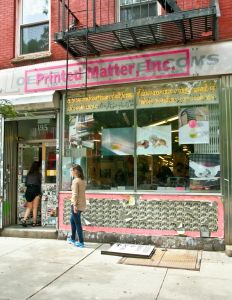 In the same period as the founding of Printed Matter, Lippard also co-founded Heresies, a collective effort that included Patsy Beckert, Joan Braderman, Mary Beth Edelson, Harmony Hammond, Elizabeth Hess, Joyce Kozloff, Mary Miss, Marty Pottenger, Miriam Schapiro, Joan Snyder, Elke Solomon, Pat Steir, Mary Stevens, Michelle Stuart, Susana Torre, Elizabeth Weatherford, Sally Webster, and Nina Yankowitz. For the women involved, Heresies was a platform to further the discourse in feminist art, exploring ideas, theories, and politics as they related to feminism. The women met to develop the project for nearly a year before the first issue was published in 1977. Heresies produced two to three issues a year until 1993, resulting in a total of twenty-seven issues. Each issue focused on a theme such as sexuality, lesbian art and artists, organized women and labor, and Latina women. Every issue was edited by a guest female collective alongside Heresies' founding members, who were nicknamed the Heretics.
Material was collected widely, and the journal encouraged opposing perspectives. Not all the content revolved around art, but rather, articles more generally encouraged radical thinking, continuous publication, and helping women to organize. Lippard had a hand in nearly every issue of Heresies. It was the first time in her career that she could write and edit freely outside mainstream art publications. For her, the experience was eye-opening, as she learned about the experiences of women from diverse communities and a variety of topics from other talented Heretics.
Late Period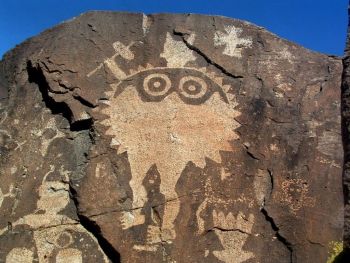 By 1993, when the last issue of Heresies was published, much of the activism in which Lippard participated had waned. Lippard decided to leave New York City and move to Galisteo, New Mexico. The West wasn't new to her. Since the mid-1980s, she had been working at the University of Colorado-Boulder as a distinguished visiting professor. Lippard had always loved the outdoors, hiking, camping, and finding respite in nature. Throughout her life and travels, she came increasingly to appreciate the forms of monoliths, petroglyphs, and Native American art and artifacts. The landscape of the West demonstrated to Lippard that place is tremendously significant in shaping artistic production and the development of the land.
Her writing, which continues into the present day, has changed significantly from her time in New York City. Some consider her writing on land and public and environmental art as a logical progression from her earlier feminism - Lippard continues to focus on objects and concepts outside the traditional art system and works that are beyond ownership. Some of her most significant works that explore the changing American landscape, environmentalism, and land art include The Lure of the Local: Sense of Place in a Multicentered Society; Overlay: Contemporary Art and the Art of Prehistory; Undermining: A Wild Ride Through Land Use, Politics, and Art in the Changing West; and Down Country: The Tano of the Galisteo Basin.
The Legacy of Lucy R. Lippard
By combining the roles of critic, curator, and artistic creator, Lippard has opened the definitions of those roles to question. Her work has set an example of the ways to challenge assumptions about the nature of art and the contexts in which it is presented, sold, and exhibited. In her sociopolitical activism, she has similarly demonstrated a means of questioning the supposed neutrality and authority of arts institutions, while her current focus on land use in the American West has drawn her further into direct action.
Lippard's widely varied output has set some of the foundations for the work of such present-day figures as curator Cornelia Butler, who organized the 2007 exhibition WACK! Art and the Feminist Revolution, artist Natalie Jeremijenko, whose projects address society's connections to the environment, and public arts organization Creative Time, among many others.
Influences and Connections
Influences on Lucy R. Lippard

Influenced by Lucy R. Lippard
Artists
Seth Siegelaub
Friends & Personal Connections
Harmony Hammond

Mary Miss

May Stevens
Movements & Ideas
Feminist Movement
Artists
Trevor Paglen

Futurefarmers

Michael Swaine
Friends & Personal Connections
Mel Bochner

Luis Sacilotto
Useful Resources on Lucy R. Lippard
Books
The books and articles below constitute a bibliography of the sources used in the writing of this page. These also suggest some accessible resources for further research, especially ones that can be found and purchased via the internet.
written by artist