"Expose a contradiction, that is all you need."
"It is really the anger that makes me work."
"I am my work. I am not what I am as a person."
"I love all artists and I understand them (flock of deaf mutes in subway). They are my family and their existence keeps me from being lonely. To be an artist is a guarantee to your fellow humans that the wear and tear of living will not let you become a murderer."
"My work is obsessive. It doesn't concern the audience. I don't mean that I am not interested in the audience - but it is not my motivation."
"The only access we have to our volcanic unconscious and to the profound motives for our actions and reactions is through shocks of our encounters with specific people."
"Every day you have to abandon your past or accept it, and then if you cannot accept it you become a sculptor."
Summary of Louise Bourgeois
Louise Bourgeois' life was a prolific demonstration of utilizing the creation of art as a tool for processing one's inner emotionality and psychological landscape. Working across a wide variety of mediums that included painting, drawing, and sculpture, her work dealt largely in dissecting, exploring, and reacting to the traumatic events from her own childhood that included her father's infidelity. Bourgeois' often brooding and sexually explicit subject matter and her presentation of the female viewpoint in regards to suppression, feminism, and sensuality alongside a distinct focus on three-dimensional form were rare for women artists at the time. Her single-minded devotion to expression, both as an artist and as a mentor to young artists, lent Bourgeois an international importance that remains vast, manifested most strongly through her influence on the development of conceptual and Installation Art.
Accomplishments
Bourgeois wholly autobiographical artwork is renowned for its highly personal thematic content involving the unconscious, sexual desire, jealousy, betrayal, fear, anxiety, loneliness, and the body. These themes draw on events in her childhood for which she considered making art a therapeutic or cathartic process.
Bourgeois transformed her experiences into a highly personal visual language through the use of mythological and archetypal imagery, adopting objects such as spirals, spiders, cages, medical tools, and sewn appendages to symbolize the feminine psyche, beauty, and psychological pain.
The artist likened her work, and its myriad installation settings, as "cells" - or containers of memory, which both froze a recollection or feeling in time while also evoking the emotions that said memories produced.
Through the use of abstract form and a wide variety of media, Bourgeois dealt with notions of universal balance, playfully juxtaposing materials conventionally considered male or female. She would, for example, use rough or hard materials most strongly associated with masculinity to sculpt soft biomorphic forms suggestive of femininity.
The Life of Louise Bourgeois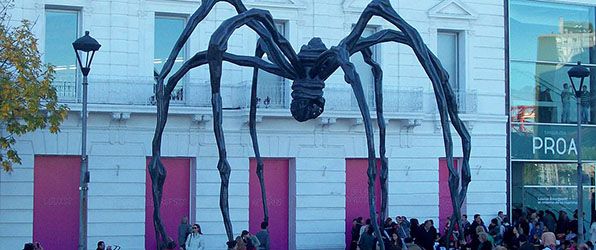 Bourgeois' turbulent and traumatic experiences are interconnected with her later artistic explorations - as she once said: "I became an artist - to find a mode of survival."
Important Art by Louise Bourgeois
Progression of Art
1946-47
Femme Maison
The Femme Maison series of paintings are a poignant exploration of female identity, worked on in conjunction with Bourgeois' transition into motherhood and American life. The title literally means "housewife" and all of the works contain the common elements of parts of a woman's nude body merged with architectural forms. The result is a Surrealist-worthy collage that was years ahead of the second wave of feminism, hinting at the struggles women would face in balancing work and home life.

This series dealt with the dramatic changes in Bourgeois private life in the early 1940s: marriage and domesticity, living in a foreign country, and mothering three children. Bourgeois also struggled to live up to her idealized memory of her own mother. These works suggest that she felt both trapped and exposed by the domestic responsibilities that consumed her life as she wrestled with finding her artistic voice.

In her own words, Bourgeois said the Femme Maison "does not know that she is half naked, and she does not know that she is trying to hide. That is to say, she is totally self-defeating because she shows herself at the very moment that she thinks she is hiding."
materials - col
1947-49
The Blind Leading the Blind
The Blind Leading the Blind is an early sculpture constructed from pointed wooden planks attached to a flat beam. The whole represents her complicated feelings about both her parents and her own experience of parenthood as both a delicate and sometimes confining act of balance. The artist likened this piece to a table, inspired by early memories of spending time underneath one herself, from which she could only spy her parents legs as they moved throughout a room. Moreover, she recalls this memory as an unpleasant one, as she felt alienated from her parents and sought refuge under furniture.

The work is part of Bourgeois' Personnages series, made between 1945 and 1955. The series includes approximately 80 standing sculptures touching on the autobiographical themes that occupied Bourgeois throughout her career such as homesickness, latent trauma over familial betrayal, and a desire to connect with loved ones. Each piece in the series resembled or recalled a person known to the artist. These abstract totemic figures were shown with no bases and were arranged in clusters that for Bourgeois referenced a reconstruction of her peopled past.
Painted wood - Courtesy Cheim & Read, Galerie Karsten Greve, and Hauser & Wirth
1951
Femme Volage (Fickle Woman)
Another key piece from Bourgeois' Personnages series of abstracted elements used as personal totems, Femme Volage is a fractured assemblage made up of stacked wooden forms on a central rod that resembles a needle or spindle, tools that likely reference her mother's work as a weaver. This work also shows her early interest in the spiral form, which would become a common motif.

The work was created in Bourgeois' rooftop studio in New York City shortly after she had moved there from France. It was part of a series of sculptures that helped her process her feelings of being a foreigner in a strange city and her personal issues that surrounded juggling life as a mother, wife, and artist.

The totem-like structures were also significant contributions to the avant-garde of the late 1940s, of which primitive forms were created as Surrealist symbols of the unconscious, also seen in the work of Jackson Pollock and Mark Rothko among others.
Painted wood and stainless steel - The Solomon R. Guggenheim Museum, New York, New York
1953
Forêt (Night Garden)
In Foret, unlike in her Personnages series, the wooden forms are placed together on a single base and suggest human figures huddled together. The dark colors hint at a shared trauma between the group members and the intimate relationship between them conjures a sense of outcasts seeking solace in each other from a hostile world.

Although the work expounded upon her prior sculptures, they were distinctly no longer rigid and singular. They represent what the artist referred to as a "softening" stemming "from the softness of my children and of my husband...I got the nerve to look around me, to let go. Not to be so nervous. Not to be so tense."

These less severe, often bulbous and increasingly biomorphic shapes would come to define her work and indicate the enduring influence Surrealism had upon her.
Painted wood - The National Gallery of Art, Washington DC
1967
Soft Landscape II
In 1967, Bourgeois began her Landscape series. Soft Landscape II was made by pouring caramel-colored resin over biomorphic forms that resembled a three-dimensional still life landscape. With this work, Bourgeois shifted from working with wood in stiff, upright forms to experimenting with other materials such as plaster, cement, aluminum, and latex to create "soft sculpture."

Bourgeois described the bubbling and sprouting figures in this series as inspired both by the human body and by landscape, saying that the "body could be considered from a topological point of view, a landscape with mounds and valleys and caves and holes, so it seems rather evident . . . that our body is a figuration that appears in Mother Earth."

The work furthers Bourgeois' exploration into the challenging relationship she had with her own body and sexuality, - both informed by early childhood trauma surrounding her father's non-discreet infidelities. It positions the body as its own sort of landscape, one which is written with our cumulative histories that indeed effect and manipulate the maps of our lives.

Other pieces in the series play with the disruption of the soft/hard binary. In the End of Softness (1967), for example, gentle biomorphic forms were made of bronze.
Plastic - Courtesy Cheim & Read, Galerie Karsten Greve and Hauser & Wirth
1968
Fillette
Fillette is one of Bourgeois' most famous sculptures. The piece showcases her use of biomorphic imagery to conjure the Surrealist machinations of the unconscious as well as her experiments with, and distortions of, both male and female anatomy. Here the testicles can also be read as sagging breasts, and the erect penis can be seen as a neck. In one version, the piece hangs from a hook and thus references castration, or the idea of our bodies being akin to slabs of meat. In a second version, the piece is being carried.

The title, meaning little girl produces an uncomfortable juxtaposition to its visual phallic form, causing viewers to reflect on multiple interpretations. The most obvious read points to the awkward feelings of a child being inappropriately thrown into the complicit knowledge of a cheating father. Another read points to the soft phallus as a dual symbol for virility and vulnerability, and in fact, Bourgeois has said of the piece, "From a sexual point of view, I consider the masculine attributes to be extremely delicate. They're objects that the woman, myself, must protect."

In 1982, Bourgeois was photographed with this seminal piece by Robert Mapplethorpe, and in the picture, she seems content to carry Fillette lovingly tucked under her arm like a simple baguette.
Latex over plaster - The Museum of Modern Art, New York
1974
The Destruction of the Father
The Destruction of the Father is a visual manifestation of a revenge fantasy aimed at Bourgeois' father, who according to the artist was known to gloat and brag at the daily dinner table. Relying on the soft forms of her Landscape series and her often-explicit body imagery, the work reflects a scene at a life-sized dining table placed inside an intimate interior reminiscent of a cave or womb. The table is covered with flesh-colored anthromorphic forms that appear like dismantled body parts as well as actual joints of lamb, all underscoring an implied violence. The scene is bathed in a soft red light that symbolizes anger, death, and blood, inviting the viewer to witness the aftermath of the killing.

Bourgeois' description of the piece's narrative reflects the gory scene: "The children grabbed him [the father] and put him on the table. And he became the food. They took him apart, dismembered him. Ate him up. And so he was liquidated...the same way he liquidated his children. The sculpture represents both a table and a bed."

This was her first major piece that openly and literally dealt with her lifelong discomfort and trauma stemming from his consistent infidelities, a theme that would provide underlying motivation for much of her work. It was also her first major installation piece at a time when Installation Art was in its infancy, also being explored by a handful of Bourgeois' co-feminist artists such as Judy Chicago.
Plaster, latex, wood, fabric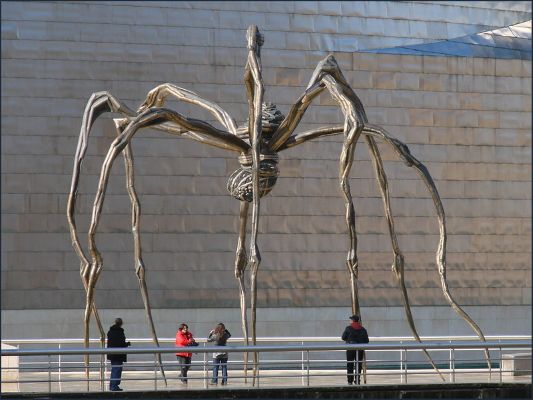 1999
Maman
Over 30 feet high, Maman is one of Bourgeois' most ambitious and beloved sculptures, carrying on the spider as an important motif in the artist's work, and one that implicitly represents her mother. In her own words, "The Spider is an ode to my mother. She was my best friend. Like a spider, my mother was a weaver...Like spiders, my mother was very clever. Spiders are friendly presences that eat mosquitoes. We know that mosquitoes spread diseases and are therefore unwanted. So, spiders are helpful and protective, just like my mother." In this work, the spider is larger than life and carries a sack containing 17 gray and white marble eggs, which she protects within a steel cage-like body balancing on long and slender legs. The massive piece, which can only be installed outdoors, evokes awe and fear as much as it denotes a poignant vulnerability.

Bourgeois made spiders in a wide variety of media and ranging in size from a four-inch brooch to Maman. Though the earliest examples of spiders in her work are found in two drawings from 1947, she focused on the theme most consistently in the 1990s, at the end of her life, when she was no doubt consumed with memories of her mother and her childhood.
Bronze, stainless steel, marble
2003
Spiral Woman
Spiral Woman is a soft sculpted, hanging doll, showcasing Bourgeois longstanding interest in both doll making and the spiral form, as seen in the much earlier Femme Volage (1951). The 2003 version pictured here is headless yet hints at femininity through it voluptuous curves. Yet the spiral form replacing a torso also connotes a phallic masculinity, which underscores the great overlap of male and female anatomy in her work.

As found with so much of Bourgeois' oeuvre, the spiral was a common symbol and also had a psychological, autobiographical significance for her. As she stated, "It is a twist. As a child, after washing tapestries in the river, I would turn and twist and wring them. . . Later I would dream of my father's mistress. I would do it in my dreams by wringing her neck. The spiral - I love the spiral - represents control and freedom."

The use of this kind of symbolism, dug out from the past of both her conscious and subconscious minds to inform her work, showcases the influence of the Surrealists on Bourgeois. Spiral Woman brings to mind others in the genre such as Hans Bellmer whose poupees, were also distorted versions of female dolls and the female body.
Fabric - Cheim & Read
Biography of Louise Bourgeois
Childhood
Louise Bourgeois was born in Paris in 1911 and named after her father Louis, who had wanted a son. Most of the year, her family lived in the fashionable St. Germain in an apartment above the gallery where her parents sold their tapestries. The family also had a villa and workshop in the countryside where they spent their weekends restoring antique tapestries. Throughout her childhood, Bourgeois was recruited to help in the workshop by washing, mending, sewing, and drawing, overseen by her mother Josephine, with whom she was very close. As an adolescent, Bourgeois attended the elite Lycee Fenelon in Paris.
Despite all appearances pointing to a thriving family in which the young artist was exposed to certain privileges, there were persistent tensions in the household. This was due to the fact that her father's mistress (who was also Bourgeois' tutor) resided with the family. This circumstance marked the pivotal trauma that would later come to inform Bourgeois' highly autobiographical artworks surrounding family, motherhood, relationships, fidelity, abandonment, the body, and trust.
Early Training
Bourgeois received an extensive education. In the early 1930s, she studied math and philosophy at the Sorbonne, where she wrote her thesis on Blaise Pascal and Emmanuel Kant. After the death of her mother in 1932, she began studying art, enrolling in several schools and ateliers between 1934 and 1938, including the École des Beaux-Arts, the Academie Ranson, the Academie Julian, and the Academie de la Grande-Chaumiere. Her first Paris apartment was on the rue de Seine in the same building as André Breton's Galerie Gradiva, where she became familiar with the work of the Surrealists. In 1938, she began exhibiting her work at the Salon d'Automne and opened her own gallery in a sectioned-off area of her father's tapestry showroom, exhibiting prints and paintings. Through this short stint as an art dealer, she met and married art historian Robert Goldwater, with whom she'd relocate to New York City later that year.
Mature Period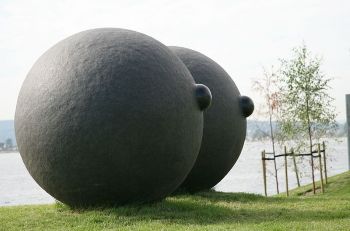 Upon arrival in New York, Bourgeois enrolled at the Art Students League and focused her attention on printmaking and painting. She also had three children over a four-year period. Throughout the 1940s and '50s, Goldwater introduced Bourgeois to a plethora of New York artists, critics, and dealers, including most importantly, Alfred Barr, the director of the Museum of Modern Art, who bought one of her works for its collection in 1953. In the late '40s and '50s, she had several solo shows in various New York galleries. Her husband received a Fulbright grant and they returned with their children to France in the early 1950s, during which time her father died. Bourgeois began psychoanalysis in 1952, which she continued on and off until 1985. In the 1960s, she began experimenting with latex, plaster, and rubber, and also traveled to Italy, where she worked with marble and bronze.
Late Period
Bourgeois' husband died in 1973, the same year she began teaching at various institutions in New York City, including the Pratt Institute, Brooklyn College, and Cooper Union. It was during this time that she started hosting Sunday salons in her Chelsea apartment, which would become legendary. At these intimate sessions, students and young artists would bring their work to be critiqued by Bourgeois, who could be ruthless, referring to the gatherings, with characteristically dry humor, as "Sunday, bloody Sunday." Nevertheless, her accessibility and willingness to advise younger artists was exceptional for an established artist of such standing.
She also participated in several exhibits in the 1970s and '80s and began presenting performance pieces. In the 1970s, Bourgeois became politically active as a socialist and a feminist. She joined the Fight Censorship Group, which defended the use of sexually explicit imagery in art, and made several of her own sexually explicit works related to the female body, such as Fillette (1968). Marking her prestige in the art world, Bourgeois had her first retrospective in 1982 at MoMA, which was the first given to a female artist at that institution. In 1993, Bourgeois, who became an American citizen in 1955, was chosen to represent the USA in the Venice Biennale. She died in 2010.
The Legacy of Louise Bourgeois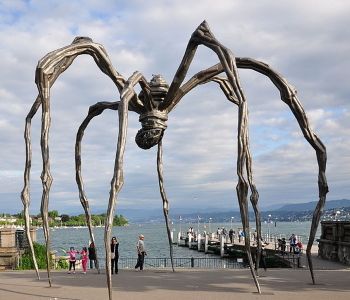 Bourgeois' work always centered upon the reconstruction of memory, and in her 98 years, she produced an astounding body of sculptures, drawings, books, prints, and installations.
Bourgeois' work helped inform the burgeoning feminist art movement and continues to influence feminist-inspired work and Installation Art. The first Assemblages of Louise Nevelson, for example, were produced a few years after Bourgeois had been experimenting with similar environments, such as Bourgeois' Blind Leading the Blind (1947-49) and Night Garden (1953). Her focus on both male and female genitalia during the 1960s was an important precursor to Feminist artists such as Lynda Benglis and Judy Chicago, whose works address similar interests.
Her work on diffusing the complexities surrounding sexuality, processing its strands in our lives, and dissecting the reverberations of its presence on our emotional, intellectual, and physical existence has informed male artists as well, like Robert Mapplethorpe, who has given her credit for opening up new ways to consider the body, its relations, and its unique identity in his own photography.
Her marriage of tapestry and fabric with sculptural principles has also been seen in the world of fashion, as noted designers such as Comme Des Garcons and Simon Rocha, conceived collections based on her interconnecting shapes and forms.
Influences and Connections
Influences on Artist

Influenced by Artist
Friends & Personal Connections
Robert Goldwater
Friends & Personal Connections
Useful Resources on Louise Bourgeois
Books
The books and articles below constitute a bibliography of the sources used in the writing of this page. These also suggest some accessible resources for further research, especially ones that can be found and purchased via the internet.
biography
written by artist
artworks
Similar Art