Artists
Odilon Redon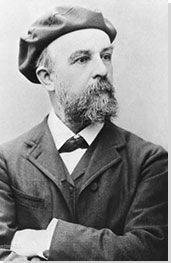 Born: April 20, 1840 - Bordeaux, France
Died: July 6, 1916 - Paris, France

"I have often, as an exercise and as a sustenance, painted an object down to the smallest accidents of its visual appearance; but the day left me sad and with an unsatiated thirst. The next day I let the other source run, that of imagination, through the recollection of the forms and I was then reassured and appeased."

Summary of Odilon Redon
Redon is one of the most important and original of all the Symbolist artists. His visionary works concern the world of dreams, fantasy, and the imagination. He first became famous for his noirs series, monochromatic compositions that exploit the expressive and suggestive powers of the color black. His lithographs, which often reworked earlier drawings, became a means to broaden his audience, as well as to explore in series specific themes or literary texts - he was particularly drawn to the Romantic and Symbolist works of Poe, Flaubert, and Mallarmé. Later, Redon began to slowly adopt a more colorful palette, so that his pastels and oil paintings are riotous with color, consisting largely of portraits and floral still lifes. His encounter with the Nabis introduced him to a more decorative aesthetic, and his late works incorporate Japonism as well as an attention to flat, abstract patterns, and decorative ensembles. Redon would have an enormous impact on the art of his contemporaries, such as Paul Gauguin, as well as later modern artists like Marcel Duchamp. His lithographs and noirs in particular were admired by the Symbolist writers of the day but also by later Surrealists for their often bizarre and fantastical subjects, many of which combine scientific observation and visionary imagination.
Key Ideas
Redon worked almost exclusively in black and white during the first half of his career. In both charcoal drawings and lithographic prints, the artist relied on the expressive and suggestive possibilities of black in his monochromatic compositions called noirs. These are some of his most famous works, and typify Symbolism in their mysterious subjects and bizarre, dreamlike inventions.
Redon's use of non-naturalistic color in his late pastels and oil paintings prefigure the later development of
Expressionism
and abstraction. In portraits, still lifes, and decorative ensembles, Redon explored the expressive and suggestive powers of color. Many of these works include passages that are purely nonobjective, often seen in the ethereal chromatic backgrounds that he coupled with figurative subjects.
One of the main themes in Redon's oeuvre is the decapitated or disembodied head. Often shown free-floating, and sometimes reduced to a mere eyeball, the severed head encapsulates the Symbolist desire to free oneself from the shackles of the ordinary, mundane world, and achieve a higher state of consciousness through the exploration of dreams and subjective vision.
When asked in an interview about his favorite artistic subjects, Redon replied, "My monsters. I believe that it is there that I have given my most personal note." While Redon's depictions of "monsters" - often hybrid human-plant or human-animal creatures - were the product of his vivid imagination, they also owed a great deal to his knowledge of the natural sciences, and especially new theories of evolution put forth by Charles Darwin, which for the first time established a connection between humans and our animal ancestors.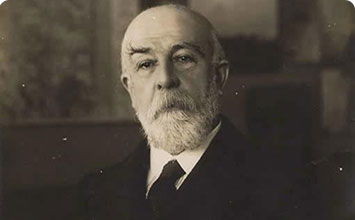 Odilon Redon was born Bertrand Jean Redon to a prosperous family in Bordeaux. His nickname was a derivation of his mother's first name, Odile, who was a French Creole woman from Louisiana. Because of his ill health, perhaps due to epilepsy, Redon was entrusted to his uncle's care and grew up in Peyrelebade in the Medoc region of France on the family's winemaking estate. His childhood was solitary, and he described days spent "watching the clouds pass, following with infinite pleasure the magical brightness of their fleeting variations." However, Redon also characterized himself as a "sad and weak child," who "sought out the shadows." He recalled, "I remember taking a deep and unusual joy in hiding under the big curtains and in the dark corners of the house." This note of melancholy and pessimism would find its expression in his mature art, particularly in his noirs and mysterious Symbolist works.
Important Art by Odilon Redon

The below artworks are the most important by Odilon Redon - that both overview the major creative periods, and highlight the greatest achievements by the artist.

Guardian Spirit of the Waters (1878)

Artwork description & Analysis: A large head held aloft by wings floats above a tranquil sea, gazing upon a small sailboat with enormously expressive eyes. Seagulls flit through the air and skim the water's surface, while the water stretches out toward the distant horizon. A delicate halo surrounds the head, giving the strange creature a benevolent, divine aura despite its brutish features. With its realistic depiction of dreamlike imagery, The Guardian Spirit of the Waters anticipates 20th-century Surrealism.

When the artist's father, Bernard Redon, was a young man, he travelled from France to Louisiana in order to try and recoup the family's lost wealth. While there, he met and married Redon's mother. On their later return to France, Odile was pregnant with Odilon, who was subsequently born in Bordeaux. The artist often regretted that he was not born at sea, "a place without a country on an abyss," which he perhaps felt would have better corresponded to the origins of his visionary sensibility, This work could thus be seen as representing a kind of alternative birth for Redon, signifying his awakening artistic consciousness.

The drawing is typical of Redon's noirs, in which he manipulated the charcoal medium in order to achieve a rich array of tones and textures. The artist employed wiping, stumping, incising and added touches of chalk on cream-colored treated paper, and often allowed untouched areas of the sheet to shine through for highlights.

Charcoal and chalk on paper - Art Institute of Chicago

Cactus Man (1881)

Artwork description & Analysis: A man's head emerges from a flowerpot, his neck rising upward like the stalk of a strange hybrid plant. Delicate thorns cover his skin and head, giving him a cactus-like appearance while also conjuring Christ's crown of thorns, or other similar martyrs. With large dull eyes, a flattened nose, and wide lips, the head has an expression that is both observant and indifferent. The vase is decorated with an image of an Amazon slaying a man, referring to the Greek myth of women warriors whose conflation of feminine and masculine traits echoes the conflation of human and plant forms in the drawing.

The drawing may be related to an exhibition Redon saw in Paris in 1881 featuring the inhabitants of the Tierra del Fuego. The native South Americans on display, which Redon described as "haughty, cruel and grotesque," had a profound if complicated impact on the artist: on the one hand he admired the purity and simplicity of the so-called "primitive" people, while on the other he recognized in them the fearsome barbarity of man's origins. Growing out of a square planter - a symbol of Western culture and containment - Redon's hybrid man-plant can thus be understood as an attempt to reconcile the two poles of human existence, nature and culture, wild and civilized.

Charcoal on paper - Museum of Modern Art, New York

The Eye, Like a Strange Balloon Moves Towards Infinity (1882)

Artwork description & Analysis: An eyeball has morphed into a strange balloon, its gaze directed toward the heavens as it rises above the horizon. Instead of a basket containing passengers, the balloon carries a severed head on a platter, much like that of St. John the Baptist in the Biblical story of Salome. In the lower left, the fronds of a palm-like plant can be seen, and the sky is full of thick clouds.

Severed heads appear with great frequency in Symbolist art and literature, whether in stories of Salome or in more mysterious images such as this one. The head or eyeball dissociated from the physical body is a symbol for freedom from the constraints of everyday life, and the attainment of a higher plane of consciousness. As scholar and curator Jodi Hauptman writes, "floating up 'towards infinity', let loose from the limitations of body and mind, Redon's eyes are free to really see, beyond reality, beyond nature, beyond the visible."

This work was included in Redon's portfolio of six lithographs, To Edgar Poe, and is the most famous image from the series. The prints were not meant as illustrations of Poe's poems, but rather as "correspondences," to use Redon's term. A similarly evocative approach characterizes the poetry of Mallarmé and other Symbolists, who believed suggestion, rather than description, to be the highest goal of art. Meanwhile, the print's giant eyeball prefigures the extreme close-up of the sliced oculus in Luis Bunuel's Surrealist film, Un Chien Andalou.

Lithograph - Los Angeles County Museum of Art, Los Angeles, CA
More Odilon Redon Artwork and Analysis:
Influences and Connections
Influences on Artist
Artists, Friends, Movements
Influenced by Artist
Artists, Friends, Movements

Interactive chart with Odilon Redon's main influences, and the people and ideas that the artist influenced in turn.
View Influences Chart


Influences on Artist

Odilon Redon
Years Worked: 1865 - 1915
Influenced by Artist

| | | | | |
| --- | --- | --- | --- | --- |
| Artists | | Personal Contacts | | Movements |
If you see an error or typo, please:
tell us
Cite this page

Content compiled and written by Rebecca Seiferle
Edited and published by The Art Story Contributors
" Artist Overview and Analysis". [Internet]. . TheArtStory.org
Content compiled and written by Rebecca Seiferle
Edited and published by The Art Story Contributors
Available from:
First published on 30 Mar 2017. Updated and modified regularly.


[Accessed ]