Artists
Isamu Noguchi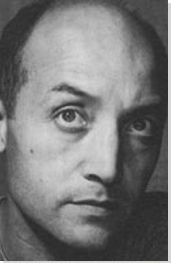 Born: November 17, 1904 - Los Angeles, California
Died: December 30, 1988 - New York, New York
"Sculpture can be a vital force in our everyday life if projected into communal usefulness."

Summary of Isamu Noguchi
Isamu Noguchi, a major American and Japanese sculptor and designer, spent over six decades creating abstract works - largely in stone - based on both organic and geometric forms. Greatly inspired by traditional Japanese art, as well as by the biomorphic style of some Surrealist art, Noguchi became internationally known both for his artwork and his publicly accessible furniture and architecture. His ultimate objective, to create and enhance public spaces through sculpture, provided his career with a distinct direction and established him as a critical figure in the worlds of post-war art, architecture and design.
Key Ideas
The overarching concept informing Noguchi's work was his passionate, career-long desire to create art the public could use in a social space. He realized this goal in myriad ways: mass produced furniture and lamps; theatrical set designs; public projects such as gardens, playgrounds and fountains; and sculptural manipulations of the natural landscape.
Noguchi wanted to call attention to the dichotomies inherent in much of his work: he merged geometric and organic forms, found value in both positive and negative space, and created works that challenged the boundaries of design and art. He also integrated the materials and art forms of both his Japanese and American heritages into his innovative creations.
Noguchi was socially and artistically connected to
Abstract Expressionism
, as evident not only in his large-scale works evoking abstracted forms but also in his friendships with
Arshile Gorky
and
Willem de Kooning
. Yet, his sculpture retained a distinct sensibility in its use of natural materials and its distinct blend of Surrealist and Japanese influence.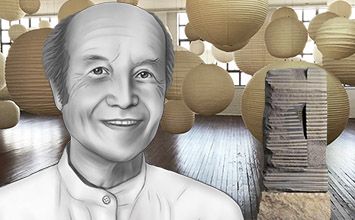 Isamu Noguchi's parents met when his mother, an American writer, was hired to assist his father, a young Japanese poet, with his English. By the time Noguchi was born in 1904, his father had returned to Japan. At two years old, Noguchi and his mother moved to Tokyo to live with his father, but left in 1910 for Omori and in 1912 for Chigasaki, where nine-year-old Noguchi helped with the construction of his home. In 1913, Noguchi's father married a Japanese woman and began his own family, further distancing himself from his son. At 13, Noguchi's mother sent him to the Interlaken School in Rolling Prairie, Indiana.
Important Art by Isamu Noguchi

The below artworks are the most important by Isamu Noguchi - that both overview the major creative periods, and highlight the greatest achievements by the artist.


Artwork Images

Portrait of R. Buckminster Fuller (1929)

Artwork description & Analysis: During the 1920s and 1930s, Noguchi's primary means of financial support came from sculpting portrait busts. At this point he had already studied with Brancusi and had begun to make his own abstract sculptures, many of which merged geometric and organic forms. Although his commissioned portraits were more representational than the majority of his artistic output, these powerful sculptures suggest Noguchi's interest in the abstract, as well as a keen understanding of his material and its properties. The portrait of R. Buckminster Fuller, a likeness of the inventor, theorist and architect who became a life-long friend, is covered in extremely reflective industrial chrome. These high-tech materials created "form without shadow," Noguchi stated, meaning that the reflection itself became a sculptural element. The choice of a modern material for this sculpture was also a reference to Fuller's work with technology. Noguchi was truly an international figure and is also notable for having engaged with leading figures of twentieth-century art, dance, literature and science. It was commented upon during his lifetime that he literally knew everybody of note.

Chrome-plated bronze


Artwork Images

Death (Lynched Figure) (1934)

Artwork description & Analysis: Considered a major early piece by Noguchi, Death (Lynched figure) testifies to the artist's progressive racial views and strong social commitment. Noguchi modeled the painfully contorted figure, which hangs on rope upon a photograph of African-American George Hughes being lynched above a bonfire, writhing in agony; Hughes was hung in Texas in 1930. The horrifying photograph of Hughes was later reproduced in the Communist magazine, Labor Defender, which is where Noguchi saw it. In terms of form, the sculpture is unusual since Noguchi suspended the figure above the ground on a metal armature. Noguchi created this sculpture for a 1935 exhibition organized by the NAACP to protest the national rise in lynching, and also to pressure President Roosevelt to enact legislation prohibiting such vigilante violence; the President did not. While the sculpture was well received, some critics reacted harshly, revealing their own racism by claiming the artist was not native-born, and in one instance referring to the provocative sculpture as "a little Japanese mistake." The raw emotion and vital energy of Death (Lynched Figure) still remains potent today.

Monel, steel, wood, and rope - The Isamu Noguchi Foundation


Artwork Images

History as Seen from Mexico in 1936 (1936)

Artwork description & Analysis: Considered one of the most innovative and important public works of art from the 1930s, this bold high-relief mural emerged from Noguchi's involvement with the revolutionary world of the Mexican intelligentsia. The sculptural mural was Noguchi's first fully realized public project, and speaks to the interwoven histories and modernisms of Mexico and the U.S. The three-dimensional mural displays the aesthetic and political influence of such Mexican Muralists Diego Rivera and José Clemente Orozco in the choice of the mural format and also, its overt Leftist symbolism - the clenched worker's fist, the tilled field, for examples. It was David Alfaro Siqueiros, the third great Mexican muralist, who inspired Noguchi's use of such innovative art-making materials, such as the unorthodox use of cement, believing modern art must be made using modern means. Noguchi chose to situate his work in an ordinary marketplace so that the common people of Mexico, or the masses, could encounter it during their daily routine. The work's intention was to inspire the dispossessed of Mexico to join in the revolutionary cause. The work's adaption of abstraction is without precedent in Mexican modern art, and was derived more from Noguchi's intimate familiarity with European modernism.

Tinted cement, concrete, and brick - Abelardo L. Rodriquez Market, Mexico City
More Isamu Noguchi Artwork and Analysis:
Influences and Connections
Influences on Artist
Artists, Friends, Movements
Influenced by Artist
Artists, Friends, Movements

Interactive chart with Isamu Noguchi's main influences, and the people and ideas that the artist influenced in turn.
View Influences Chart


Influences on Artist

Isamu Noguchi
Years Worked: 1924 - 1988
Influenced by Artist

If you see an error or typo, please:
tell us
Cite this page

Content compiled and written by The Art Story Contributors
Edited and published by The Art Story Contributors
" Artist Overview and Analysis". [Internet]. . TheArtStory.org
Content compiled and written by The Art Story Contributors
Edited and published by The Art Story Contributors
Available from:
First published on 05 Jul 2014. Updated and modified regularly.


[Accessed ]