"Arp was concerned with purity, with being free, being independent of everything unpleasant and limiting, and with the active, constant emission of positive energy as well as its perception."
"Art is a fruit that grows in man like a fruit on a plant or a child in its mother's womb."
"Arp's hypnotic language takes us back to a lost paradise, to cosmic secrets and teaches us to understand the language of the universe."
"[A] man of accomplished spirituality might see in each of Arp's sculptures a translation of the highest activities of the spirit, the very soul of the Prajna Paramita of the Hindus. And is not a leaf as authentic an image of the supreme wisdom as the imaginary face of the Buddha? What is a form if not the expression of a force that animates it, of a spirit that inhabits it? To let this force, this spirit, speak freely is the aim that Arp undertakes to achieve without going beyond it. Now it is especially difficult not to go beyond it (through the richness of the imagination, in particular), for this language must be as simple as the song of a bird, as calm as the beating of the heart, as humble as water."
"All these transmutations, transitions, pupations are not definitive...The forms remain fluid. They move on the road of one meaning to another... This is his syntax and it has imprinted itself on our minds by its modified repetition and underlying permanence."
Summary of Hans Arp
Something of a one-man movement, Jean Arp could (and did) make anything into art. Best-known for his biomorphic sculptures, and one of the most versatile creative minds of the early-20th century, he fashioned sculptures out of plaster, stone and bronze, and also expressed himself in paintings, drawings, collages, and poems. His approach to form, often referred to as organic abstraction, was remarkably consistent: his wavy lines suggested plants, body parts and other natural motifs, while remaining entirely abstract. Like an extraterrestrial on earth for the very first time, Arp's genius was in presenting visual information as if he is first seeing it. Transformation, growth, fecundity, and metamorphosis are among the dominant themes in his work.
Accomplishments
Arp's work is non-representational, yet firmly rooted in nature. His most abstract compositions suggest organic forms. This keeps the viewer curious, and provides a consistent framework for satisfying the eye.
One of the first artists to make randomness and chance part of the work, Arp saw chance as a collaborator in his process. This was a game-changer in the visual arts. Until then, Western artists had striven for a skilled level of control.
Rather than beginning with a subject (as artists had done for years), Arp generated the form first, and titled his works after they were completed. In this way, he sought to minimize the intervention of the conscious mind.
Arp is a transitional figure. As one of the founders of Dada, and subsequently an active participant in Surrealism, his work forms a link between these two major movements of the early-20th century.
Important Art by Hans Arp
Progression of Art
Biography of Hans Arp
Childhood and Education
A restless thinker and a nomad, Arp was born into circumstances of uncertainty that shaped his path as an artist. Neither fully French nor fully German, the artist referred to himself as "Jean" when speaking French, and "Hans" when speaking German. Born Hans Peter Wilhelm Arp in 1886 in Alsace (still part of Germany at the time), he began studying art in his home town of Strasbourg, transferred to Weimar, completed his schooling in Paris and by 1911, had co-founded the first modern art alliance in Switzerland, Der Moderne Bund. With Der Moderne Bund, he worked for a brief period with Wassily Kandinsky and Der Blaue Reiter group in Munich, but soon returned to Paris where he hobnobbed with Amedeo Modigliani, Pablo Picasso, Sonia and Robert Delaunay, as well as Guillaume Apollinaire and Max Jacob.
Early Period
Fleeing the horrors of World War I, Arp moved to Zürich, where he helped found the Dada movement at the international and independent art space founded by two poets (Sally Hemmings and Hugo Ball) whose stated aim was to create chaos. It was here, among the broad-minded international audience that best suited his temperament, that he found his niche. Like Arp himself, Dada was international and interdisciplinary. Inspired by the general mood of chaos, randomness and nonsense, he began making "chance collages" --scraps of paper dropped at random onto a larger sheet and pasted where they fell. He was tremendously productive during these years, focusing on creating collages and tapestries, often in collaboration with Sophie Taeuber, and crafted wooden reliefs with layered biomorphic forms. As an ambassador of the Dada movement, in 1918 Arp recruited a like-minded circle of artists in Berlin -- Hannah Höch, Raoul Hausmann and Kurt Schwitters, to join the Dada movement. At the dawn of the 1920s, he became a published writer in a variety of magazines, including Merz, Mécano, De Stijl, and La Révolution Surréaliste. In 1922 he married his friend, soul mate and collaborator Tauber, who from then on went by Tauber-Arp. The two continued to collaborate until her early and tragic death.
In 1925 Arp was among the co-founders of another major movement: Surrealism. His work appeared alongside that of Giorgio de Chirico, Max Ernst, Paul Klee, Man Ray, André Masson, and Joan Miró in the first Surrealist exhibition at the Galerie Pierre in Paris. At this time, Arp began to enjoy significant commercial success. In 1926 he received a major commission to redesign the interior of the Aubette, a historic dance hall, a project he completed with Tauber-Arp and Theo van Doesburg and which, when reopened in 2006, was hailed by a reviewer in as the "Sistine Chapel of abstract art". By the end of the 1920s, fully immersed in French Surrealist circles, Arp had had his first solo exhibition at the Galerie Surréaliste in Paris, become a French citizen, and settled in Clamart, a town outside of Paris.
Mature Period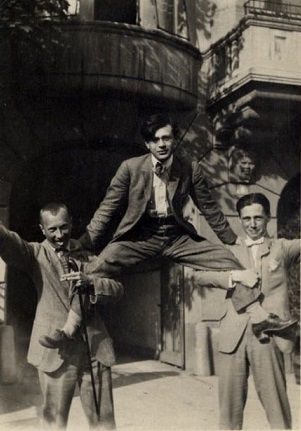 The 1930s were an extraordinarily prolific period for Arp, who was at the height of his creative powers during this decade. "By the middle and later 1930s," James Thrall Soby noted, "Arp had reached his full stature as a sculptor in the round." In 1937 his sculptures were included in two major exhibitions at the Museum of Modern Art in New York: Cubism and Abstract Art and Fantastic Art, Dada, Surrealism. Arp continued his work in other mediums, however, including torn paper pieces (Papiers dechirés), and published his poems even more frequently in French Surrealist journals such as Minotaure and Le Surréalisme au Service de la Revolution. A staunch supporter not only of Surrealism, but also abstraction, he helped found two international organizations in support of abstract art (Cercle et Carré and Abstraction Création) and joined a third in Switzerland, Allianz. In 1940 he once again fled the German occupation, this time to Grasse, in the South of France. At the end of 1942, tragedy struck: Taeuber-Arp died tragically of accidental carbon monoxide poisoning, due to a malfunctioning stove at a friend's house in Zürich, where the couple was staying. The death of his wife and collaborator plunged Arp into a deep depression from which he did not emerge until the end of the decade. He withdrew from the public and focused primarily on poetry and a catalogue raisonne of Tauber-Arp's oeuvre. When World War II ended, he returned to Clamart and began making sculpture again, and by the late 1940s, a new woman had entered his life: Marguerite Hagenbach, a collector and friend who had been taking care of his correspondence and other administrative obligations, accompanied him on his first trip to the U.S. on the occasion of the artist's solo exhibition in New York in 1949. She stayed at the Hotel Chelsea, while he stayed with the Austrian artist and architect Frederick Kiesler, but it is clear that the two were already a couple, though they would not marry for another decade. Arp's growing reputation in the U.S. sparked the interest of architects, including Walter Gropius, who arranged for Arp to receive the commission to create a large-scale relief sculpture for the Harvard Graduate Center in Cambridge, Massachusetts. A year later, in 1953, Arp executed his first monumental sculpture, Cloud Shepherd, for the University of Caracas in Venezuela.
Late Period
Arp continued to work with almost superhuman energy throughout the last decade of his life. By the mid-1950s, his fame was international. He received the prestigious Grand Prize for Sculpture at La Biennale di Venezia in 1956. Not one to rest on his laurels, the artist kept moving, always thinking bigger and organizing major solo exhibitions and public works. Among the triumphs of his final decade were two major retrospectives (at the Museum of Modern Art in New York and at the Musée National d'Art Moderne in Paris in 1958 and1962, respectively), and three large-scale reliefs (for the Paris branch of UNESCO, for the University of Caracas, and for the University of Applied Sciences in Braunschweig). Failing health prevented him from traveling after 1958, and in 1959 he finally married Marguerite Hagenbach, his longtime companion. Together they bought a property, Ronco dei Fiori in Locarno, Switzerland, which is still owned by the Arp foundation. Arp suffered a heart attack in Basel on June 7, 1966 and passed away shortly afterward, leaving behind him a legacy that continues to shape the history of art.
The Legacy of Hans Arp
Arp made his imprint on a staggering array of disciplines, from sculpture and architecture to literature and mid-century modern furniture. As a co-founder of the Dada movement, his organically-inspired sculptures in the first Surrealist exhibition in 1925, played an integral role in linking the two movements, and shaping the future of Surrealism. His poetry (in particular, his random word play) inspired both Dada and Surrealist poets, most notably Tristan Tzara and Guillaume Apollinaire. He also inspired a diverse range of visual artists within the Dada and Surrealist circle, first and foremost among them Sophie Taeuber-Arp, who became his most valued collaborator. Reverberations of his biomorphic sculpture are visible in designs for tables and chairs by Charles Eames and Eero Saarinen, two highly influential architects.
More broadly, it was not simply Arp's biomorphism (abstract references to nature) that made him a major player on the 20th-century stage. He was a pioneer in randomizing the results of art. This is perhaps his greatest contribution, inspiring numerous movements, including Dada (in which chance generated an aesthetic of chaos) Surrealism (in which chance was a means for exploring the unconscious) and Abstract Expressionism (in which chance became a mode of gestural expression).
Influences and Connections
Influences on Artist

Influenced by Artist
Friends & Personal Connections
Friends & Personal Connections
Movements & Ideas
Modern Sculpture
Useful Resources on Hans Arp
Books
The books and articles below constitute a bibliography of the sources used in the writing of this page. These also suggest some accessible resources for further research, especially ones that can be found and purchased via the internet.
biography
written by artist
Similar Art