Movements, Styles, and Tendencies
Die Brücke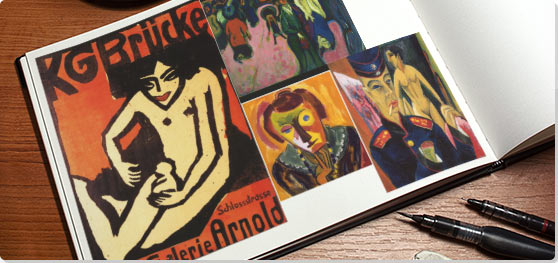 Die Brücke
Started: 1905
Ended: 1913

Summary of Die Brücke
Progenitors of the movement later known as German Expressionism, Die Brücke formed in Dresden in 1905 as a bohemian collective of artists in staunch opposition to the older, established bourgeois social order of Germany. Their art confronted feelings of alienation from the modern world by reaching back to pre-academic forms of expression including woodcut prints, carved wooden sculptures, and "primitive" modes of painting. This quest for authentic emotion led to an expressive style characterized by heightened color and a direct, simplified approach to form.
Key Ideas
Die Brücke is typically seen as the fountainhead of German Expressionism, chronologically the first of two groups (the other being
Der Blaue Reiter
) that pushed German modern art onto the international avant-garde scene.
None of the four founding members of Die Brücke,
Ernst Ludwig Kirchner
,
Fritz Bleyl
,
Erich Heckel
, and
Karl Schmidt-Rottluff
, had received any formal education in the visual arts. They stressed the value of youth and intuition in escaping the intellectual cul-de-sac of academic thought focused on copying earlier models.
The name Die Brücke was chosen to indicate the group's desire to "bridge" the past and present. From the past, they chose to reassert Germany's rich artistic history, taking inspiration from the print and painting techniques of Albrecht Dürer, Matthias Grünewald, and Lucas Cranach the Elder. Developing the modern example of expressive colorists like
Vincent van Gogh
,
Edvard Munch
, and
Henri Matisse
, sharp and sometimes violently clashing colors are often used in Die Brücke painting to jolt the viewer into the experience of a particular emotion.
For the artists of Die Brücke, escaping the academy was part of a larger mission to escape the strictures of modern middle-class life. Nudity and explorations of free sexuality in their work (in domestic interiors and in nature) are often contrasted with images of the city, where human interaction is uncomfortably negotiated through prescribed social attitudes.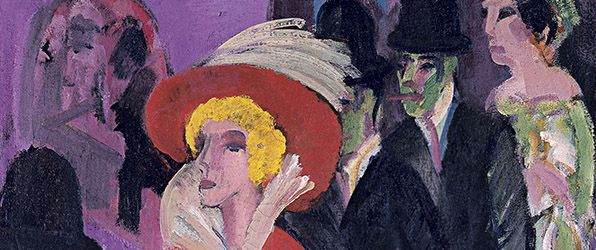 Detail from Kirchner's Street with Red Streetwalker (1914-25)
Describing "the years 1911-14 [as] .. one of the loneliest times of my life, during which an agonizing restlessness drove me out onto the streets day and night," Ernst Ludwig Kirchner painted alienated street scenes. Their expressive angst epitomized Die Brücke.
Important Art and Artists of Die Brücke

The below artworks are the most important in Die Brücke - that both overview the major ideas of the movement, and highlight the greatest achievements by each artist in Die Brücke. Don't forget to visit the artist overview pages of the artists that interest you.

Programme (1906)

Artist: Ernst Ludwig Kirchner

Artwork description & Analysis: The charismatic center of Die Brücke, Ernst Ludwig Kirchner composed and printed their original group statement a year after their formation, championing in it their youth and claims of authenticity. The statement, seen here, was turned into a leaflet and distributed at the group's first exhibition. Kirchner's choice of the woodcut medium indicates Die Brücke's reverence for German precedents and direct representation. Moreover, his formal style suggests Johannes Gutenberg's innovations in moveable type, with a large capital "M" serving as the first letter, leading compact lines of printed script. However, a closer look reveals the artistic, handmade nature of Programme, which is evident in Kirchner's irregular lettering. That natural, artisanal approach to art and design was a remnant of his education in the Jugendstil mode of architecture and the applied arts, which would greatly influence early Die Brücke art and philosophy.

Woodcut on paper - Museum of Modern Art, New York

Poster for the first Die Brücke Exhibition (1906)

Artist: Fritz Bleyl

Artwork description & Analysis: In September and October of 1906, Die Brücke mounted its first exhibition, focused on the theme of the female nude. The group held the event in the showroom of the Karl-Max Seifert lamp factory, a venue procured through one of Erich Heckel's connections from design school. In contrast to the factory polish of the chandeliers and candelabras on display, Fritz Bleyl designed an expressionistic poster for the event featuring a partially abstracted nude woman. For Die Brücke and its proponents, the figure was striking and direct, reflecting the group's attitude toward open sexuality and the natural state of nudity. Reduced formally by Bleyl's style and the printed medium to a series of curves and contours, the poster was nonetheless deemed too sexually suggestive for public view and banned under the pornography clause in Germany's national penal code.

Color lithograph - Die Brücke Museum, Berlin


Artwork Images

Self-Portrait with Monocle (1910)

Artist: Karl Schmidt-Rottluff

Artwork description & Analysis: Karl Schmidt-Rottluff's Self-Portrait with Monocle exemplifies the lively, enervating brushstroke common among many Die Brücke painters. Rather than representing himself in a recognizable domestic interior, Schmidt-Rottluff simplified the background in an angular composition of flat panes of vibrant color. He depicted himself in the pose and garb of a bohemian intellectual, complete with brooding visage, green turtleneck, and thoughtful gesture. With the focus placed on his eye and his painting hand, he modernized the pose of Albrecht Dürer, one of the few masters Die Brücke acknowledged, in his well-loved Self-Portrait Wearing a Coat with Fur Collar (1500).

Oil on canvas - Staatliche Museen, Berlin
More Die Brücke Artwork and Analysis:
If you see an error or typo, please:
tell us
Cite this page

Content compiled and written by The Art Story Contributors
Edited and published by The Art Story Contributors
" Movement Overview and Analysis". [Internet]. . TheArtStory.org
Content compiled and written by The Art Story Contributors
Edited and published by The Art Story Contributors
Available from:
First published on 21 May 2015. Updated and modified regularly.


[Accessed ]