Progression of Art
1893
The Scream
Throughout his artistic career, Munch focused on scenes of death, agony, and anxiety in distorted and emotionally charged portraits, all themes and styles that would be adopted by the Expressionists. Here, in Munch's most famous painting, he depicts the battle between the individual and society. The setting of The Scream was suggested to the artist while walking along a bridge overlooking Oslo; as Munch recalls, "the sky turned as red as blood. I stopped and leaned against the fence...shivering with fear. Then I heard the enormous, infinite scream of nature." Although Munch did not observe the scene as rendered in his painting, The Scream evokes the jolting emotion of the encounter and exhibits a general anxiety toward the tangible world. The representation of the artist's emotional response to a scene would form the basis of the Expressionists' artistic interpretations. The theme of individual alienation, as represented in this image would persist throughout the 20th century, captivating Expressionist artists as a central feature of modern life.
Tempera and crayon on cardboard - National Museum, Oslo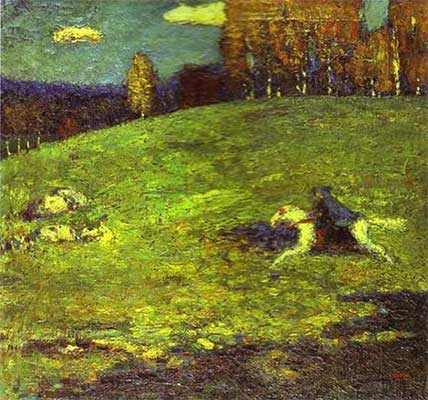 1903
Der Blaue Reiter
This breakthrough canvas is a deceptively simple image - a lone rider racing across a landscape - yet it represents a decisive moment in Kandinsky's developing pictorial language. Here, the sun-dappled hillside reveals a keen interest in contrasts of light and dark as well as movement and stillness, all major themes throughout his oeuvre. Constituting a link between Post-Impressionism and the burgeoning Expressionist movements, Kandinsky's canvas became the emblem of the expressive possibilities embraced by the Munich avant-garde. This is the eponymous work from which the collective derived its name in 1911.
Oil on canvas - Private collection
1909
Hans Tietze and Erica Tietze-Conrat
The esteemed art historians Hans Tietze and Erica Tietze-Conrat commissioned this portrait by Kokoschka for their art collection. The colorful background and concentrated gestures of the figures represent the couple as "closed personalities so full of tension," as the artist once called them. As in many of his portraits, Kokoschka focuses on the inner drama of his subjects, here, using the couple's nervous hands as a focal point of their anxiety. His rendering depicts the way the artist perceived the couple's psyche, not necessarily their physical, naturalistic appearances. Kokoschka's emotional representation is emblematic of the Expressionist style. The swirling, abstract colors that obscure the background and emerge around them are characteristic of Kokoschka's frenetic, depthless renderings of space throughout his oeuvre.
Oil on canvas - Museum of Modern Art, New York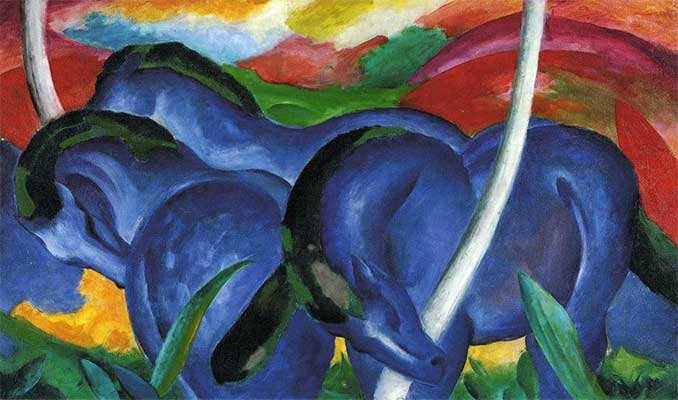 1911
Large Blue Horses
The painter, printmaker, and watercolorist Marc was a key member of Der Blaue Reiter, and is known for his use of animal symbolism. This canvas belonged to a series of works that centered on the theme of horses, which he regarded as emblems of spiritual renewal. The lush colors, fracturing of space, and geometric forms show the influence of Cubism and Robert Delaunay's Orphism. However, while Marc was influenced by his contemporaries, his emphasis on fantastic subjects derived from the material world, such as the blue horses from this 1911 painting, is unique to his practice. For the artist, the movement away from realistic depiction represented a turn towards the spiritual, the emotional, and the authentic. As with many Expressionists, color was symbolic rather than descriptive for Marc. He drew upon the emotive qualities of his palette to convey his vision of the spiritual blue beasts.
Oil on canvas - Walker Art Center, Minneapolis
1912
Houses at Night
After co-founding Die Brücke in Dresden, Schmidt-Rottluff moved to the booming city of Berlin, where he painted this abstracted rendering of a city block. The buildings stagger apart from each other at odd angles over an eerily empty street, evoking the alienation of modern urban society. Even though Schmidt-Rottluff painted Houses at Night, the influence of woodblock printing is clear; the abstracted, minimalist shapes have a stark and graphic quality similar to the artist's many woodblock works. Here, the bright colors add to the primitive shapes of the canvas, imbuing the scene with an underlying sense of unease and estrangement. The pervasive disquiet was the essence of the modern, urban realm for Expressionists. The turn toward jagged forms and a bright, acidic palette emphasized the artist's individual, avant-garde interpretation of the street scene.
Oil on canvas - Museum of Modern Art, New York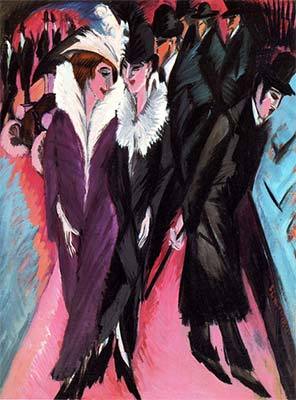 1913
Street, Berlin
Kirchner is renowned for his many Berlin street scenes, and this particular work is perhaps his most well known from that category, if not his entire catalog. His jagged, angular brushstrokes, acidic colors, and elongated forms all charge the street atmosphere on the canvas and achieve something very rebellious for its time and exemplify the stylistic break with tradition that the members of Die Brücke sought. As a founding member of the group, Kirchner set out to establish a new order of painting, one that visibly renounced Impressionistic tendencies and the need to accurately portray figurative forms. In Street, Berlin, Kirchner created a stunningly askew rendition of an alienated, urban street procession. Without regard for realistic depiction of form, he bent and contorted his narrow figures like they were blades of grass in a meadow. Another uniquely modern feature of Street, Berlin was Kirchner's choice to position two prostitutes (identifiable by their signature plumed hats) as the painting's (somewhat off-center) focal point.
Oil on canvas - The Museum of Modern Art, New York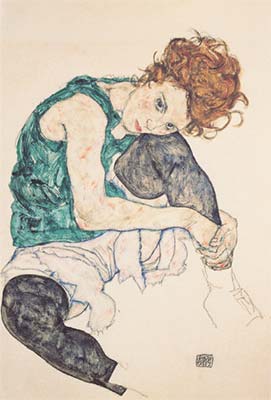 1917
Sitting Woman with Legs Drawn Up
Schiele, one of the central figures of Austrian Expressionism, is known for his jarring and oftentimes grotesque renderings of overt sexuality. Here, Schiele draws his wife, Edith Schiele, partially dressed, her body contorted in an unnatural position. Her bold and intense expression assertively confronts the viewer and directly contradicts the artistic standards of passive feminine beauty. Although unabashedly controversial throughout his lifetime, Schiele was recognized for his skilled draftsmanship and his use of sinewy lines to evoke the decadence and debauchery of modern Austria. The emotive quality of Schiele's line-work and color firmly places him in the Expressionist movement. He rendered images as he interpreted them, not as they appeared to the outside world.
Oil on canvas - National Gallery, Prague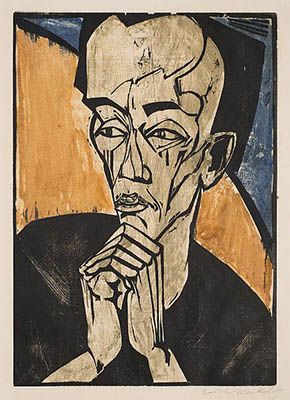 1919
Portrait of a Man
A founding member of Die Brücke, Heckel experimented widely with woodblock printing, a favorite medium of many Expressionists, and was originally attracted to the technique for its raw emotionalism and stark aesthetic, as well as its traditional German heritage. While many of his works depict nudes and scenes of city life, Heckel takes up a more introspective subject in this somber self-portrait from 1919. The figure's drawn face, distorted jaw, and weary eyes, which seem to gaze distractedly into the distance, highlight the individual's spiritual, psychological, and physical fatigue. Rather than create a naturalistic self-portrait, Heckel indicates the general spirit of his time and the national weariness of his age, common themes in Expressionist art.
Woodcut - Museum of Modern Art, New York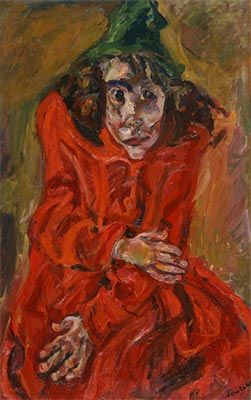 1920
Mad Woman
Soutine painted two known versions of Mad Woman (using a different woman for each), and this was unquestionably the darkest of the pair. His violent brushstrokes and contorted lines communicate an almost unnerving tension, but nevertheless do not deny his subject a rich depth of character. Soutine invited viewers to observe the subject closely, to gaze into her eyes and study her asymmetrical face and form. In many ways, this painting embodies the essence of the Expressionist style; Mad Woman visibly vibrates, contorts, shifts, pushes, and pulls, providing the viewer with Soutine's vision of the inner torment of his sitter. In part, it redefined the genre of portrait painting. Simply by painting this mysterious (and possibly dangerous) woman up close rather than from a distance, Soutine established himself as an empathetic figure, but also as a daring visionary.
Oil on canvas - National Museum of Western Art, Tokyo
Similar Art
Related Artists
Related Movements & Topics