Artists
James Ensor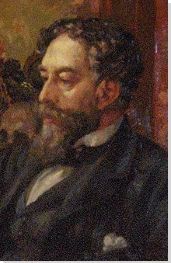 Born: April 13, 1860 - Ostend, Belgium
Died: November 19, 1949 - Ostend, Belgium

"Finally, hemmed in by followers, I have happily confined myself to a solitary milieu where the mask is enthroned full of violence, light and splendor. For me the mask means Freshness of tone, overly shrilled expression, sumptuous scene, great unexpected gestures, reckless movements, exquisite turbulence."

Summary of James Ensor
Although educated in traditional painting, Ensor quickly stepped off that path and began to develop a revolutionary style that reflected his own take on modern life. He was particularly fascinated with the popular carnival culture organized around the celebration of Mardi Gras each year throughout Belgium, most certainly influenced by the fact that his family's shop in Ostend was a main purveyor of carnival paraphernalia. The imagery he produced is consistently cynical and mocking; presenting an almost grotesque form of Realism meant to record the stresses underlying contemporary social morays of his time, and probably of all times.
Key Ideas
Ensor developed a revolutionary method of painting better suited to his personal agenda. Abandoning the usage of illusionism and one-point perspective to organize the image depicted, he began to build volume with patches of color across the surface of the canvas. The effect was imagery that no longer receded but instead, threatened to enter the viewer's space. Crowded to the point of bursting, denied room to breathe, the figures in Ensor's works impress with their presence.
The artist was particularly intrigued by the carnival theme and found it an excellent means by which to capture society's foibles. He masked his figures, giving them faces that would express their inner selves rather than their outer, anatomical ones. In this way he was able to dig beneath the surface and reveal the "true face" of society. His exploration of society unmasked eventually caused his rejection by many, even the local avant-garde artists.
Ensor's social commentary, at first subtle, eventually took on a furiously cynical tone. While it could be noted in the inclusion of a jesting element within an image it could also be a full-blast attack on a subject as sacred as the Entrance of Christ into Jerusalem. There's no question that the artist's continual feeling of rejection was responsible for his frenzied critiques, but the end result was simply further alienation.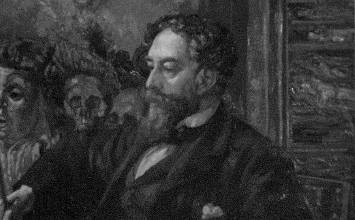 James Sidney Ensor was born in Belgium in 1860. His father James Frederic Ensor and mother Maria Catherina Haegheman owned a souvenir shop in the tourist town of Ostend, selling carnival novelties and seaside trinkets. The shop, full of innovative motifs and objects, inspired Ensor throughout his artistic career. He had a happy and carefree upbringing, living with his mother, father, sister and aunt. He went to school at the College Notre-Dame but showed very little interest in learning. He struggled within the structured disciplinary environment and after two years withdrew from school.
Important Art by James Ensor

The below artworks are the most important by James Ensor - that both overview the major creative periods, and highlight the greatest achievements by the artist.

Portrait of the Painter in a Flowered Hat (1883)

Artwork description & Analysis: Portrait of the Painter in a Flowered Hat represents Ensor in a three-quarter view, openly confronting the viewer's gaze. His use of loose, feathery brushstrokes and the juxtaposition of colored areas on the canvas to suggest volume and the emphasis on differentiating light in order to suggest depth, typify the contemporary portraiture work of the Impressionists who were already painting in Belgium and Holland from the 1870s.

Like many artists before him, Ensor received great inspiration from the tradition of the great masters. This portrait recalls the Flemish painter Peter Paul Rubens' Self-Portrait with Hat, (1623-25). Despite the vague similarities between the two images they actually differ quite a bit and there is a clear sense that Ensor is making a joke of the tradition of the old master who he ostensibly emulates. The hat he sports, adorned with pastel flowers and feathers, was part of a traditional Belgian costume worn by women during the mid-lent carnival. And although the facial hair seems close to that of Rubens', he works blue flame-like whiskers into his mustache in a very untraditional manner. Although both depicted figures have an intense expression, suggesting something of their state of mind, Ensor alleviates the unhappy set of his own mouth with the gaiety of the hat.

This painting's light-hearted motifs represent a transition in Ensor's work from his "somber period" to his "light period;" the move from Realism to some form of whimsical reality. It marks the beginning of his experimentation with playful subjects and alternate meanings.

Oil on canvas - Ensor Museum, Ostend, Belgium

Christ's Entry into Brussels (1889)

Artwork description & Analysis: This painting, no question Ensor's most famous, represents a carnival mob engulfing Christ sitting on a donkey. Although traditional in subject, the presentation is anything but. The formal means by which he describes this chaotic scene defy an easy understanding of what is being depicted. There is a vague sense of a vanishing point perspective. In the foreground, the grotesque faces, painted as if wearing masks, are enormous, and seem to loom in the viewer's face, but as they recede into the background, coming together in a "V," they blur into dots of color. Nevertheless, this is countered by a more modern approach to building volume. Ensor flattens out the figures across the surface of the composition, denying the perspective he's built in order to make the image more pressing and intense. There is even a sense that the crowd is slightly tipped forward, ready to rush out at the viewer and engulf her at any moment. Figures in the crowd are depicted from multiple angles, their shapes and forms deconstructed, and their volume is suggested through the juxtaposition of unmodulated dabs of pure, unsaturated color. This almost primitive, simplistic technique resembles that utilized by Gauguin. As Ensor described: "My colors are purified, they are integral and personal."

Leopold II of Belgium had remade Brussels into a modern city with royal monuments, streamlined facades and broad new boulevards along the model of Haussmann in Paris, but by the late 1880s the country's state of affairs was similar to that of the infamous Paris Commune. The country struggled with economic and political oppression that Ensor captures by transforming Brussels into a sea of disorder and chaos.

Ensor's Christ faces a Belgian public instead of one in Jerusalem. The crowd depicted is a mixture of bourgeoisie, clergy, and the military - basically the ruling class. Individuals are illustrated masked in order to emphasize their superficiality in a carnival-like atmosphere - at the same time as a religious, serious event is supposedly depicted. The strength and intensity of the masses suggest the artist's interest in giving those marginalized by society a voice, enabling them to speak out against figures of authority. This chaotic spectacle takes the focus off the figure of Christ. Christ himself has interestingly been painted with the artist's own features, expressing his empathy with the biblical figure, purposefully representing himself as a martyr.

Ensor found the use of a kind of grotesque realism cleansing and, despite the fact that his representation of the ugly side of society through mystical parody met with harsh criticism; he used this technique throughout his career. In this way his work shares the avant-garde impulse toward social, formal, and libidinal rebellion and anticipates many modern movements from Fauvism to Surrealism, and even Abstract Expressionism.

Oil on canvas - The J. Paul Getty Museum, Los Angeles, California

The Baths at Ostend (1890)

Artwork description & Analysis: Here, Ensor draws a whimsical scene, paying homage to his beloved Ostend Sea. By this time the town of Ostend had become a seaside resort, known for its casino, boardwalk, beach, and restorative baths. Ensor uses colored pencils, crayons, and oil to represent this quirky vacation spot. He adds a decorative effect by describing the water and figures with arabesque lines which resolve into a sea of caricatures, drawn on multiple planes, representing the seaside resort as a crowded spectacle. Ensor refrains from using linear perspective and instead, draws his figures across the canvas with a restricted palette of black, blue and red, creating a dream-like space.

In total, Ensor represents this summer playground for the middle-class in a satirical manner. He paints the tourists as caricatures. While overall the scene depicted seems to be a happy one, a sunny day where tourists are enjoying themselves, it also depicts them missing clothing, and a few of which are shown upside down with their heads between their legs- in the midst of vulgar acts. Accordingly, when viewed up close, this painting takes on a somewhat comic and most definitely unsettling effect, it runs counter to the social decorum expected of the bourgeoisie. Ensor's work offers a very clear critique of the contemporary social milieu in which he lived, anticipating movements like Dadaism.

Black crayon, colored pencil and oil on panal - Fondation Challenges, Paris, France
More James Ensor Artwork and Analysis:
Influences and Connections
Influences on Artist
Artists, Friends, Movements
Influenced by Artist
Artists, Friends, Movements

Interactive chart with James Ensor's main influences, and the people and ideas that the artist influenced in turn.
View Influences Chart

Artists

Personal Contacts

| | |
| --- | --- |
| | Honore de Balzac |
| | Edgar Allan Poe |

Movements

Influences on Artist

James Ensor
Years Worked: 1877 - 1949
Influenced by Artist

Artists

Personal Contacts

| | |
| --- | --- |
| | Emile Verhaeren |
| | Maurice Maeterlinck |

Movements
If you see an error or typo, please:
tell us
Cite this page

Content compiled and written by Sheryl Siclari-Ostyn
Edited and revised, with Synopsis and Key Ideas added by Caroline Goldberg Igra
" Artist Overview and Analysis". [Internet]. . TheArtStory.org
Content compiled and written by Sheryl Siclari-Ostyn
Edited and revised, with Synopsis and Key Ideas added by Caroline Goldberg Igra
Available from:
First published on 22 Jul 2016. Updated and modified regularly.


[Accessed ]