Artists
Camille Pissarro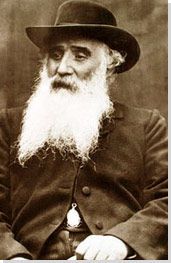 Born: July 10, 1830 - St. Thomas, Danish West Indies
Died: November 13, 1903 - Paris, France

"It is only by drawing often, drawing everything, drawing incessantly, that one fine day you discover to your surprise that you have rendered something in its true character."

Summary of Camille Pissarro
The only painter to exhibit in all eight Impressionist exhibitions organized between 1874 and 1886, Camille Pissarro became a pivotal artist and mentor within the movement. While the Impressionists are known for their depictions of city streets and country leisure, Pissarro covered his canvases with images of the day-to-day life of French peasants. His greatest work joins his fascination with rural subject matter with the empirical study of nature under different conditions of light and atmosphere, deriving from intense study of French Realism. Like those of his Impressionist cohorts, his paintings are delicate studies of the effect of light on color in nature. However, he continually sought out younger, progressive artists as colleagues, and his articulation of scientific color theory in his later work would prove indispensable for the following generation of avant-garde painters.
Key Ideas
Pissarro's earliest artistic studies were carried out in Paris, France, and Caracas, Venezuela. In Paris, his artistic education stressed an empirical Realism that carried through his entire career; in Caracas, he studied nature and peasant life under tropical conditions, focusing on the effects of light on color, which he would help theorize as a key Impressionist theme.
Pissarro's art cannot be divorced from his politics. Influenced artistically by the Realist painter
Gustave Courbet
, Pissarro's paintings dignify the labor of peasants in communal villages, reflecting the socialist-anarchist political leanings that the two artists shared.
Pissarro, working closely with the younger
Neo-impressionists
Georges Seurat
and
Paul Signac
late in his life, was one of the earliest artists to experiment with color harmonies. In his canvases, complementary colors in broken, dashed brushstrokes weave together to heighten the vibrancy of his compositions. In doing so, they visually embed his peasant figures harmoniously into the landscapes to which they belong and which belong to them, communicating a symbolic link to their terrain largely absent from Impressionist painting.
Unlike the Impressionists who lived in Paris, Pissarro chose to live most of his life in the French countryside, where he received younger artists interested in studying his techniques. More than any other member of the movement, he is known for the gentle demeanor and passion for experimentation that made him an artistic mentor. His longtime collaboration with the young Cézanne, for example, made him an indispensable influence on 20th-century modernism.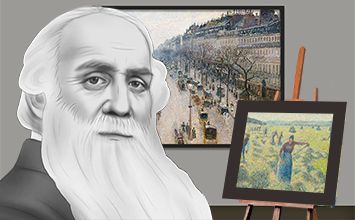 Jacob Abraham Camille Pissarro was born to a Jewish-Portuguese family and grew up in St. Thomas in the US Virgin Islands, then the Danish West Indies. His parents, Frederic Pissarro and Rachel Petit, owned a modest general hardware business and encouraged their four sons to pursue the family trade. In 1842, Pissarro was sent away to a boarding school in Passy near Paris, France, to complete his education. His artistic interests began to emerge thanks to the school's headmaster, Monsieur Savary, who encouraged him to draw directly from nature and to use direct observation in his drawings, empirically rendering each object in its truest form. At age 17, Pissarro returned to St. Thomas to immerse himself in the family business; however, the artist quickly tired of mercantile pursuits and continued to draw ship scenes in his leisure time at the shipping docks.
Important Art by Camille Pissarro

The below artworks are the most important by Camille Pissarro - that both overview the major creative periods, and highlight the greatest achievements by the artist.


Artwork Images

Two Women Chatting by the Sea, St. Thomas (1856)

Artwork description & Analysis: This painting was completed the year after Pissarro permanently relocated to France. The subject depicts two women walking along a seaside path in St. Thomas, the Caribbean island where he was born. The purple hills that extend from the left middle frame downward toward the ocean act as a dividing line in the background, demonstrating Pissarro's ability to merge the local color of the Caribbean with the gentle color palette of the Barbizon School, the group of French painters who first stressed the necessity of painting landscapes outdoors. Here, the tutelage Pissarro obtained on direct observation in his early studies in Paris allowed him to capture the effects of local, tropical light on an outdoor scene, prefiguring his future as a pivotal member of the Impressionist circle.

Oil on canvas - National Gallery of Art, Washington, DC


Artwork Images

Jalais Hill, Pointoise (1867)

Artwork description & Analysis: Pointoise was Pissarro's intermittent home northwest of Paris from 1866 to 1883, where he received and mentored Cézanne and Gauguin, among others. Gauguin famously painted his early Pissarro's Garden, Pontoise while staying with Pissarro in 1881. Jalais Hill, Pontoise was lauded by the French author and cultural critic Emile Zola as an exemplary modern landscape depicting a "rare poem of life and strength" following its exhibition in the Salon of 1868. "This little valley, this hill have a heroic simplicity and forthrightness. Nothing would be more banal were it not so grand," Zola wrote of the manner in which Pissarro handled his rural subject matter. Indeed, the positive reception of the painting by critics and writers positioned Pissarro as an avant-garde painter in the second half of the 19th century, though he would soon turn his back on the Salon entirely, choosing to exhibit with the "Independent" Impressionists.

Oil on canvas - Metropolitan Museum of Art, New York


Artwork Images

Road to Versailles at Louveciennes (1869)

Artwork description & Analysis: For a time in 1869, Pissarro settled in Louveciennes, a rural suburb approximately 12 miles west of Paris. It was during this time period that Pissarro developed his mature Impressionist style, which reached its height in the mid-1870s. In this early Impressionist effort, Pissarro captures a fleeting sensation of the winter season, constructing his composition through the use of quick dashes of color. The long shadows cast on the new-fallen snow by passersby explore the atmospheric effects of cold winter light. The freshness and thickness of the brushstrokes, most easily identified in the trees' branches and the colorful garments of the townspeople, are the sort of constructive building blocks Pissarro would eventually pass down to Cézanne. The more smoothly distributed paint of the sky and the snow-covered ground demonstrate Pissarro's transformation of Realist naturalism into what would become the experimental, rough Impressionist aesthetic.

Oil on canvas - The Walters Art Museum, Baltimore
More Camille Pissarro Artwork and Analysis:
Influences and Connections
Influences on Artist
Artists, Friends, Movements
Influenced by Artist
Artists, Friends, Movements

Interactive chart with Camille Pissarro's main influences, and the people and ideas that the artist influenced in turn.
View Influences Chart

| | | | | |
| --- | --- | --- | --- | --- |
| Artists | | Personal Contacts | | Movements |

Influences on Artist

Camille Pissarro
Years Worked: 1851-1903
Influenced by Artist

| | | | | |
| --- | --- | --- | --- | --- |
| Artists | | Personal Contacts | | Movements |
If you see an error or typo, please:
tell us
Cite this page

Content compiled and written by The Art Story Contributors
Edited and published by The Art Story Contributors
" Artist Overview and Analysis". [Internet]. . TheArtStory.org
Content compiled and written by The Art Story Contributors
Edited and published by The Art Story Contributors
Available from:
First published on 25 Dec 2014. Updated and modified regularly.


[Accessed ]