Artists
Robert Delaunay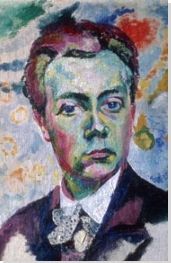 Born: April 12, 1885 - Paris, France
Died: October 25, 1941 - Montpellier, France

"The need for a new subject has inspired the poets, launching them onto a fresh path and bringing to their attention to poetry of la Tour (Eiffel tower), which communicates mysteriously with the whole world. Rays of light, waves of symphonic sounds. Factories, bridges, iron structures, airships, the numberless gyrations of aeroplanes, windows seen by crowd simultaneously."

Summary of Robert Delaunay
Robert Delaunay's colorful and formally experimental paintings were a unique fusion of early-20th-century European artistic trends. His best-known works centered on the visually and intellectually stimulating world of Belle Epoque Paris in which he and his wife, Sonia Delaunay (Terk), founded the Orphism movement. The style was distinguished by faceted compositions, vibrant color, and contemporary subject matter that together conveyed delight in the modern life and its technological innovations.
Key Ideas
Influenced by
Neo-Impressionism
and the painting technique known as pointillism or divisionism, in his early works Delaunay created forms using squares of color that resembled a mosaic. He often left small areas of canvas blank to create a sense of space and light; even at this stage of development his interest in brilliant color was notable.
As his style matured, Delaunay further developed his mosaic-like squares into more complex geometric facets in which both solid objects and their surrounding spaces were fragmented, much like
Cubism
. These canvases are known for their dynamic sense of movement and their celebration of urban life, particularly Paris with Delaunay's oft-repeated motif of the Eiffel Tower.
Delaunay penned his own theories of color in which he discusses both color as a material form and its great expressive power. He was particularly captivated by how the interaction of various colors generated impressions of movement and depth without allusion to nature. Delaunay wrote that the "breaking up of form by light creates colored planes... [that] are the structure of the picture... nature is no longer a subject for description but a pretext." Eventually, he abandoned "images or reality that come to corrupt the order of color" - thus turning to complete abstraction.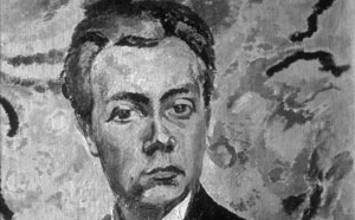 Robert Delaunay was born in 1885 to eccentric upper class parents, George Delaunay and Berthe Félicie de Rose. His mother, an irresponsible character fond of society life, called herself 'Countess' though the authenticity of her claims to French aristocracy are in question. His early life in Paris was privileged yet strained - his parents divorced when Delaunay was just four years old and he barely saw his father after this. Taken in by his aunt and uncle, he was raised in a grand estate in La Ronchère near Bourges, by coincidence mirroring the childhood experience of his future wife, Sonia, also brought up by a wealthy uncle and aunt in St Petersburg.
Important Art by Robert Delaunay

The below artworks are the most important by Robert Delaunay - that both overview the major creative periods, and highlight the greatest achievements by the artist.

L'Homme à la tulipe (Portrait de Jean Metzinger) (1906)

Artwork description & Analysis: This portrait is one of a series that Delaunay and Metzinger painted of each other during the summer of 1906, many of which have been lost. Delaunay's painting captures both the debonair air of Metzinger and their spirit of collaborative experimentation. This painting shows the influence of Neo-Impressionism and Divisionism on Delaunay's color as well as the influence of artists such as Edgar Degas and Édouard Manet in its unusual perspective. Like Seurat, Delaunay placed complementary and opposite colors adjacent to each other on the canvas rather than mixing paints on the canvas - creating the effect of a hue and the illusion of depth, while giving the works a sense of static classicism. Delaunay was not a slavish follower of Divisionism, however, since his brushstrokes are freer and less precise, and the color is not dictated by nature but is non-naturalistic, indicating Fauvist influences.

Oil on canvas

Saint Severin no 3 (1909)

Artwork description & Analysis: Saint Severin was the first major series of paintings created by Delaunay in 1909. Focusing on the Gothic ambulatory of this well-known Parisian church, he depicted the view multiple times from the same perspective - looking northeast to capture the effects of changing light as Monet had achieved with his analysis of the exterior of Rouen cathedral. Restricting himself to the subdued palettes the early Cubist works of Picasso and Braque, Delaunay also looked to these artists' use of fragmented planes and distorted form to structure his space. The result is a modern rendering of a Medieval church through a series of repeated arches framed by the cropped composition. Delaunay's technique involved studying the 'reactions of the retina while looking at the sun' - documenting the colors and contrasts created, as well as the distortions in architecture through modulations of light.

Oil on canvas - Solomon R. Guggenheim Museum, New York

Red Eiffel Tower (La tour rouge) (1911-12)

Artwork description & Analysis: Delaunay painted his first Eiffel Tower in 1909 to celebrate his engagement to Sonia Terk. He went on to produce around fifteen versions and the tower became a major motif for artists in recognition of the major role that technological development and innovation had on the first part of the 20th century. The Cubist influence is present in both the fragmented panes of the composition and in the multiple viewpoints of the tower - by looking both up at it's towering height and down on to the smaller buildings. The rich red color is heightened in contrast to the pale blue background, which again emphasises the tower's dominance on the Parisian skyline. His work was described as a synthesis of Impressionism and Cubism but the dynamic robotic-like presence, wing-like forms and plumes of smoke or clouds are more reminiscent of the Futurist project. As Mark Rosenthal noted , 'Delaunay 'effectively replaced the pastoral landscape of the Impressionists with a modern paen of French glory" even reducing his color palette to the red, white, and blue of the French flag.

Oil on canvas - Solomon R. Guggenheim Museum, New York
More Robert Delaunay Artwork and Analysis:
Influences and Connections
Influences on Artist
Artists, Friends, Movements
Influenced by Artist
Artists, Friends, Movements

Interactive chart with Robert Delaunay's main influences, and the people and ideas that the artist influenced in turn.
View Influences Chart

| | | | | |
| --- | --- | --- | --- | --- |
| Artists | | Personal Contacts | | Movements |

Influences on Artist

Robert Delaunay
Years Worked: 1885 - 1941
Influenced by Artist

If you see an error or typo, please:
tell us
Cite this page

Content compiled and written by Sarah Jenkins
Edited and published by The Art Story Contributors
" Artist Overview and Analysis". [Internet]. . TheArtStory.org
Content compiled and written by Sarah Jenkins
Edited and published by The Art Story Contributors
Available from:
First published on 07 Dec 2015. Updated and modified regularly.


[Accessed ]