Artists
Fernand Léger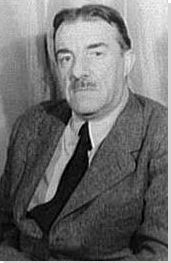 Born: February 4, 1881 - Argentan, France
Died: August 17, 1955 - Gif-sur-Yvette, France

"Let us organize outer life in our domain: form, color, light."

Summary of Fernand Léger
Though Fernand Léger built his reputation as a Cubist, his style varied considerably from decade to decade, fluctuating between figuration and abstraction and showing influence from a wide range of sources. Léger worked in a variety of media including paint, ceramic, film, theater and dance sets, glass, print, and book arts. While his style varied, his work was consistently graphic, favoring primary colors, pattern, and bold form.
Key Ideas
Léger embraced the Cubist notion of fracturing objects into geometric shapes, but retained an interest in depicting the illusion of three-dimensionality. Léger's unique brand of Cubism was also distinguished by his focus on cylindrical form and his use of robot-like human figures that expressed harmony between humans and machines.
Influenced by the chaos of urban spaces and his interest in brilliant, primary color, Léger sought to express the noise, dynamism, and speed of new technology and machinery often creating a sense of movement in his paintings that captured the optimism of the pre-World War I period.
In its embrace of recognizable subject matter and the illusion of three dimensionality interspersed with or often simultaneous with experiments in abstraction and non-representation, Léger's work synchronizes the often competing dualities in much of 20th-century art.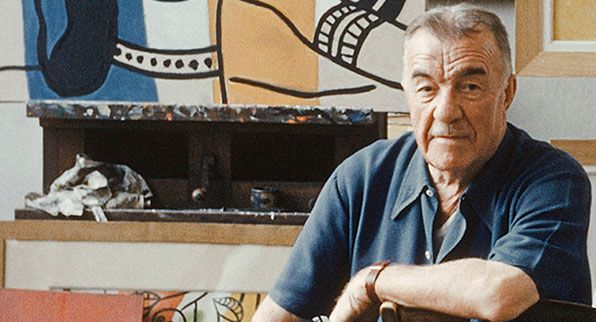 Fernand Léger with British model Anne Gunning in his Paris studio (1955)
"I was stunned by the sight of the breech of a 75 millimeter in the sunlight. It was the magic of light on the white metal. That's all it took for me to forget the abstract art of 1912–13" Léger famously said of his experience serving in World War I. He went on to pioneer his distinctive visual idiom, painting "in slang with all its color and mobility" to take on a modern vibe.
Important Art by Fernand Léger

The below artworks are the most important by Fernand Léger - that both overview the major creative periods, and highlight the greatest achievements by the artist.

Nudes in the Forest (1909-10)

Artwork description & Analysis: This painting was exhibited at the Salon des Indépendants in 1911 and is considered Léger's first major work showcasing his break from Impressionism and his alliance with Cubism, particularly in his monochromatic palette and his breaking of form into geometric shapes. Léger's focus on drawing and form rather than color also indicates his influence from Paul Cézanne. Léger's Cubism, however, was distinct from mainstream Cubism. Léger does not abandon three-dimensionality and volumetric form to the same degree as Pablo Picasso and Georges Braque whose canvases from this period lack all but the merest illusion of space. Léger's interest in nature, his use of cylindrical form, and his focus on machine-like forms further distinguishes his work from that of other Cubists, while the latter aligns him with Italian Futurism, reflecting the period's optimism about the benefits of urbanization and an industrialized society. These unique qualities led the critic Louis Vauxcelles to dub Léger's style as "Tubism."

Oil on canvas - Kröller-Muller State Museum, Otterlo

Contrast of Forms (1913)

Artwork description & Analysis: Contrast of Forms was a title given by Léger to a series of paintings completed between 1912 and 1914 in which the artist experimented with the boundaries between abstraction and representation, flatness and three-dimensionality, problems that would occupy him throughout his career. Léger shows his ability to represent volumetric form without the illusion of three dimensions, abstracting both human and mechanical forms. The works exemplify what Léger referred to as the "law of contrasts" in which the greatest opposition or dissonance in line, form, and color are sought. Like Picasso and Braque in their Synthetic Cubist phase, Léger also brings color into these works, particularly blue, red, and yellow; these were typically added very sparsely only after the line and without a smooth finish. These paintings were the first non-representational works to emerge from Cubism and seem to burst with volume and pattern, while giving an overall impression of floating shapes on a flat surface. The painting again exemplifies Léger's unique contribution to Cubism in its use of shading to depict spatial recession and his reliance on mechanical forms.

Oil on canvas - Museum of Modern Art, New York


Artwork Images

The Card Players (1917)

Artwork description & Analysis: Léger worked on this painting as he was recovering from a gas attack during World War I. The work shows the continuing influence of Cézanne, who painted several canvases devoted to this subject matter in the 1890s, as well as Léger's burgeoning interest in the human figure after the trauma of his war experience that gave him an appreciation for ordinary men and crude reality. In referring to the work in 1954, Léger says it was an attempt "deliberately to extract subject from the times" and indeed the helmets and medals of the men mark them as soldiers. His interest in subject matter and three-dimensionality again sets him apart from other Cubists. His color palette remains largely primary and he continues to show his skill in depicting movement, which is highly advanced in The Card Players as the work almost appears as a film sequence.

Oil on canvas - Kröller-Muller State Museum, Otterlo
More Fernand Léger Artwork and Analysis:
Influences and Connections
Influences on Artist
Artists, Friends, Movements
Influenced by Artist
Artists, Friends, Movements

Interactive chart with Fernand Léger's main influences, and the people and ideas that the artist influenced in turn.
View Influences Chart


Influences on Artist

Fernand Léger
Years Worked: 1905 - 1955
Influenced by Artist

| | | | | |
| --- | --- | --- | --- | --- |
| Artists | | Personal Contacts | | Movements |
If you see an error or typo, please:
tell us
Cite this page

Content compiled and written by The Art Story Contributors
Edited and published by The Art Story Contributors
" Artist Overview and Analysis". [Internet]. . TheArtStory.org
Content compiled and written by The Art Story Contributors
Edited and published by The Art Story Contributors
Available from:
First published on 05 Apr 2014. Updated and modified regularly.


[Accessed ]