Artists
Francis Picabia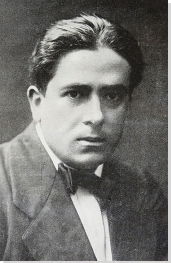 Francis Picabia
French Designer, Illustrator, Painter, and Writer
Movement: Dada
Born: January 22, 1879 - Paris, France
Died: November 30, 1953 - Paris, France

"Artists, so they say, make fun of the bourgeoisie; me, I make fun of the bourgeoisie and the artists."

Summary of Francis Picabia
Once known as "Papa Dada," Francis Picabia was one of the principle figures of the Dada movement both in Paris and New York. A friend and associate of Marcel Duchamp, he became known for a rich variety of work ranging from strange, comic-erotic images of machine parts to text-based paintings that foreshadow aspects of Conceptual art. Even after Dada had been supplanted by other styles, the French painter and writer went on to explore a diverse and almost incoherent mix of styles. He shifted easily between abstraction and figuration at a time when artists clung steadfastly to one approach, and his gleeful disregard for the conventions of modern art encouraged some remarkable innovations even later in his career, from the layered Transparency series of the 1920s to the kitsch, erotic nudes of the early 1940s. Picabia remains revered by contemporary painters as one of the century's most intriguing and inscrutable artists.
Key Ideas
In the 1910s, Picabia shared the interests of a number of artists who emerged in the wake of
Cubism
, and who were inspired less by the movement's preoccupation with problems of representation than by the way the style could evoke qualities of the modern, urban, and mechanistic world. Initially, these interests informed his abstract painting, but his attraction to machines would also shape his early Dada work, in particular his
Mechanomorphs
- images of invented machines and machine parts that were intended as parodies of portraiture. For Picabia, humans were nothing but machines, ruled not by their rational minds, but by a range of compulsive hungers.
Picabia was central to the Dada movement when it began to emerge in Paris in the early 1920s, and his work quickly abandoned many of the technical concerns that had animated his previous work. He began to use text in his pictures and collages and to create more explicitly scandalous images attacking conventional notions of morality, religion, and law. While the work was animated by the Dada movement's rage against the European culture that had led to the carnage of World War I, Picabia's attacks often have the sprightly, coarse comedy of the court jester. They reflect an artist with no respect for any conventions, not even art, since art was just another facet of the wider culture he rejected.
Figurative imagery was central to Picabia's work from the mid-1920s to the mid-1940s, when he was inspired by Spanish subjects, Romanesque and Renaissance sources, images of monsters, and, later, nudes found in soft porn magazines. Initially he united many of these disparate motifs in the
Transparency
pictures, complexly layering them and piling them on top of each other to provoke confusion and strange associations. Some critics have described the
Transparencies
as occult visions, or
Surrealist
dream images, and although Picabia rejected any association with the Surrealists, he steadfastly refused to explain their content. Picabia always handled these motifs with the same playful and anarchic spirit that had animated his Dada work.
Picabia learned early on that abstraction could be used to evoke not only qualities of machines, but also to evoke mystery and eroticism. This ensured that abstract painting would be one of the mainstays of his career. He returned to it even in his last years, during which he attributed his inspiration to the obscure recesses of his mind, as he had always done.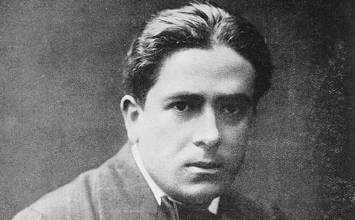 Francis Picabia was born in 1879 in Paris, the only child of a Cuban-born Spaniard, Francisco Vicente Martinez Picabia, and a Frenchwoman, Marie Cecile Davanne. Both his parents came from prominent European families, and Picabia was raised in an affluent household. Throughout his life, the family fortune allowed him to study, travel, and enjoy a luxury lifestyle. However, at the age of seven, his mother passed away of tuberculosis, and the following year his grandmother died. These losses ensured that Picabia's childhood would be a lonely one, and he was left in the care of his father, the chancellor to the Cuban Embassy, his uncle, Maurice Davanne, a curator of the Bibliotheque Sainte Geneviève, and his maternal grandfather, Alphonse Davanne, a wealthy businessman. Their house was known as the house of quatre sans femmes (four without women).
Important Art by Francis Picabia

The below artworks are the most important by Francis Picabia - that both overview the major creative periods, and highlight the greatest achievements by the artist.


Artwork Images

Portrait de Mistinguett (1907)

Artwork description & Analysis: The style of this portrait, with its simplified forms and flat color, blends aspects of Symbolism and Fauvism and is typical of Picabia's maturing style as he began to try his hand at different approaches. Painted at a time when he was slowly building a conventional, successful career as an Impressionist, it might be taken as a sign of Picabia's frequent later habit of striking out in new and surprising directions. The model for the picture, Mistinguett, was a successful actress and singer, and was one of Picabia's first famous friends from the entertainment industry (she was at one time the lover of Maurice Chevalier). Independently wealthy, Picabia enjoyed the life of the bon viveur and was often drawn to music halls, nightclubs, circuses, and the cinema. He met Mistinguett during one of his visits to the Parisian revues. Instead of painting a realistic portrayal of her, he was much more interested in revealing the mood of the time by using dramatic color and composition.

Oil on canvas - Solomon R. Guggenheim Museum Collection

Dances at the Spring (La Danse a la Source) (1912)

Artwork description & Analysis: Picabia met Marcel Duchamp around 1911, and Dances at the Spring, which echoes Duchamp's Nude Descending a Staircase (1912), points to the important impact this meeting would have on him. It is considered one of the best examples of Picabia's abstract art, expressing his inner experience through geometric forms. Picabia with particularly interested in representing motion on canvas, celebrating dancing on the surface. He sought to represent the balance between the figurative and abstract, the static and dynamic. Using vivid colors and fragmented angular planes, he painted the motion and the excitement of a peasant dance while he was on his honeymoon in the countryside of Italy. Two versions of the picture were painted, but one is lost; this version was exhibited at the important Armory Show in New York in 1913.

Oil on canvas - Philadelphia Museum of Art


Artwork Images

Très rare tableau sur la terre (Very Rare Picture on the Earth) (1915)

Artwork description & Analysis: After World War I broke out, Picabia became fascinated with the idea of industrial objects as a pictorial source. He once wrote that "the machine has become more than a mere adjunct of life. It is really a part of human life...perhaps the very soul...I have enlisted the machinery of the modern world, and introduced it into my studio." His goal, he said, was to invent a "mechanical symbolism," and this piece is one of his most important examples, since critics have read it as an image of a sexual act rendered in mechanical terms. Although, at first glance, it might be hard to read so, Picabia may well have been inspired by his friend Marcel Duchamp to bury sexual references in images of machines. This work is also significant in that it is Picabia's first known collage (hence, as the title suggests, "very rare") since it contains two mounted wooden forms, and the frame is integral to the piece.

It stands to remember that Picabia loved machines, an in particular cars. He is said to have had a collection of over 100 automobiles. So here he is depicting the insides of his passion. Although he may be making fun of mankind, he may also, in true modernist fashion, be connecting technology and progress to human lives.

Oil and metallic paint on board, and silver and gold leaf on wood, including artist's painted frame - Peggy Guggenheim Collection, Venice
More Francis Picabia Artwork and Analysis:
Influences and Connections
Influences on Artist
Artists, Friends, Movements
Influenced by Artist
Artists, Friends, Movements

Interactive chart with Francis Picabia's main influences, and the people and ideas that the artist influenced in turn.
View Influences Chart

Artists

Personal Contacts

| | |
| --- | --- |
| | André Breton |
| | Marcel Duchamp |
| | Man Ray |
| | Alfred Stieglitz |
| | Guillaume Apollinaire |

Movements

| | |
| --- | --- |
| | Impressionism |
| | Cubism |
| | Dada |
| | Realism |
| | Abstract Art |

Influences on Artist

Francis Picabia
Years Worked: 1905 - 1951
Influenced by Artist

If you see an error or typo, please:
tell us
Cite this page

Content compiled and written by The Art Story Contributors
Edited and published by The Art Story Contributors
" Artist Overview and Analysis". [Internet]. . TheArtStory.org
Content compiled and written by The Art Story Contributors
Edited and published by The Art Story Contributors
Available from:
First published on 01 Aug 2012. Updated and modified regularly.


[Accessed ]