Progression of Art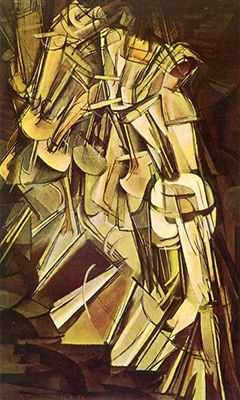 1912
Nude Descending A Staircase
Nude Descending A Staircase initially met with an unfavorable response at the Salon des Indépendants, dominated by the Cubist avant-garde who objected to what they deemed as its Futurist leanings, but enjoyed a succes de scandale at the 1913 Armory Show in New York. More than a study of the body's movement through space, the work is an early figurative exercise in painting cinematically, akin to Eadweard Muybridge's sequences of photographs that anticipated motion pictures. This painting together with the contemporaneous Passage from Virgin to Bride marks the end of Duchamp's short-lived career as a painter.
Oil on canvas - Philadelphia Museum of Art: Collection of Louise and Walter Arenberg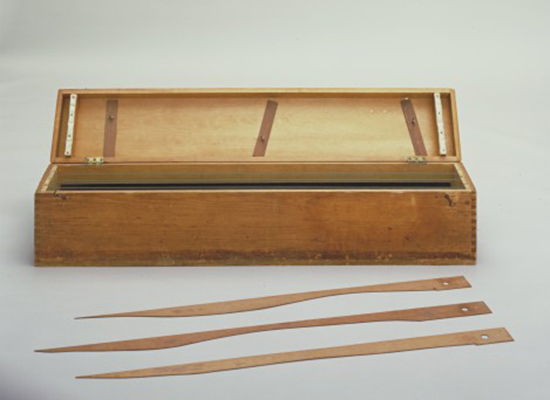 1913-14
3 Standard Stoppages
Art takes on a scientific guise in this intricate piece whose several component parts are neatly displayed alongside or slotted into a bespoke wooden case. To make this piece, which reads like a visual demonstration of the workings of chance, Duchamp dropped three threads, each exactly one meter long, from a height of one meter. He then carefully recorded the random outline of the fallen thread on canvas, glass and wood. Chance also dictated his choice of title: Duchamp apparently hit upon stoppages, French for the "invisible mending" of a garment, after walking past a shop sign advertising sewing supplies.
Mixed media - The Museum of Modern Art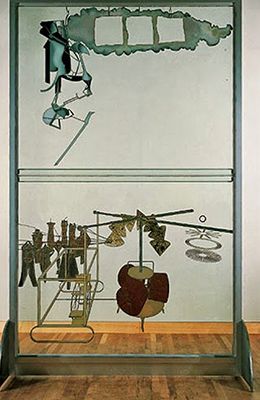 1915-1923
The Bride Stripped Bare by Her Bachelors, Even, or The Large Glass
The Bride Stripped Bare by Her Bachelors, Even, or The Large Glass was partly inspired by author Raymond Roussel's use of homophones, words that sound alike but have different meanings. Duchamp frequently resorted to puns and double-meanings in his work.With The Large Glass, he sought to make an artwork that could be both visually experienced and "read" as a text. After attending a performance of Roussel's Impressions d'Afrique, Duchamp envisioned a sculptural assemblage as a stage of sorts. Preliminary studies for this stage, which would have been over nine feet tall, included depictions of an abstracted "bride" being attacked by machine-like figures in chaotic motion. The constructed gadgetry featured between the two glass panels was also likely inspired by Duchamp's study of mathematician Henri Poincare's physics theorems.
Mixed media - Philadelphia Museum of Art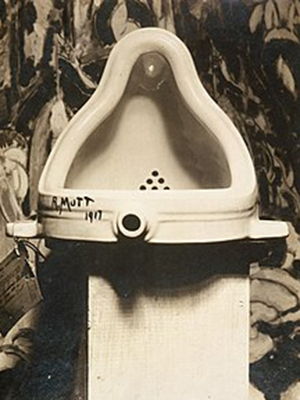 1917
Fountain
The most notorious of the readymades, Fountain was submitted to the 1917 Society of Independent Artists under the pseudonym R. Mutt. The initial R stood for Richard, French slang for "moneybags" whereas Mutt referred to JL Mott Ironworks, the New York-based company, which manufactured the porcelain urinal. After the work had been rejected by the Society on the grounds that it was immoral, critics who championed it disputed this claim, arguing that an object was invested with new significance when selected by an artist for display. Testing the limits of what constitutes a work of art, Fountain staked new grounds. What started off as an elaborate prank designed to poke fun at American avant-garde art, proved to be one of most influential artworks of the 20th century.
Urinal - Philadelphia Museum of Art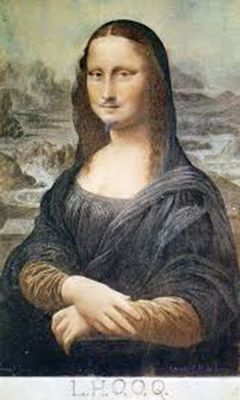 1919
L.H.O.O.Q
Marcel Duchamp's scandalous L.H.O.O.Q is an altered postcard reproduction of Leonardo Da Vinci's Mona Lisa. For this "assisted" (which implied a degree of manipulation as opposed to the "unassisted") readymade, Duchamp penciled a moustache and a goatee over Mona Lisa's upper lip and chin, and re-titled the artwork. The title riffs on the French pronunciation of the letters, "Elle a chaud au cul," which roughly translates as "She has a hot ass." Rather than transmuting an ordinary, manufactured object into a work of art, as in the bulk of his readymades, in L.H.O.O.Q Duchamp starts with the representation of an iconic masterpiece that he takes down from its pedestal by playfully debunking it. In endowing the Mona Lisa with masculine attributes, he alludes to Leonardo's purported homosexuality and gestures at the androgynous nature of creativity. Duchamp is clearly concerned here with gender role-reversals, which later come to the fore in Man Ray's portraits of the artist dressed as his female alter ego, Rrose Selavy.
Collotype - Museum Boijmans Van Beuningen, Rotterdam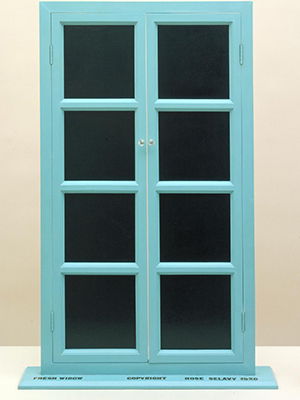 1920
Fresh Widow
This miniature model of a traditional French window was made to Duchamp's specifications by a carpenter in New York. The title, inscribed at the base along with the words "COPYRIGHT ROSE SELAVY 1920," would have been an obvious pun in the aftermath of World War I, which turned many a lusty or "fresh" young spouse into a widow. (Incidentally, the work marks the debut of Duchamp's feminine alter ego, Rose Selavy.) As if to signal mourning, the eight windowpanes are covered in black polished leather, which fully blocks out the view, thus playing havoc with the notion of painting as a window onto the world.
Painted wood, glass, leather - Tate Modern, London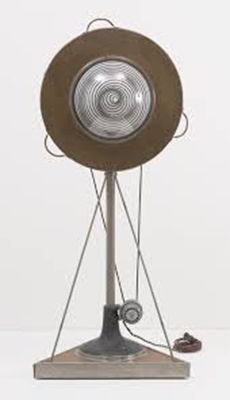 1925
Rotary Demisphere (Precision Optics)
Duchamp's known aversion for what he termed "retinal art" did not prevent him from conducting optical experiments by means of kinetic sculptures such as this one (though he refused to consider them as artworks). Based on an earlier model Duchamp and Man Ray had experimented with in 1920, Rotary Demisphere (Precision Optics) consists of a white papier-mache globe mounted on a velvet-lined disk that calls to mind the rings of Saturn. The globe is covered with black concentric circles arranged to form a spiral that appears to pulsate when spinning. Engraved on a copper ring around the globe's circumference, the inscription "RROSE SELAVY ET MOI ESQUIVONS LES ECCHYMOSES DES ESQUIMAUX AUX MOTS EXQUIS," ("Rrose Selavy and I dodge the Eskimos' bruises with exquisite words.") When pronounced in French, the phrase wittily conveys the hypnotic visual effect verbally through a complex of echoing sounds.
Mixed media - The Museum of Modern Art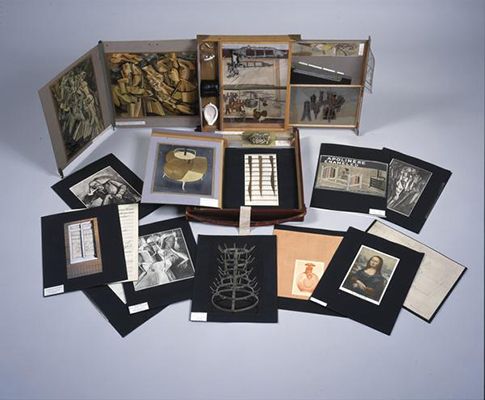 1935-41
La Boite-en-Valise (Box in a Suitcase)
Like a traveling salesman's kit, this Boite-en-Valise (Box in a Suitcase) is one of twenty-four editions of a leather case that contains sixty-nine miniature reproductions of Duchamp's artworks. Each box offered different, hand-colored art pieces affixed to the lid's inside. Sections in the boxes slide out and unfold to show prints mounted on black board. This work exemplifies the lack of boundary between original and reproduction that Duchamp developed with his readymades. The box also functions as a portable museum: Duchamp made it for his move to New York in 1942, and included selections of his work made up to that date. La Boite-en-Valise calls to mind André Malraux's "museum without walls," not least in its use of photographic reproductions.
Mixed media - Fogg Museum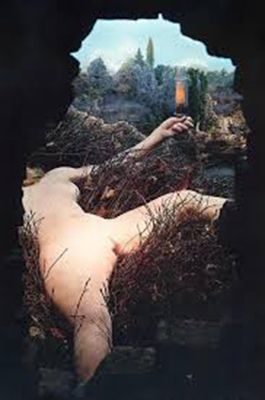 1946-66
Etant donnes
Installed behind a heavy wooden door that was found in Spain and shipped to New York, Etant donnes consists of a diorama viewed through two eyeholes. The scene depicts a nude woman, possibly dead, with her legs splayed, holding an illuminated gas lamp. A mountainous landscape, based on a photo Duchamp shot in Switzerland, creates the background setting. Built in secret over a period of more than twenty years, Etant donnes is considered Duchamp's second major work. He made an entire manual for its installation, which is reproduced in facsimile and available in print. At first glance, Etant donnes is a direct reference to Courbet's painting, Origine du Monde (1866). Yet upon closer consideration, the piece can be viewed as a reflection on the boundaries between artist and spectator, as a means to question self-consciousness, or as a meditation on spiritual purpose through the symbolism of a lit lamp.
Painted wood, latex, and fabric - Philadelphia Museum of Art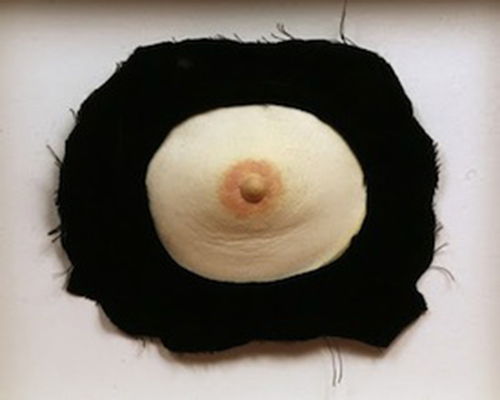 1947
Priere de Toucher (Please Touch)
Priere de Toucher (Please Touch) was designed by Duchamp to accompany the seminal 1947 International Surrealist exhibition he co-curated with André Breton. For the limited edition of the exhibition catalogue, Duchamp and the Surrealist artist Enrico Donati hand-colored 999 foam rubber "falsies," or false breasts, to glue onto black velvet which adhered to the removable book covers. This catalogue, the exhibition it was based on, and a future exhibition on which Duchamp and Breton collaborated yet again, "Exposition Internationale du Surrealisme (1959-60)," mark Duchamp's thematic overlap with the Surrealists, namely an obsession with eroticism.
Book with latex breast - Philadelphia Museum of Art
Similar Art
Influences and Connections
Influences on Artist

Influenced by Artist
Artists
Alfred Jarry
Friends & Personal Connections
Friends & Personal Connections
Useful Resources on Marcel Duchamp
Related Artists
Related Movements & Topics