Artists
Max Ernst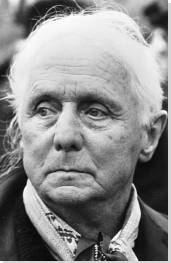 Max Ernst
German Painter and Sculptor
Movements and Styles: Dada, Surrealism
Born: April 2, 1891 - Bruhl, Germany
Died: April 1, 1976 - Paris, France

"Painting is not for me either decorative amusement, or the plastic invention of felt reality; it must be every time: invention, discovery, revelation."

Summary of Max Ernst
German-born Max Ernst was a provocateur, a shocking and innovative artist who mined his unconscious for dreamlike imagery that mocked social conventions. A soldier in World War I, Ernst emerged deeply traumatized and highly critical of western culture. These charged sentiments directly fed into his vision of the modern world as irrational, an idea that became the basis of his artwork. Ernst's artistic vision, along with his humor and verve come through strongly in his Dada and Surrealists works; Ernst was a pioneer of both movements. Spending the majority of his life in France, during WWII Ernst was categorized as an "enemy alien"; the United States government affixed the same label when Ernst arrived as a refugee. In later life, in addition to his prolific outpouring of paintings, sculpture, and works-on-paper, Ernst devoted much of his time to playing and studying chess which he revered as an art form. His work with the unconscious, his social commentary, and broad experimentation in both subject and technique remain influential.
Key Ideas
Max Ernst attacked the conventions and traditions of art, all the while possessing a thorough knowledge of European art history. He questioned the sanctity of art by creating non-representational works without clear narratives, by making sport of religious icons, and by formulating new means of creating artworks to express the modern condition.
Ernst was profoundly interested in the art of the mentally ill as a means to access primal emotion and unfettered creativity.
Ernst was one of the first artists to apply
Sigmund Freud's
dream theories investigate his deep psyche in order to explore the source of his own creativity. While turning inwards unto himself, Ernst was also tapping into the universal unconscious with its common dream imagery.
Interested in locating the origin of his own creativity, Ernst attempted to freely paint from his inner psyche and in an attempt to reach a pre-verbal state of being. Doing so unleashed his primal emotions and revealed his personal traumas, which then became the subject of his collages and paintings. This desire to paint from the sub-conscious, also known as automatic painting was central to his Surrealist works and would later influence the
Abstract Expressionists
.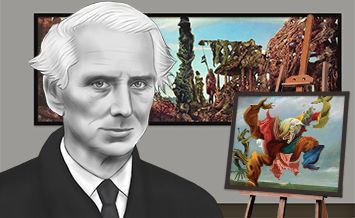 Max Ernst was born into a middle-class Catholic family of nine children in Bruhl, Germany, near Cologne. Ernst first learned to paint from his father, a strict disciplinarian who was deaf, and a teacher who held an avid interest in academic art. A good deal of Ernst's work as an adult sought to undermine authority including that of his father. Other than this introduction to amateur painting at home, Ernst never received any formal training in art: thus he was responsible for his own artistic techniques. Ernst matriculated at the University of Bonn in 1914 to study philosophy but soon abandoned it, later claiming that he avoided "any studies which might degenerate into breadwinning." Instead, the artist preferred those areas of study considered "futile by his professors - predominately painting...seditious philosophers, and unorthodox poetry." At this time, Ernst became deeply interested in psychology and the art of the mentally ill. When World War I broke out Ernst was conscripted into the German army and served in an artillery division in which he directly experienced the drama and bloodshed of trench warfare - he served on both the Eastern and Western Fronts. Ernst was one of multiple artists who emerged from military service emotionally wounded and alienated from European traditions and conventional values.
Important Art by Max Ernst

The below artworks are the most important by Max Ernst - that both overview the major creative periods, and highlight the greatest achievements by the artist.


Artwork Images

Here Everything is Still Floating (1920)

Artwork description & Analysis: This composition made from unrelated cutout photographs of fish, anatomical drawings, insects (turned over to suggest a sailing ship), and puffs of clouds and smoke cunningly arranged demonstrates Ernst's unique collage aesthetic. Through the medium, Ernst created a new world where randomness and illogic expressed the insanity of WWI and threw bourgeois sensibilities into question. The artist appropriated these images from scientific manuals, anthropological journals, and common merchandising catalogs dating from the turn-of-the-century. Ernst has managed to create a very delicate and detailed work, small in format, which seduces the viewer into close looking, and which propels the viewer to gauge the work's intentions. The title, Here Everything is Still Floating, does not appear to connect with the image in any meaningful way, except that the objects appear floating in the air. Despite the futile search for meaning, this whimsical work ultimately proves enjoyable and satisfying. The artist was to later recall that, "Collage was seen as a kind of crime, meaning one did violence to nature."

Cut-and-pasted printed paper and pencil on printed paper on cardstock - Museum of Modern Art, New York

Celebes (1921)

Artwork description & Analysis: At center, a large round shape dominates the composition that Ernst based upon a photograph of a Sudanese bin for storing corn which the artist has refigured as an elephant-like mechanical being from the subconscious. The painting's title (sometimes known as The Elephant Celebes) comes from a childish and naughty German rhyme that starts off, "The elephant from Celebes has sticky, yellow bottom grease," a bawdy reference to those that know the original rhyme.

Ernst's painting demonstrates his indebtedness to Freudian dream theory with its odd juxtapositions of disparate objects. Despite this disparity - a headless/nude woman, the bits of machinery - the painting holds together as a finished composition. Ernst's work elicits discomfort in the not knowing of his intentions and also, in early-20th century audiences, disgust because of its irrelevant depiction of the human form (the headless nude) which is revered within art making (since people are made in God's image). Through this work, Ernst questions which is the "real" world - that of night-time and dreams - or that of the waking state.

Oil on canvas - Tate Gallery, London


Artwork Images

Ubu Imperator (1923)

Artwork description & Analysis: This is a relatively small canvas in comparison to Ernst's other works although it radiates a commanding presence beyond its scale. At center, dominating the composition is a tower-like form with human arms extended and a head constructed as an architectural form. The tower is balanced precariously as if a spinning top which has been halted. The stability of architecture versus the instability of the tower's base, and its movement, places the object in internal conflict. Ernst has placed the body/building within a bare desert, with just an abandoned scythe in the background, which would prove futile in such a setting. The title, "Ubu Imperator," translates as the Commander, yet the central figure lacks the stability and authority a leader usually commands in both art and life.

Oil on canvas - Centre Georges Pompidou, Paris
More Max Ernst Artwork and Analysis:
Influences and Connections
Influences on Artist
Artists, Friends, Movements
Influenced by Artist
Artists, Friends, Movements

Interactive chart with Max Ernst's main influences, and the people and ideas that the artist influenced in turn.
View Influences Chart


Influences on Artist

Max Ernst
Years Worked: 1891 - 1976
Influenced by Artist

If you see an error or typo, please:
tell us
Cite this page

Content compiled and written by The Art Story Contributors
Edited and published by The Art Story Contributors
" Artist Overview and Analysis". [Internet]. . TheArtStory.org
Content compiled and written by The Art Story Contributors
Edited and published by The Art Story Contributors
Available from:
First published on 05 Dec 2014. Updated and modified regularly.


[Accessed ]