Artists
Dorothea Tanning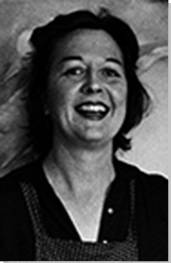 Born: August 25, 1910 - Galesburg, Illinois
Died: January 31, 2012 - New York, New York

"Women artists. There is no such thing - or person. It's just as much a contradiction in terms as 'man artist' or 'elephant artist.' You may be a woman and you may be an artist; but the one is a given and the other is you."

Summary of Dorothea Tanning
Art pervades Dorothea Tanning's life; not only have the many images, objects, and texts that she created become worthwhile art, her very presence transformed photographs and moments in time to make them more artistic. The same whirling energy that followed Tanning as a person is also found in her energetic brushstroke, a phenomenon linked to the day of her birth, "a day of high wind," which was said to terrify her mother and, as a result, Tanning was born. The dominance of a frightening, unstoppable life force characterizes Tanning's entire oeuvre. With ideas too big for rural Illinois, a place "where nothing happened but the wallpaper", the artist left for Chicago, and then, once in New York found that both in style and in company she identified as a Surrealist (she married Max Ernst). With distinct progression through a long career, Tanning began by meticulously depicting her own dreams. This penetrating psychological exploration continued while her work evolved to become more abstract and sculptural. The folds of childhood dresses link these different phases, as cloth transforms from being the depicted subject to the material used. The final phase of the artist's career saw her become the "oldest living emerging poet", alongside collaboration with other renowned poets, and the production of a series of large-scale flower paintings.
Key Ideas
Like other
Surrealists
and most notably
René Magritte
and
Salvador Dalí
, Tanning's paintings are often direct illustrations of her dreams. She aimed to make complex psychology visible - revealing a particular interest in the unconscious of one individual experienced through a single dream - by depicting at least one figure within her dream scene with their eyes closed.
Tanning's painting is characterized by a whoosh and a whirling kinetic energy, and by beliefs in dynamism, flux, and an immediacy that uncovers an interesting comparison of ideology with the
Italian Futurists
. Born in a storm and with a need to escape from the confines of childhood restrictions there is vitality and intent of purpose connected to everything that the artist does. Illustrations of the folds of fabric often serve to highlight this interest in constant movement.
A sexual charge pulsates throughout Tanning's work. Young girls' clothes appear torn and hair takes on a luxurious life of its own as the line between innocence and experience becomes blurred. Suggestions of violence recall
Hans Bellmer's
dolls, but more likely the eros at work for Tanning is like that found in the photography of
Sally Mann
, a force that transcends the specifically sexual and becomes a more general urge to life in any and all of its manifestations.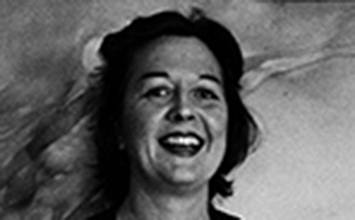 Dorothea Tanning was born the second of three daughters to a working-class family originally from Sweden who had settled and made their home in Galesburg, Illinois. Her father had aspirations of becoming a cowboy in the American West, whilst her mother was a fantasist who insisted on dressing their daughters in taffeta and silk. The children were raised in an area that ascribed to strict Lutheran values making their parents at once devoutly religious but also big dreamers. Tanning expressed a love of art from an early age and would find her own peace reading the likes of Lewis Carroll and Hans Christian Anderson. Having completed initial schooling, she then worked at the local public library before enrolling at Knox College, the closest liberal arts facility. Although the college did not offer art classes, alongside contributing illustrations to the school newspaper, Tanning always painted and drew in her spare time.
Important Art by Dorothea Tanning

The below artworks are the most important by Dorothea Tanning - that both overview the major creative periods, and highlight the greatest achievements by the artist.


Artwork Images

Self Portrait (1936)

Artwork description & Analysis: Self Portrait shows Tanning as a young woman with her head on her hand looking out at the viewer in a typically reflective artist's pose. Her drawing shows good technical skill and gives special attention to the detail of her hair. The isolated study of the eye to the left of the page is perhaps the most interesting aspect of the picture and links to Surrealist tendencies that would later emerge. Both André Breton and Salvador Dalí were interested in eyes, and often particularly in the disembodied eye - as in the case of illustrations included in Breton's novel, Nadja (1928). Attention is drawn to the eye as a window to the unconscious world, but also by seeming contradiction, as the organ wrongly attributed to sight. For to 'see' into the depths, as is demonstrated by Tanning and by other Surrealist artists, is actually a more complex and internal process.

Graphite on paper


Artwork Images

Birthday (1942)

Artwork description & Analysis: Birthday is a seminal work for Dorothea Tanning; it is the work that saw her noticed by the likes of Max Ernst and Peggy Guggenheim, it placed her strong individual character firmly on the artistic stage, and introduced motifs that would recur throughout her career. She paints herself in the foreground of a room that recedes to become an infinite passageway of many open doors. Her costume combines nature and culture as her skirt grows with seaweed-like foliage whilst the blouse from which her breasts peak out recalls aristocracy, made of silk and lace. Next to her feet is an animal familiar that has been identified by art historian, Whitney Chadwick, as a winged lemur. Lemurs have long since been associated with the night and with the spirit world. As a symbol of the unconscious released through dream, Leonora Carrington, Remedios Varo, and Valentine Hugo have all also depicted the magical lemur.

Indeed, this self-portrait by Tanning has much in common with Carrington's Self-Portrait (c.1938). The two paintings fuse together fantasy and reality as the lone artist is portrayed in only creaturely company. Both images present otherworldly framing devices; the door in the case of Tanning and the window in the case of Carrington, and ultimately both herald the significance of a woman's creative and visionary powers. The organic growth that entwines to make Tanning's skirt bears reference to her portrait of the same year, Arizona Landscape, as well as to an earlier portrait of another woman, Deirdre (1940), whose hair is replaced by leaves. Robert Motherwell photographed Tanning herself wearing a crown of leaves in 1945. Like that of her skirt in Birthday, this tentacle/antennae-like feature at once suggests connection to higher realms but also hauntingly recalls a crown of thorns, therefore uniting the pains and joys of life.

Oil on canvas - Philadelphia Museum of Art


Artwork Images

Eine Kleine Nachtmusik (1943)

Artwork description & Analysis: Eine Kleine Nachtmusik is another relatively early work for Tanning, painted with figurative perfection and an obvious closeness to Surrealist themes. Set in the hallway of a hotel or large grand house, the title of the work is inspired by Mozart's composition of the same title, "a little night music." Knowing that it is a nocturnal scene we immediately associate the picture with a dream. There are two little girls, one who has come across a giant sunflower on the floor, and another who leans against a door, eyes closed holding one of the sunflower's petals. One of the girls has hair that flies upwards, becoming tower-like caught in the wind. While the other girl recalls controversial sculptures by Hans Bellmer, as her hair unusually doesn't quite meet her forehead making one question whether she is in fact human or a doll. Three doors remain closed whilst one is cracked to reveal a bright light.

The painting makes clear reference to the artist's childhood. Along with her sisters she lived in a repressive puritanical Midwestern American environment and cultivated a rich fantasy life by means of escape. The sunflower is a common flower found in her hometown and thus stands as symbol of her identity. As also in a later painting, Palaestra (1949) the children are dressed in the elaborate silks that were favored by Tanning's mother. In both paintings the girls have their tops unbuttoned adding eroticism and sexual intrigue to each of the images. Tanning wrote herself of Eine Kleine Nachtmusik, "It's about confrontation. Everyone believes he/she is his/her drama. While they don't always have giant sunflowers to contend with, there are always stairways, hallways, even very private theatres where the suffocations and the finalities are being played out, the blood red carpet or cruel yellows, the attacker, the delighted victim..." The message here is not that there is a literal attack to overcome, but rather an ongoing expedition to survive one's own intense psychology. The motif of closed eyes reveal that it is an inward story here at play, and the painting in composition was likely inspired by Pierre Roy's Danger on the Stairs (1927) that Tanning would have seen in New York at the "Fantastic Art, Dad and Surrealism" exhibition of 1936.

Oil on panel - Tate, London, United Kingdom
More Dorothea Tanning Artwork and Analysis:
Influences and Connections
Influences on Artist
Artists, Friends, Movements
Influenced by Artist
Artists, Friends, Movements

Interactive chart with Dorothea Tanning's main influences, and the people and ideas that the artist influenced in turn.
View Influences Chart

| | | | | |
| --- | --- | --- | --- | --- |
| Artists | | Personal Contacts | | Movements |

Influences on Artist

Dorothea Tanning
Years Worked: 1918 - 2012
Influenced by Artist

If you see an error or typo, please:
tell us
Cite this page

Content compiled and written by The Art Story Contributors
Edited and revised, with Synopsis and Key Ideas added by Rebecca Baillie
" Artist Overview and Analysis". [Internet]. . TheArtStory.org
Content compiled and written by The Art Story Contributors
Edited and revised, with Synopsis and Key Ideas added by Rebecca Baillie
Available from:
First published on 25 Sep 2017. Updated and modified regularly.


[Accessed ]