Artists
Lee Miller
Born: April 23, 1907 - Poughkeepsie, New York
Died: July 21, 1977 - Chiddingly, East Sussex, United Kingdom

"I looked like an angel, but I was a fiend inside."
Summary of Lee Miller
Lee Miller was a female American artist who refused to be defined by her gender, beauty or age. Not content to be limited in her personal life or artistic practice, she was a model and muse to several of the great Surrealists, a photographer, actor and one of the only female war correspondents to be credentialed during WWII. Miller was a fiercely independent and bohemian woman when society was still deeply restricted by traditional gender roles, and her life and work is a staggeringly varied, innovative, and extraordinary story.

Miller's artistic practice was grounded in the medium of photography, and her unique visual style documented the sights and landscapes she encountered on her travels around the world in a manner influenced by a Surrealist eye for the uncanny or strange. She also maintained a close relationship with many other artists, particularly those resident in pre-war Paris. She performed in films by Jean Cocteau, was painted by Picasso and was muse to Man Ray during their time living together. After her experiences as a war correspondent she retired to her farm in Sussex (England) and was largely unremembered as an artist until after her death, when her son Antony Penrose rediscovered her archive. Through his establishment of the Lee Miller Archive she then began to be acknowledged as an important artist in relation to both the Surrealist movement and the development of photography as an art form.
Key Ideas
Millers photographic style combines techniques and formal qualities of Surrealism, such as the recontextualisation of the everyday, carefully manipulated framing to force new perspectives, and the unusual juxtaposition of objects and concepts. Her portrait of the Great Pyramid at Giza (Egypt), for example, is taken from the summit and consists only of its huge triangular shadow across the town below. It is undoubtedly a landscape dominated by the pyramid, but we do not see it - a decidedly surreal prospect.
This Surrealist-influenced and irreverent photographic style, particularly as it began to be deployed by Miller in her coverage of the Blitz in London, had a lasting impact on the world of fashion photography. Miller's work that appeared in British Vogue during the war often included models wearing finery amongst the destruction and dilapidation caused by bombing, a juxtaposition that has now become a familiar high-fashion trope. The commonplace image of beautiful models wearing high fashion in ruins, junkyards or against other incongruous backdrops derives significantly from Miller's pioneering work.
Miller's life and work are almost inseparable - like many Surrealists her mode of living was as much a rejection of convention as her artistic work. Miller's bohemian circle, particularly in Paris, was hedonistic and free in its attitudes to money, sex, marriage and respectability. This was doubly significant for the women who were part of the group, for whom this rejection of conventional society was made even more complete by the rigid expectations of their gender. Miller's life revolved around her artistic practice, and her artistic practice documented and reflected her extraordinary life in great detail.
The ease with which Miller's own artistic practice was forgotten until its rediscovery by her son raises questions about pervasive narratives of (male) genius, and the minimization of female contributions to the development of key artistic movements like Surrealism. Miller was both muse and artist in her own right, yet was largely overlooked in favor of her male mentors and collaborators. Her collaborations with Man Ray were often credited to him alone, for example, and their eventual break stemmed from Ray's jealousies of Lee's work, but more particularly, her relationships.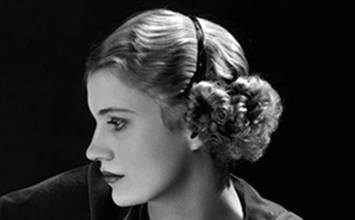 Elizabeth "Lee" Miller was born in Poughkeepsie, New York. She was the middle child of Florence and Theodore Miller, a mechanical engineer and avid amateur photographer. Theodore introduced his daughter to the craft of photography, teaching her the basics using his Kodak Brownie camera. Theodore also took regular portraits of Miller throughout her early life. Along with taking photographs, she and her brothers enjoyed tinkering with machines to learn how things worked, and she had a mostly pleasant and privileged childhood in an upper-middle-class and progressive household. Her youth was marred, however, when she was raped by the guest of a family friend when she was seven. Scholars have frequently viewed her later photography through a lens tinted by this early trauma.
Important Art by Lee Miller

The below artworks are the most important by Lee Miller - that both overview the major creative periods, and highlight the greatest achievements by the artist.

Untitled (Rat Tails) (c. 1930)

Artwork description & Analysis: Ordinary things, framed to detach them from context to dreamlike or humorous effect recur in Miller's early photographs of Paris. Here, four white rats perch side-by-side in an ambiguous space. Their little white rumps are brightly illuminated, and leafy shadows dapple the vague space around them. The rats were most likely living in a market stand amongst other domestic animals for sale, but their positioning, dramatic lighting and close cropping give the scene a fairytale ambiance.

French photographer and noted flâneur Eugene Atget won the admiration of the Surrealists for his idiosyncratic, atmospheric views of Paris, and his influence can be discerned in Miller's early street photography. Untitled (Rat Tails) shows technique inspired by Atget's work - lighting that creates atmosphere rather than detail, cropping that eliminates any sense of context - to create a mysterious, intriguing image from a common scene. In addition to an eye for the uncanny, Miller also displays a talent for grasping what Henri Cartier-Bresson later defined as the "decisive moment", foreshadowing her later success as a photojournalist.

Gelatin silver print - Lee Miller Archives

Lilian Harvey, Solarized Portrait (1933)

Artwork description & Analysis: Anglo-German film star Lilian Harvey posed in Miller's New York studio. Elegantly attired in a sequined, satin evening gown, the actress is seated with her (cropped) legs outstretched, leaning on her left arm. Her gaze is directed over the supporting shoulder. However, this conventionally glamorous pose is made strange by the process of solarization. By deliberately over-exposing the film during development the resulting images are partially negative, with blacks and whites reversed.

The materiality of the figure is completely out of balance: her supporting hand fades in to a fog, while the definition between the ruffled sleeve of her dress and the background space is clearly defined with a black outline. Stark contrasts in her hair create a topographical surface, while her outstretched lower body is completely flattened, appearing almost graphic. This treatment of the figure recalls her son's statement that as a fashion model, "Lee was used to people looking at her as a thing rather than as a person". The technique of solarization here visualizes that feeling, breaking down the coherence of the whole figure and dissolving the barrier between model and surrounding space. Aside from the technique apparent here, the confident gaze and slight smirk of the subject illustrate Miller's definition of a good portrait: Catching the subject "not when he is aware but when he is his most natural self" was her goal. Like the best of Miller's work, this seemingly straightforward portrait turns something simple on its head, infusing a glamour shot of an actress in a pretty dress with a disorienting blur of unreality.

Gelatin silver print - Lee Miller Archive

Portrait of Space (1937)

Artwork description & Analysis: Taken from inside a tent near Siwa, Egypt, Portrait of Space looks out onto a desert landscape, through a torn mosquito net "window." A dark wood picture frame in portrait orientation hangs from the net above the tear. The landscape outside the window begins with a flattened, manicured foreground, surrounded with a border of stone. Beyond, a natural desert scape stretches to the horizon, marked by a discursive path, stones, and small hills. The sky above, occupying about 2/3 of the image, is punctuated with a few wispy, elongated clouds.

Miller's Egypt photos, this example in particular, embody the Surrealist impulses Miller developed early in her career while working with Man Ray in Paris in the late 1920s. The ideas associated with the movement, though, appear in Miller's work in subtle ways. Here a play on ambiguity and the permeability of boundaries are the most prominent. The title itself sets up an intellectual exercise. This "portrait" lacks the conventionally required subject and provides multiple "frames" - the dark frame around the whole image, the net, the tear in the net, the actual small frame dangling at the top and the stone border around the campsite. This sets up the viewer to determine what space is the subject of this subject-less portrait. Portrait of Space can be viewed as a "mise en abyme" or an image-within-an-image, "in which notions of inside and outside, are endlessly placed and displaced", as described by Patricia Allmer. Like her dematerializing portraits, Portrait of Space confronts and challenges the viewer with its details, made possible by the artist's unique vision and honed sense for presenting a slice of dislocated reality.

- Lee Miller Archives
More Lee Miller Artwork and Analysis:
Influences and Connections
Influences on Artist
Artists, Friends, Movements
Influenced by Artist
Artists, Friends, Movements

Interactive chart with Lee Miller's main influences, and the people and ideas that the artist influenced in turn.
View Influences Chart


Influences on Artist

Lee Miller
Years Worked: 1929 - 1953
Influenced by Artist

| | | | | |
| --- | --- | --- | --- | --- |
| Artists | | Personal Contacts | | Movements |
If you see an error or typo, please:
tell us
Cite this page

Content compiled and written by Felicia Wivchar
Edited and revised, with Synopsis and Key Ideas added by Lewis Church
" Artist Overview and Analysis". [Internet]. . TheArtStory.org
Content compiled and written by Felicia Wivchar
Edited and revised, with Synopsis and Key Ideas added by Lewis Church
Available from:
First published on 18 Apr 2018. Updated and modified regularly.


[Accessed ]