Artists
Eileen Agar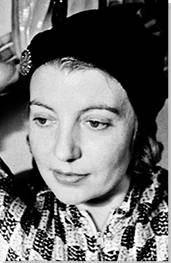 Born: December 1, 1899 - Buenos Aires, Argentina
Died: November 7, 1991 - London, United Kingdom

"The unconscious must reign through the intellect."
Summary of Eileen Agar
Eileen Agar has, like many women artists, sometimes been defined by the (male) company she kept rather than her own creative output, her biography peppered with references to the great and good of modern art and literature, from Pablo Picasso to Dylan Thomas. But she was, in fact, one of the most adventurous and influential artists of the Surrealist movement in Britain, working with a prolific energy which sustained her into her late eighties. Agar's practice was diverse, moving freely through painting, photography, collage and sculpture, but was bound together by an emphasis on the germinal power of imagination, and by a love of natural and organic forms. Her memoir, A Look at My Life (1988), published shortly before her death, provided vivid insights into the lost bohemian enclaves of pre-war Paris and London, and ensured that Agar's work continued to be discussed and displayed after her death.
Key Ideas
Eileen Agar was a significant figure in ensuring the spread of the Surrealist movement from Paris to Britain during the 1930s. She was the only British woman to be represented in the ground-breaking 1936 International Surrealist Exhibition in London, a show which ensured her fame, and which showcased a style that brought together the Surrealists' emphasis on visualizing the subconscious with a uniquely English, aristocratic kind of eccentricity.
Agar was one of a small but notable group of women attached to the Surrealist movement, also including - amongst British artists - the painter
Ithell Colquhoun
, the writer and artist
Leonora Carrington
, and the performer Sheila Legge. Artists such as Agar were able to use the Surrealist emphasis on imaginative freedom to envision worlds where gender boundaries were fluid, and where the realities of patriarchal society were less rigorously enforced.
With works such as
Ceremonial Hat for Eating Bouillabaisse
, Agar brought Surrealist sensibilities to the world of fashion design, as Salvador Dalí had done with his jewelry and theatre costumes. Recognized late in her life for her experiments in this area, Agar was invited to model for the Japanese designer Issey Miyake; throughout her career, she had presented her body as the canvas for certain of her own works. In this sense, she was a trailblazer for the idea, now associated with
Performance Art
, that one's own life might constitute an ongoing process of creative expression.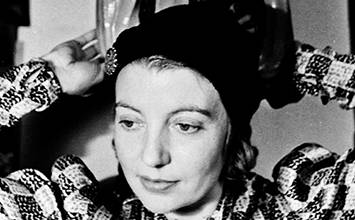 Eileen Agar was born into a wealthy British family, her mother the heir to a biscuit company, her father the manager of a successful windmill and irrigation systems company, Agar Cross. It was his business that took the family to Buenos Aires, Argentina, where Agar spent her early years. She later characterized her childhood as privileged and eccentric - "full of balloons, hoops and St. Bernard dogs" - and claimed that whenever the family travelled back to Britain her mother insisted on bringing a cow for milk, and an orchestra so that they would be surrounded by music. At six years old, Eileen was sent to England to attend boarding school, where her artistic potential was recognized and encouraged by a teacher. At the outbreak of World War One in 1914 she was sent briefly to attend a more rurally located institution, before being moved on again to Paris, to attend finishing school.
Important Art by Eileen Agar

The below artworks are the most important by Eileen Agar - that both overview the major creative periods, and highlight the greatest achievements by the artist.


Artwork Images

Three Symbols (1930)

Artwork description & Analysis: Originally named Flying Pillar when it was exhibited in a retrospective show in 1964, the main feature of this painting is a strange, semi-anthropomorphic column formed from red and white stripes, floating above a metal bridge. To the right is a loose depiction of Notre Dame Cathedral, and a fleur-de-lis symbol. This work was created during Agar's time in Paris, following her interaction with figures associated with the Surrealist movement such as André Breton and Paul Éluard.

Agar later described Three Symbols as her "first attempt at an imaginative approach to painting", and we can certainly sense the influence of Surrealism on the ambiguous but symbolically allusive compositional elements. The "three symbols" tie together references to a range of cultures and religions, suggesting an attempt to access a kind of storehouse of universal images: the pillar is a reference to Greco-Roman culture, the cathedral to the medieval Christian Gothic, and the bridge, with its Eiffel-esque cross-hatches, a homage to the French architect's Garabit Viaduct, and a symbol of modernity. The use of a trio of compositional elements implies an underlying reference to the holy trinity.

This is a work that stands at the forefront of British Surrealism, painted five years before the poet David Gascoyne penned his "First English Surrealist Manifesto" (1935), for example. It is also work of personal significance, representing Agar's attempt to strike out in a new artistic direction which was only unconsciously configured by Surrealism. She later wrote of this piece that "although the result was in some ways surreal, it was not done with that intention. However Surrealism was in the air, for painters and poets in France, and later in England, were kissing that sleeping beauty troubled by nightmares; and it was the kiss of life that they gave."

Oil on canvas - Tate, London


Artwork Images

Precious Stones (1936)

Artwork description & Analysis: Precious Stones is a collage work, featuring a silhouette of a male face in profile pasted onto another white sheet of paper, framed in turn by a third sheet, which forms a red border around the image. The silhouette is cut from a book on gemstones, and the grid-like arrangement of numbered stones jars with the compositional arrangement implied by the portrait. As the writer Michel Remy notes, "what is striking is the contrast between the strict arrangement of stones - as in all classificatory books - printed with their numbers, and the almost arbitrary outline of the face which cuts into the established, orderly arrangement of the stones, five stones being reduced to fragments by the scissors."

Agar's Surrealist tendencies were often expressed through her collages, and this is a good example of her work in that format. It is also one of her first pieces to include the image of a head and torso in side-profile, which would become a recurring motif in her work. In this case, the figure is partly modelled on her future husband Joseph Bard, whose hobby was collecting gemstones. But Agar was also fascinated by the likenesses found on ancient coins, and the slightly naïve rendering of the silhouette suggests an homage to that style of embossed portraiture.

At a deeper level, Agar's canvases often became sites for contemplation on the complexities of her aesthetic sensibilities, and this work is perhaps intended to reflect the struggle between her sense of the value of order and tradition and her interest in rendering living organic forms through her work, and thus to break away from tradition. As Remy puts it, "[a] kind of reciprocal defiance [...] emerges between the laws of order and the laws of the body, between the inorganic and the mineral on the one hand and the organic and the human on the other hand."

Collage on paper - Leeds Art Gallery, UK


Artwork Images

Ceremonial Hat for Eating Bouillabaisse (1936)

Artwork description & Analysis: Eileen's Agar's ceremonial hat is formed from a circular cork basket painted blue, topped with various found objects including natural debris with a strongly maritime theme: lobster shell, fish bones, and coral. This is one of various works that Agar created throughout her life in which the principles of Surrealist composition are applied beyond the canvas, to items of clothing or applied design. It entered the public's consciousness when Agar wore it during an interview with the fashion reporter James Laver on the 1948 television show The Eye of The Artist, and became more famous when Agar posed in it for a well-known portrait as an elderly woman. In this sense, Ceremonial Hat represents something of a 'rediscovered' work, having originally been created the year of Agar's breakthrough showing in the 1936 International Surrealist Exhibition in London.

This work both applies the principles of Surrealist bricolage to fashion design, and overruns the conceptual and formal limits of fashion design through that very process; so that the hat becomes something other than, or more than, just a hat. As Michael Remy puts it, the work shows "how a hat loses its [...] utilitarian meaning - that is, to be worn for protection or fashionable appearance - or rather how a hat subordinates that meaning to what one eats ('I'll eat my hat'!), thus proclaiming in a sense it's impossible but wished-for edibility; in other words, how reality can be exceeded by itself and deprived of its conventional limits through processes of accretion, contradiction and condensation."

Despite its transgressive qualities, Ceremonial Hat for Eating Bouillabaisse stands as one of the iconic items of Surrealist fashion design, alongside Dalí's broaches and theatrical costumes, for example. It was also a personally significant work for Agar - as suggested by her preference for wearing it in interviews and photo-shoots - partly an homage to the eccentric and grandiose tastes of her mother, a keen hat-wearer.

Mixed media including cork, paint, lobster shell, fish bones, coral and artificial flowers - Victoria and Albert Museum, London
More Eileen Agar Artwork and Analysis:
Influences and Connections
Influences on Artist
Artists, Friends, Movements
Influenced by Artist
Artists, Friends, Movements

Interactive chart with Eileen Agar's main influences, and the people and ideas that the artist influenced in turn.
View Influences Chart


Influences on Artist

Eileen Agar
Years Worked: 1921 - 1991
Influenced by Artist

| | | | | |
| --- | --- | --- | --- | --- |
| Artists | | Personal Contacts | | Movements |
If you see an error or typo, please:
tell us
Cite this page

Content compiled and written by Jessica DiPalma
Edited and revised, with Synopsis and Key Ideas added by Greg Thomas
" Artist Overview and Analysis". [Internet]. . TheArtStory.org
Content compiled and written by Jessica DiPalma
Edited and revised, with Synopsis and Key Ideas added by Greg Thomas
Available from:
First published on 14 May 2018. Updated and modified regularly.


[Accessed ]