Artists
Paul Nash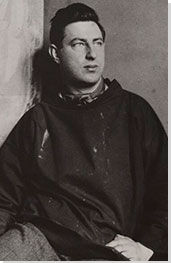 Paul Nash
British Landscape Painter and War Artist, Photographer, Writer, and Designer
Movement: Surrealism
Born: May 11, 1889 - Kensington, London, England
Died: July 11, 1946 - Boscombe, Bournemouth, England

"My love of the monstrous and magical led me beyond the confines of natural appearances into unreal worlds."
Summary of Paul Nash
Paul Nash painted deeply romantic and lyrical landscapes subtly re-envisioned through the shards of modernism and the horrors of war. He was a prolific and hugely talented artist, a writer, a photographer, a fine book illustrator and designer of stage scenery, fabrics, and posters, as well as most famously, a painter. Although Nash embraced and encompassed many of the major twentieth century art movements, including Surrealism and abstraction, his intense love for nature and surrounding landscape always remained the primary subject of his work. Indeed, even in his duties as official war artist - during both great wars - while documenting the broken debris of battlefields and feeling traumatized by the destruction that he saw, he still managed to make everything that he depicted appear somehow enchanted; gnarled and broken trees resemble ancient standing stones and sunlight or moonbeams usually peak through. As such Nash gives his viewers a magical gift: the insight that even from death springs rebirth, and furthermore, that the imagination always transforms, even the most horrific of scenes.
Key Ideas
In his deep attachment to the countryside, his persistent understated romance, and his interest in the perpetual cycle of time, there is something quintessentially English about the work of Paul Nash. He is connected to a lineage of the English Romantic poets, and to famous landscape painters, most notably to
William Blake
and
J.M.W. Turner
. He was also influenced by the artists Samuel Palmer and
Dante Gabriel Rossetti
, and like all of the above successfully placed English art on an international stage.
Although he never joined any modernist movements, Nash worked with and had links to some of the most important British artists of the first half of the twentieth century. In the Summer of 1914, before enlisting as a soldier he worked with
Roger Fry
in the Omega Workshops. In 1933 he established the Unit One group with
Ben Nicholson
and
Barbara Hepworth
. Later in the 1930s, he became close with
Eileen Agar
and started to write about "seaside surrealism".
Nash successfully exposed the "bitter truth" of war through a series of muddy trench pictures from WWI; he created invaluable documentary material of changes to the landscape experienced following trench warfare. During WWII Nash produced a series called "aerial creatures", showing German planes crashed in various landscapes. Throughout both wars he was officially employed by the government but remained an ambiguous and highly political individual within the system. Nash once superimposed Hitler's head on one of his wreaked aircraft pictures and wanted these dropped as postcards all over the Third Reich.
In later work, Nash was heavily influenced by Surrealism, and especially by the 1928
Giorgio de Chirico
exhibition that he had seen in London. Unlike other Surrealists, he concentrated on mysterious aspects of landscapes rather than the placement of uncanny objects. He was very interested in the impact of man on nature. He explored this relationship in an incredible imaginative feat, through a series of late paintings called "aerial flowers" - thus a combination of complex human invention and the simple beauty of nature - a potential precursor to
Salvador Dalí's;
iconic image of the
Meditative Rose
(1958).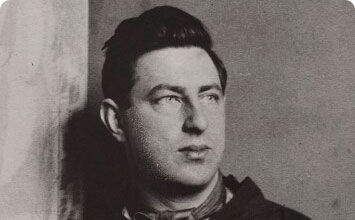 Paul Nash was born in Kensington, London in 1889. He was the son of barrister, William Henry Nash and of navy captain's daughter, Caroline Nash. He was the eldest child, and brother to John (also to become a very accomplished and well-known artist) and Barbara. When Paul was only three years old, his family moved to the Buckinghamshire countryside in an attempt to benefit his mother's deteriorating mental health. The financial cost of his mother's treatment (which included long spells in a hospital) necessitated that the Nashes rent out their family home, during which time Paul and his father lived together in smaller accommodation whilst his siblings attended boarding school. Sadly, the family's efforts were in vain. Nash's mother did not recover and died when the artist was in his early teens.
Important Art by Paul Nash

The below artworks are the most important by Paul Nash - that both overview the major creative periods, and highlight the greatest achievements by the artist.

We are making a new world (1918)

Artwork description & Analysis: Having returned from his service in WWI with many watercolors and pastel sketches depicting the landscapes he had seen, this is one of Nash's first oil paintings, based on the drawing Sunrise, Inverness Copse (1918). Both his drawing and painting that followed depict the war-torn Western Front, where the trees have been burned or beaten away and the earth has become scarred and undulated by shell holes. There are no people, but the tree stumps have an eerie human presence. Indeed, the trees are either personified or they stand as gravestones for the men no longer standing there themselves.

Despite a tone of pessimism and a scene wrought with destruction, the sun beats down and continues to illuminate this land. This light works on two levels; it shows a glimmer of hope that Nash cannot let go of, but also introduces a tone of mockery with regards the purpose and intent of war. The latter rings particularly true when considered in respect to the title of the work - We are making a new world - which acts both as a parody of the naive ambitions of war and as a description of how the landscape has been subjected to such destruction that it is almost unrecognisable. Former curator at The Imperial War Museum, Roger Tolson, affirms "In Nash's bitter vision the sun will continue to rise each and every day to expose the desecration and to repeat judgment on the perpetrators. This new world is unwanted, unlovable but inescapable."

This work is generally considered to be one of the most memorable images of the First World War and has been compared to Picasso's Guernica (1937) - the Spanish Master's legendary response to the bombing of the eponymous town. Nash poignantly subverts the usually peaceful and picturesque English landscape tradition and introduces a new element of horror. As such, the painting well embodies his comments of the previous year with respect to his role as a war artist: "I am a messenger who will bring back word from men fighting to those who want the war to last forever." This message, he claimed, would reveal the "bitter truth" of war.

Oil on canvas - Imperial War Museums

The Menin Road (1919)

Artwork description & Analysis: The proposed title for this work was A Flanders Battlefield. It had been commissioned by the Ministry of Information in 1918, on the theme of heroism and sacrifice, and was intended to be shown in a Hall of Remembrance dedicated to "fighting subjects, home subjects and the war at sea and in the air". The Hall, however, was never built, and the painting is far from a celebratory depiction of war. It shows a flooded trench, ground split apart by shells, stumps of trees, and other broken debris including wire, metal, and concrete. In the background, smoke suggests that the destruction is ongoing. Nash himself suggested the following caption for the painting: "The picture shows a tract of country near Gheluvelt village in the sinister district of 'Tower Hamlets', perhaps the most dreaded and disastrous locality of any area in any of the theatres of War."

This is Ypres in Belgium, an area that was entirely destroyed during the Battle of the Menin Road Ridge. The extent of the devastation is further emphasised by two soldiers at the centre of the picture who attempt to follow the road that no longer exists. Every inch of the picture is filled with some form of rubble, and none of the small criss-crossing paths reach the horizon. The resulting impression is that there is no escape or relief from this horror. As art historian Paul Gough notes, the viewer seeks a way through the obstacles, but "the horizon is unreachable, locked in some unimaginable future". Even the beams of sunlight that pierce through the scene have some resemblance to the barrels of guns. Man has utterly betrayed nature in this scene.

The color scheme of the painting has been said to derive from Flemish tapestries, whilst the artist and critic Wyndham Lewis's description: "an epic of mud" also calls to mind images of historic battle tapestries. Indeed, Gough praised Nash for capturing the disfigurement of the landscape and agreed with the artist that this was one of his finest works. There is a trace of Vorticist influence in these early war paintings by Nash. This was the English movement headed by Wyndham Lewis that aimed to express the dynamism of modernism through art and poetry. Nash has most in common with C.R.W. Nevinson - with both adopting an angular style for the battlefield - but this influence did not really become particularly decisive for him and did not impact his work anywhere near as much as his love for English landscape traditions from the nineteenth century.

Oil on canvas - Imperial War Museums

Equivalents for the Megaliths (1935)

Artwork description & Analysis: In 1933, Nash visited the village of Avebury, in Wiltshire, southwest England. He became "excited and fascinated" by the Neolithic monuments and standing stones that he found there, in which he saw at once "magic" and "sinister beauty". He painted the landscape several times in different styles, and in this case he introduces abstraction to further highlight the sense of mystery encountered at the site. In a letter to the then Director of the Tate Gallery (from 1951), Nash's widow wrote that Equivalents for the Megaliths had "a beautiful design, and is, in my opinion, the most important of the Megalith series of paintings".

In Equivalents for the Megaliths, Nash re-imagines the historic standing stones as abstract forms typical of contemporary sculpture. In a statement on the painting, written in 1937, the artist speaks of the monuments' dual appeal: their impressive age value and their capacity to represent bygone eras; and their formal, geometric appeal ("lines masses and planes, directions, and volume"). The artist felt that both the history and geometry of these stones lent them a mystical presence.

Indeed, Barbara Hepworth's Two Forms With Sphere (1934) could have been an influence on this painting, as may have been the nineteenth century artist, Thomas Guest's Finds from a Round Barrow at Winterslow, Wiltshire (1814), a fellow artist deeply interested in archeology and the ancient remains of past English civilizations. Some critics have also noted the painting's similarity to his brother John Nash's The Cornfield (1918) in the geometric and ordered treatment of landscape. This is perhaps in deliberate contrast to Nash's previous war paintings, which are characterized by chaos, ruin, and disarray, an attempt in pictures to re-establish harmony and balance.

At this point Paul Nash had fully recovered from his breakdown in the early 1920s that had come about as a result of "war strain". During the decade that followed he built a friendship and artistic relationship with fellow English modernist, Ben Nicholson. As result, in 1933, Nash formed a group called Unit One that included Nicholson and his wife, Hepworth. Equivalents for the Megaliths was exhibited during the two years that Nash was affiliated with this group. He shares his subdued, understated, and pastel palette with Nicholson and the interest in organic geometrical forms with Hepworth. Furthermore, the two great painters both had a love for landscape but whereas Nash always remained more lyrical, Nicholson engaged further with abstraction.

Oil on canvas - Tate
More Paul Nash Artwork and Analysis:
Influences and Connections
Influences on Artist
Artists, Friends, Movements
Influenced by Artist
Artists, Friends, Movements

Interactive chart with Paul Nash's main influences, and the people and ideas that the artist influenced in turn.
View Influences Chart


Influences on Artist

Paul Nash
Years Worked: c.1912 - 1946
Influenced by Artist

Artists

| | |
| --- | --- |
| | Dan Peterson |
| | Michael Alford |
| | James Hart Dyke |
| | Eric Ravilious |
| | Edward Bawden |

Personal Contacts

| | |
| --- | --- |
| | Graham Sutherland |
| | Eric Fitch Daglish |

Movements

| | |
| --- | --- |
| | War Art |
| | Unit One |
| | British modernism |
If you see an error or typo, please:
tell us
Cite this page

Content compiled and written by Dawn Kanter
Edited and revised, with Synopsis and Key Ideas added by Rebecca Baillie
" Artist Overview and Analysis". [Internet]. . TheArtStory.org
Content compiled and written by Dawn Kanter
Edited and revised, with Synopsis and Key Ideas added by Rebecca Baillie
Available from:
First published on 20 Dec 2018. Updated and modified regularly.


[Accessed ]