Artists
Christopher Wood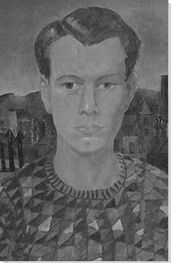 Born: April 7, 1901 - Knowsley, Liverpool, England
Died: August 21, 1930 - Salisbury, Wiltshire, England

"Dearest mother, you ask me what I am going to do: I have decided to try and be the greatest painter that has ever lived"
Summary of Christopher Wood
The tragically short but majestic career of Christopher Wood produced an exquisite selection of lyrical, enigmatic, and luminous canvases. Tellingly, as a young man traveling through Europe in the early 1920s, Wood read and marveled over the collected letters of Vincent Van Gogh. Like Van Gogh, Wood experienced a level of over sensitivity and emotional inner turmoil that ultimately led to suicide. Before his sad death, Wood was a charming and flamboyant personality. He was one of few Englishmen who gained access to fashionable Parisian art circles; he met Pablo Picasso and Sergei Diaghilev, and became great friends with Jean Cocteau. Despite these lofty connections it was not until Wood returned to England, met the hard-working Ben and Winifred Nicholson, encountered the naïve pictures of Alfred Wallis, and lived by the unpredictable sea, that he felt home and developed his own distinct and powerful style of painting.
Key Ideas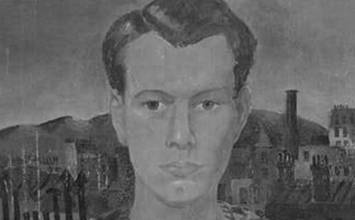 Christopher (also known as Kit) Wood was born John Christopher Wood on April 7, 1901 in Knowsley, near Liverpool. He was born to parents Clare and Lucius Wood; his father was a medical doctor who worked as a general practitioner.
Important Art by Christopher Wood

The below artworks are the most important by Christopher Wood - that both overview the major creative periods, and highlight the greatest achievements by the artist.

Beach Scene with Bathers, Pier and Ships (1925)

Artwork description & Analysis: This is one of the largest paintings Wood ever painted, and one of the most ambitious in that he was testing out all of the inspiration gathered and techniques learnt whilst living surrounded by an artistic community in Paris. Once complete, the work sold almost immediately to an interior designer and was reproduced at the time in the art journal Colour and in Vogue magazine.

Wood described the painting to his mother in a letter, "On the left there are two women lying down in bathing costumes, one combing her hair and the second standing up against the bathing cabin in a bath gown. The sea is bright green. Three fishermen with brown bodies are pulling up a fishing net on to the shore where, at their feet is a still life of lobster (cooked!) and gaily colored fish". Already key in this painting is Wood's attraction to activity on the coastline (on the edge) as well as the notable comparison with Cezanne's iconic picture, The Bathers (1898), which Wood would likely have seen in the flesh whilst in Paris.

The joy and hive of activity shown in this painting reflects the decadent mood of Paris at the time, a well welcome antidote to the gloom and depression experienced in the city immediately following the First World War. Formed of five panels, the scenes were partially inspired by two of Diaghilev's ballet productions both first shown in 1924. One was Le Train Bleu, themed around leisure activity and produced by Jean Cocteau with bathing costumes designed by Coco Chanel. The second ballet to influence Wood was called Les Matelots (The Sailors). This likely provided the direct source for the muscular male bodies at the centre of the picture all exuding "homoerotic male beauty". We also see the influence of Picasso in the classical, almost sculptural form of the female figures.

It was this culmination of different influences, as well as creating a visual homage to the theatrical mastery of Diaghilev, which helped Wood to secure a commission to design the stage sets for a modern version of Romeo and Juliet due to be performed the following year. Wood was personally delighted by the positive response to his painting, writing to his mother, "all who have seen and whose opinion I value are surprised with its beauty and the strength of its technique."

Oil on Panel - Private Collection

China Dogs in a St. Ives Window (1926)

Artwork description & Analysis: Having by this point met and become friends with Ben and Winifred Nicolson, China Dogs in a St. Ives Window reveals Wood's burgeoning love for Cornwall as well an allowance for his own intuitive style to develop. Although often compared as an artist to Ben Nicholson, this canvas clearly shows that his work is stylistically more in keeping with that of Winifred's. Whilst Ben's work, even early in his career, hinted at a strong tendency towards abstraction, Wood and Winifred held tight to the depiction of objects and figures.

Winifred typically framed her pictures using a window setting as in Wood's canvas here. Both artists apply paint lightly and with a childlike immediacy and exuberance. The image of a mother dog with her pups perhaps reflects Wood's current happy state of mind, feeling at home within a new vortex of creativity. As an artist particularly good at treating both the sky and the sea (be these at times calm, and at times unruly) Winifred Nicholson wrote of Wood that "Blue was his colour, and the evolution of the use of blue in his work is the evolution of the driving power of his life".

- Pallant House, Chichester

Self Portrait (1927)

Artwork description & Analysis: This self-portrait was painted upon Wood's return to Paris. It shows him wearing a harlequin patterned jumper, blue trousers and holding a brush in his hand tipped with red paint reflecting the red color in his jumper. On his right is a table with a paint box. He is seen standing on the balcony of an apartment in Passy, a district in the suburbs of Paris, overlooking a skyline of Paris. The overall color palette of blue and red is similar to that of China Dogs in a St. Ives Window, and the viewer cannot help wondering if the conflict of colors reflects the conflict within the man. The blue exudes calm and hopefulness, whilst the piercing red agitates and suggests that Wood sends out a warning signal to his viewers that all is not as well as it appears.



Despite struggle within, the portrait is a good example of a young artist determined and driven to succeed. By placing the color on his brush of the matching hue in his jumper, the artist also shows that he has good understanding that he is painting a picture; this is not life as it is, it is an image made by an artist. Although now relocated in spirit to Cornwall, Wood decides on the backdrop of Paris for his iconic statement self-portrait, and as such thinks of posterity and aligns himself with the great master painters already recognized and celebrated by art history. He stares out at the viewer with the confidence, determinism, and belief that he is right where he should be, at the literal heart of the art world at that time.

Indeed, the harlequin pattern on Wood's jumper is a reference to Picasso, a friend and influential figure for Wood, who painted many harlequins and personally associated with the character. For Wood though, the harlequin pattern of his clothes also helps him to merge seamlessly with the patchwork of buildings behind him, poignantly revealing his character as an individual artist, but also as little more than a fragmentary part of the altogether much vaster terrain of life.

Oil on Canvas - Kettle's Yard, Cambridge, United Kingdom
More Christopher Wood Artwork and Analysis:
Influences and Connections
Influences on Artist
Artists, Friends, Movements
Influenced by Artist
Artists, Friends, Movements

Interactive chart with Christopher Wood's main influences, and the people and ideas that the artist influenced in turn.
View Influences Chart


Influences on Artist

Christopher Wood
Years Worked: 1921 - 1930
Influenced by Artist

Artists

| | |
| --- | --- |
| | Joan Gilchrist |
| | Suzanne Cooper |
| | John James |
| | Ian Hamilton Finlay |

Personal Contacts

Movements
If you see an error or typo, please:
tell us
Cite this page

Content compiled and written by Zaid S Sethi
Edited and revised, with Synopsis and Key Ideas added by Rebecca Baillie
" Artist Overview and Analysis". [Internet]. . TheArtStory.org
Content compiled and written by Zaid S Sethi
Edited and revised, with Synopsis and Key Ideas added by Rebecca Baillie
Available from:
First published on 24 Jan 2019. Updated and modified regularly.


[Accessed ]