Movements, Styles, and Tendencies
Art Brut and Outsider Art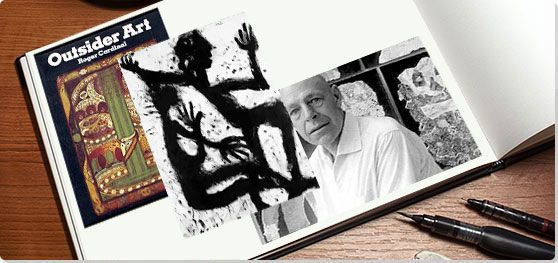 Art Brut and Outsider Art
Started: 1923
Ended: Present

"These are primitive beginnings in art, such as one usually finds in ethnographic collections, or at home in the nursery. Do not laugh, reader! Children also have artistic ability and there is virtue in their having it! . . . Parallel phenomena are provided by the works of the mentally diseased; neither childish behavior nor madness are insulting words here, as they commonly are. All this is to be taken seriously, more seriously than all the public galleries when it comes to reforming today's art."

Summary of Art Brut and Outsider Art
Driven by an unflinching creative intensity combined with a talent for rousing humanity's deepest desires and fears, Outsider Artists present a visionary interweave of the fabric of life. As a way to categorize the artwork that he loved made by introverted, isolated, and exceptionally imaginative characters, the French artist Jean Dubuffet coined the term Art Brut, or "raw art"; also known as Outsider Art, this latter term provides the most succinct way to reference the artist within the movement. Although Dubuffet's own art sought to imitate freedom from societal constraints - both in subject and in technique - in the same way as the art that he admired and collected - his position and status within the art world makes him far from an Outsider Artist. In many ways, founding a movement in this case is the very antithesis to the art gathered within it. However, the grouping he championed does help to direct attention onto a body of art made by people who have no interest in self-aggrandizement or self-promotion.

Outsider Artists usually experience some sort of revelatory moment, akin to a religious calling when they become "artists". They typically have no formal training within an art institution and exhibit in their work a sense of heightened connectivity within the intricate system of universal balance. Without having necessarily experienced tragedy, these artists hold within an acute awareness of the forces of darkness as well as those of light. The Outsider Artist deals incessantly with a war in mind (which is often mistakenly labeled as mental illness), always navigating emotional conflict in order to create outwards paths to find inner peace. The closest more conventional movement comparable is Surrealism, as the premise of the latter is also based on the power of the human unconscious. Indeed, as well as Dubuffet, other famous artists, including Picasso, heralded this work as inspirational. The Outsider Artist however does not feel the same impetus to share and disseminate ideas, often they only ask, humbly and without expectation, to be left quiet and uninterrupted to make art.
Key Ideas
As they were coined by theorists thinking in particular about the usefulness of the terms in relation to art and artists, the definitions Art Brut and Outsider Art are used in this article interchangeably. The term, Outsider Art, was introduced in 1972 (eight years after Art Brut) by the English academic, Rodger Cardinal, and like Dubuffet he intended to shine a light on art made by artists usually untrained, living quietly, and possibly somehow sheltered. Related terms that are also introduced here, such as Folk Art, Naïve Art, and Neuve Invention, have some more specific characteristics and will not be used generally.
Primitivist Art
will be avoided, as this is bound to problematic social and ethnological dimensions.
Outsider Artists almost always employ techniques of pattern, and obsessive repetitive design features. There is an attempt to create simple and satisfying order when they themselves are typically touched by an awareness of chaos. The repetitive mark making also reveals a profound understanding of the passage of time, of the continuum of a cycle, and the eternal linkage between past, present, and future. The tendency towards the repetitive is highlighted not only in endless similar marks made in drawings, but also through the acts of sewing, knotting, and binding.
Within Art Brut we discover a rare understanding of the key paradox that resides at the heart of being human; that is, that as individuals we are at once nothing and everything (one tiny fleck in a vast cosmos, and also with only one point of reference). Through the ongoing use of portraiture within this movement, Outsider Artists expose an effortless personal knowledge of philosophical connectivity that most people must study at length and even then do not really grasp the concept.
Materials used by Outsider Artists are not necessarily art materials. It is rare for artists categorized in this way to make straightforward oil paintings or sculptures from bronze or clay. More typically, and thus showing an unusual and robust resourcefulness, "outsiders" use whatever they can get their hands on, be it mud, blood, crayons, or a simple ink pen. This immediacy of material exposes the intense need to create, and furthermore illustrates that the works made are very much extensions of an ongoing reflective selfhood, rather than separate art works.
Religion and spirituality play a huge part in the oeuvres of most Outsider Artists. Whilst Madge Gill signed her works with the name of her spiritual medium rather than with her own, it is often the case that artists working in this realm incorporate biblical quotations, ancient hieroglyphs, and indeed their very own languages into the work that they produce. The result is clarification that such art really does provide insight to another world, to a dimension beyond reality from which there is much to learn.
There is a big question, perhaps even a problem, as to who should be termed an Outsider Artist, especially because many artists work very close to the edge of this definition;
Niki de Saint Phalle
,
Hilma af Klint
,
Yayoi Kusama
, and
Joseph Cornell
(with Kusama and Cornell interestingly having had a relationship) are all good examples. It seems that extreme rawness in art, and thus true Art Brut, can never become part of a convention, even if that convention starts to promote unconventionality. The artists mentioned above perhaps have the ability to shift in and out of the art world according to situation and need, whilst for an outsider this capacity to adapt is more painful and sometimes impossible.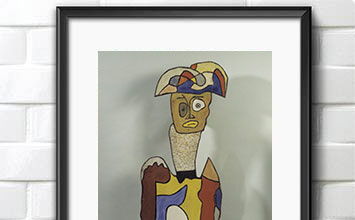 Beginnings:
The first noted case of interest by artists in the art of the mentally ill is traced back to the Der Blaue Reiter (The Blue Rider) group who were active in Germany from 1911 to 1914. Wassily Kandinsky, Franz Marc, August Macke, Alexej von Jawlensky, Marianne von Werefkin, Gabriele Münter, Lyonel Feininger, and Albert Bloch, believed in the expression of spiritual values through color and form. In this quest, these artists were interested in the linkages between music and painting, as well as the concept of synaesthesia, whereby the stimulation of one sense can cause an involuntary reaction in one or more other senses. In 1912, the group published their Almanac, Der Blaue Reiter Almanach, which included theoretical essays by Kandinsky and Marc, as well as over 140 reproductions of artworks, the majority of which were classified as "primitive" art, folk art, children's art, and art of the mentally ill. In this way, they demonstrated their belief that the traditional Western Art Historical canon was suffering a particular lack that could be remedied by turning to sources outside of its purview.
Important Art and Artists of Art Brut and Outsider Art

The below artworks are the most important in Art Brut and Outsider Art - that both overview the major ideas of the movement, and highlight the greatest achievements by each artist in Art Brut and Outsider Art. Don't forget to visit the artist overview pages of the artists that interest you.

Mental Asylum Band-Copse (From the Cradle to the Grave, Book 4, p. 203) (1910)

Artist: Adolf Wölfli

Artwork description & Analysis: After a traumatic childhood, Adolf Wölfli was arrested in 1890 for the attempted sexual assault of two young girls and sentenced to two years in the St. Johannsen prison in Berne. In 1895 he was arrested once again for the attempted molestation of a very young girl. At this point he was committed to the Waldau Mental Asylum for evaluation, and diagnosed as schizophrenic. He would remain a "patient" there until his death in 1930. During his institutionalization, he was reportedly often violent and uncontrollable, and was frequently placed in solitary confinement.

Some years after his admission to the Asylum, in 1908, he began to draw. At first he was allowed only one pencil per week, which he always quickly wore down to a nub. However, staff soon realized that drawing and writing helped to subdue his temper, and so they provided him with more supplies. Wölfli soon began work on his 25,000-page illustrated narrative life story which, upon his death, measured six feet high when stacked up. In this work, he constructed a new history of his childhood and a described a glorious future with its own uniquely personal mythology.

The first book of Wölfli's imaginary autobiography, comprised of 3000 pages, is titled From the Cradle to the Grave (1908-1912). The image pictured here comes from this first book, in which Wölfli re-narrates his tragic childhood into a magnificent travelog, which recounts how a child named Doufi traveled "more or less around the entire world." The narrative is ornately and densely illustrated with intricate drawings of geometric shapes, fictitious maps, portraits, palaces, churches, kings, queens, animals, and speaking plants, and also incorporates text and musical notation. In the second book, titled the Geographic and Algebraic Books (1912-1917), Wölfli describes how to build in the future "Saint Adolf-Giant-Creation", a huge "capital fortune" that will allow for the purchase, renaming and urbanization of the planet, and eventually the entire universe. In this narrative, Wölfli renames himself St. Adolf II. The third and fourth books, Books with Songs and Dances (1917-1922) and Album Books with Dances and Marches (1924-1928), celebrate his "Saint Adolf-Giant-Creation" not only through drawings, but also sound poetry, songs, musical scales, and collages. Finally, from 1928 until his death in 1930, he worked on the fifth and final book, the Funeral March. In this substantial volume, totaling over 8,000 pages, he (as the website www.AdolfWoelfli.ch writes, with information collated by the Museum of Fine Art in Bern, Switzerland) "recapitulates central motifs of his world system in the reduced form of keywords and collages, weaving them into a infinite tapestry of sounds and pictures", creating "a fascinating requiem."

Pencil and colored pencil on newsprint - Prague City Gallery

Le Palais Idéal (the "Ideal Palace") (1879-1912)

Artist: Ferdinand Cheval

Artwork description & Analysis: This architectural project serves as an example of a "Visionary Environment", in which an Outsider Artist constructs a large-scale architectural or landscape site. Set in a lush garden, Cheval's Palais draws architectural inspiration from an eclectic variety of sources. Architectural authors Ulrich Conrad and Hans Sperlich described the Palais Idéal as "half pagoda, half robber-baron's castle, half nymphaeum, half tomb; not Baroque, not Hellenistic, not Buddhist, not Indian, and yet all of them at once." The Palais also includes grottos, waterfalls, subterranean chambers, and soaring towers. It even bears sculptural elements representing a variety of animals such as octopi, caiman, elephants, bears, and birds, as well as mythological creatures such as giants and fairies. One of the Palais walls bears the inscription "I was not a builder, I had never handled a mason's trowel, I was not a sculptor. The chisel was unknown to me; not to mention architecture, a field of which I remained totally ignorant... Everything you can see, passer-by, is the work of one peasant, who, out of a dream, created the queen of the world..."

Cheval was a French postman with little formal education who set forth on his project in April of 1879 despite having no experience in architecture or engineering. He later recounted how "I was walking very fast when my foot caught on something that sent me stumbling a few meters away, I wanted to know the cause. In a dream I had built a palace, a castle or caves, I cannot express it well... I told no one about it for fear of being ridiculed and I felt ridiculous myself. Then fifteen years later, when I had almost forgotten my dream, when I wasn't thinking of it at all, my foot reminded me of it. My foot tripped on a stone that almost made me fall. I wanted to know what it was... It was a stone of such a strange shape that I put it in my pocket to admire it at my ease. The next day, I went back to the same place. I found more stones, even more beautiful, I gathered them together on the spot and was overcome with delight... It's a sandstone shaped by water and hardened by the power of time. It becomes as hard as pebbles. It represents a sculpture so strange that it is impossible for man to imitate; it represents any kind of animal, any kind of caricature. I said to myself: since Nature is willing to do the sculpture, I will do the masonry and the architecture".

For the next thirty-three years he collected stones that he found on his daily 18-mile mail route and took them home to add to the project, often working at night with the light of an oil lamp. At first he put the stones in his pockets, but he later began using a basket and eventually a wheelbarrow. It took him twenty years just to complete the outer walls. He carried out the entire project without any assistance. Cheval wished to be buried in his Palais, but French law forbade it. He thus spent the final eight years of his life constructing his own mausoleum at the Hauterives cemetery. The mausoleum was constructed using similar materials and style to the Palais Idéal.

Toward the end of Cheval's life, artists such as André Breton, Pablo Picasso, and Max Ernst developed an interest in his Palais. Ernst even created a collage titled The Postman Cheval in 1932. In 1969, Minister of Culture, André Malraux, declared the Palais a cultural landmark and granted it official protection. In 1986 Cheval and his magical ingenuity was commemorated on a French postage stamp.

Stone, lime, mortar, cement - Hauterives, France

The Tree of Life (1928)

Artist: Séraphine Louis

Artwork description & Analysis: Séraphine Louis, born in 1864, and also known as Séraphine de Senlis (the French town where she lived and worked) was a prolific painter of large and luscious floral arrangements. Sometimes she painted what appears to be a conventional bouquet or a typical still-life, but more often than not her images are surreal hybrids between trees and flowering bushes. Séraphine added ripe fruits to her dreamlike foliage, and created heavily patterned, sometimes even dotted leaves that begin to look more like feathers. There is no botanical accuracy to the project; it is a frenzied attempt to show something of life's beauty.

Indeed, as a visionary, Séraphine suffered from mental health instability and took solace in her religious faith saying that it was often stained glass windows that had inspired her paintings. Interestingly, although the artist used oil paints, her pictures are unusually waxy in appearance and experts cannot be sure what other ingredients she added to the mix. Her work was discovered by a German art collector called Wilhelm Uhde, who whilst visiting the small town of Senlis saw one of Séraphine's paintings hanging in his friend's home; his friend told him that the picture had been painted by his cleaner. Uhde immediately befriended Séraphine, encouraged her to work large-scale, and quickly included her work in a selection of group exhibitions. Sadly, the artist did not get a chance to experience her success as she was permanently institutionalized from 1932 onwards. In this particular asylum Séraphine had no access to art materials or any outlet for her creativity.

Oil paint and unknown added substances
More Art Brut and Outsider Art Artwork and Analysis:
If you see an error or typo, please:
tell us
Cite this page

Content compiled and written by Alexandra Duncan
Edited and revised, with Synopsis and Key Ideas added by Rebecca Baillie
" Movement Overview and Analysis". [Internet]. . TheArtStory.org
Content compiled and written by Alexandra Duncan
Edited and revised, with Synopsis and Key Ideas added by Rebecca Baillie
Available from:
First published on 22 Nov 2018. Updated and modified regularly.


[Accessed ]