Artists
Grandma Moses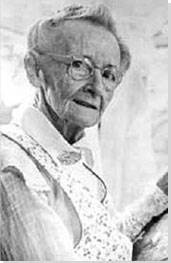 Grandma Moses
American Painter
Movement: Art Brut
Born: September 7, 1860 - Greenwich, New York
Died: December 13, 1961 - Hoosick Falls, New York

"I look out the window sometimes to seek the color of the shadows and the different greens in the trees, but when I get ready to paint I just close my eyes and imagine a scene."
Summary of Grandma Moses
The story of Grandma Moses attributes success and longevity to perseverance, childlike enthusiasm, and an unwavering appreciation of life's small joys. Moses only started to paint daily from her mid-70s, and from then onwards worked prolifically until her 100th year. Since childhood, as the only sister amongst brothers, Moses passionately resented and resisted the patriarchal stereotype of women and girls being confined to the house, restricted, and dependent. Interestingly therefore, her own paintings omit indoor drudgery altogether and instead focus on the vast wonder of outside nature; they look beyond social expectations and instead gaze romantically towards the horizon. Her paintings give home to a constant hive of activity combined with a great deal of playfulness. Indeed, Moses was a pioneer and a visionary, staunchly independent herself and interested in better equality for all. Utterly self-taught with a directness of vision, her life and work illuminate the far-reaching power of one pair of practical, whilst also determined and devoted, human hands. Indeed, Grandma Moses came to embody a modern-day saint with her birthday recorded as a national holiday.
Key Ideas
Many of Grandma Moses' paintings illustrate day-to-day farm activities, for example, "sugaring off" (preparing maple syrup), shearing and washing sheep, and making soap and butter. Her pictures present these activities as highly creative acts in themselves. Furthermore, the paintings often have a three-dimensional quality that recalls the artist's talents as a yarn embroiderer. The point being that Moses was making things all her life, there was an artistry and originality to all that she laid her hand to, from certain farming methods (she was famous for both her exquisite butter and delicious jam), to other modes of crafting, to painting.
There is a specifically American quality to Moses' work, not only in the reminder that the first settlers to arrive on the American frontiers were farmers by necessity, but also in an appreciation of the healthy values embodied within a quickly eroding traditional way of life. Whilst
Grant Wood
and the other
American Regionalists
are also known for his depictions of (sometimes) idyllic pastoral America, Grandma Moses differs in that she stays clear of stylization and any ethical viewpoint. She instead opens up a more simple, innocent, and authentic window onto American countryside activities.
As an Outsider Artist, with "folk" and "naïve" tendencies Moses had no formal training; she was an exceptionally imaginative character and worked typically in isolation. Unusually however, her work does not have the same dark, anxious, and conflicting aspects customary to
Art Brut
. Instead, like the British Alfred Wallis, she focused on joy, nostalgia, and something endearing and quaint about everyday life. It could be that coming to art so late in years has created a sub-category within outsider art intent on rendering the world positively. Both artists inspired more mainstream artists who struggled to reach the same state of raw and untainted creativity.
As an early example of art commercialized, Moses' paintings were made into a number of salable products including greetings cards, tiles, and fabrics and marketed to sell lipstick, coffee, and cigarettes. This aspect of her work is quite ironic, for although the subject of her work supports self-sustainability, and she herself held ambiguous views on the "progress" of industrialization, her popularization was fueled by burgeoning capitalism. Grandma Moses became a celebrity artist, and her character even featured in a television show. With her paintings as likely to be seen on a fridge magnet or a tea towel as they are hanging on a gallery wall, it is a great achievement to become embraced by popular culture to such an extent.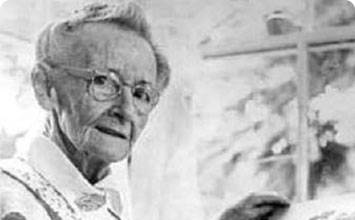 The artist best known as "Grandma Moses" was born Anna Mary Robertson; the third of ten children to parents Russell King Robertson, a flax farmer, and Mary Shannahan Robertson. Author Margot Cleary describes how Moses, "...spent her early years learning how to do women's work on the farm. She helped raise the younger children, made soap and candles and boiled down maple sap." Despite her responsibilities, Moses enjoyed her childhood, later describing it as, "...happy days, free from care or worry, helping mother, rocking Sister's cradle, taking sewing lessons from mother sporting with my Brothers, making rafts to float over the mill pond, Roam the wild woods gathering Flowers, and building air castles." (she wrote thus exactly in her later reflections). Moses had three brothers and she loved being outdoors with them, she describes herself in her own memoir, My Life's History, as something of a "tomboy" and said that if there was anything her brothers could do, she could do it better.
Important Art by Grandma Moses

The below artworks are the most important by Grandma Moses - that both overview the major creative periods, and highlight the greatest achievements by the artist.


Artwork Images

Shenandoah Valley (1938)

Artwork description & Analysis: In this painting Grandma Moses provides an idyllic view of Virginia's Shenandoah Valley. The scene is so realistic that it looks as though the artist has gathered foliage and used a collage technique to make the picture. Lush green fields and flowering trees populate the foreground where three cows graze alongside a wooden rail fence. Further back, a picturesque white house sits on the bank of a river, and then further back still the horizon flows into a distant mountain range.

As this early work shows, Moses drew artistic inspiration from the places that she had lived. After her marriage, Moses moved from New York and spent several decades living in the South including a period of time in the Shenandoah Valley. Indeed, the painting is a good example of one of Moses' "memory pictures." For here, as with many of her works it was not created whilst the artist lived in Virginia, but rather years later. The landscape is therefore not an accurate rendering, but more of a "daydream" made visible of how Moses felt whilst living here. Author Margot Cleary explains how, "...years before she started painting in earnest, Grandma Moses would while away the time at the churn by gazing out on the Shenandoah Valley and wishing she could paint a picture of the scene. When she finally was able to, it was obvious that she had stored away almost every little detail. Highly decorative, in the mode of the primitive painters with whom Grandma Moses was often grouped, her landscapes did more than present hills and valleys and trees and fields; they told stories as well, or inspired the viewer to make them up."

Interestingly, unlike the majority of her paintings, this work provides a rare instance in which not one figure is depicted. Rather the viewer is left to focus entirely on the fertile landscape of the Valley itself. This part of rural America was particularly important to Moses. It was here that she gave birth to her children, half of whom never lived long enough to experience life themselves. In her later reflections on the area she stated, "five graves I left in that beautiful Shenandoah Valley". As such, these sad recollections help to account for the tranquil and loving way in which the scene was rendered. The words also explain why Moses hasn't included people in the scene, for this is a painting dedicated to the spirits.

Oil on pressed wood - Private Collection


Artwork Images

Catching the Thanksgiving Turkey (1943)

Artwork description & Analysis: As the descriptive title suggests, in this painting, Grandma Moses depicts a scene of preparations for the Thanksgiving holiday. In the foreground, four boys are in the process of chasing a group of turkeys gathered outside a white barn. While the birds attempt to avoid capture, a man stands in a red coat and hat with rifle at the ready. On the left side of the painting, is a farmhouse. Two figures stand outside the open door as a horse drawn sleigh brings guests towards the house. The entire scene is set against a dark blue sky dotted with white flakes of snow. On the one hand this is a classic greetings card in the making, but on the other it does manage to incorporate life and death, and to acknowledge that the life force is cyclical and at times brutal. The serious part of this message is assisted by the bright blood red used to paint the jackets and heads of the turkeys.

This painting is a good example of one of Moses' main themes, that of celebrations and holidays. Rather than only capturing the key moment of the holiday, that of the feast, Moses' subjects often included the necessary (and often practical) activities required to prepare for the holiday itself, here the catching of the turkey that will be the focal point of the Thanksgiving dinner. In choosing such subjects, Moses was able to depict scenes of great activity allowing for the inclusion of multiple figures and various tasks.

Perhaps the most specifically American of holidays, Thanksgiving, is a fitting subject for an artist who is seen as embodying traditional, homespun American ideals. Upon looking at a Moses' painting, one could get an immediate sense of the traditions of the holiday season. For author Karal Ann Marling, "...in Grandma's pictures you could go home again even if you had never seen a farm before."

Through these utterly innocent renderings of festivities, Moses' paintings became statements about a particular atmosphere that the holiday was supposed to be imbued with, and this was capitalized on to sell products and even to make political statements. Marling explains how, "in November of 1950, shortly after the Korean War began in earnest, General Mills advertised its flour products in a variety of national periodicals under a reproduction of Grandma Moses' Catching the Thanksgiving Turkey (1943). The ad was titled 'The 90 Thanksgivings of Grandma Moses.' It was true that 'the 90th Thanksgiving of Grandma Moses isn't the happiest America has known,' began the essay under the picture. 'Yet despite the shadow that hangs over the world today, we in America have much to be thankful for." In this way, the inclusion of her paintings with such advertisements demonstrates how Moses' works became patriotic symbols and even occasionally propagandist tools in the hands of marketers. For Marling, "in times of crisis and uncertainty - the 1940s and early 1950s - the Thanksgiving pictures of Anna Mary Robertson Moses carried with them a particular resonance, a pang of heartache and hope that helps to account for her great and sudden appeal to the American eye.

Oil on pressed wood - Private Collection


Artwork Images

Sugaring Off (1943)

Artwork description & Analysis: A busy winter scene, as its title reflects, this painting depicts numerous figures in the forefront engaged in various stages in the process of boiling the sap from the maple trees to turn it into syrup. In the center are the outlines of other houses and a church steeple along with wagons of people heading toward the sugaring off activities. It is important to remember that life here is harsh as well as celebratory, and perhaps that it is indeed the great effort undertaken in preparations that in turn brings appreciation for the results.

The process of making maple syrup was a recurring theme for Moses including this early rendition of the subject. At once educating the public on how maple syrup is actually made whilst simultaneously romanticizing the charm of everyday country life led to great acclaim for this series of pictures. According to Marling, "the popularity of Mrs. Moses' maple sugar pictures cannot be overestimated. [...] the 1943 picture puts syruping in the context of a wider world that includes a pretty little church in the middle distance and a snug village on the left horizon. [...] The workers - joyous, industrious, solemn - have a context now in a place that is bright, serene, and reverential: the kindly village life of beautiful New England."

Of specific note is the figure of the young child in the right foreground who is depicted heading towards the center of the activities. It is an example of what curator Jamie Franklin describes as a recurring motif in Moses' paintings, and a possible self-portrait of the artist herself. According to Franklin, "when she found a figure that she particularly liked, she would reuse it in multiple paintings, such as a child with his back to the viewer running into the fictive space of the paintings...." Like a child running into the center of the action is a very fitting metaphor for Moses who always prepared to keep busy and do a great deal rather than remain idle.

While many critics could not get past what they deemed the "primitive" and "untrained" aspects of Moses' art, paintings such as this one helped to endear her to the American public and became very popular in a much wider reaching sphere than the art world. It was also one of the images reproduced by the Hallmark company in a line of greeting cards featuring Moses' work. Marling describes how, "although sales figures were a closely guarded company secret at first, Hallmark's Grandma Moses cards sold in the millions - especially the tiny Sugaring Off.

Oil on pressed board - Private Collection
More Grandma Moses Artwork and Analysis:
Influences and Connections
Influences on Artist
Artists, Friends, Movements
Influenced by Artist
Artists, Friends, Movements

Interactive chart with Grandma Moses's main influences, and the people and ideas that the artist influenced in turn.
View Influences Chart

Artists

Personal Contacts

| | |
| --- | --- |
| | Louis Caldor |
| | Sidney Janis |
| | Otto Kallir |
| | Electra Havemeyer Webb |

Movements

Influences on Artist

Grandma Moses
Years Worked: 1937 - 1960
Influenced by Artist

Artists

Personal Contacts

| | |
| --- | --- |
| | Louis Caldor |
| | Lilian Gish |
| | Sidney Janis |
| | Otto Kallir |
| | Electra Havemeyer Webb |

Movements
If you see an error or typo, please:
tell us
Cite this page

Content compiled and written by Jessica DiPalma
Edited and revised, with Synopsis and Key Ideas added by Rebecca Baillie
" Artist Overview and Analysis". [Internet]. . TheArtStory.org
Content compiled and written by Jessica DiPalma
Edited and revised, with Synopsis and Key Ideas added by Rebecca Baillie
Available from:
First published on 23 Dec 2019. Updated and modified regularly.


[Accessed ]