Artists
Leonard Knight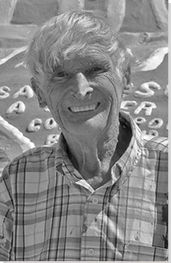 Born: November 1, 1931 - Burlington, Vermont, U.S.A.
Died: February 10, 2014 - El Cajon, California, U.S.A.

"There's going to be a worldwide love story coming down, universal. Love's going to come down and it's going to stomp all over hate. Hate is a losing proposition-it's not as big as love. Total love is going to come down, and I see it coming. God! I see it coming!"
Summary of Leonard Knight
Very few people in life receive a message loud and clear about what they are supposed to be doing on this planet, but visionary artist Leonard Knight found his. After years of roaming the states in a swirl of odd jobs, mobile living, and going wherever the wind blew him, Knight had a revelation from God. He would later describe the experience as delivering him the message: "There's going to be a worldwide love story coming down, universal. Love's going to come down and it's going to stomp all over hate. Hate is a losing proposition-it's not as big as love. Total love is going to come down, and I see it coming. God! I see it coming!" He also saw himself as a direct tool of God, finding himself in the ripe old age of 50 with a mission. In a stroke of kismet, he settled in the alternative, off-the-grid community of Slab City in the California desert where he would spend the rest of his life living out of his truck and creating the immersive art installation Salvation Mountain alongside smaller, supporting projects. The mountain, blaring messages of love and salvation in a multicolored collage of donated materials would go on to attract visitors from all over the world, becoming one of the greatest art experiments in DIY advertising of one's personal passions and lending international fame to a truly humble and unassuming artist.
Key Ideas
Leonard Knight had no formal artistic training, and even eschewed the label of artist until very late in life. His naïve methods, rudimentary materials, whimsical style of painting and haphazard methods of construction contributed to the traditions of American Folk Art. This, along with his renegade and homeless lifestyle on the fringes, also positioned him as one of our great
Outsider artists
, illuminating the way for other artists working outside the periphery of the traditional art world.
Knight's massive and interactive platform for extolling his messages of salvation and repentance also contributed to the Christian art, activist, and countercultural art genres, in which artists created artworks to shine a blaring spotlight on their own personal lifestyles, agendas, and beliefs as central themes. In this respect, Knight became an unassuming prophet of love.
Salvation Mountain
was erected over many years as Knight's perpetual project, but at its inception was considered an important example of the burgeoning
Installation
artworks that were entering the public lexicon as a viable form of contemporary art. Because of its size and its use of geography and land as materials, it is sometimes mentioned in the conversation of
Land Art
.
Salvation Mountain also stands as a prime example of art bringing people together across lines of diverse social, geographic, political, and economic divide in order to appreciate a common message. The site consistently attracted visitors from around the world who came to not only meet Knight but to experience his unique message. The power of art to unite was prevalent in everything Knight touched.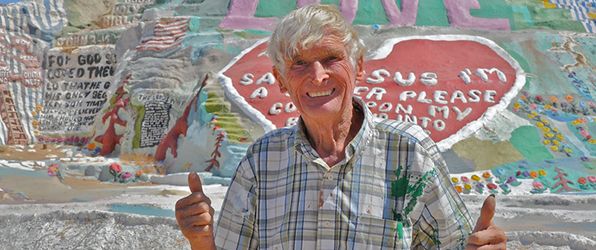 In Ben Stoddard and Dave Ehrenreich's 2014 mini documentary The Man Behind the Mountain, Leonard Knight's longtime friend and supporter Bill Ammoms says, "When I see a person that has taken such an isolated course in life, I always wonder, what took you there? That's the mystery about him, you know. What took you there?" Knight's beginnings are difficult to trace, but when pieced together from various interviews and statements they weave a map toward the anti-social, drifter life that Knight embraced in his adult years.
Important Art by Leonard Knight

The below artworks are the most important by Leonard Knight - that both overview the major creative periods, and highlight the greatest achievements by the artist.


Artwork Images

LOVE Balloon (1970- 1984)

Artwork description & Analysis: Leonard Knight's LOVE Balloon is difficult to date, as it was worked and reworked over 15 years. One of his first artistic endeavors, the LOVE Balloon came from a moment of inspiration he had in 1970, when he witnessed the excited engagement that a hot air balloon flying over Vermont inspired in spectators. Leonard felt that portraying God's everlasting love for every individual person was the most important message he wished to portray through his art. He became convinced that a hot-air balloon was the perfect way to spread this message. Innovatively, he was considering the value of visual spectacle to spread a more serious message, a platform that was becoming more common for social and political causes during the 1960s and 70s. After many years of trying and failing to raise donations to buy a balloon, Knight decided that despite having no technical training or background in art, he would make one himself.

His work on the balloon began in earnest in the late 1970s and early 1980s after his van broke down on a trip out west, leaving him stranded in Nebraska. With a second-hand sewing machine donated by a friend, pieces of bed linen, and scraps of fabric bought with money earned through apple picking, cutting cord wood, and other odd jobs, Leonard began to stitch together his LOVE balloon.

An expansive patchwork of bright, luminous color, the LOVE balloon was made up of leafy greens, vibrant reds, warm oranges, and sunny yellows. Reminiscent of fields and rolling hills as seen from above, each patch was decorated with different delicately stitched patterns. Interspersing these sections are embroidered religious words such as "Bible" and "repent" (in reference to the Sinner's prayer). In the center of the balloon, on a creamy background in poppy-red lettering is the word "LOVE."

The patchwork quality of the balloon calls to mind two fields of influence. The American quilting tradition draws on a rich history of untrained, home-spun artists, often working in the fringes or minorities of society, to create a piece with warmth, texture, and both emotional and creative expression. On the other hand, Christian artwork worldwide has been based in mosaic and stained glass styles for hundreds of years. The LOVE balloon perfectly encapsulates Knight's first forays into an artistic career that would embody parts of both of these traditions.

The LOVE balloon was the first example of his extreme levels of dedication and ingenuity. He even tried to build his own special machine to inflate the balloon; however after years of trying, the balloon was simply too large and heavy to operate. The fabric began to rip and rot, and Leonard was forced to abandon the project.

The LOVE Balloon was restored and first exhibited at the American Visionary Arts Museum in Baltimore in 1996, and now remains an iconic constant fixture of the museum's First Floor exhibit.

Assorted cloth and linen - Photographed in its restored state at the American Visionary Art Museum, Baltimore

REPENT Truck (circa. 1970s)

Artwork description & Analysis: Trucks comprised Leonard Knight's only homes for over 25 years while he lived onsite at Salvation Mountain. They were a recurring theme in his life and work overall. From his early 20s, Knight spent weeks at a time in his various trucks, drifting and driving across the country doing odd jobs. He had previously trained as a vehicle mechanic in the Army. In 1969, Knight's spiritual awakening took place in a truck outside his sister's house. One of the odd jobs he most enjoyed (although was not particularly successful at) was painting cars.

Once Knight converted to Christianity in the late 1960s, he immediately tried to join various churches in Vermont. However, he found their messages overcomplicated and felt they had strayed from the simple messages of Christ, which were to repent, and to love. One of his initial actions was to decorate his current truck at the time, a rusty old 1939 white Chevrolet. He covered it in ornate nature motifs; flowers, polka dots, swooping birds, rolling hills and trees. Even the front bumper and the wheels of the car were decorated. These colorful decorations clearly brought to mind Eastern European Gypsy and folk wagons. Amongst these illustrations were Knight's oft-repeated mantra "God is Love," and the Sinner's prayer was inscribed on both sides, and the front of the roof; the prayer that Leonard felt converted him. He seemed aware of the advertising properties of the truck; he was conscious of the concept of making an eye-catching display, a spectacle, which was essentially a huge billboard for Christ.

Knight drove around the country in this truck while working on his balloon venture, and it later became his constant home in Slab City. When his truck broke down in the California desert, as if by divine planning, he found the site for his mountain and his biggest life's work. For the next 26 years, he lived in this burnt out old Chevrolet fire truck, adding to the decoration as the years went on. The truck functioned simultaneously as an artwork and as a home, something that is specific to Folk Art and Outsider Art traditions.

Trucks and vehicles have long been a symbol of American freedom and nomadism. The significance of trucks in Knight's life and work positions him on the fringes of society; a drifter, a free spirit, and a man free of societal constraints. It is interesting that in this period, Jack Kerouac's On The Road was immensely popular, as was the lasting impact of the 1969 movie Easy Rider. Both of these stories depicted countercultural figures finding freedom and a break from conformity by travelling across America. Knight's life, rooted in the act of travelling in trucks and vans, identified with not only alternative religious believers, but also alternative lifestyles in general.

Positioned just a stone's throw from the mountain base, Knight's truck home was as simply equipped as possible. His close friend Bob Simms wrote, "Leonard's house of 26 years is built on the back of an old 1939 white fire truck decorated as ornately as his mountain. He has no electricity, gas, running water, phone, heating, air conditioning, or any of the other things that so many of us take for granted. He is also one of the happiest men I know."

Inside, surrounding Knight's simple belongings, he painted more decorations in bright multi-colors on every wall, including a cut- out green tree on the door with branches holding bright red fruit labeled as various virtues: "Love," "Joy," "Meek-ness," "Gentleness," "Peace," "Goodness," "Temperance," and "Long-suffering." He also installed dozens of small heart-shaped, hinged windows. The fact that one must physically open up these hearts is clearly symbolic of a philosophy of openness to love.

Knight lived in this truck, with his multiple cats, until he was nearly 80 years old.

Vehicle decorated with house paint and plaster


Artwork Images

The First Salvation Mountain (1984-1989)

Artwork description & Analysis: Once Leonard Knight's LOVE Balloon failed to inflate one final time in 1984 in Slab City, he decided to stay for around a week determined to build a successful monument of some kind. He set up camp near Slab City, a few dozen miles from the Salton Sea. Knight recalled, "I walked way down the ridge and I thought - that's too far from the road. And I remember carrying the bag of cement back and I just happened to start right here. And I think I picked a real good place for not knowing what I was doing."

Knight began to build, without a plan, with dirt, cement, and scrap materials scavenged from the local dump. "With a rubber bucket and a shovel... I'd mix the cement in the bucket and I'd pack it in on the mountain. And then the next day I'd go a little bit higher on the mountain." Soon, a week turned into several, which then turned into months and years. Knight continued to build his mountain higher and higher, adding layers of house paint. Soon the mountain was 75 by 50 feet tall, with a huge white banner section on the front proclaiming, "God is Love" in red.

In these early years, Knight worked alone in the desert. The act of building Salvation Mountain has clear parallels to Biblical figures and stories. Most obviously, there are links to the lore of Noah and the Ark (a seemingly ordinary man is called upon by God to build an Ark, he is derided by his neighbors, but continues with his lonely task). As Knight said himself, "Sometimes God picks little people to do things." Additionally, Salvation Mountain draws from Christian motifs of deserts and mountains as spaces for martyrs or prophets to act; specifically, Christ wandering in the desert, his Transfiguration atop a Mountain, and Moses receiving the Ten Commandments on Mount Sinai. Knight's first Salvation Mountain makes a statement about his commitment to God and the Christian folkloric tradition not only in its content but in the act of building it.

However, in 1989, the Mountain began showing signs of instability and slowly began to collapse, the dirt and cement beginning to crack and shift. Knight was forced to watch yet another of his creations fail.

However, Knight had a different approach to the notions of success and failure. Indeed, like many outsider artists, Knight was hesitant to even identify as an artist, saying "when people started calling me an artist for the first time, I scolded them but good. Don't say such a dumb thing as that. I don't like artwork, I don't know nothing about it, that's it." He eventually softened into allowing himself to be described as an artist, but said, "For the most part, God did all the thinking and the planning, and God put me in this place. And I believe that God guided my paintbrush an awful lot. Because, honest, when I started, I could dig with a wheelbarrow and move sod, but that was about the 'it' of my ability to paint."

Indeed, when the mountain fell down, Knight joked, "I believe that everything real good, God did it. And everything that's falling apart, Leonard has got too much involved with it." Because he did not see himself as a struggling artist, Knight was not crushed by the collapse of the Mountain. In Annalise Flynn's thesis Something in the Water: The Sea, the Slabs and Leonard Knight's Salvation Mountain, she examines the way in which Knight re-defined the ideas of success and failure that make up the traditional American dream, and instead leaned into his failures. Flynn writes, "...it was Knight's eagerness to reject the credit for his work and focus rather on just completing the work - the daily ritual of engaging with the physical stuff of the place - that allowed him the perceived freedom to take on his twenty-eight year experiment. Rather than submit to self-censorship or become distracted by feelings of ineptitude - even when the mountain fell down - Knight persevered by concentrating on the task at hand."

Cement and dirt installation/sculpture - Slab City, Niland, California
More Leonard Knight Artwork and Analysis:
Influences and Connections
Influences on Artist
Artists, Friends, Movements
Influenced by Artist
Artists, Friends, Movements

Interactive chart with Leonard Knight's main influences, and the people and ideas that the artist influenced in turn.
View Influences Chart

Artists

| | |
| --- | --- |
| | Navajo art traditions |
| | American folk artists |

Personal Contacts

Movements

| | |
| --- | --- |
| | Folk Art |
| | Art Brut |
| | Christian Art |
| | Jesus People Movement |
| | Counterculture/psychedelia |

Influences on Artist

Leonard Knight
Years Worked: 1970 - 2014
Influenced by Artist

Artists

| | |
| --- | --- |
| | Charlie Russell |
| | Simon Rodia |
| | Patrick Rea |
| | Aaron Huey |
| | Andrew Blake Doyle |

Personal Contacts

| | |
| --- | --- |
| | Dan Westfall |
| | Bob Simms |
| | Mike Phippen |
| | Kevin Eubank |

Movements

| | |
| --- | --- |
| | Folk Art |
| | Art Brut |
| | Installation Art |
If you see an error or typo, please:
tell us
Cite this page

Content compiled and written by Eve MacNeil
Edited and revised, with Synopsis and Key Ideas added by Kimberly Nichols
" Artist Overview and Analysis". [Internet]. . TheArtStory.org
Content compiled and written by Eve MacNeil
Edited and revised, with Synopsis and Key Ideas added by Kimberly Nichols
Available from:
First published on 08 Dec 2019. Updated and modified regularly.


[Accessed ]