Artists
Ben Nicholson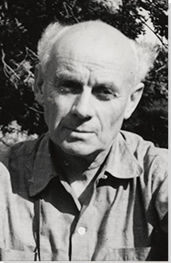 Ben Nicholson
British Abstract and still-life painter
Movements and Styles: Surrealism, St Ives Group
Born: April 10, 1894 - Denham, Buckinghamshire, England
Died: February 6, 1982 - London, England

"I'm interested in locating the holy grail of the minimum means to express the most complex ideas."
Summary of Ben Nicholson
One single work by Ben Nicholson can, at best, encompass architectural, sculptural, and painterly qualities, all the while retaining a powerful overarching worldview fueled by innocence, romance, and simplicity. Nicholson's career was long and impressive and can be divided into many phases. Even though early works appear naïve and childlike, he always experimented with pioneering theoretical and formal ways of making a picture. He initially favored still life and landscape compositions painted in a poetic and naturalistic style. From the early 1930s onwards however, his work began to develop in a more modernist direction, and he embraced working under the influence of late Cubism and abstraction. Winifred Nicholson, Alfred Wallis, Pablo Picasso, Piet Mondrian, and Barbara Hepworth all in turn had profound impact on the vision and style of Ben Nicholson. Throughout his career, there is an undiminished sense of a humble task at hand: that of honoring the beauty of landscape and life lived within it using a harmonious combination of color, line, and shape.
Key Ideas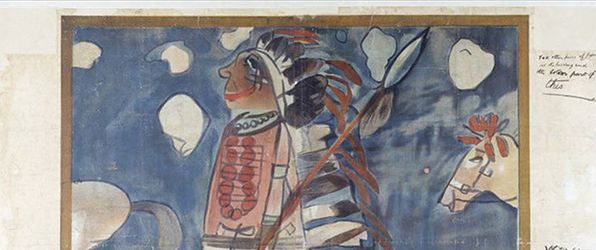 Ben Nicholson's legacy endures - even in his work as a schoolboy. So much so that family friend J.M Barrie based a poster for his famous play Peter Pan on a childhood drawing produced by the Nicholson (who was only 10 years old at the time the poster was printed).
Important Art by Ben Nicholson

The below artworks are the most important by Ben Nicholson - that both overview the major creative periods, and highlight the greatest achievements by the artist.


Artwork Images

1924 (Goblet and Two Pears) (1924)

Artwork description & Analysis: Ben Nicholson's earliest paintings resemble his painter father's Vermeer-like portraits and sparse still-lives. In this painting, completed in the early years of his first marriage to Winifred Roberts, newly demonstrates the influence both of his artist wife (especially her free and abundant love of color and tendency to work more loosely and freely with paint) as well as the international art influences the couple had encountered on their extensive honeymoon in Europe, including most notably, paintings by Cezanne and Rousseau. The painting demonstrates Nicholson's early experimentation with new styles that would mark out his career.

It is important to remember that at this time Nicholson was also painting entirely abstract works, powerful, highly colored, grid-like formations dissecting the exciting language of Cubism. Interestingly though, he destroyed most experiments in this style including Trout and First Abstract (both made in 1924) and this painting, Goblet and Two Pears is more representative of his production at the time.

This was the moment that Nicholson re-invigorated the Seven and Five Group, and generally made paintings that had much in common both stylistically and in subject matter with his wife, Winifred Nicholson, and with his friend, Kit Wood. Together, they painted still lifes, landscapes, and portraits of friends. Above all, they attempted to achieve "freshness" of tone and color and to show "sincerity" in their approach to ideologically uncomplicated subjects. The Nicholsons along with Christopher Wood, together discovered the inspirational "primitive" work of retired fisherman, Alfred Wallis. The trio all expressed a preference for fresh light tones, and also showed enthusiasm for the Italian Primitives (especially Giotto). This particular still life is also interestingly comparable to the beautiful and meditative mid- to late-career still lifes by Giorgio Morandi.

Oil and pencil on board - Kettle's Yard, Cambridge, UK


Artwork Images

1930 (Birch Craig, Summer) (1930)

Artwork description & Analysis: This landscape was painted during the period when Ben and Winifred Nicholson were spending a lot of time in Cumberland, a rural area in the north of England. Here, they worked together with their friend Christopher (Kit) Wood, a painter who, like Nicholson, was influenced by the "primitive" style of untaught artists. The three artists worked in close collaboration between 1928-30 and there is considerable similarity in both style and subject of the artists' work at the time. Two years prior to painting this scene, together with Wood and Winifred, Nicholson had discovered the untutored master seascapes of retired fisherman, Alfred Wallis. All were profoundly impressed by the playful scale and wobbly perspective signature of Wallis. Childlike in vision, the influence of Henri Rousseau once again comes into play. Whilst Wyndham Lewis shunned this moment in creative history as the "cult of the child", Nicholson was fascinated and was indeed a personal friend of J.M. Barrie (creator of Peter Pan).

This idea of a "primitive" worldview is very evident in Birch Craig (Summer), as well as in its partner painting Birch Craig (Winter). The scene looks like a toy farmyard, made up of small things found in a child's playroom. The work also stands out as a focal piece displaying Nicholson's keen interest in a lyrical and poetic style, as well as his enduring love of landscape. Art historian Chris Stephens argues that this work is deeply rooted in the landscape it takes as its subject; he suggests its "pictorial unity" was "achieved through a process of intense looking": "an acute feeling for the particular quality and natural cycle of Cumberland light and dark, the often rapid changes in atmosphere and weather, is displayed." Nicholson captures the changing seasons in this series of paintings and thus reveals his own philosophical interest in the ongoing passage of time.

Oil on canvas - Pallant House Gallery, Chichester, UK


Artwork Images

1933 (Saint Remy - Self-Portrait with Barbara Hepworth) (1933)

Artwork description & Analysis: Saint Remy - Self-Portrait with Barbara Hepworth (1933) is a transitional work for Nicholson, straggling the realms of figuration and abstraction. It is a key example from a series of works that use simple lines and a monochrome palette; they are significant because they demonstrate an important shift away from his earlier descriptive landscape paintings towards his monochrome, abstract cut-out works of the mid-1930s. These heavily-line based works clearly show the influence of Picasso (Nicholson also did some guitar pictures in this style), here particularly in the swirling pupil of the eye of the foregrounded (female) figure.

The work is an intimate portrait of Nicholson with the sculptor Barbara Hepworth (whom he would later marry), presenting the two faces in profile, in union, overlapping one another. Despite the monochrome palette, Nicholson takes pains to delineate the shadow of the figure in the foreground, suggesting a specific light source. Through these tropes of form and color, the artist recalls the sculptural reliefs of classical friezes. The work sits at a junction between a classicizing tendency amongst modernist art, and a push towards abstraction. This is also suggested by the linearity of the composition, which evokes sculptural techniques of incision and carving, no doubt directly inspired by Barbara Hepworth.

At this time, in 1933, Nicholson was a fully-fledged member of the new British movement, Unit One. This group defined their interests as a combination of the love of design and the pursuit of form, as well as a thorough exploration of the psyche. All of the artists involved in the movement - Nicholson, Edward Wadsworth, Barbara Hepworth, Paul Nash, and Henry Moore - shared interests in the figurative, biomorphic, and the transition to abstraction. Work at this time continued to depict lots of bodies, but similar to Joan Miro and Pablo Picasso's paintings of the 1920s, extreme departures from literal anatomical accuracy were often made. Moore, in particular, defined the aims of the Unit One Group as creating reconciliation between the abstract and the human.

The art critic John Russell wrote of Nicholson's early 1930s linear works, "These paintings are the purest Nicholson: the fastidious fine-drawn line, the paint so transparent that the support seems to breathe through it, the delineation of objects which looks casual and elliptic but is really very much to the point. They give the feeling of life being lived on many levels, and of a world in which the image and the word are equal."

Oil on canvas - National Portrait Gallery, London
More Ben Nicholson Artwork and Analysis:
Influences and Connections
Influences on Artist
Artists, Friends, Movements
Influenced by Artist
Artists, Friends, Movements

Interactive chart with Ben Nicholson's main influences, and the people and ideas that the artist influenced in turn.
View Influences Chart


Influences on Artist

Ben Nicholson
Years Worked: 1910 - 1982
Influenced by Artist

Artists

| | |
| --- | --- |
| | Peter Lanyon |
| | Patrick Heron |
| | Terry Frost |
| | John Wells |
| | John Piper |

Personal Contacts

Movements

| | |
| --- | --- |
| | St Ives Group |
If you see an error or typo, please:
tell us
Cite this page

Content compiled and written by Anna Souter
Edited and revised, with Synopsis and Key Ideas added by Rebecca Baillie
" Artist Overview and Analysis". [Internet]. . TheArtStory.org
Content compiled and written by Anna Souter
Edited and revised, with Synopsis and Key Ideas added by Rebecca Baillie
Available from:
First published on 15 Apr 2019. Updated and modified regularly.


[Accessed ]