"I'm interested in locating the holy grail of the minimum means to express the most complex ideas."
"'Realism' has been abandoned in the search for reality: the 'principal objective' of abstract art is precisely this reality."
"I'm just interested in meditating on certain ideas, and I like to draw: that's my way of thinking."
"I see man more as an instrument or an agent more than anything else."
"'Painting' and 'religious experience' are the same thing. It is a question of the perpetual motion of a right idea."
"I started producing work with an ecstatic addiction."
Summary of Ben Nicholson
One single work by Ben Nicholson can, at best, encompass architectural, sculptural, and painterly qualities, all the while retaining a powerful overarching worldview fueled by innocence, romance, and simplicity. Nicholson's career was long and impressive and can be divided into many phases. Even though early works appear naïve and childlike, he always experimented with pioneering theoretical and formal ways of making a picture. He initially favored still life and landscape compositions painted in a poetic and naturalistic style. From the early 1930s onwards however, his work began to develop in a more modernist direction, and he embraced working under the influence of late Cubism and abstraction. Winifred Nicholson, Alfred Wallis, Pablo Picasso, Piet Mondrian, and Barbara Hepworth all in turn had profound impact on the vision and style of Ben Nicholson. Throughout his career, there is an undiminished sense of a humble task at hand: that of honoring the beauty of landscape and life lived within it using a harmonious combination of color, line, and shape.
Accomplishments
The Life of Ben Nicholson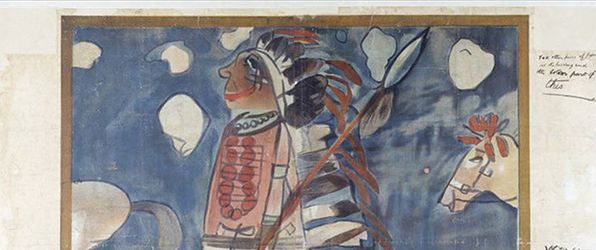 Ben Nicholson's legacy endures - even in his work as a schoolboy. So much so that family friend J.M Barrie based a poster for his famous play Peter Pan on a childhood drawing produced by the Nicholson (who was only 10 years old at the time the poster was printed).
Important Art by Ben Nicholson
Progression of Art
Biography of Ben Nicholson
Childhood
Ben Nicholson was born on April 10, 1894, in Denham, Buckinghamshire, to a family with art at its heart. His father, Sir William Nicholson, was an eminent portraitist and still life painter, while his mother Mabel also came from a family of artists and studied at art school. He had three siblings: Anthony, Nancy (an artist) and Christopher (an architect).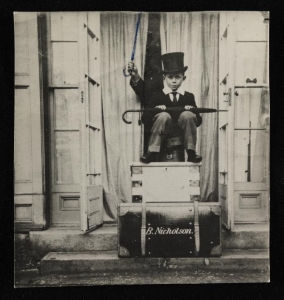 The Nicholson family, who moved to London in 1896, were connected to various artistic and intellectual circles, and were acquainted with figures such as Rudyard Kipling, Walter Sickert, and William Orpen. The family often traveled in Nicholson's early years, and in 1904 the young artist met the playwright J.M. Barrie while on holiday with his parents. During the same year, Nicholson's father had painted Barrie's portrait, and as all became better acquainted, Barrie decided to base a poster for his famous play Peter Pan on a drawing done by the young Ben Nicholson. From the ages of 9-16, Nicholson was educated at a boarding school in Norfolk.
Early Training and Work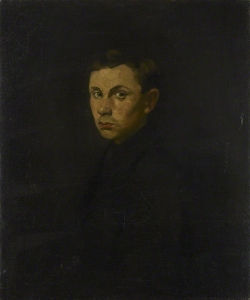 In 1910, at the age of 16, Nicholson enrolled at the Slade School of Fine Art. Although he left after only one year, he had managed to form friendships with some very influential contemporaries, including Paul Nash, Stanley Spencer, and Christopher Nevinson. He also came into contact with artist and critic Roger Fry, whose ideas would become fundamental in changing the British art landscape. Nicholson's own work, however, remained relatively conservative for a number of years and he never became directly affiliated with The Bloomsbury Group.
In the years leading up to World War I, Nicholson travelled to France, Italy and Portugal, studying languages. During this time, it has been noted by art historians such as Sebastiano Barassi that the young Nicholson attempted to use his art to compete with his father, with whom he sometimes had a difficult relationship. As he suffered from asthma, Nicholson was exempted from military service during the war. In 1917, he was sent to New York in order to have his tonsils removed. When he returned to Britain the following year he was sadly confronted with the deaths of both his beloved mother and eldest brother Anthony, the former died in an influenza epidemic, and the latter fighting in action.
This was a deeply difficult period for Nicholson. Not only did he just lose both his mother and brother, but also swiftly after, his father married Edie Stuart-Wortley, a woman to whom Ben Nicholson himself had been engaged to the previous year. Nicholson's troubles began to manifest themselves in his art, and he momentarily turned to current artistic movements for inspiration and ways to express himself, such as Fauvism and Vorticism.
During 1920, Nicholson met the young artist Winifred Roberts and soon afterwards visited Cornwall with her and her family. By November the same year, the pair were married. On their honeymoon, they visited Italy, and wrote to their friends that they were unimpressed by much of the Renaissance art they saw: "It is astonishing how few really 1st class A1 painters there have been," Nicholson wrote to a friend, "And people like Tintoretto, Fra Angelico & Michelangelo have vastly... overrated reputations." Nevertheless, they do both seem to have been heavily influenced by the icy pastel tones of some Renaissance frescos.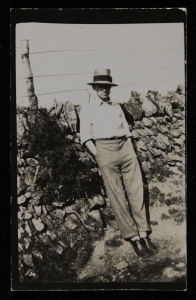 After their honeymoon, Winifred and Nicholson bought a house in Switzerland, where the couple each had a studio. They remained living in Lugano during the winters of 1920 to 1924 in an attempt to aid Nicholson's bad health. Despite living abroad they continued to spend their summers in England, often stopping off to see contemporary shows in Paris on the way. They had good contacts with a number of Italian artists based around Milan, and particularly with those associated with the Novecento Italiano group. This broad influence base helped both artists to experiment with new forms and ideas, and also to move away from the artistic traditions of both of their families. The couple had three children together.
Nicholson had his first solo exhibition in London in 1922, and in 1924, he joined the Seven and Five Society. The group was initially relatively conservative, but it was ready for change and by the time Nicholson took the helm, the outlook was more radical and pointed towards abstraction.
When in the UK, Winifred and Nicholson lived at "Bankshead", their house near Brampton in Cumberland. The couple met the young artist, Christopher (Kit) Wood who was also profoundly influenced by time spent at Bankshead, writing that "the Bankshead life is the painter's life". In August 1928, whilst spending time in Cornwall, the trio of artists together discovered the work of retired fisherman Alfred Wallis; they were all greatly influenced by the raw and untutored manner of his painting. By this point, Ben and Winifred Nicholson and Christopher Wood had become the typical and leading representatives of the "Seven & Five style".
Mature Period
At some point during the late 1920s, Ben and Winifred moved back to London. They were surrounded by a group of artists keen to establish a new movement. In 1931, Nicholson met Barbara Hepworth. Nicholson joined her on a holiday in Norfolk, along with Hepworth's then-husband John Skeaping, as well as Henry and Irina Moore, and Ivon Hitchens. Ben and Winifred separated the same year. This trip sowed the seed for the flower that grew to be the group called Unit One. Its members included Henry Moore, Barbara Hepworth, Paul Nash, Ben Nicholson, John Armstrong, John Bigge, Edward Burra, Frances Hodgkins, Edward Wadsworth, Wells Coates, and Colin Lucas.
Beyond London, Nicholson was also at the centre of European art scenes at this time, frequently travelling to Paris, where he met figures such as Mondrian and Picasso, both of who became important influences on his work. He also began to regularly visit St Ives, a small fishing village in Cornwall, England, which later became an epicentre of artistic activity and home to the St Ives School. His activities and work at the time were central to the promotion of abstract art in England.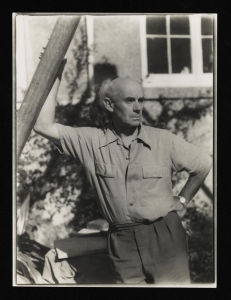 Nicholson and Barbara Hepworth showed their work together in joint exhibitions in 1932 and 1933, demonstrating a combined and concerted movement towards abstraction. Hepworth later said of their relationship: "As painter and sculptor each was the other's best critic". In 1932, Nicholson moved in to Hepworth's north London home, where they shared a studio, and in 1934 Hepworth gave birth to triplets. The pair continued to collaborate, notably on the publication Circle, which was edited by Nicholson and designed by Hepworth. This was the time when more sculptural aspects came into Nicholson's work; influenced by Hepworth he importantly started to develop his abstract relief pieces.
In 1938, Ben and Winifred Nicholson were finally and officially divorced, although having been separated for a long time, and Ben married Barbara Hepworth in November of the same year. In 1939, just before the outbreak of World War II, Hepworth and Nicholson moved from London to St Ives in Cornwall where they lived in relatively harmony for some time, becoming part of the local community and continuing to make art prolifically.
Late Period
In 1951, Nicholson left Hepworth and split his time between Cornwall and London, where he began to receive greater critical recognition. It is not known why Nicholson left his wife, but the suggestion is that 20 years of juggling family life and art had taken a toll, and also that Hepworth's new desires to make large-scale sculptures with social intent deviated from the more purely artistic ideals that the couple shared. In 1952, he received the Carnegie Prize, and in 1956 he was awarded the first Guggenheim International painting prize. In the previous year, 1955 a retrospective of his work was presented by the Tate Gallery; thanks to this as well as wide international exposure in British Council tours during the 1940s and 1950s, Nicholson by this point was considered a worldwide success.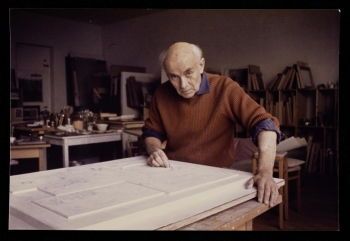 In 1957, Nicholson met the German photographer Felicitas Vogler, who had travelled to St Ives to make a radio programme. The pair married only a few weeks later, and in 1958 they moved to Castagnola in Switzerland, where they built a house with a beautiful view of the Swiss landscape. Nicholson encouraged Vogler to take her photography seriously and she started to take pictures professionally. In 1968, Nicholson received the British Order of Merit, recognising his contribution to British art.
In 1971, Nicholson and Vogler separated and Nicholson moved to Cambridge in England, followed by Hampstead in London, near to where he had previously lived with Barbara Hepworth. Vogler and Nicholson were finally divorced in 1977, and Nicholson died in 1982 at the age of 87.
The Legacy of Ben Nicholson
Nicholson was crucial and central to the formation of two movements in his lifetime, as well as being responsible for the transformation of another. This was a great feat for a British artist, as historically they have struggled to form groups and drive movements, often preferring to work alone and in isolation. Nicholson, by contrast, alongside colleagues utterly revolutionized the goals and direction of The Seven and Five Society. Later, in 1933 some of the members of Seven and Five created Unit One recognizing the need to push the strong and flowing current of modernism further. Although Unit One only remained active for two years they were prolific and exhibited widely during this time, often being credited for establishing the pre-eminence of London as a centre for modernist painting, sculpture, and architecture during the mid-1930s.
Nicholson's influence on the future and legacy of St Ives in Cornwall, making it the second major artistic hub in the UK after London cannot be in any way underestimated. St Ives became the unquestionable center for modern and abstract developments in UK art from the 1940s to the 1960s, and this was thanks to Nicholson and a few close fellow artists. Alongside Hepworth, Nicholson shifted the direction of St Ives from a quiet seaside town to the dynamic centre for the arts that it remains today. He likely acted as the catalyst for the introduction of the Tate Gallery to this location, and furthermore established the small town as at once a haven and a hotbed for artists of many generations to follow. Nicholson's legacy is also interestingly and inextricably entwined with those of Winifred Nicholson, Barbara Hepworth, Kit Wood, and Alfred Wallis. These artists all discovered, shaped, and influenced the careers of one another, and in turn the development of British art.
Influences and Connections
Influences on Artist

Influenced by Artist
Friends & Personal Connections
William Nicholson

Winifred Nicholson
Movements & Ideas
Folk Art
Artists
Peter Lanyon

Patrick Heron

Terry Frost

John Wells

John Piper
Friends & Personal Connections
Winifred Nicholson
Useful Resources on Ben Nicholson
Books
The books and articles below constitute a bibliography of the sources used in the writing of this page. These also suggest some accessible resources for further research, especially ones that can be found and purchased via the internet.
biography
Similar Art