Artists
Stanley Spencer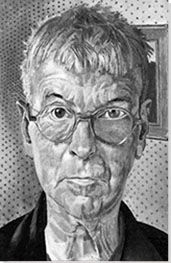 Stanley Spencer
English Painter
Born: June 30, 1891 - Cookham-on-Thames, Berkshire
Died: December 14, 1959 - Cliveden, Berkshire

"During the war, when I contemplated the horror of my life and the lives of those around me, I felt that the only way to end the ghastly experience would be if everyone suddenly decided to indulge in every degree and form of sexual love, carnal love, bestiality, anything you like to call it."

Summary of Stanley Spencer
A highly eccentric and isolated figure, writers and art historians often brush quickly over Spencer's awkward and difficult work. He had two principle interests; sex and biblical narrative and the two sit quite jarringly and unsettlingly - sometimes even creating a perverse or sinister tone - when married explicitly together. Spencer's intention, like that of many artists, was to unite opposites - to align the body and spirit and the scared and profane in order to see the whole picture of life. However, in Spencer's case, personally obsessed with sex due to unsatisfactory relationships, and with religion etched on the mind having had daily Christian stories recited at home as a child, his depiction of such subjects come with added intensity.

Although Spencer studied at the Slade School of Art, he traveled home every evening to have dinner with his family and remained estranged from other influential artists of his day. He was profoundly affected by the experience of WWI, which shattered his insularity having previously only known the life of an idyllic childhood. As such, his story overlaps, at least in part, with that of the Polish-French painter, Balthus', who also uprooted from stability by the war, made particularly erotically charged pictures. Although Spencer himself often stated that he was trying to create peace and redemption in his paintings, the affect on the viewer can often, paradoxically, be one of writhing dystopia.
Key Ideas
Spencer took the microcosm of his childhood village, Cookham in Berkshire, and explored it's land and people in order to understand the macrocosm that is life, and the world, even to the extent of the heavens as well as the earth. The village residents became the characters in his painting and the landscape the stage setting for his mysterious scenes; he therefore successfully deals with universal themes coming from a local starting point.
He was a master at creating large, heroic, and sprawling multi-figure compositions. Spencer's canvases are so complex and detailed that they resemble historical
High Renaissance
paintings, even
early Renaissance
frescos. His anatomical distortions and unusual perspective recall
Mannerist
paintings by the likes of Rosso and Jacopo Pontormo. Whilst his piercing color palette looks back to the
Post-Impressionists
and
Pre-Raphaelites
, and his exquisite attention to detail, forward to the portraits of
Lucian Freud
.
Spencer's originality lay in his merging of the descriptively literal with the visionary and imaginative. During WWI he was given a copy of Saint Augustine's Confessions from which he took the idea that God is glorified by even the smallest and most menial tasks. As such, in one work, dustbin men become lovers, and in others laborers carrying ladders mimic Christ burdened by the crucifix.
Revealing himself as a romantic (he admired the poetry of John Donne and
William Blake
), and with a specific active interest in the relations between men and women, Spencer openly investigates the physical as well as the spiritual side of love. He had various relationships and perhaps the most intense was with Patricia Preece, his second wife, a lesbian who denied Spencer sex and as such created irresolvable tensions and conflict between the desires of mind and body.
As an ongoing project, the painter designed and worked towards "Church House", intended (although never built) as an enclosed sacred space made up of various chapel dedicated to his lovers, Preece, Hilda Carline (his first wife), Elise Munday, Daphne Charlton, and Charlotte Murray all included. This ongoing project further highlights the artist's pioneering interest in uniting explicit sex and religion, something quite common in Eastern devotion (for example, sacred temples in India decorated by the female yoni, symbol of the vagina), but considered shocking as relatively unheard of in Christianity.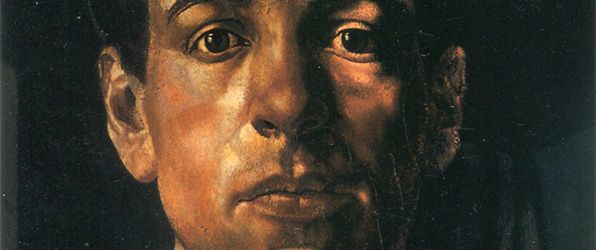 Stanley Spencer was the second youngest of nine children born to William and Anna Spencer. He was born in Cookham-on-Thames, a quaint village in Berkshire that was to become an integral subject throughout his work. His family had a long history in the area; his grandfather had built a number of buildings in Cookham, including the villa in which Stanley was born. It was attached to an identical house, in which the artist's cousins lived. He was brought up a Methodist, and his spirituality would always have heavy bearing on his artistic output.
Important Art by Stanley Spencer

The below artworks are the most important by Stanley Spencer - that both overview the major creative periods, and highlight the greatest achievements by the artist.


Artwork Images

The Apple Gatherers (1912-13)

Artwork description & Analysis: With its vivid colors and tone of joie de vivre, the early influence of Post-Impressionism, and more specifically, of Gauguin is overriding in this early work. Although Spencer did not himself choose the subject - for it was specified that students of The Slade were to depict "Apple Gatherers" for their annual drawing competition - it does seem that, as is typical, the artist has infused an imagined scene with details from his own life. Spencer was one of nine children and here there are nine children and a monumental parental couple at the center. It seems clear then that this painting is a family portrait for Spencer. Indeed, he did himself refer to the painting as "my first ambitious work and I have in it wished to say what life was". As is commonplace for the artist, he expressed within an everyday earthly scene, a pantheistic connection between man, woman, nature, and fertility. Picking fruits from the trees, the viewer is of course reminded of the literal Garden of Eden making thus Spencer's parents and the family that they create comparable to the first romantic union and the fruits that it bore, a metaphor for creation itself.

The central couple, with their arms entwined, metamorphose to become a stable and rooted tree. The image well professes the calm comfort of Spencer's childhood, anchored by the dual influence of his parents. Interestingly though, unity seems to give birth to division, for although the adult couple are bound together, the young girls and young boys turn their back upon one another, as though there is a lack of comprehension and involvement between the male and female characters of the next generation. This blindness in understanding between the sexes looks forward to Spencer's own failed love relationships, and also serves to make the painting seem more religious, recalling scenes of the righteous and unrighteous being divided before God in heaven. As an early work, the painting looks forward to themes that will recur throughout Spencer's career, and although loosely painted in the far ground, shows as well the tight and rigorous attention to detail of which he is capable in the foreground.

Oil on canvas - Tate Galleries, London


Artwork Images

Self Portrait (1914)

Artwork description & Analysis: This was Spencer's first self-portrait in oils and it is most interesting when viewed in comparison with the very similar full frontal portrait painted 50 years later. Painted when the artist was still young, we can just about see here the marked difference between Spencer's left and right eye. The later portrait clearly shows that the artist has two very different eyes and in this sense makes the profound comment that personalities are multiple and indeed sometimes split. It is the same moody and unpredictable inner psychological drama that the likes of Francis Bacon and Lucian Freud will go on to explore.

The portrait is testament both to the artist's skill and to his intense and determined character. As well as looking forward to art of the future, the influence of the Old Masters is incredibly clear in this work; the deep, dark background and the strongly modeled form is reminiscent of a work by Vermeer or Rembrandt. Indeed, Spencer was inspired to paint the portrait after seeing a reproduction of a head of Christ, by Luini, an Italian Renaissance artist. The portrait puts Spencer's face alongside the great and the good in the history of art, while by contrast, hung humbly for years in the front bedroom of Fernlea, the Spencer family home in Cookham-on-Thames.

Oil painting - Estate of Stanley Spencer

Travoys Arriving with Wounded at a Dressing-Station at Smol, Macedonia, September 1916 (1919)

Artwork description & Analysis: This muddy work, depicted in browns, blacks and ochres, shows men bringing wounded soldiers to a field hospital on stretchers. It was painted after Spencer returned from the war, and recalled his experience working with the field ambulances. Presented from an elevated position, we see four travoys brining in four casualties under blankets on stretchers. There is dynamism in the composition, in the medics' movement and in the way the wounded travel upwards, towards the light of the operating theatre in a clear spiritual reference. The hospital glows in hope of savior against the pessimism of the dark night. In the lower right corner of the frame a man walks away from the scene looking back at the hospital. His bandaged arm is lit up in positivity against the otherwise dark background.

The work came about after Spencer was approached by the British War Memorials Committee to produce an image of a religious service at the front. Accepting the commission, Spencer dismissed the suggested subject matter, opting instead to depict "'God in the bare real things, in a limber wagon, in ravines, in fouling mule lines." The scene shown was actually that of an old Greek church that had been converted into a temporary operating theater. Spencer wrote in a letter to his wife Hilda: "One would have thought that the scene was a sordid one... but I felt there was grandeur... all those wounded men were calm and at peace with everything, so the pain seemed a small thing with them."

Within the naive realism of this work, Spencer set a theme that would endure throughout his career, that of finding the spiritual in the everyday. He wanted this work to be a scene of redemption. As art historian Kitty Hauser said: "The world did not always please Spencer, or bend to his wishes, and in his art he sought to create a painted world that was not subject to the same laws as the real one. Here everything and everyone was redeemed."

Although this work owes something to European modernism, Spencer set himself apart at an early age. Hauser adds: "The simplified forms and bold use of color of his early work have something in common with Gauguin in particular. But Spencer's insistence on the importance of subject-matter separated him from those modernist painters who were his contemporaries in London and Paris."

Oil on Canvas - The Imperial War Museum
More Stanley Spencer Artwork and Analysis:
Influences and Connections
Influences on Artist
Artists, Friends, Movements
Influenced by Artist
Artists, Friends, Movements

Interactive chart with Stanley Spencer's main influences, and the people and ideas that the artist influenced in turn.
View Influences Chart

Artists

Personal Contacts

| | |
| --- | --- |
| | Hilda Carline |
| | Henry Lamb |
| | Henry Tonks |

Movements

Influences on Artist

Stanley Spencer
Years Worked: 1906 - 1959
Influenced by Artist

Artists

Personal Contacts

| | |
| --- | --- |
| | Unity Spencer |
| | Mark Gertler |

Movements
If you see an error or typo, please:
tell us
Cite this page

Content compiled and written by Sarah Ingram
Edited and revised, with Synopsis and Key Ideas added by Rebecca Baillie
" Artist Overview and Analysis". [Internet]. . TheArtStory.org
Content compiled and written by Sarah Ingram
Edited and revised, with Synopsis and Key Ideas added by Rebecca Baillie
Available from:
First published on 20 May 2019. Updated and modified regularly.


[Accessed ]