Artists
Balthus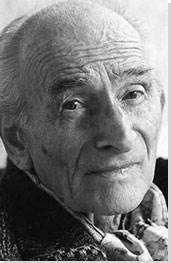 Born: February 29, 1908 - Paris, France
Died: February 18, 2001 - Rossiniere, Switzerland

"I always feel the desire to look for the extraordinary in ordinary things; to suggest, not to impose, to leave always with a slight touch of mystery in my paintings.""

Summary of Balthus
An unusual figure in the history of 20th century painting, Balthus both traveled among and drew upon the work of other major artists of his time, while at the same time following a unique individual trajectory. He was mentored by, friends of, and/or even collaborated with seminal creative figures from different eras, including Antonin Artaud, André Breton, and Rainer Maria Rilke, while cultivating his own highly refined style of painting. The scenes he usually depicted were very ordinary bourgeois interiors or outdoor settings, which nonetheless managed to reveal the heightened inner states of his subjects (often young females) as well as the states of mind of those who might be viewing them.
Key Ideas
Balthus's work demonstrates a commitment to classical painting while applying those techniques upon subject matter that reflects the concerns of the modern era in a highly restrained yet nonetheless often charged manner, revealing signs of sexuality, social transgression and anomie.
His channeling of the concerns of numerous thinkers and practitioners from other creative disciplines included the distillation of ideas and attitudes from individuals and artistic movements. Some ideas included renderings of exceptional psychological states and licentious interpersonal encounters.
Balthus's often disturbing imagery brings to the fore questions of propriety of displaying such works in public museums. His blatant violations of taboo topics were acceptable in the context of the French libertine avant-garde, but are now deemed improper by liberal-minded audiences.
His work in set design for stage production in ballet, opera and theater informed his own narrative ability to impart dramatic trajectories to the scenes he portrayed in his paintings of ordinary settings.
His investment in figurative image-making helped reinforce the value of representational painting as a critical force in a century which saw many artistic movements turn toward abstraction.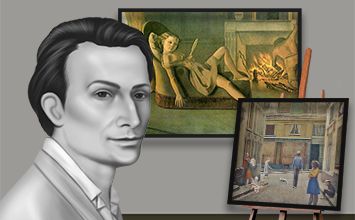 Balthus (originally named Balthasar Klossowski) was born in Paris, France to an artistic family; his father was a prominent art historian and his mother was a painter. He was exposed at an early age to the arts and social scene in Paris at the turn of the 20th century, including his mentor (and his mother's lover) the celebrated poet Rainer Maria Rilke. His older brother Pierre was also a noted artist, author, philosopher and translator, whose own circle of acquaintances and influences included Georges Bataille. Bataille's interest in transgression - including ideas of sado-masochism studied in the work of the Marquis de Sade - would certainly have swirled around Balthus by way of his brother.
Important Art by Balthus

The below artworks are the most important by Balthus - that both overview the major creative periods, and highlight the greatest achievements by the artist.


Artwork Images

The Street (1933)

Artwork description & Analysis: In this scene of urban life, a tableau featuring a larger group of individuals than the more intimate couples or single individuals he usually painted - can be seen as his setting in the modern era the sort of outdoor group scenes rendered allegorically by early painters such as Brueghel and Bosch. He updates this depiction of shared - or parallel -- sociality by combining the enigmatic affects, stiff postures and heightened atmosphere of Surrealism with a classical composing of figures in architectural space. For the latter, he draws on some of the techniques established in Renaissance-era painting, with carefully laid out proportions for each element, and the foreshortening of the individual figures at their different degrees of depth in a vanishing perspective for the viewer. He offers a more refined take on some of the ambiguous portraiture than his German contemporary Otto Dix produced around this same time, or the group tableaus in modern spaces that Max Beckmann was also rendering.

Oil on canvas - Museum of Modern Art - New York


Artwork Images

Guitar Lesson (1934)

Artwork description & Analysis: This is a prime example of how his symbolic works triggered discomfort in some viewers, and it is a prototypical - if not the ultimate - example of his use of young girls in his paintings. With the exposed lower body of a prepubescent girl and hints of a sexual dalliance with the woman on whose lap she lays, this piece was first displayed at one of his early Paris shows, but hasn't been exhibited in public since it was last shown in New York in 1977.

While the title quite literally can refer to the guitar in the foreground of the composition, he is using it in a more symbolic way - the sitting woman has her arms and hands positioned as though playing a guitar; here, though, the guitar is the body of a young girl. This work also comments on roles of authority and dominance; the young girl is submissively draped over the woman's lap, and her face and limp arms imply little agency, though the girl's hand reaching up to hold on to the somewhat disheveled woman's exposed breast suggests an ambiguity of both pleasure seeking and a more conventional succor of daughter from mother in the image. Conversely, the seated woman is in control of the entire situation, and her face and downward gaze imply dominance over the limp girl.

Here, even the draped pose of this painting references historical works that preceded it; the lifeless body of the girl in the lap of a woman mimics the many versions of the Pieta. While Michelangelo's Virgin Mary looks down lovingly at her dead son, the woman in this painting has a less emotional, more studied gaze, more predatory than loving. Similarly, Christ's lifeless face is shown looking upward, towards a symbolic father/heaven, while Balthus's girl looks out to nowhere, uncertainly lost in the ambiguity of the situation.

Reflecting on the fact that Balthus was raised in a creative household, it is not surprising perhaps that he might challenge the limits of customary moral acceptability through a traditional, figurative genre. As New Yorker magazine art critic Peter Schjeldahl writes: "Balthus sticks us with a moral conundrum, because he can. His elegantly nuanced violations of taboo won for his conservatively figurative art enthusiastic esteem in the largely Surrealist, devoutly libertine Parisian avant-garde of the nineteen-thirties, and secured him a lasting place as one of the 20th century's greats."

Oil on canvas - Private Collection


Artwork Images

Summertime (1935)

Artwork description & Analysis: This is one of his earliest works, hinting at a later use of landscape in his paintings, and it is a prime example of how the subject was far less important to him than the scene. While the woman in the foreground is ostensibly asleep, she has her cane draped over herself, hinting at either injury or a need for protection while she rests. The landscape is clearly the focus of this work, yet it is interesting to consider how he uses the natural features of mountains, valleys, and hills to mimic the curves of the sleeping woman's body. The rolling hill in the foreground has a soft mound of flora at its peak, and behind it jagged mountains meet in soft, split valleys.

One thing to note in relation to the work's title is that while summertime is hinted at in the lush greenery and clear sky, there is also a somewhat desolate darkness to the scene represented in the work that is opposed to the sunnier climate usually associated with the season. Though the woman is able to nap outdoors, she nonetheless presents an enervated, pathetic figure in her posture, and with her use of her cane as an oddly rigid and uncomforting swaddling, rather more a potential instrument that could be deployed quickly as possible weapon of protection if needed.

Oil on canvas - Metropolitan Museum of Art, NY
More Balthus Artwork and Analysis:
Influences and Connections
Influences on Artist
Artists, Friends, Movements
Influenced by Artist
Artists, Friends, Movements

Interactive chart with Balthus's main influences, and the people and ideas that the artist influenced in turn.
View Influences Chart


Influences on Artist

Balthus
Years Worked: 1920s-2001
Influenced by Artist

If you see an error or typo, please:
tell us
Cite this page

Content compiled and written by Rachel Cohen
Edited and published by The Art Story Contributors
" Artist Overview and Analysis". [Internet]. . TheArtStory.org
Content compiled and written by Rachel Cohen
Edited and published by The Art Story Contributors
Available from:
First published on 07 Dec 2015. Updated and modified regularly.


[Accessed ]