Artists
Dora Carrington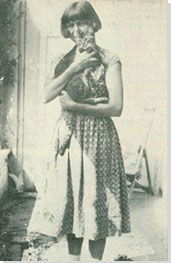 Born: March 29, 1893 - Hereford, England
Died: March 11, 1932 - Newbury, England

"If only I had any money I should not be obliged to stick at home like this. And to earn money every day, and paint what one wants to, seems almost impossible."
Summary of Dora Carrington
Dora Carrington's impressive body of work is often overshadowed by the fiery dramas of her personal and romantic life. Indeed it can be difficult to ignore her many unconventional romances, her ambiguous sexual identity, and the dramatic suicide that ended her life when she was only thirty-eight years old. But looking beyond her sensational biography and carefully examining her work - which took the form of both painting and decorative arts - reveals an artist with a singular perspective. She was an artist who did not allow herself to be hemmed in by the trends of contemporary art. Instead, Carrington brought a unique blend of styles to her work, drawing from movements as disparate as Impressionism, Primitivism, and Surrealism. Most of her paintings are landscapes and portraits, and her sensitive rendering of her subjects reveals an artist with a keen eye who made an unrivalled contribution to European art of the early-20th century.
Key Ideas
Working in a variety of styles, Carrington defied the artistic conventions of her contemporaries. Regardless of the style she worked in, a certain psychological depth was always there. From the penetrating intimacy of her portraits to the symbolism and mystery of her landscapes, emotional depth was a hallmark of her work.
Carrington was virtually unknown for her art during her own lifetime and seems to have received little encouragement from her peers to exhibit her work. It was not until the latter half of the 20th century that her work received widespread recognition.
Although her work does not overtly address feminism or women's issues, both Carrington's lack of critical recognition and her interest in "feminine" subjects - landscapes of her home, decorative arts, portraits of personal acquaintances - subtly reveal the perspectives of women in early-20th-century Europe, especially the struggles of women artists working in that context.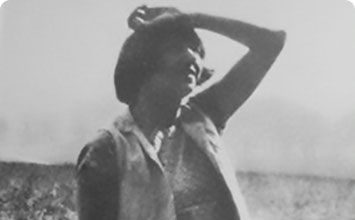 Dora Carrington was the fourth of five children - the second of two daughters. Her parents were Samuel Carrington, a railway engineer, and his wife, Charlotte Houghton. Her earliest days were spent in Hereford, a short distance east of Wales. Several years later the family moved to Rothsay Gardens in Bedford.
Important Art by Dora Carrington

The below artworks are the most important by Dora Carrington - that both overview the major creative periods, and highlight the greatest achievements by the artist.

Female Figure Lying On Her Back (1912)

Artwork description & Analysis: Carrington painted this nude during her time as a student at the Slade School for Art in London. She entered the painting in a university contest, claimed second prize, and won a two-year scholarship to continue her education. Carrington would go on to claim first prize in the same contest the following year. Slade was the first school in Britain to allow female students to use nude models for painting, albeit with restrictions. Male and female students sketched models in separate rooms, and male models for female students were partially covered for the sake of modesty.

This nude is rendered in the style of the Old Masters; the pale female form at the center of the canvas stands out against the dark background. The model's head turns away from the viewer, giving her anonymity and keeping the soft curves of her body the primary focus of attention. The painting is remarkably sophisticated and accomplished for an early, student work, in its attentiveness to subtle variations in skin tone, and the careful attention to light and shadow. The model's torso, right arm, and legs convey a kind of feminine softness, though other elements of the painting are somewhat less precise and polished. The blankets, along with the model's right foot, for example, have a more improvisational and loosely sketched quality.

This early painting stands out among Carrington's works in that it consciously imitates the established style of the historic female nude. As she developed as an artist, Carrington would deliberately distance herself from the historic and contemporary art styles, seeking to develop her own distinctive, personal, and autobiographical style.

Oil on Canvas - University College London Art Museum

Lytton Strachey (1916)

Artwork description & Analysis: Lytton Strachey was the great love of Carrington's life. It should not be surprising, then, that her portrait of him reveals especial depth and intimacy. The portrait casts Strachey in a fond, flattering light, intently reading a book in bed. His long hands and bushy reddish-brown beard stand out as prominent features. At the time Carrington painted this portrait, Strachey was working on Eminent Victorians (1918), a four-part biography of leading figures from the era, a work that would establish his enduring reputation as an important historical biographer.

The detail and emotional honesty of the painting speaks to the influence of the Pre-Raphaelites, who were concerned with expressing genuine ideas in a heartfelt, personal manner, while paying careful attention to detail, using the rich color palettes of early Renaissance painting. Carrington draws from this tradition here, but the soft light and loose brushwork also suggest some influence of the Post-Impressionist movement. Post-Impressionist work had attracted the attention of some members of the Bloomsbury Group, including art critic Roger Fry and novelist Virginia Woolf. Carrington's portrait of Strachey was painted during the First World War, but its gentle, peaceful mood is worlds away from the fear and anxiety of war. It does, however, subtly suggest the stylistic shifts of the evolving world of modern art. Through its bringing together old and new styles, it anticipates - if only faintly - the dramatic shifts on the horizon for the modern art world.

Oil on Panel - National Portrait Gallery, London

The Mill at Tidmarsh (1918)

Artwork description & Analysis: This painting depicts the quaint home in the English countryside shared by Carrington and Lytton Strachey from 1917 to 1924. Carrington depicts a tranquil, but lively scene. The house - which was central to Carrington's personal life - takes up most of the canvas, leaving little room for the pastoral fields, water, and trees of the surrounding landscape. Carrington's vibrant orange roof contrasts with the vivid greens of the overgrown grass and hedges and blue sky, creating both harmony and dynamism.

The influence of the Pre-Raphaelites is evident in this work's loving attention to the natural world and its beautiful simplicity. The Pre-Raphaelites were followers of the cultural critic John Ruskin, whose writings encouraged artists to return to nature, "rejecting nothing, selecting nothing, and scorning nothing." His philosophy is at play in Carrington's painting, since the natural world is a vital, active component of her work; it is far more than mere background. Still, Carrington's loving focus on the quirks of her home suggests that she also had her own agenda.

Although Carrington is often lumped in with the Bloomsbury set, this painting reminds us of her independence from the group. Carrington lived in a world of her own, which was a respite from the gray stones and close-packed buildings of London. While many of the Bloomsbury artists were drawn to the experimentalism and iconoclasm popular in the modern art movements of the 1910s, Carrington's early paintings are somewhat ahead of their time in that they reveal a certain nostalgia for a threatened, vanishing English way of life. These sentiments are most commonly associated with the art being produced in Europe in the years just before the Second World War.

Oil on Canvas - Private Collection
More Dora Carrington Artwork and Analysis:
Influences and Connections
Influences on Artist
Artists, Friends, Movements
Influenced by Artist
Artists, Friends, Movements

Interactive chart with Dora Carrington's main influences, and the people and ideas that the artist influenced in turn.
View Influences Chart

Artists

Personal Contacts

| | |
| --- | --- |
| | Clive Bell |
| | Roger Fry |

Movements

Influences on Artist

Dora Carrington
Years Worked: 1905 - 1932
Influenced by Artist

Artists

Personal Contacts

| | |
| --- | --- |
| | Aldous Huxley |
| | D. H. Lawrence |

Movements
If you see an error or typo, please:
tell us
Cite this page

Content compiled and written by The Art Story Contributors
Edited and published by The Art Story Contributors
" Artist Overview and Analysis". [Internet]. . TheArtStory.org
Content compiled and written by The Art Story Contributors
Edited and published by The Art Story Contributors
Available from:
First published on 25 Mar 2017. Updated and modified regularly.


[Accessed ]