Artists
Tracey Emin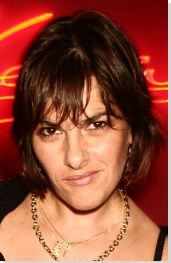 Born: July 3, 1963 - London, UK

"I realized I was my work, I was the essence of my work - I always say that after I'm dead my work isn't going to be half as good."

Summary of Tracey Emin
Tracey Emin is often called the "bad girl of British art" for her raucous public appearances and self-righteous art which are quite contrary to societal norms in England, and previous notions of femininity. She is best known for her deeply personal and confessional artwork that she promotes through her celebrity and use of the popular media. Personal traumatic events such as unreported rape, public humiliation, sexism, botched abortions, alcoholism, and promiscuity have been her topics. The quality of Emin's artwork is often contested, from the critique of expressionism, to the politics of female representation. However, it is this collapse of the identity of the artist and her work that begs for rigorous thought.
Key Ideas
Her work is often referred to as confessional, for she uses her own personal history as the subject for her artwork. She has used her own body as medium in self-portraits and performances. Her artworks enact self-mapping and self-commemorating through the possible healing and spiritual aspect of art.
The fame Emin received was more from press gossip than from critical debate for her artwork and her persona is her own brand of unapologetic artistic commodity that violated social norms (particularly British norms). Before reality television programming became as large of a phenomenon as it is today, Emin was elevated to celebrity status through the contested reception of her public appearances. Her brash unwelcomed commentary and defiant telling of a woman's autobiography fed on the public's love of voyeurist-like television sealed Emin's prominence in the contemporary art world.
She rejected the stereotype of the polite modest Englishwoman, and publicly aired her dirty laundry through her artwork and public appearances. Emin's artwork has a performative quality, and has a function other than mere self-expression in that her persona has been created for her by the public, and she has played the "bad girl" that the public has critically embraced. The societal response is part of her artwork; she encourages critique even if it comes in the form of gossip tabloids.
Although she rejects any notions of her work being for a feminist greater good, her courage to be vulnerable and honest through her artwork collapses the edge between life and art, and has brought attention to the discrepancies between men and women's ability to critically and publicly engage with topics such as alcoholism, gender roles, and, most controversially, sex.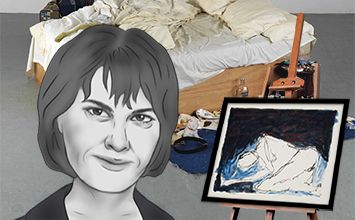 Tracey Emin was born in Surrey, in England. She grew up in Margate, on the coast of Kent, with her twin brother Paul. She lived with her mother in a successful seaside hotel, where she claims she was treated "like a princess." Her Turkish father lived with them for half of the week, spending the other half with his wife and other children. After a few years, Emin's father left and took his money with him, leaving Emin's mother bankrupt.
Important Art by Tracey Emin

The below artworks are the most important by Tracey Emin - that both overview the major creative periods, and highlight the greatest achievements by the artist.


Artwork Images

Everyone I Have Ever Slept With 1963-95 (1995)

Artwork description & Analysis: This piece first brought Tracey Emin to wider fame, both in the art world and among the general public. To create it, Emin appliqued the names of everyone she had ever shared a bed with onto a small tent. The tent was presented with its door open, lit from within and containing a mattress. Interestingly, Everyone I Have Ever Slept With was initially criticized because many people suggested that the list of sexual conquest was more a form of boasting than a work of art. However, Emin's choice of wording in her title adds a degree of nuance to the work. The list of 102 people she has "slept with" refers more generally to people she has shared a bed with, or literally slept next to. Of the many names listed, notably the non-sexual partners, are her grandmother, her twin brother Paul and her two aborted fetuses. This piece is less about sexual intimacy, as it is about general human intimacy. Furthermore, the small size of the tent and the way in which the viewer had to enter the tent to view the names suggests a sense of intimacy and places an emphasis on the emotional connection gained from sleeping side by side, rather than on sexual conquest. The work was one of many which were destroyed in a warehouse fire in 2004. The fire was widely covered in the media and some have posed that it was either a publicity stunt or a technique to make the remaining work of the involved artists more valuable. However, as art critic Vincent Katz points out, "Emin later turned down one million pounds (the insurance money) to re-create the piece. This refusal to mythologize her aesthetic past marks a distinction from the artist's continual desire to re-create her biographical past." Emin uses art as a cathartic vehicle for healing through confessional acts. The autobiographical nature of her work and the process of physically creating it required Emin to not repeat the process, but rather to keep the work in a metaphoric space where it can still function as part of her (past) life - somewhat like a memory.

Appliqued tent, mattress and light - [destroyed]


Artwork Images

Why I Never Became a Dancer (1995)

Artwork description & Analysis: This video features scenes from Margate, Emin's hometown, including the beach, the games arcade and the "golden mile" which is an area with casinos and bars lit with neon signs. Emin narrates a story from her early teens, explaining what her life was like in Margate and how she began having sex with older men between the ages of 13 and 15. After she turned 15, she says, she wasn't interested in sex any more, and turned to dancing instead. When she was dancing in a competition, a group of men whom she'd slept with began shouting "slag" in the middle of her routine, breaking her concentration and causing her to lose focus and in turn lose the competition. The film ends with the older Emin dancing in an unfurnished room with a smile on her face as a rejection of the group of men from her past. Through this personal experience, Emin explores the double standards men often hold for women; they're willing to sleep with them, but equally willing to call them a "slag" for doing so. Dance critic Sarah Crompton describes the film in the following way: "It simultaneously breaks my heart and makes me want to cheer every time I see it because in it Emin transmutes the details of her life into an experience that anyone who has ever been hurt - and recovered - can identify with." The piece is confessional and cathartic for the artist personally too. The images of her hometown are filmed in a different style, which evoke nostalgia and a touch of romance through faded colors and the amateurish handling of the camera. The style of the cinematography changes and lively disco music picks up where the narrative left off. The cut to Emin dancing in a room alone offers a reprieve to an otherwise unfortunate autobiographical story.

Super 8 film - Tate, London

My Bed (1999)

Artwork description & Analysis: The piece is Emin's record of several days spent in bed in the grip of depression. The bed is unmade and the sheets are stained. All around are strewn a variety of items such as condoms, contraceptive pills, underwear stained with menstrual blood, money, and cigarette ends. This object is her actual bed resulting from being bedridden after an end of a personal relationship. She said in an interview from the time, "I got up and took a bath and looked at the bed and thought, 'Christ, I made that'." This is not a sculpture made by molding from the artist's hands, it has more in common with the Duchampian readymade, which can be understood as art making through a process of selecting objects rather than making them. The work was nominated for the Turner prize in 1999 and received a hugely mixed response from the public and press. The piece was a seminal work for Emin and the Turner Prize audience, which introduced art as self-confessional and used biographical items that once belonged to the artist to express a common emotion or state. In this case, the work explores the common experience of depression through a very personal and intimate lens. This artwork draws an important distinction between representation and presentation. This piece is not a representation of an object such as a painting or a sculpture. The art object doesn't refer to another object; it is the object itself. Some have argued that this was the key work in elevating women's experiences to the level of artistic expression. Liz Hoggard claims the work was shocking, and consequently incredibly important, because "it broke so many taboos about the body, sexuality, shame." When the work was exhibited in the Tate for the second time in 2015, Emin commented on how the passing of time has changed the work and its reception: "Back in the 90s, it was all about cool Britannia and the shock factor and now I hope, 15 years later, people will finally see it as a portrait of a younger woman and how time affects all of us."

Box frame, mattress, linens, pillows and various objects - Tate, London
More Tracey Emin Artwork and Analysis:
Influences and Connections
Influences on Artist
Artists, Friends, Movements
Influenced by Artist
Artists, Friends, Movements

Interactive chart with Tracey Emin's main influences, and the people and ideas that the artist influenced in turn.
View Influences Chart

Artists

Personal Contacts

| | |
| --- | --- |
| | Sarah Lucas |
| | David Bowie |

Movements

Influences on Artist

Tracey Emin
Years Worked: 1984 - present
Influenced by Artist

Artists

| | |
| --- | --- |
| | Laure Provost |

Personal Contacts

Movements
If you see an error or typo, please:
tell us
Cite this page

Content compiled and written by Anna Souter
Edited and published by The Art Story Contributors
" Artist Overview and Analysis". [Internet]. . TheArtStory.org
Content compiled and written by Anna Souter
Edited and published by The Art Story Contributors
Available from:
First published on 12 Dec 2016. Updated and modified regularly.


[Accessed ]