"I realized I was my work, I was the essence of my work - I always say that after I'm dead my work isn't going to be half as good."
"I think a lot of the people who have an understanding of my work have an understanding of guttural emotional experiences and cathartic moments within their own life, and so they identify it within my work."
"Modern Art is merely the means by which we terrorize ourselves."
"Women go on getting better. It's like a light bulb, women burn and burn and burn, with men it's just one big flash."
"What is truth? Truth doesn't really exist. Who is going to judge whether my experience of an incident is more valid than yours? No one can be trusted to be the judge of that."
"A man doesn't know what it's like to be a woman; it's that simple."
"I've been making bronze sculptures for a long time. My sculptures are wholly unsuccessful and uncommercial. No one is even the remotest bit interested in them. So it's almost like my hobby."
Summary of Tracey Emin
Tracey Emin is often called the "bad girl of British art" for her raucous public appearances and self-righteous art which are quite contrary to societal norms in England, and previous notions of femininity. She is best known for her deeply personal and confessional artwork that she promotes through her celebrity and use of the popular media. Personal traumatic events such as unreported rape, public humiliation, sexism, botched abortions, alcoholism, and promiscuity have been her topics. The quality of Emin's artwork is often contested, from the critique of expressionism, to the politics of female representation. However, it is this collapse of the identity of the artist and her work that begs for rigorous thought.
Accomplishments
Her work is often referred to as confessional, for she uses her own personal history as the subject for her artwork. She has used her own body as medium in self-portraits and performances. Her artworks enact self-mapping and self-commemorating through the possible healing and spiritual aspect of art.
The fame Emin received was more from press gossip than from critical debate for her artwork and her persona is her own brand of unapologetic artistic commodity that violated social norms (particularly British norms). Before reality television programming became as large of a phenomenon as it is today, Emin was elevated to celebrity status through the contested reception of her public appearances. Her brash unwelcomed commentary and defiant telling of a woman's autobiography fed on the public's love of voyeurist-like television sealed Emin's prominence in the contemporary art world.
She rejected the stereotype of the polite modest Englishwoman, and publicly aired her dirty laundry through her artwork and public appearances. Emin's artwork has a performative quality, and has a function other than mere self-expression in that her persona has been created for her by the public, and she has played the "bad girl" that the public has critically embraced. The societal response is part of her artwork; she encourages critique even if it comes in the form of gossip tabloids.
Although she rejects any notions of her work being for a feminist greater good, her courage to be vulnerable and honest through her artwork collapses the edge between life and art, and has brought attention to the discrepancies between men and women's ability to critically and publicly engage with topics such as alcoholism, gender roles, and, most controversially, sex.
Important Art by Tracey Emin
Progression of Art
1995
Everyone I Have Ever Slept With 1963-95
This piece first brought Tracey Emin to wider fame, both in the art world and among the general public. To create it, Emin appliqued the names of everyone she had ever shared a bed with onto a small tent. The tent was presented with its door open, lit from within and containing a mattress. Interestingly, Everyone I Have Ever Slept With was initially criticized because many people suggested that the list of sexual conquest was more a form of boasting than a work of art. However, Emin's choice of wording in her title adds a degree of nuance to the work. The list of 102 people she has "slept with" refers more generally to people she has shared a bed with, or literally slept next to. Of the many names listed, notably the non-sexual partners, are her grandmother, her twin brother Paul and her two aborted fetuses. This piece is less about sexual intimacy, as it is about general human intimacy. Furthermore, the small size of the tent and the way in which the viewer had to enter the tent to view the names suggests a sense of intimacy and places an emphasis on the emotional connection gained from sleeping side by side, rather than on sexual conquest. The work was one of many which were destroyed in a warehouse fire in 2004. The fire was widely covered in the media and some have posed that it was either a publicity stunt or a technique to make the remaining work of the involved artists more valuable. However, as art critic Vincent Katz points out, "Emin later turned down one million pounds (the insurance money) to re-create the piece. This refusal to mythologize her aesthetic past marks a distinction from the artist's continual desire to re-create her biographical past." Emin uses art as a cathartic vehicle for healing through confessional acts. The autobiographical nature of her work and the process of physically creating it required Emin to not repeat the process, but rather to keep the work in a metaphoric space where it can still function as part of her (past) life - somewhat like a memory.
Appliqued tent, mattress and light - [destroyed]
1995
Why I Never Became a Dancer
This video features scenes from Margate, Emin's hometown, including the beach, the games arcade and the "golden mile" which is an area with casinos and bars lit with neon signs. Emin narrates a story from her early teens, explaining what her life was like in Margate and how she began having sex with older men between the ages of 13 and 15. After she turned 15, she says, she wasn't interested in sex any more, and turned to dancing instead. When she was dancing in a competition, a group of men whom she'd slept with began shouting "slag" in the middle of her routine, breaking her concentration and causing her to lose focus and in turn lose the competition. The film ends with the older Emin dancing in an unfurnished room with a smile on her face as a rejection of the group of men from her past. Through this personal experience, Emin explores the double standards men often hold for women; they're willing to sleep with them, but equally willing to call them a "slag" for doing so. Dance critic Sarah Crompton describes the film in the following way: "It simultaneously breaks my heart and makes me want to cheer every time I see it because in it Emin transmutes the details of her life into an experience that anyone who has ever been hurt - and recovered - can identify with." The piece is confessional and cathartic for the artist personally too. The images of her hometown are filmed in a different style, which evoke nostalgia and a touch of romance through faded colors and the amateurish handling of the camera. The style of the cinematography changes and lively disco music picks up where the narrative left off. The cut to Emin dancing in a room alone offers a reprieve to an otherwise unfortunate autobiographical story.
Super 8 film - Collection of the Tate, United Kingdom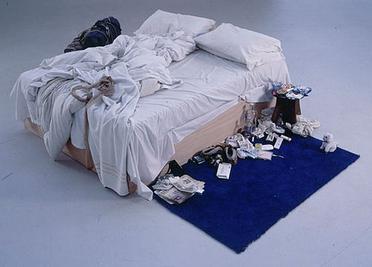 1999
My Bed
The piece is Emin's record of several days spent in bed in the grip of depression. The bed is unmade and the sheets are stained. All around are strewn a variety of items such as condoms, contraceptive pills, underwear stained with menstrual blood, money, and cigarette ends. This object is her actual bed resulting from being bedridden after an end of a personal relationship. She said in an interview from the time, "I got up and took a bath and looked at the bed and thought, 'Christ, I made that'." This is not a sculpture made by molding from the artist's hands, it has more in common with the Duchampian readymade, which can be understood as art making through a process of selecting objects rather than making them. The work was nominated for the Turner prize in 1999 and received a hugely mixed response from the public and press. The piece was a seminal work for Emin and the Turner Prize audience, which introduced art as self-confessional and used biographical items that once belonged to the artist to express a common emotion or state. In this case, the work explores the common experience of depression through a very personal and intimate lens. This artwork draws an important distinction between representation and presentation. This piece is not a representation of an object such as a painting or a sculpture. The art object doesn't refer to another object; it is the object itself. Some have argued that this was the key work in elevating women's experiences to the level of artistic expression. Liz Hoggard claims the work was shocking, and consequently incredibly important, because "it broke so many taboos about the body, sexuality, shame." When the work was exhibited in the Tate for the second time in 2015, Emin commented on how the passing of time has changed the work and its reception: "Back in the 90s, it was all about cool Britannia and the shock factor and now I hope, 15 years later, people will finally see it as a portrait of a younger woman and how time affects all of us."
Box frame, mattress, linens, pillows and various objects - Collection of the Tate, United Kingdom
2000
I've Got It All
This photographic self-portrait of Emin deals with two key themes of her work: the artists' body and monetary success. Emin sits in front of the camera with her head down and her legs apart. A pile of money (notes and coins) sits between her legs and she seems to be clutching the money to her groin. As author Lauren DiGiulio points out, "it's a delightfully ambiguous gesture. Is she suggesting an appropriation of an exterior material economy into a physical interior in attempting to incorporate the money into her own body, or has she become a human slot machine, transformed into a progenitor of pure liquid capital?" By 2000, Emin had achieved monetary success with her fame. However, this photograph suggests both that she is celebrating her success, and also that she is somehow overwhelmed by it. Knowing Emin's sarcasm in her own work, one can assume that she is mocking her success, and in turn the creative economy, by this depiction. Money and art have always been interdependent, and the objectified and the objectifier are one in this artistic gesture. Money is used as a behavioral element in this image, and can often lead to shame The photograph also explores the artist's use of her body as a source for her art, and consequently as a source of money, as well as the complex associations of prostitution that it brings. Emin is wearing a dress by designer Vivienne Westwood and Emin's signature gold necklaces. The artist has been featured as a model for Westwood in print advertising, and she often wears the brand with pride at public functions. Emin's association with the Westwood brand only supports her being dubbed as "the bad girl of British art" as the designer herself is among a generation of female rebels. Westwood is responsible for bringing punk into the mainstream through fashion, and through this she has had a long career of being an alternative to the norm since the 1970s.
Photographic print
2002
To Meet My Past
In this work, Emin returns to the theme of the intimacies of one's bedroom, but rather than presenting an unmade bed that she herself had slept in, she presents a perfectly made bed with an elaborate metal frame, which is covered with hand-embroidered fabrics. The images and words embroidered into the quilts, pillows, and hangings create a portrait of a young girl: her fears, sexuality, and experiences of abuse. This is one of several works by Emin that use embroidery and applique techniques, traditionally female activities that are typically considered to be a "craft" and therefore distinct from "fine art." However, here she combines sewing with techniques of collage and the concept of the found object, both aspects which place the work in a firm art-historical context as well as elevating an art long considered "feminine" and of secondary importance. Rather than the real menstrual blood exhibited in her earlier work My Bed, here Emin chose to use fabric and thread to represent female bodily functions, but are meant to signify the same concept. It is the symbol of the stain created through needlepoint handicraft that makes this choice significant, for she is referencing previous work while simultaneously reinventing the idea. The cover of the bed reads, "To meet my past," and other phrases adorn the bed sheets and cushions such as: "I cry in a world of sleep," "Please God don't do this to me," "I cannot believe I was afraid of ghosts," and as if signing and simultaneously time stamping the work, ''Tracey Emin 1969-1974''. These highly emotive statements contrast with the soft, warm, and comforting nature of the bed itself.
Embroidered fabric, metal bed frame - Private Collection
2007
You Forgot to Kiss my Soul
In the 2000s, Emin began working extensively with neon lighting. These works feature words and phrases, but unlike the block capitals of iconic neon works by artists such as Bruce Nauman, these are executed in Emin's distinctive handwriting, giving them a personal feel, which is at odds with the mass-produced aesthetic of neon. Emin has commented that, "neon is emotional for everybody." She explained, "the neon and argon gases make us feel positive, that's why you have neon at funfairs, casinos, red-light districts and bars. It's also to do with the way it electronically pulsates around the glass, it's a feel-good factor. Neon can help people who suffer from depression." As columnist and author Vincent Katz argues, Emin's neon works "channel the visual effect of bar or club signage, with their implications of desire and experimentation." In this work, Emin spells out the phrase you forgot to kiss my soul, which as a statement is an unexpected but whimsical idea that arrests the viewer's attention. It features Emin's signature sense of self-revelation and confession, providing an intimate glimpse into the artist's mind. This work is a departure from her appliqued household soft objects and readymades, but it remains true to the Emin aesthetic. She explains "I realized that there was a greater idea of creativity... the essence of creativity - that moment of conception, the whole importance, being of everything... I realized if I was to make art it couldn't be about a fucking picture... it had to be about where it was really coming from." Her version of artistic authenticity is rooted in her ability to be vulnerable despite her well-known brand of artistic commodity.
Neon light
Biography of Tracey Emin
Childhood
Tracey Emin was born in Surrey, in England. She grew up in Margate, on the coast of Kent, with her twin brother Paul. She lived with her mother in a successful seaside hotel, where she claims she was treated "like a princess." Her Turkish father lived with them for half of the week, spending the other half with his wife and other children. After a few years, Emin's father left and took his money with him, leaving Emin's mother bankrupt.
The family was then forced to live in poverty; Emin later recalled that they had two meters, one for gas and one for electricity, but they could never afford to have them both on at the same time. When she was 13, Emin was raped; something that she later claimed "happened to a lot of girls."
Early Training and Work
Emin left Margate to study fashion at the Medway College of Design between 1980 and 1982. She met the avant-garde personality Billy Childish, who was also a student at the college until he was expelled. Her relationship with the colorful writer, their work at Childish's small press, and her study of printing in Maidstone Art College, are all what Emin considers important artistic experiences in her maturing as an artist.
In 1987, Emin's relationship with Childish ended and she moved to London. She studied for an MA in painting at the Royal College of Art, which she received in 1989. However, after leaving the college she went through an emotionally traumatic period in which she had two abortions, and this experience caused her to destroy all the work she had made at the Royal College.
While she was still coming to terms with her own artistic practice, she influenced a reactive movement called Stuckism, which sought to promote figurative painting rather than the sort of conceptual art that Emin was focused on at the time. It was founded in 1999 by Emin's ex-boyfriend Billy Childish. The movement's name was inspired by Emin, when she had told Childish his paintings were "Stuck! Stuck! Stuck!"
In the years after breaking up with Childish, once Emin rose into fame, he became very vocal about Emin's art practice. He opposed the art business and in turn the popularity of her work and said, "Taking cultural things and turning them into mere commerce is very dangerous. Professional football has ruined football and professional art has ruined art. A decadence and superficiality has set in and sometime I wonder if maybe we have got what we deserve. I think it is odd that the Brit artists cite the influence of someone like Duchamp who was involved in anti-art and who was taking the piss out of the pompous pretentious art establishment. The biggest irony is that now they are that pretentious art establishment themselves yet they still put forward this idea that they are undermining something." Childish's own Stuckism movement is more about rejecting the frenzy of conceptual art, and sought to champion the work of figurative painters. The Stuckism movement is still quite active, and is famous for protesting the Turner Prize every year to show their continued opposition. The Stuckism art movement is an action against artists such as Emin, and yet her artistic presence is the basis for their fundamentals, for their movement would not exist without Emin. She inspired the movement not only through her criticism of Childish's work, but also through her artwork and the public acceptance of her work. They may be in opposition to her, but require her particular brand of art fame to continue their plight.
Mature Period
Upon moving to London, Emin become friendly with many of the other artists who would later be called the Young British Artists, which included Sarah Lucas and Damien Hirst. The group began to exhibit together in 1988, although Emin did not join ranks with them artistically until the early 1990s. The gallerist Charles Saatchi was a supporter and collector of the artists from the beginning of their careers, and is often given credit for "discovering" them. The name of the group was from the title of an exhibition at Saatchi's gallery in March 1992 titled "Young British Artists I" but it was artist and writer Michael Corris who referred to the group of artists with that title in an ArtForum article in May 1992. Often all artists of that generation from Britain are called YBAs as it now holds a historic reference.
In 1993, Emin joined with Sarah Lucas to open a shop called "The Shop" in Bethnal Green, which was in the East End of London. They sold work by both artists, including anything from t-shirts to ash trays, to paper mache sex toys to dresses, adding a previously little-seen commercialism to their artistic practices, which would become a defining feature of Young British Art.
Emin had her first solo exhibition at London's White Cube in the same year. Named My Major Retrospective, Emin drew together a collection of personal items and photographs, creating a part-installation part-archive with a strongly autobiographical slant. This element of autobiography is key to her ongoing practice.
In the middle of the 1990s, Emin began a relationship with curator and art world figure Carl Freedman. Freedman was friendly with Damien Hirst and had worked with him on some of his important early shows that introduced Young British Art to the public. In 1994 the couple traveled in the US together, where Emin paid her way by doing readings. They also spent time in Whitstable on the Kent coast together, often using a beach hut that Emin purchased with her friend Sarah Lucas. She has spoken about how much she enjoyed owning property for the first time saying, "I was completely broke and it was really brilliant, having your own property by the sea." In 1999 she later turned the hut into an artwork by bringing the structure from the beachfront into the Saatchi Gallery and calling the work, The Last Thing I Said to You is Don't Leave Me Here (1999).
In 1995, Freedman curated a show called "Minky Manky" for which he encouraged Emin to make artwork larger and less ephemeral. The result was her well-known work Everyone I Have Ever Slept With 1963-1995 (1995), which was a tent embroidered with the names of everyone with whom she had shared a bed, sexual or otherwise. This artistic touch through words is a common theme throughout her work. Emin uses her own handwriting, as seen in her neon messages, embroidered words, monoprints and hand-cut letters for her applique designs. Misspellings and grammar mistakes are present in her artworks, as if to add humiliations and failures to her authenticity.
Emin first came to the attention of the wider British public when she appeared on a television show about the Turner Prize in 1997, where she was belligerent and drunk, swearing on live television among a panel of academics. She finished her appearance by saying, "I'm leaving now, I wanna be with my friends, I wanna be with my mum. I'm gonna phone her, and she's going to be embarrassed about this conversation, this is live and I don't care. I don't give a fuck about it." She ended with, "you people aren't relating to me now, you've lost me" before taking off her lapel mic while still talking and walking off in the middle of the live show.
Two years after her drunken television appearance, Emin was nominated for the Turner Prize for her controversial work My Bed (1998). Only one British artist of the four nominated can win the prize, and Emin lost the Prize that year to Steve McQueen. The surrounding press coverage dubbed her the "bad girl of British art". At the time, many voiced opinions about the types of stains and impurities contained in her artwork, even the lowest English tabloids weighed in. Although she never won the Turner Prize (yet), it was the catalyst for her fame.
Her work evolved during this period and she developed a more specific style. Her choice to use needlework and applique techniques place her work within a tradition of feminist discourse within modern and contemporary art. These techniques were considered domestic handicrafts and were typically considered low in the hierarchy of art, and a part of normalized feminine practice - a concept that Feminist art has waged war against with significant success. Emin herself has no fear of being associated with "low art" or "women's work", for she embraces her own sexuality and femininity; and most certainly places importance upon it.
Current Practice
Emin's personal life and public appearances have become less sensational since the late 1990s. Her work is in a variety of important collections, and many celebrities have become collectors of her art, including Elton John and George Michael. She has also become friends with many famous people from the music and fashion worlds, including Ronnie Wood of the Rolling Stones, Vivian Westwood, Kate Moss, and Madonna. Madonna has described Emin as "intelligent and wounded and not afraid to expose herself."
In 2007, Emin was made a Royal Academician at London's Royal Academy of the Arts, marking her ascent into the upper echelons of British art society and her acceptance by the establishment. She was later also made a professor of drawing at the institution. In 2013, she was included on a list of the 100 most powerful women in the country by BBC Radio 4, and in the same year she was awarded a CBE for her services to the arts.
For the 52nd Venice Biennale in 2007 Emin was the second female British artist to be nominated to represent the British Pavilion (the first was Rachel Whiteread in 1997). She exhibited a work titled, Borrowed Light which featured many of her early drawings alongside her recent works. The show received mixed critique, and she was criticized for being limited in her art practice.
In 2015, Emin took the unusual decision to "get married" to a rock in her garden in France. She later stated that "somewhere on a hill facing the sea, there is a very beautiful ancient stone, and it's not going anywhere," describing her rock-husband as "an anchor, something I can identify with." She symbolically chose to wear her father's funeral shroud for the short and unconventional ceremony. This is to be understood as a universal expression of love, and an expression of the soul or the invisible self. Emin has announced numerous times that she no longer has sex and is not invested in physical conquest, but rather, seeks to focus on love and her work.
The Legacy of Tracey Emin
Emin's work as part of the Young British Artists movement placed her firmly within a key legacy that was to affect the development of art in Britain for years to come. Similarly, she holds an international stage, for her work tackles universal ideas through her relationship to human behavior and gender. Her seminal work My Bed helped redefine what a liberated woman can be. In particular, Emin's work influenced a generation of female artists who explore womanhood and feminism through a self-confessional tone. These include artists such as Marie Jacotey-Voyatzis, whose print works explore her emotional life as a woman and include Emin-like misspellings, and Laure Prouvost, a Turner Prize winner who works with self-revelatory video as well as textiles and found objects to create striking tableaux. Emin has evaded aligning her ideology with a larger political cause, and has stated, "I'm not happy being a feminist. It should all be over by now."
Her work can be understood as belonging to the ethos of third-wave feminism; a belief that a woman can define her sexuality on her own terms. The lack of symbology in Emin's work forces audiences to focus on the real and often taboo aspects of femininity through modern women's issues, such as menstruation, abortion, promiscuity, and the shame associated with these topics. She has carved her own place and continues to produce artwork with her signature strong, yet vulnerable edge.
Emin continues to be active in her art practice, and the basis of her work remains tied to physical identity through corporeal and spiritual anguish. She is an active participant in her artwork, and through this she lends an openness and vulnerability to her audience through universal emotion. She rejects discussion of the feminist authority in her work, and yet she engages directly with modern female identity. Art allows the violation of social norms, and in turn a way for viewers to enter into sharing the human social condition - often in a controlled environment.
Influences and Connections
Influences on Artist

Influenced by Artist
Friends & Personal Connections
David Bowie
Artists
Laure Provost
Friends & Personal Connections
Useful Resources on Tracey Emin
Books
The books and articles below constitute a bibliography of the sources used in the writing of this page. These also suggest some accessible resources for further research, especially ones that can be found and purchased via the internet.
biography
written by artist
artwork