Movements, Styles, and Tendencies
The Bloomsbury Artists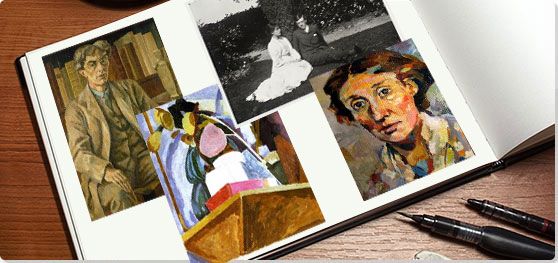 The Bloomsbury Artists
Started: 1909
Ended: 1940

"It is lucky perhaps that Bloomsbury has a pleasant reverberating sound, suggesting old fashioned gardens and out of the way walks, and squares; otherwise how could one bear it? If every review, every talk on the radio, every biography, every memoir of the last fifty years, were to talk instead incessantly of Hoxton or Brixton, surely one's nerves would be unbearably frayed."

Summary of The Bloomsbury Artists
The Bloomsbury artists were a group of innovative British artists, designers, and art critics who breathed fresh life into the UK's stuffy art scene in the first half of the 20th century. The group's members contributed significantly to 20th-century British art and design by working on a huge range of individual and collaborative projects, from cushion covers and candlesticks to abstract paintings and multiple murals. They are also credited with introducing important European artists such as Picasso and Cézanne to a UK audience.

The Bloomsbury artists as we refer to them here were the original, artistic arm of the Bloomsbury Group, a broader set of London-based creatives and intellectuals that included novelists Virginia Woolf and E. M Forster, economist John Maynard Keynes and writer Lytton Strachey among its most prominent members. Whether through painting, novel writing or philosophy, all members of 'old Bloomsbury' shared a passion for social progress, creative innovation and a desire to leave behind the restrictive atmosphere of the Victorian era.
Key Ideas
The group's artistic output was highly influenced by art critic and fellow Bloomsbury member Clive Bell's theory of 'significant form'. Bell believed that forms and relations of forms within an artwork combine to "stir our aesthetic emotions", even when entirely isolated from a discernible reality.
Unsurprisingly for a group whose personal lives were so infamously intertwined, the three principal Bloomsbury artists -
Vanessa Bell
,
Duncan Grant
, and
Roger Fry
- often worked in remarkably close proximity to each other. They regularly painted the same subjects at the same time (mainly interiors, scenes from their joint travels to Europe, still lifes, and portraits of other group members) though their styles remained reasonably distinctive.
The Bloomsbury artists were strongly influenced by and responsive to the European movements of their day, especially
Post-Impressionism
(a term coined by Roger Fry) and
Cubism
. Their previously conservative artistic styles changed dramatically after they viewed works by Picasso,
Matisse
, and Cézanne during a 1909 visit to Paris. The group is now widely recognized as important British 'champions of modernity' for being the first to include these controversial European artists in London exhibitions, much to the shock of UK gallery goers.
Collaboration and cross-promotion were fundamental to the Bloomsbury ethos. As well as working with each other on murals, interiors, stage designs, and costumes, the group's visual artists produced book jacket covers and illustrations to accompany publications by Bloomsbury writers and their modernist associates, including works by
Virginia Woolf
,
T.S Eliot
, and some of the first English translations of
Sigmund Freud
.
The entire Bloomsbury group's attitudes toward gender roles and sexuality were extraordinarily progressive, especially by the standards of their day in Britain. These attitudes often translated to the group's artistic output - they produced some of the earliest works to now be considered essential to the Queer art canon, for example. Virginia Woolf's seminal essays, such as
A Room of One's Own
, also had a vital impact on the development of feminism (including
Feminist art
) in the 20
th
century and beyond.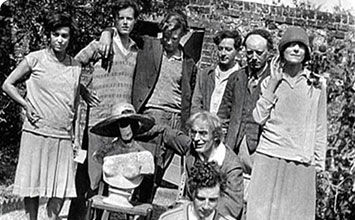 Beginnings:
When upper-middle-class man of letters, Leslie Stephen, died in 1904, his daughters Vanessa (later Bell) and Virginia (later Woolf) - an aspiring painter and novelist respectively - decided to move out of their family home. With a strong desire to leave behind their uptight Victorian upbringing and live a freer, more 'Bohemian' lifestyle, they and their two brothers, Thoby and Adrian, set up residence at 46 Gordon Square in Bloomsbury, then regarded as a rather downscale area of London.
Important Art and Artists of The Bloomsbury Artists

The below artworks are the most important in The Bloomsbury Artists - that both overview the major ideas of the movement, and highlight the greatest achievements by each artist in The Bloomsbury Artists. Don't forget to visit the artist overview pages of the artists that interest you.


Artwork Images

The Borough Polytechnic Murals (1911)

Artist: Roger Fry, Duncan Grant, Bernard Adeney, Frederick Etchells, Macdonald Gill and William Rutherston

Artwork description & Analysis: This series of murals, commissioned and installed in London's Borough Polytechnic's canteen, is a key example of the Bloomsburys' collaborative philosophy in practice. Lively and startlingly modern for the time, the figures in the various panels are depicted participating in what were decidedly contemporary recreational activities, such as swimming in London's Serpentine Lake and playing football in the city's Hyde Park.

The project was devised and led by Roger Fry, though he was loose in his approach to leading it. He relied on the murals' theme, 'London on Holiday', a shared palette and an understanding that all the artists would paint outlines using a style inspired by Byzantine mosaic to give individual sections a coherent feel. The project's significance lay in its democratic subject matter and setting - it's now seen as a key work in the history of Public art, realized as it was at low cost and in a college refectory rather than a grand museum or gallery.

The murals were generally very well received by the press and public, though there were some complaints that their subject matter could prove a corrupting influence on the college's students. The London Evening Standard newspaper's art critic called them 'the most important artistic event of 1911', while London's Times newspaper praised it too, encouraging readers to accept and delight in its radical, Post-Impressionist approach: 'Do not ask yourself, as you look at it, whether it is at all like the Serpentine or any bathers in it that you have ever seen,' they wrote. 'It is not, and is not meant to be. But, if you will not demand any illusion, you will find that it gives you an extraordinarily keen sense of the pleasure of swimming. In fact it acts on you like poetry or music.'

The project was run on a tight budget of £100, meaning the murals were painted in oil onto canvas panels instead of directly on the walls - a decision that ultimately led to their preservation when the Polytechnic's building changed ownership in the 1930s.

Oil on canvas - The Tate Museum


Artwork Images

Candleshade Designs For The Omega Workshops (1913)

Artist: Wyndham Lewis

Artwork description & Analysis: This design for a set of candle shades was one of the earliest produced for the Omega Workshops - the collaborative, Bloomsbury-led decorative art initiative conceived by Roger Fry in 1913. Featuring radical, highly pared down forms and bold colors that reflect the techniques and ideas of the Post-Impressionists, these designs are archetypally Omega. In contrast with previous, comparable schemes that blurred the boundary between art and design - most famously William Morris's Arts and Crafts movement of the late-19th century - Fry was determined that Omega artworks focus purely on aesthetic merit, rather than aiming to make political or social points.

A prolific painter, novelist, and critic, Wyndham Lewis was a key - though brief - early associate of the Bloomsbury Group. He exhibited three oil paintings at Fry's second Post-Impressionist exhibition of 1912 and produced several popular designs for Omega, but had a dramatic and high profile falling out with Fry and Clive Bell in 1913. He went on to found rival decorative workshop, the Rebel Art Centre, and the short lived but highly influential Vorticist movement, considered the first truly avant-garde art movement in the UK. The Vorticists explicitly rebelled against what they saw as the horribly bourgeois Bloomsbury artists in particular - Lewis sneeringly described them as 'Fitzroy tinkers'. He reserved particular wrath for Fry (who he called a 'shabby trickster' and 'hypocrite') and Virginia Woolf (a 'peeper' into other people's affairs.) This feud with the whole Bloomsbury Group would ultimately last for decades - in 1930, Lewis expressed his continuing disdain for London's literary and artistic set in a biting satirical novel, The Apes of God.

- The Tate Museum

River With Poplars (1912)

Artist: Roger Fry

Artwork description & Analysis: In River With Poplars, Roger Fry painted the view from a bridge in the village of Angles sur l'Anglin at Poitiers, France, using bold, uniformly solid blocks of color to represent every element of the scene, including the water and cloudy sky. Fry had been inspired by the work of iconic Post-Impressionist Paul Cézanne when creating the piece, though the birth of his interest in the French painter sadly coincided with Cézanne's death in 1906.

By the time River With Poplars was completed in 1912, Fry had been working according to his own aesthetic theory based on Cézanne's methodology for several years - using careful brushstrokes to 'construct' an image rather than simply 'paint' it. His theory of significant form, which was enthusiastically embraced by the other Bloomsbury artists, also stressed the importance of form (by which he meant a congenial combination of line, color and overall composition) in invoking what he called 'an emotional response' in the viewer - an idea that's richly demonstrated here.

From a contemporary perspective, Fry's individual artworks hold more symbolic than artistic significance. He's generally acknowledged as a weaker artist than, say, Vanessa Bell, whose abstract paintings from the same period are now widely considered revolutionary. His most important contributions to the Bloomsbury Group were as a theorist and curator (he was curator of European painting at MOMA in New York between 1906 - 10), but his experiments with Post-Impressionist techniques were crucial demonstrations of his seminal theories brought to artistic life.

Oil paint on wood - The Tate Museum
More The Bloomsbury Artists Artwork and Analysis:
If you see an error or typo, please:
tell us
Cite this page

Content compiled and written by The Art Story Contributors
Edited and published by The Art Story Contributors
" Movement Overview and Analysis". [Internet]. . TheArtStory.org
Content compiled and written by The Art Story Contributors
Edited and published by The Art Story Contributors
Available from:
First published on 11 Sep 2017. Updated and modified regularly.


[Accessed ]